What could be more romantic than a beach wedding? You've got a perfect background, a wide-open space, natural lighting for the photo ops, and that shushing noise of the ocean that's so relaxing. What more could you ask for?
Unfortunately, it's not always a bed of roses. Bad weather, some guests not able to come, wardrobe malfunctions, etc. Many things can ruin your big day. The key to a successful beach wedding is thorough planning and preparation.
Here are 8 fool-proof tips to pull off your dream beach wedding.
1. Decide Between Public and Private Beaches
The first and most important step in planning a beach wedding is choosing a location. Public beaches are great options if you're looking to cut the cost. And since they're pretty accessible, you can be sure that most if not all of your guests can come.
However, the biggest con of having your wedding ceremony at a public beach is the crowd. There's no way you can control onlookers, "photo bombers", and nosy people from ruining your big day. If you're opting for a public beach, consider having your wedding at low-peak seasons or during weekdays.
Private beaches can guarantee a serene ceremony but you have to make reservations in advance. If you have a generous family member who happens to own a beach, you're in luck!
Some private beaches don't have catering service and event facilities, which means you may have to take care of everything.
When choosing a location, always consider your family and guests. Are there some toddlers in the family? How about the elderly? If yes, avoid beaches that will require trekking for a mile before you can reach the destination.
Amenities are essential too. Is there a proper area where you can set things up? How about chillers or refrigerators where your caterer can store food? Are there rooms available if you're planning to stay overnight or for a few days?
2. Know the Best Time to Hold a Beach Wedding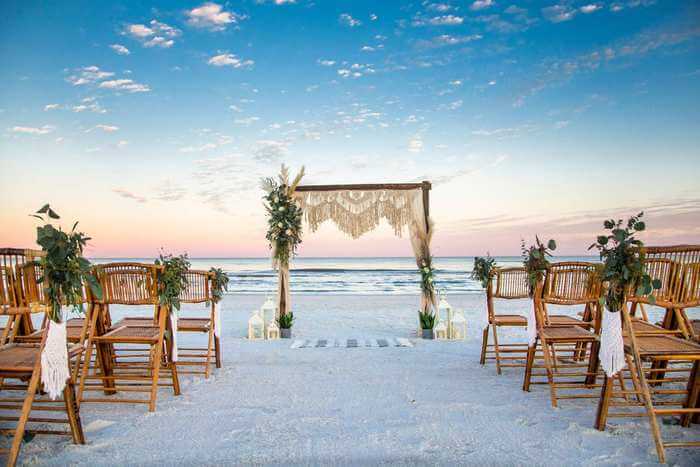 Many people say that rain on your wedding day means "good luck". But still, you want to hope for clear blue skies where you can fully enjoy the moment. Even with the "bad weather gear", you can still get yourself somehow damp and muddy. Sure you don't want that.
At the same time, you wouldn't want it to be too hot or you and your guests can end up soaked in wet and looking haggard on your photos.
You never know what's going to happen outdoors. But, you can lower the chances of having to hold your wedding ceremony on a rainy day or a cruelly hot day.
The key is the right timing. Summers are the best time to hold a wedding ceremony on the beach since it's less likely to rain. However, beaches in warm climates can be extremely hot. So, make sure to schedule your wedding at a time when the sun is most mild, such as during sunrise or late in the afternoon.
Research your preferred location so you'll know the best time to hold a wedding there.
3. Secure Necessary Permits. Know the Beach Rules
As mentioned earlier, some public beaches will require you to secure a permit. It shouldn't be a difficult task. You'll only need to fill out some forms at the local City Hall and pay. Usually, fees range from $30 to $300.
If you're holding your wedding on a private beach, you can cross out "permits" in your checklist. It's important, however, to check with the owner or property manager about any rules or policies that they may have set out.
4. Tackle the Sound Issues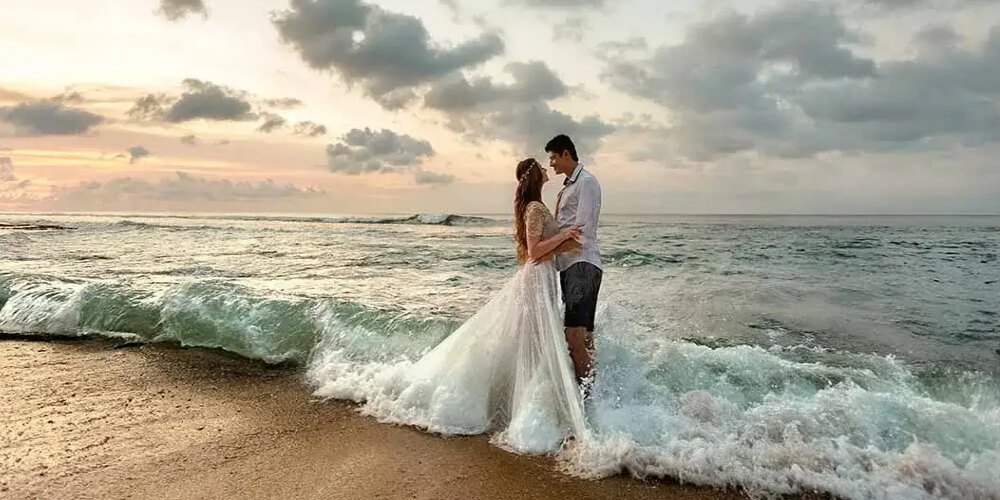 One of the perks of beach weddings is you don't need a lot of things. Think décor, lighting, and other stuff. But it always helps to bring a few helpful gears to make the ceremony even better, such as a professional sound system.
While the sound of the waves is calming and romantic when you're walking by the shore, it's a different story when you're in the middle of exchanging vows. You don't want to end up screaming at each other because you can't hear one another.
So make sure you come ready with a powered sound system that includes microphones, speakers, etc. A lovely wedding playlist comes in handy too, especially as you walk down the sandy aisle and during the post-ceremony beach party!
 5. Think Like a Guest
You want your guests to feel comfortable and have a great time celebrating with you. Consider them throughout the planning process, especially when you choose a location, food or catering service, accommodation, and logistics.
Will you be arranging for the transportation of your guests or will they have to go there by themselves? If yes, make sure they are briefed with the directions (and best routes) to reach your destination wedding.
If you have guests with toddlers, plan for the safety of their kids too. Same with your grandparents and other elderly in the family.
6. Choose the Appropriate Beach Wedding Attire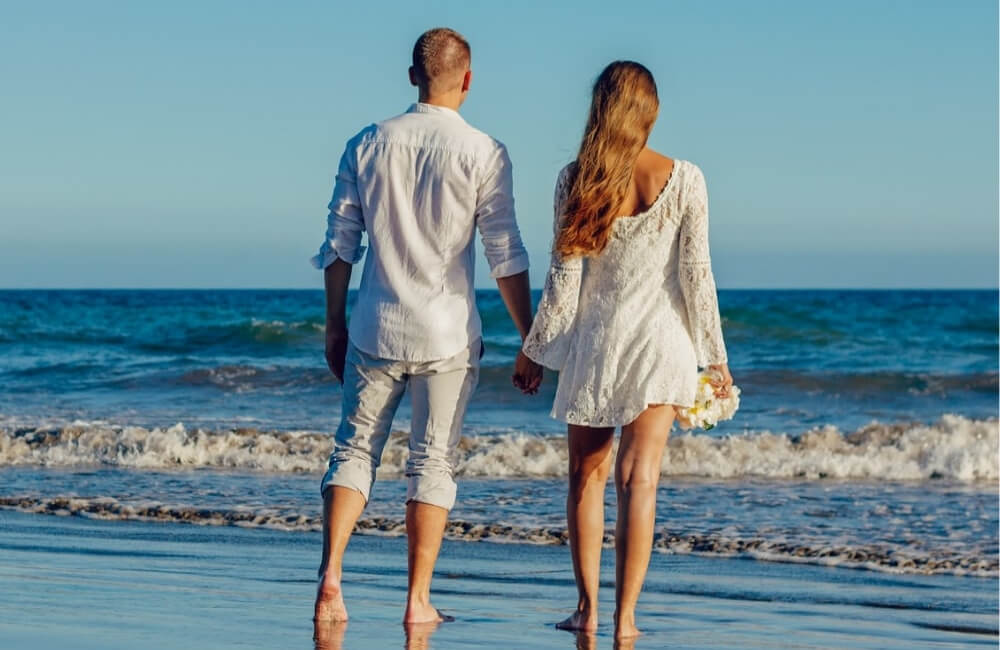 As a starting point, choose a wedding dress that's light and flowy, such as chiffon, silk, and laced dresses.
While your selection is limited to simpler dresses (as compared to traditional weddings), feel free to knock it off with the details and embellishments. Floral accents, flouncy tiers, and sheer panels are eye-catching. Complete your outfit with stunning custom jewellery for that fashionable, Instagrammable wedding look.
With beach weddings, you can freely skip the veil as the wind can work against it. Lastly, decide on your shoes. Some couples choose to go barefoot but the right footwear can augment your look. Your best options include sandals, flats, mules, wedges, or those with flat soles. No heels, please.
7. Pick a Theme
There are tons of beautiful details you can add to your beach wedding to make it thematic and dramatic.
For instance, you can choose to have an incredibly relaxed bohemian beach wedding with lots of sunlight, sand, and a salty breeze. You can also have a fairytale-like whimsical beach wedding with stunning floral arrangements, multicolored balloons, and streamers. Or, a tropical beach wedding with lots of colors, bamboo, and layers of lush, leafy greenery.
8. Have a Plan B

No matter how comprehensive your original plan is, mishaps can happen. So, make sure you have a plan B especially for change in weather. This may include having tents or canopy if it suddenly rains.
Moreover, if you're getting married on a beach that doesn't have accommodation, you may need to reserve an alternate backup location.
By creating a backup plan, you can have peace of mind that your dream beach wedding will be amazing and memorable.
Last but Not Least… Small Things to Consider
Aside from the tips mentioned above, there are some other things that you should not overlook, such as:
Making your décor windproof. You need to tweak the décor to suit the outdoors where the wind is probably your number one enemy.
Food storage. Super important. Choose a location with food storage facilities or a catering service that has its own. Also, decide on food items that don't spoil easily.
Cakes made with buttercream frosting are less likely to hold up on a beach wedding.
Natural-looking makeup works best for beach weddings.
Have plenty of beverages to keep your guests cool and hydrated.
Choose and book vendors in advance. Make sure you do this a few months or a year before your wedding.