Balloon decorations are in mainstay! You can see them everywhere in the wedding scene, including engagement ceremonies, bridal showers, wedding ceremonies, and, of course, wedding receptions.
We all loved balloons as kids and using them to decorate your wedding is a lovely way to bring back childhood memories.
We've put up a collection of some lovely Balloon Decor for Wedding Reception Ideas. Take a look…
1. Mystical Entrance Arches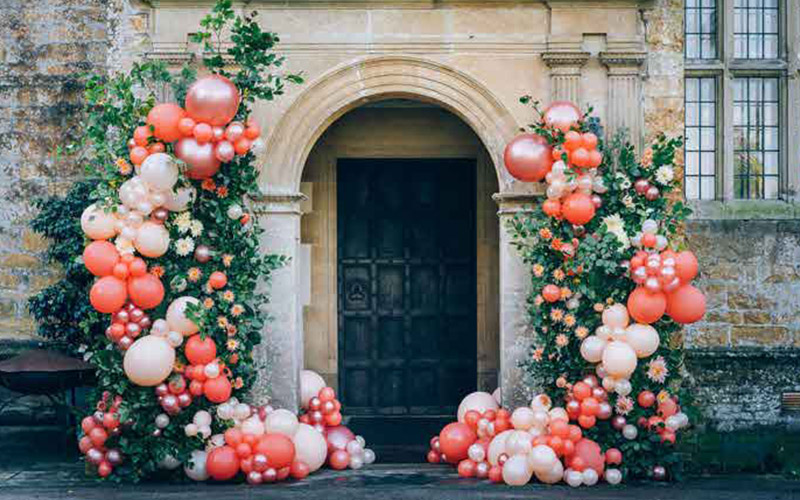 One of the best uses of balloons at the wedding could be creating a stunning entrance arch with balloons. You can have balloons matching with your wedding theme or in contrast with that. Anyway, it will make a great entrance for the couple and their guests.

2. Grand Cake Table Decor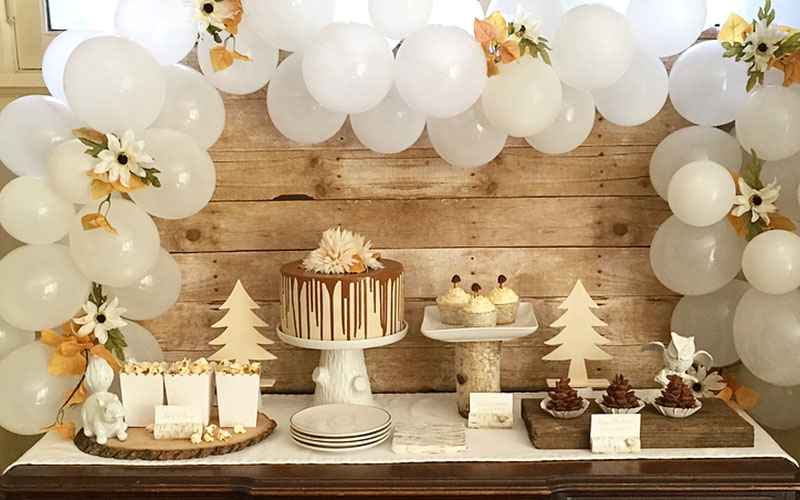 You can decorate your wedding cake table in a variety of ways, including using balloons. That's right; you read that right! You don't have to stick to the standard; instead, think outside the box and use a stunning arch to create a romantic focal point for your wedding cake table.

3. Give an Edge to Your Wedding Reception with Floating Centerpieces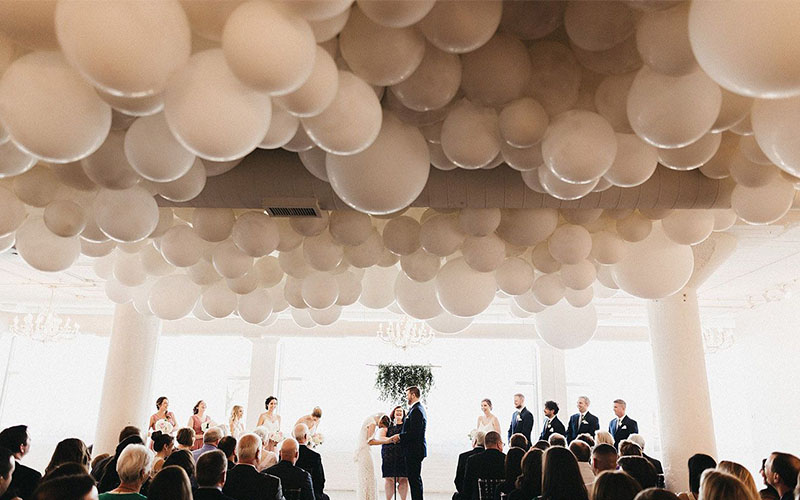 This is yet another beautiful balloon decor for the wedding reception. The best thing is that you can create a spectacular reception decor with balloons. They are inexpensive and are available in a variety of colors. You can create balloon bouquets with three or more latex balloons or a combination of latex and mylar balloons. Balloons can make great centerpieces as they'll float above the table. Also, they won't block your guests' views.

4. Astonish Your Guests with Balloon Bride and Groom Figurines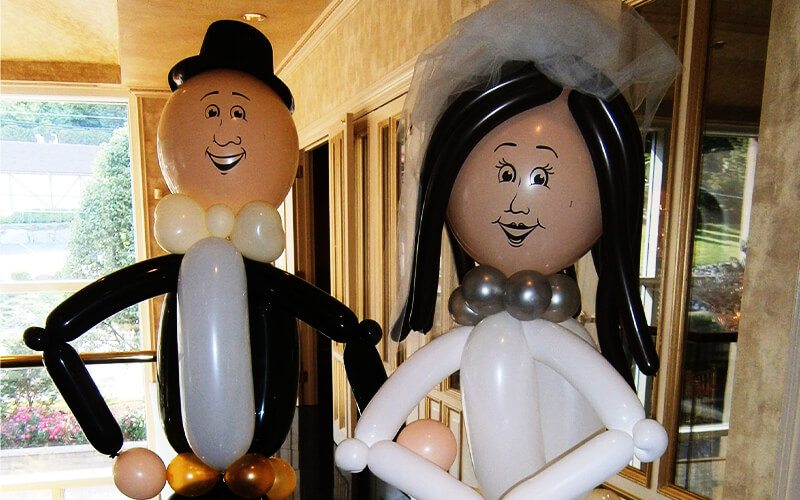 For your wedding reception, instead of the traditional bride and groom figurines, consider balloon sculptures. You can opt for small tabletop figurines or giant balloon sculptures for your wedding reception. You can even get bride and groom figurines fully built of round balloons or formed of twisting balloons, or if you want, you can utilize a combination of both (round and twisting balloons) to achieve the most striking looks.

5. Make Your Exit Grand with Balloons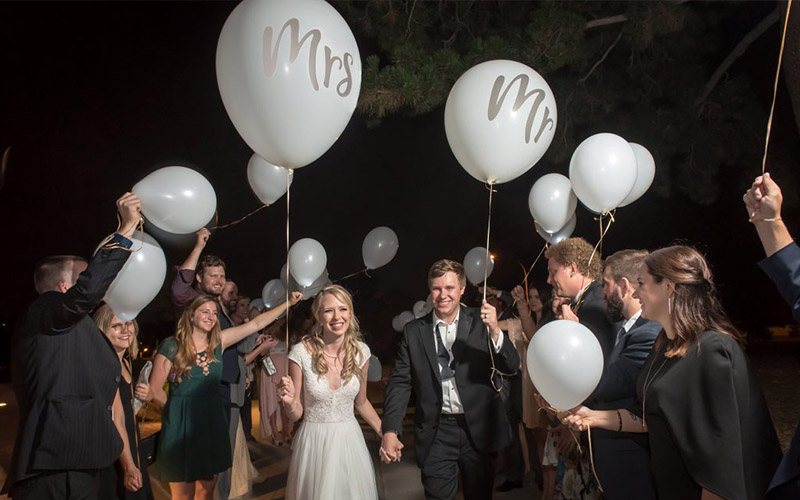 You'll want your exit to be as memorable as your magnificent entrance. So, what's the problem with it? You can do it with your favorite color balloons. All you have to do is to attach balloons to the back of your car for a classy exit. You can even choose balloons matching your wedding theme for that breathtaking look.

6. Let Your Wall Speak For You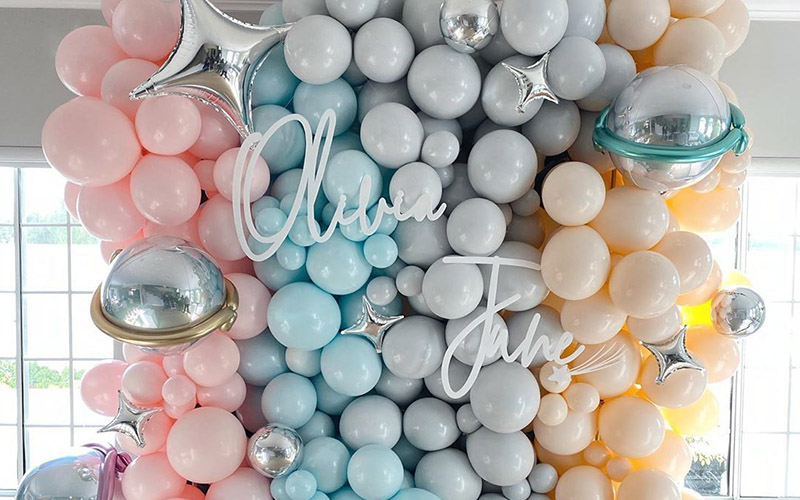 If you're planning an intimate wedding with just a few guests, then creating a balloon-covered wall is an excellent idea. You can opt for any soft color latex balloons to get the desired wall look. Have different sizes of balloons to create the vibe.

7. Make A Style Statement with Balloon Backdrop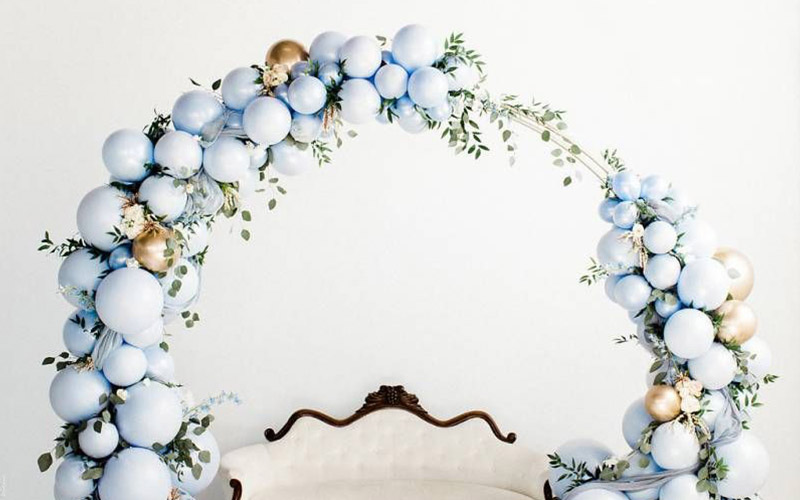 Get a balloon backdrop made if you want to add some gorgeous color to your wedding photos. The best part is that you can create a stunning balloon backdrop all by yourself. Try ombré asymmetrical shape balloons for creating the desired backdrop. You can even use mylar balloons for your wedding reception backdrop.

8. Dress Up Your Dessert Table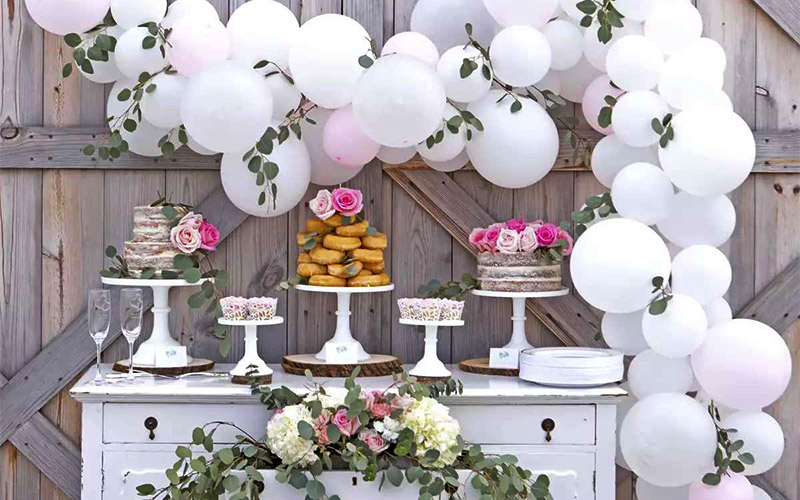 Another great option to include balloons in your wedding reception is to decorate the dessert table. Intersperse a foliage garland with a white balloons garland for a magical touch.

9. Make a Statement with Extra-Large Balloons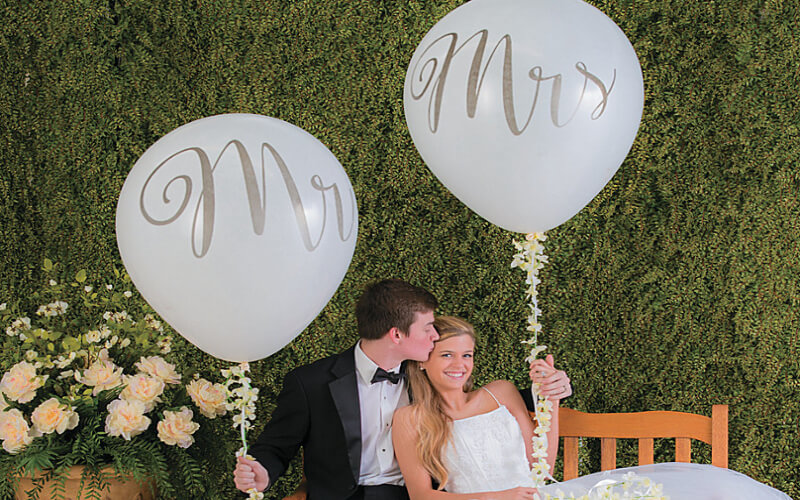 Extra-large balloons will give your wedding event a more trendy and contemporary appeal. Place massive, luminous giant letters with your initials on white plinths for a spectacular party. Float enormous white balloons at various heights for a whimsy touch.

10. Make an Impact with Balloon Chandelier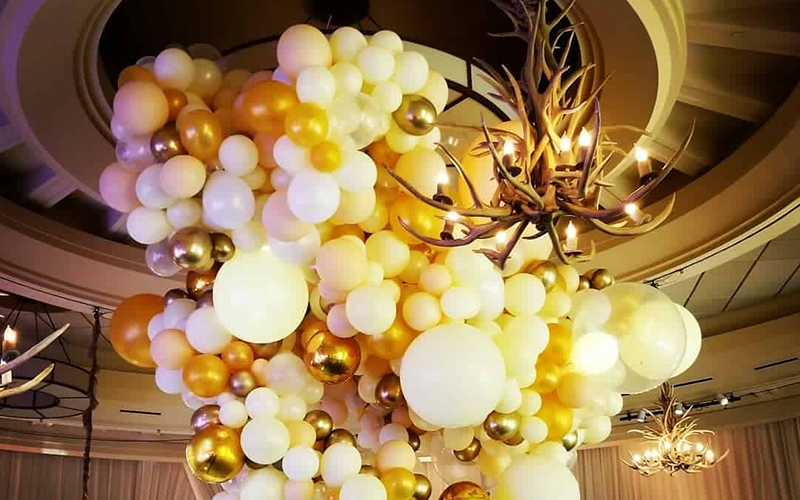 Chuck the traditional chandelier; go with a balloon chandelier at your wedding. It will undoubtedly astonish your visitors. Yes, a huge balloon chandelier dangling above the dance floor or dining area is a good idea for your wedding celebration.
Wrapping it up…
That concludes our list of the 10 best Balloon Decor for Wedding Reception. This is not just it; other than these, there are a plethora of options to decorate your wedding reception area. The best thing about balloons is that they come in a wide range of colors and are really affordable. As a result, you can use as many balloons as you wish to make a lovely wedding décor.
Happy Wedding… ☺ ☺