Weddings in India are full of fun and enjoyment. Couples leave no stone unturned to make their wedding the best one. Every aspect of the wedding from wedding attire to wedding venue is chosen carefully. Amidst all the wedding venue decoration, most important is the wedding venue entrance. No matter what, it has to be grand.
Whether you get hitched at your home or in some wedding hall, the most attention is given to the entry door or the entrance of the wedding venue. And the major reason behind it is – it is the first that your guests will encounter. Besides, it becomes easier to locate the place with a grand wedding entrance, especially for the guests who are visiting the area for the first time. There are many benefits of having a decorated wedding venue entrance; however, the biggest benefit is – it simply adds to the overall décor of the venue and makes it look prolific.
Here are the best wedding entrance ideas for 2022:
1. Drape it up
Drape makes for wonderful décor arrangements. The best part is they can be used in any color matching with the wedding theme and anywhere at the wedding venue from main entrance to wedding hall. Draped entrance looks whimsical. You can have a combination of different color drapes used or single color, anyway the entrance will simply look stunning.
2. Light it up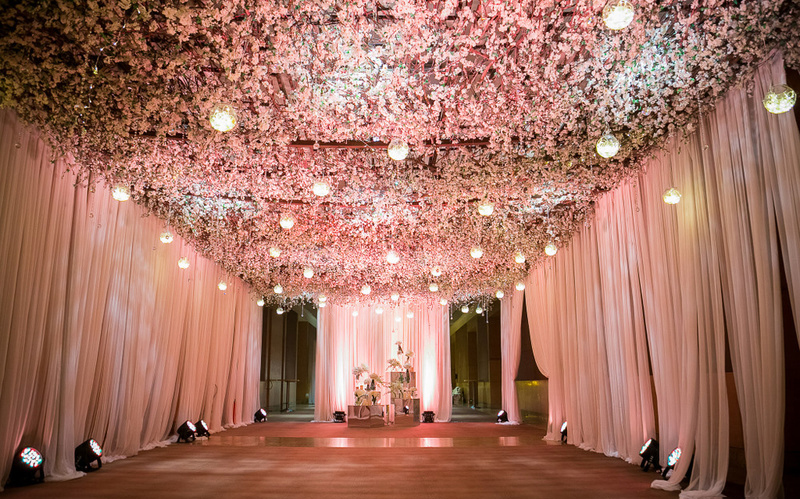 Another wonderful way is to simply use a lot of lights at the main entry. Lights just add to the whole venue décor. You can either use archways already embedded with light or make arrangement of light at the main door. However you want to use it, you can do that, it will simply look amazing. Light simply lights up everything from your venue to your mood.
3. Assorted floral décor
Another best way is to use assorted floral décor at the main entrance. You can have too many archways loaded with assorted flowers and placed at a distance, making the entire entrance beautiful and stunning. You can choose any flower of your choice or flowers matching the wedding theme. The whole entrance will simply add to the overall wedding décor and your guests will also feel happy while making their entry to the main hall through such a beautifully curated doorway.
4. Gendha Flower Décor
Gendhar flowers never go outdated. They have always been the first preference when it comes to decorating the main entrance at the wedding. No matter whether you are getting hitched in a lavish manner or yours is a low key celebration. Venue entrance decorated with beautiful yellow flowers, just yellow flowers will take your wedding décor to another level for sure. Gendha flowers are in use for generations and will always be in use for many generations. Believe it or not, they make for unbelievably stunning wedding décor.
5. Rustic Entrance Décor
For that unique entrance that will appear like a fairytale entrance, you should definitely go for the rustic entrance décor at your wedding. The beautiful flowers arranged on the long stem arches will simply give a dreamy feel. You can even choose to add some LED lights to make the whole thing even more whimsical for one and all. Your wedding guests would never be able to forget the grand entry of your wedding for years. You can try this one out, if you are looking for some unique entrance at your wedding.
6. Red Rose Entrance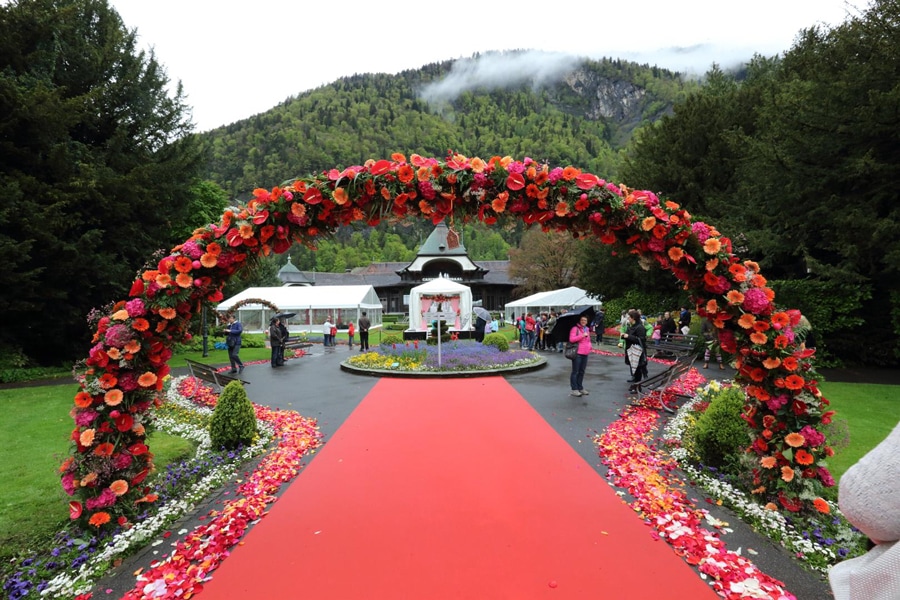 Though it can add up to the cost as red roses are one of the expensive flowers; however, it will just add to the whole set up. Red roses do look amazingly beautiful. You can also use archways loaded with red rose. You will fall in love with the entire wedding décor with red roses.
7. Basket Pendant Light Entrance
Basket pendant lights look superb, whether used in the main hall or at the entrance. If you are looking for that extraordinary entrance decor at your wedding, then basket pendant light entrance would be best. Decorate the entire entrance with basket pendant lights on both the sides of the doorway, your guests won't be able to take their eyes off the décor while walking to the main hall. Basket pendant lights actually make for a perfect wedding entrance décor.
8. Decorate Entrance with Leaves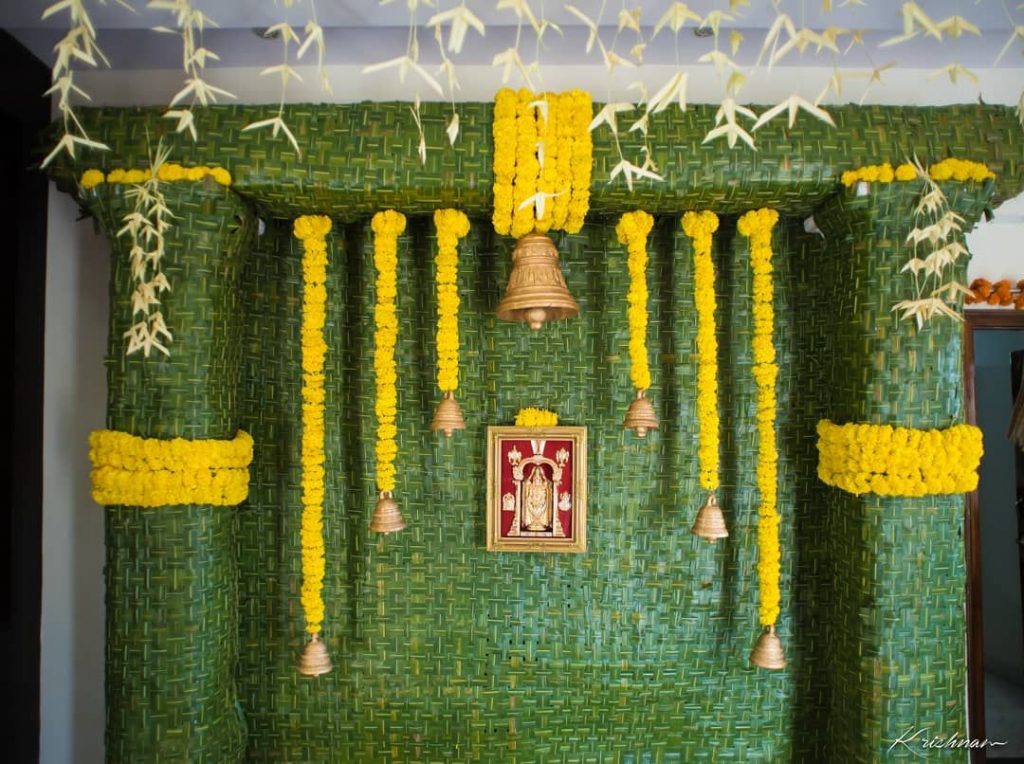 Like gendha flower, leaves decoration is very old trend; however, it is not old fashioned. In fact, green leaves simply look superb at the main entry. Any leaves from banana to mango can be used to create a simple yet elegant wedding venue entrance. Leave entrances look stunning and very beautiful. Moreover, they are affordable too. So, they won't add to your wedding budget, but will surely add to your wedding venue decor. Try out!
9. Jazzy Entrance
Every couple has different taste and preference, some really like simple and elegant, while others want to have everything at their wedding jazzy. If you think you also want to have a very colorful and stimulating wedding venue entrance, then use elements like colorful umbrellas. Reversed colorful umbrellas hanging throughout the entryway to the main hall will simply look stunning. However, this setup will look perfect if yours is a day celebration. This décor works perfectly in a day wedding as you don't need light at the day time and these hanging colorful umbrellas will simply do the needful.
10. Keep it White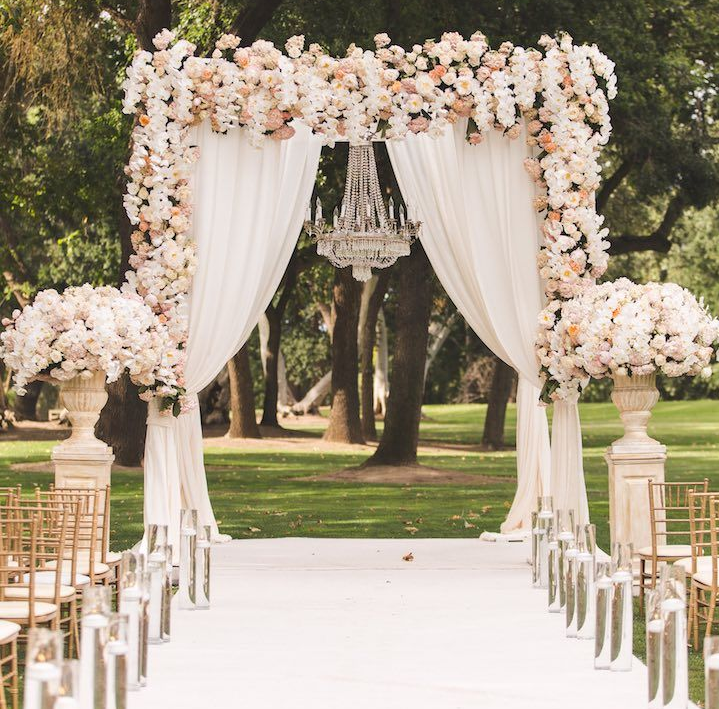 White looks stunning no matter what the occasion. If you love white and want to have a fairytale wedding theme, then get the main entrance decorated in white. You can use drape or white balloons, or anything of your choice to make the whole wedding theme white and let your wedding guests be awestruck after seeing the mesmerizing wedding entrance.
11. Balloons All Over
Balloon entrances look amazing, you can use your favorite color balloons at the wedding entrance or the ones that match perfectly with the wedding theme. Balloons are enough to create a mesmerizing wedding entrance. You can even have them in combination, like blue and white, pink and white, or any other color of your choice.
12. Hanging Lighting Entrance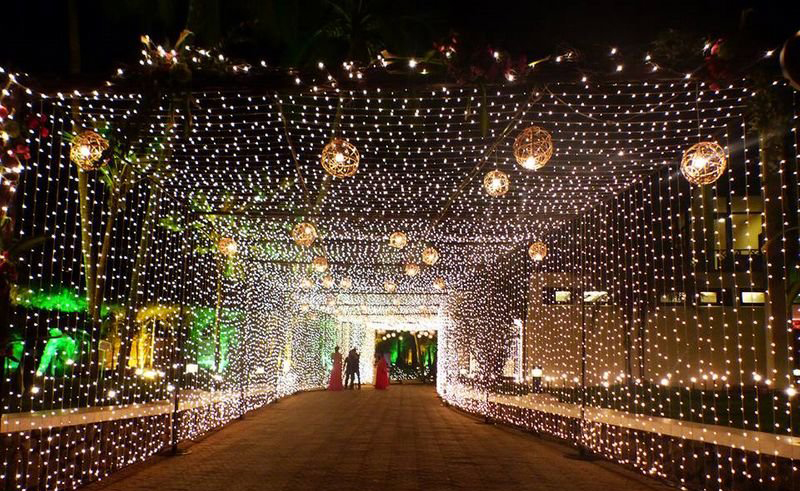 We all know that hanging lights are really inexpensive these days and you can buy as many as you want to have in your wedding entrance. Hanging lights on both sides of your walkway will simply make your wedding décor excellent. You can even create hanging light door frames and arrange them throughout the main door to the main hall. This kind of entrance will make for the perfect décor at your wedding.
13. Mela Entrance
Have you ever visited a mela or fair in your locality? If yes, then you know exactly how beautiful the whole thing looks, if you want you can even create the same theme at your wedding too. And give your wedding an excellent look. You too take your wedding décor to the next level and let your guests be surprised by the whole wedding theme, everybody will love it!
14. Royal Entrance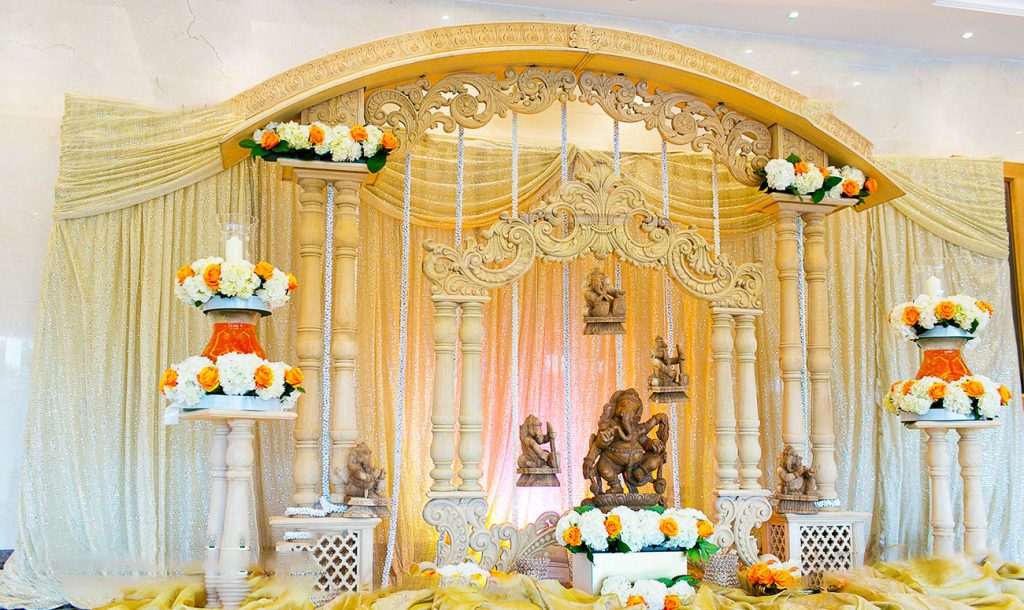 Another beautiful entrance idea is – royal entrance. Royal entrances look mesmerizing and beautiful. Your wedding venue entrance will be created just like some royal palace entry gate. If you want to add to royalty you can even consider having elephants standing at the main gate to welcome your guests. Make sure elephants do not hurt your guest at all!
15. Rajasthani Entrance
Rajasthani entrance is another way to jazz up your wedding venue. When we say Rajasthan, it simply means a lot of colors and props. Rajasthani entrance theme looks stunning no matter the size of the event. Your guests would also love to see your wedding entrance arrangement.
16. Phulon ki Chadar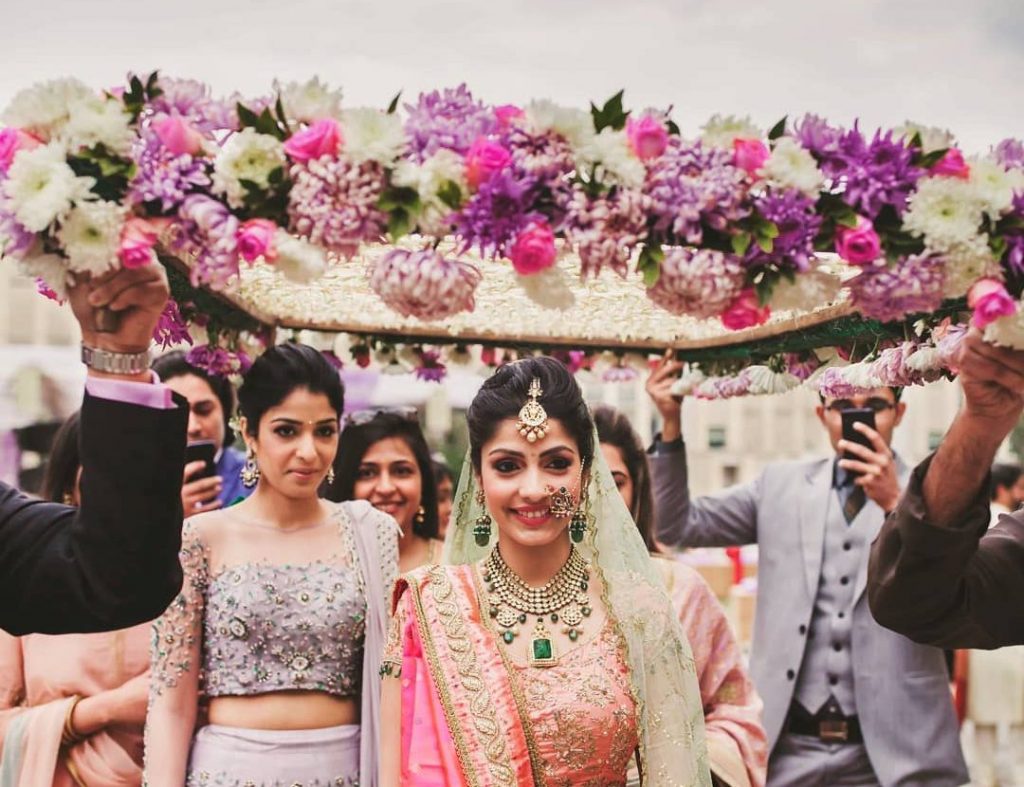 Phulon ki chadar however, is used for the bridal entry, but if you want to take your wedding décor to another level then you can have the phulon ki chadar arranged in the entire entrance to the main hall. The whole arrangement will look simply mesmerizing.
17. Combination of Drape and Lights
Drapes and lights make for a wonderful combination when it comes to decorating an entrance. You can also use the combination of both at your wedding entrance too. It is a cost effective way to have a wonderful wedding entrance.
18. Paper Lanterns Entrance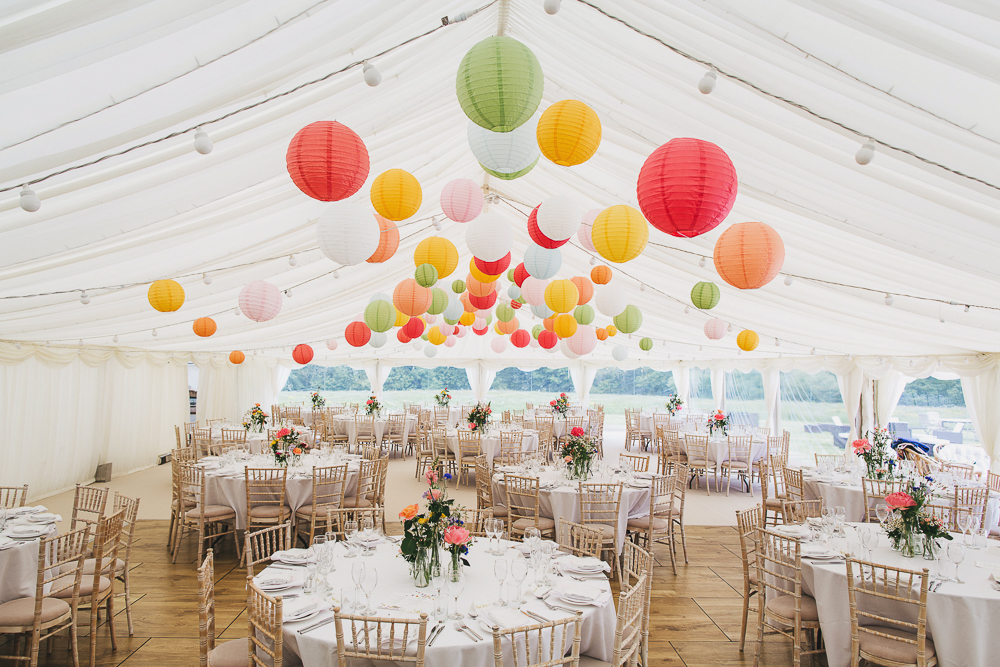 Paper lanterns are never out of fashion. In fact, they look simply gorgeous and unique. The best part is you can use as many paper lanterns as you want. They will look amazing when used in large numbers. If you are also looking for a different kind of wedding entrance décor, then use large number paper lanterns to make your wedding entrance look mesmerizing.
19. Multiple Elements at The Entrance
You can use multiple elements to make your wedding venue entrance look jazzy. You can use elements like: kites, pinwheels, paper DIY décor items, balloons, etc. to make your wedding entrance look extravagant.
20. Cheesy Signages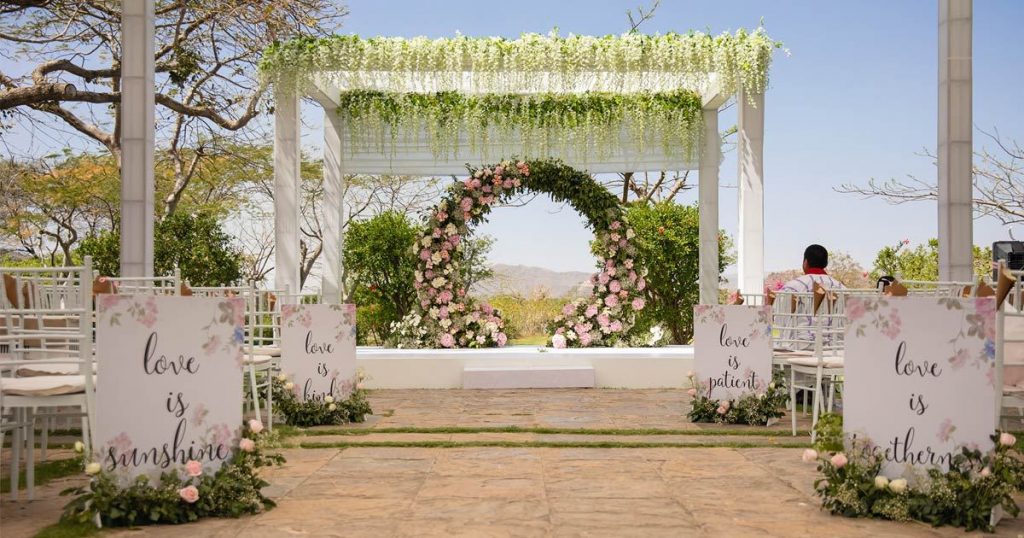 If you want to keep things simple, then using some cheesy signage will do the needful. Signage looks beautiful and simply adds to the event décor. You can also go with the one that goes perfectly with your wedding theme.
21. Bottle Lanterns
Last but not least, your wedding entrance will look simply amazing with bottle lanterns along with some white and yellow flowers tied to them. Try out!
AND FINALLY…..
So, these are the wedding entrance ideas for 2022, you can go with the one that suits your wedding theme the most!
Happy Wedding…. ☺ ☺