You've decided on a wedding date, booked a banquet space, finalized a great wedding décor, and figured out how many guests you'll have. Now it's time to start looking for a caterer.
As enthralling as it may appear, the experience can quickly become debilitatingly stressful. There are a lot of menu selections to sort through. Moreover, finding a budget-friendly catering service, comparing costs and levels of service isn't always easy.
Experts suggest 20 – 25% of your wedding budget goes into your wedding catering. And this is huge; hence, it is imperative to spend your money wisely.
Since you're reading this post, it's safe to assume that you're looking for ways to save money on wedding catering. If so, keep reading; we will discuss some of the best ways to save money on wedding catering.
Let's get started…
Let's first understand the average cost of caterers.

Catering Costs on an Average
The average cost of wedding catering, according to the happy wedding is $8,700. However, catering expenditures may be greater or lower depending on your location. That's not all; wedding catering prices may vary depending on the time of year and location of the wedding.
Usually, in the case of a typical ballroom or banquet hall wedding, the venue provides in-house catering. This implies that you will have to buy your meal and bar packages through them in case of a ballroom or banquet hall wedding.
However, if you plan a wedding on Beach or Garden, you'll have to arrange for a caterer to cater your wedding. In both situations, the cost of catering will be different.

Additional Catering Services Costs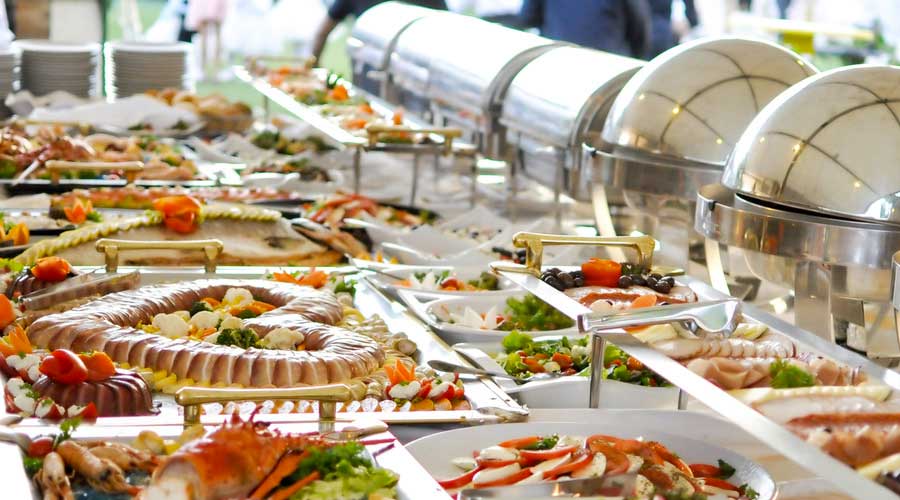 Aside from food and drinks, the other costs that include in your catering bill are as follows:
Cutlery and Glassware. Plates, cutlery, and serving dishes are all included in the package as they're required to serve the cuisine. However, Glassware (water and wine glasses) is mostly not included.
Tablecloths and Napkins. Unless you are looking at a packaged deal, linens and napkins will be an additional cost. Know that tables come in a variety of sizes, including regular eight-person rounds and jumbo ten-person rounds. Likewise, tablecloths are also available in a variety of lengths, including regular and floor-length. The larger the tablecloth, the more it costs.
So, inquire whether your caterer can provide linens and how much they will cost. Doing it yourself may be less expensive; however, it will add to your wedding preparation wedding list unnecessarily. Also, dealing with too many vendors is not going to be an easy affair at all.
Labour Costs. Your catering labour includes servers, bartenders, waiters, etc. A buffet dinner typically requires one waiter for every 25-30 attendees. In contrast, table suppers require more staff than buffet dinners and generally are more expensive.
Cake Slicing Cost. If you have ordered your wedding cake from a third-party baker, your caterer may still charge you for the service of slicing the cake. As a result, find out how much the slicing will cost ahead of time.
Taxes. Taxes on wedding catering and other services are also costs that you cannot ignore. Know that you'll have to pay taxes on the total amount (including gratuity). The majority of caterers will add gratuity to the meal subtotal only. There is no getting around them, and they can be rather substantial. Gratuities might range from 10% to 20% of your invoice.
Corkage Fee. if you bring your own alcohol, inquire with your caterer about the corkage fee. More often than not, caterers charge the corkage fee separately in case you bring your own alcohol.
Set-up and Clean-up Fees. It is generally always the case that set-up and cleanup are covered when you are charged hourly for wait employees. However, it is recommended that you double-check it to avoid any unpleasant surprises.
Here we go…

How to Save Money on Wedding Catering
Let's now take a look at some of the best ways to save money on wedding catering.
1. Look for the pricing model
Different caterers have different pricing models. Some offer packaged rates, while others use a la carte pricing. Hence, it is critical to compare different pricing models to select the one fitting your needs. When comparing caterers for your wedding reception, be sure you are comparing like with like.

2. Understand what's included in the package
If you opt for a wedding catering package, make sure you understand what's included and what's not in the package. Remember that the cost of meals is only a small part of your total bill.
All of these additional costs, including service fees, leasing fees, and taxes, can have a major impact on your bottom line.
Hence, inquire about additional fees before you choose your caterer. Make a decision based just on the catered menu price and get a full quote.

3. Select the most qualified caterer
The most effective method to save money on wedding catering is to select the most qualified caterer. Begin by being familiar with a caterer's service and the specifics of what you will be charged for. All you have to do is select the top 5 caterers in the area, compare their services, food quality, and pricing, and choose the best accordingly.

4. Compare pricing
There is nothing worse than a surprise cost when you are on a tight budget. Before selecting a catering package, ensure that you comprehend the overall cost. When booking a caterer, keep in mind that you'll be responsible for more than simply the dinner.
You'll pay for the dinner bundle in addition to the bar package.
Depending on your caterer, you may also be required to pay corkage, slicing costs, delivery fees, set-up fees, gratuities, and sales tax. Some caterers have a minimum guest count or a minimum monetary amount requirement.
Before you sign the contract, read the fine print and ensure that you understand the minimums.

5. Make the most appropriate menu selections
Bear in mind that the cuisine you choose for your menu will also have an effect on your budget. For example, if you select a non-vegetarian menu over a vegetarian one, the cost will be higher.
Non-vegetarian food items are more expensive than vegetarian food items. As a result, you'll need to choose the most suited wedding menu to ensure both superb cuisine and cost savings.

6. Look for affordable foodservice
There are different food services available for your consideration, such as family-style service, buffet service, plated supper, and so on. Know that your choice of food service will have an effect on your catering prices.
The most expensive option is a plated supper, as it needs more effort in the kitchen and additional servers for your guests. If you wish to save money, you can instead provide family-style service. In family-style receptions, the food is served on platters at each table.
The buffet is another less expensive option. Buffets are popular because they provide a greater selection and allow each guest to select their favorites.

Related: How Can Wedding Expenses be Tax Deductible
7. Reduce your wedding bar's costs
After the food, the bar is the second most expensive item on your list. The most expensive option is to have a fully stocked open bar. Providing a cash bar is the least expensive option, but that's not always feasible.
Though in some places, a cash bar is standard and even expected at wedding receptions, which is understandable. Feel free to do the same at your wedding if your family and friends had a cash bar at their nuptials.
But when a cash bar is not possible, it is going to add to your cost for sure. And if you have a limited budget for a wedding bar, it's best to opt for a limited bar option. You can have beers and wines at the wedding for your guests.
If you want to give more variety, you can serve beer and wine in addition to one or two trademark cocktails. A bar with a restricted selection is a good compromise as it allows your guests to enjoy drinks.

8. Consider closing the bar while dinner is being served
Undoubtedly, alcohol adds to your wedding catering cost significantly. And you cannot go about your wedding without it. So, the best way is to come up with a SMART SOLUTION. And the smart solution includes closing the bar while dinner is being served. Yes, you can open the bar at cocktail hour and again at the conclusion of dinner, just in time for dancing.
It will help you save money on wedding catering, and guests will be able to enjoy their meals.

9. Trim your guests' list
If you're really tight on the wedding budget, then it's recommended to trim your guests' list. Invite the ones who you really want to be a part of your special day.
The best way to do this is to create a list of people who you want to attend your wedding, which includes your close family members and close friends. Now there will be your office colleagues, old office colleagues, your friends' girlfriends or boyfriends, your father's friends, your mother's friends, and so on. You'll have to make a list of those who really matter.
See, the idea is to have a fun wedding, not a wedding with a crowd. You and your guests would be able to enjoy more with limited guests. Moreover, trimming your guests' list will significantly affect your catering budget.
Also See: How Many Wedding Guests to Invite and Expect
Here is an example:
If on average, a typical lunch package costs $75 per person, and a typical bar package is $20 per person, then your average cost per person will be $95. Now, if you're planning to invite 150 guests, the cost will be $95*150 = $14,250.
Now, if you trim around 40 such guests who you don't think really matter to you, the final guests' list will have 110 guests.
Now, your cost will be 110*$95 = $10,450. Simply by removing the number of persons on your guest list by 40, you will save $3800 immediately.

10. Request substitutions from your caterer
If there are items in the meal package that you do not desire, inquire about exchanging them for something different.
For instance, a meal package may include dessert. Instead of wedding cake, you might serve it and request that they forgo the slicing cost in exchange for the dessert.

11. Wedding food trucks
If your wedding will be held outside, a food truck is a wonderful option to save money on wedding catering. Prices vary according to location and the type of food trucks accessible in your area. However, the cost per person is typically far less than that of a standard caterer.

12. Create a fixed menu
The most budget-friendly alternative to saving money on wedding catering includes creating a fixed menu. Fixed wedding menus usually include affordable options such as BBQ, pizza, tacos, falafels, and kebabs.
Additionally, a fixed menu will help you avoid lengthy waits. All you have to do is to hire a reputable food truck. Usually, these food trucks arrive with a few pre-prepared alternatives. Each guest may request anything they desire, which will then be quickly distributed.

13. Opt for breakfast or brunch reception
By scheduling your wedding for a Sunday breakfast or brunch, you can save a significant amount of money. The catering will be significantly less expensive as a result.
In addition, no one expects a fully stocked bar first thing in the morning. You can provide a champagne toast and wine and beer, and none of your guests will bat an eyelid at the prospect.

14. Reception with appetizers and cocktails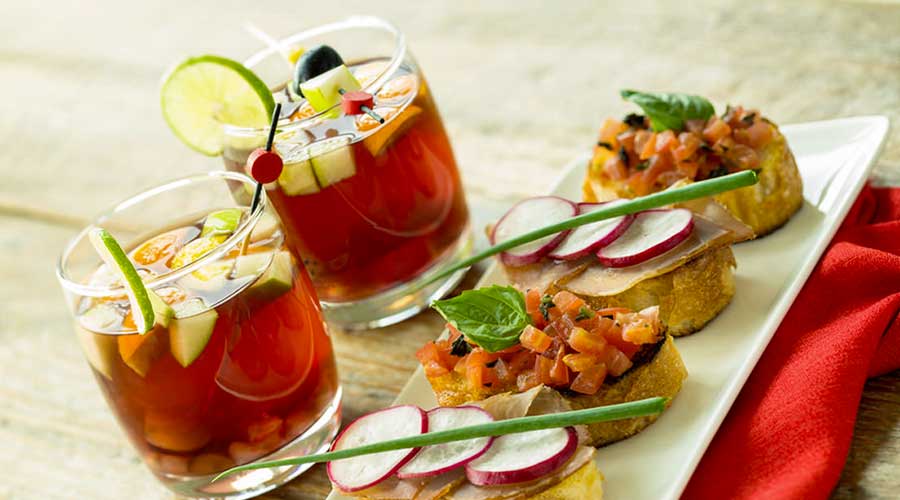 Another wonderful way to save money on wedding catering is to serve appetizers instead of a full dinner. If budget is a constraint, serving appetizers instead of a full dinner can help you save money on your catering expenses. Aside from saving money on food, you could even be able to save a lot on rental equipment.
Of course, with appetizers, you don't need to host a sit-down supper. In that case, you won't require a whole set of tables, chairs, and linens. In addition, you'll require fewer servers for a shorter period of time. The sole rule to follow is to ensure that your reception concludes before dinner is set to begin. Alternatively, you may arrange your reception to start after dinner has finished.
Pro Tip: Plan an appetizer and cocktail party menu ahead of time and freeze it. The most economical appetizers are those that can be made ahead of time and frozen, including meatballs, small quiche cups, and filled mushrooms.
Other low-cost possibilities include things that can be prepared in large quantities and then served in little portions. For example, shooter cups of pasta or soup, grilled cheese sliders, and pinwheels are all options.
If you want to provide your guests with something to chew on in between the passed appetizers, you may also put out bar snacks such as almonds and pretzels.

15. Wedding reception with cake and punch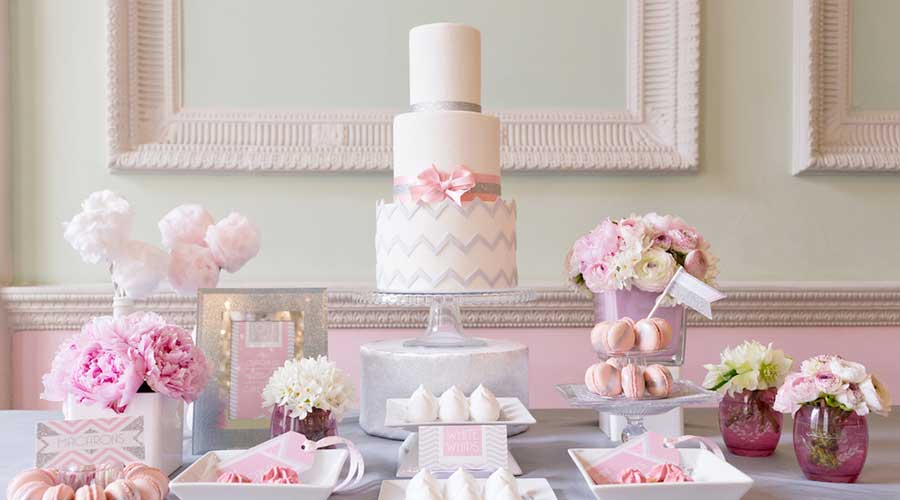 This is for those who are really tight on budget. A wedding reception with cake and punch is a short and sweet affair. Your ceremony can include a champagne toast and a first dance, which you can incorporate into your reception. This is one of the best ways to enjoy time with family and friends while staying within your financial means by planning ahead of time.
Pro Tip: Consider purchasing an elegant bakery cake and toast with champagne for a cake and punch reception if you have at least a few hundred dollars to spare in your wedding budget. However, if you have a tighter budget, you can always make your own cake from scratch.
Alternatively, you could order a basic white cake and decorate it yourself with flowers and a cake topper to create a semi-DIY wedding cake. Doing so will help you save money on wedding catering.

16. Opt for an off-season wedding date
Here's another fantastic strategy to save money on your wedding catering: use coupons. Not only will this help you save money on your wedding catering bills, but it will also help you save money on your whole wedding budget. This is due to the fact that most vendors give cheaper rates on their services during off-season weddings and receptions.
So, if you're not fascinated with peak season weddings, this is the finest alternative you can go with. Because of the decreased demand during the winter months, getting married during the winter months may result in lower prices or an off-season discount. Aside from that, if you choose an off-season wedding, you may be able to get away with having a lower minimum guest count or cheaper minimum expenses.
A large number of wedding providers offer discounts for wedding services that do not take place on a regular Saturday evening.

Different Menu Ideas To Save Money On Wedding Catering
♦ Buffet Menu Ideas for a Wedding Reception
Even though a buffet is the most economical sort of food service, the type of food you serve will have an impact on the final price you will have to charge.
Prime beef and fresh seafood are the most expensive options available.
But which meals are the most reasonably priced? Consider serving family-style meals that include items that are simple to prepare for large numbers of people. Some of the best food options include Roasted Chicken, Turkey, Ham, Salads, and so on.
Also Read: 305 Wedding Buffet Menu Ideas

♦ Food Stations Ideas for a Wedding Reception
Food stations or food bars are quite trendy these days. The best part is that food stations are budget-friendly options to save money on wedding catering. However, they are based on a certain cuisine, primarily fast food such as a taco bar or a pasta station, rather than on a variety of dishes. You can serve a main meal along with a variety of garnishes.
They are less expensive since they require less service – your guests can help themselves, much like a buffet. In addition, depending on the menu you choose, the cost of the food and ingredients may be lower than usual. Some of the options include,
Taco bar
Burrito bowls
Burger joint
Fajita station
Ice cream bar
Pizza station
Macaroni and cheese station
Pasta station
Salad bar
Waffle bars, and so on
♦ Brunch Buffet Ideas for a Wedding Reception
Brunch Buffet Menus are the most affordable options among all. The most affordable options for a brunch buffet include basic breakfast items such as eggs, bacon, and pancakes. You can even consider including scrambled eggs, pancakes, bacon, and sausage on your breakfast menu. In addition, you can have a bread basket, butter, and jam for your breakfast menu.
And yeah, add some wonderful drinks and juices to your brunch buffet menu for that beautiful touch. Toss in some juice, coffee, and tea for a quick and easy brunch menu that everyone will like. For those looking for a trademark drink, Mimosas or Bloody Marys are classic brunch beverages that are worth trying.

♦ Self-Catered Wedding Menu Ideas for a Wedding Reception
If your budget is too tight to hire a standard caterer, consider preparing your wedding feast yourself or with the help of a friend or relative. If you so desire, you can prepare a complete dinner from scratch. And if you don't think it is possible for you, then there are other ways you can follow. There are numerous ways you can do so, such as:
Place an order for food from your favourite restaurant. Yes, rather than employing a traditional caterer, you can place an order for meals from your favourite restaurant. Your meal cost will be significantly less expensive than that of a regular caterer. Make sure you place the order very much ahead of time.
Having food from a restaurant allows you to serve it in any way you want, such as buffet or family-style. But know that you'll need people to help you set up the meal and clean up afterwards. So the best is to employ young relatives, friends or employees from the restaurant where you placed your order for the job.
Prepared meals can be purchased at your local deli or grocery store. In the event that you don't have a lot of assistance with your DIY wedding menu, you can obtain food that can be served cold instead. Some of the best options to consider are sandwich trays, coleslaw, pasta salad, potato salad, and fruit and veggie trays. All you have to do is to purchase them in advance and organize them at the wedding.

Wrapping it up…
So, these are the ways you can save money on wedding catering. Hopefully, this post has been helpful for you and will assist you in saving a large amount of money on your wedding catering costs.
If you have any suggestions that are not included in the list above, please feel free to include them in the comment box below.
Happy Wedding… ☺ ☺