A December wedding celebration is perfect and always special because of the feelings of Christmas that comes with it. Festive season decorations are usually very special and also unique. There are so many beautiful backdrop decorations for your Christmas Wedding Ideas.
This season of the year is the perfect time to fix your wedding, especially for holiday enthusiasts. A winter wedding is perfect during the Christmas season. During this season, you can host a big fat wedding celebration without any fear of rainfall.
So, if you're planning a Christmas Wedding, then this is the post for you. In this post, we will provide you with some of the best Christmas Wedding Ideas that will make your day even more memorable.
We have a lot of lovely Christmas Wedding ideas that will make your special day merrier, and we want to share them with you. Weddings held around the Christmas holiday need not break the bank.
You will feel more in the festive spirit after implementing some of these tips. When it comes to wedding preparations, the first thing you should always keep in mind is to stick to your financial plan and not go beyond.
You don't need complicated decorations when it's a Christmas wedding.
Let's now move to the best Christmas wedding ideas that will blow your mind. These decorations are classic, creative, and also Christmas-inspired.
So, let's dive in…
The first thing that comes to mind while planning a festive season wedding is the venue. Remember, the decoration of your venue should be in line with the festival to add a special touch. You will also have to consider your very outfit, which is very important. It should fit in with the season.
For a perfect Christmas wedding, the following should be considered while you make your plans;
22 Best Christmas Wedding Ideas To Host Fairy-tale Wedding
1. Christmas Wedding Theme
Your Christmas wedding decoration colors should always be red or green. You can end your Christmas wedding night with fireworks to make your event even more memorable for everyone.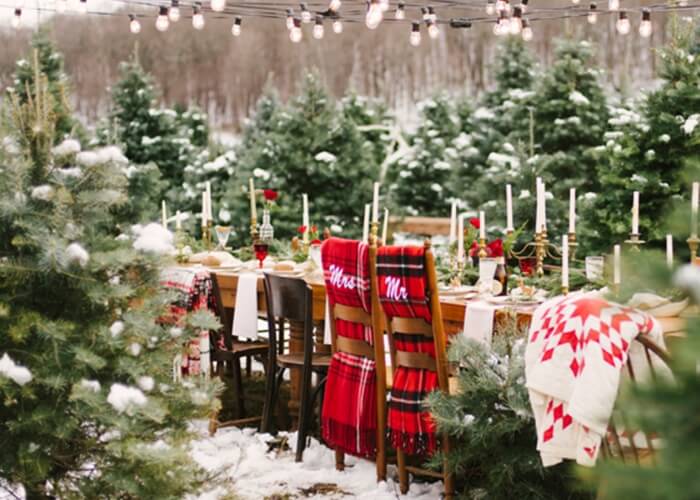 2. Wedding Invites
You don't need to give it a lot of thought in order to come up with Christmas wedding invitations. Simply create wedding invitations with a Christmas theme to let your guests know about your big day that will take place during the festive season.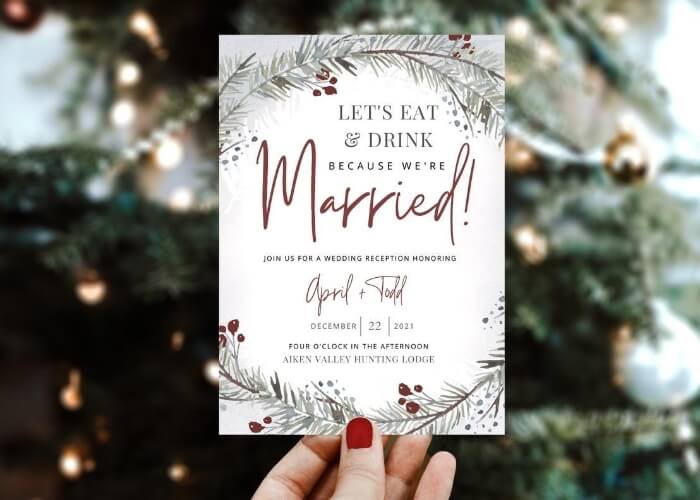 3. Welcome Your Guest In Style
Give your guests a warm welcome to your wedding ceremony. You may decide to present your guests with a welcome bag that has a beautiful ornament inside it. Make your style unique by adding a beautiful colour palette or theme.
4. Bridesmaid Dresses
Your bridesmaids' outfits, like your own, need to be coordinated with the overall concept of your wedding.
Therefore, you must get the best outfit possible for the bridesmaid that is suitable for the time of year.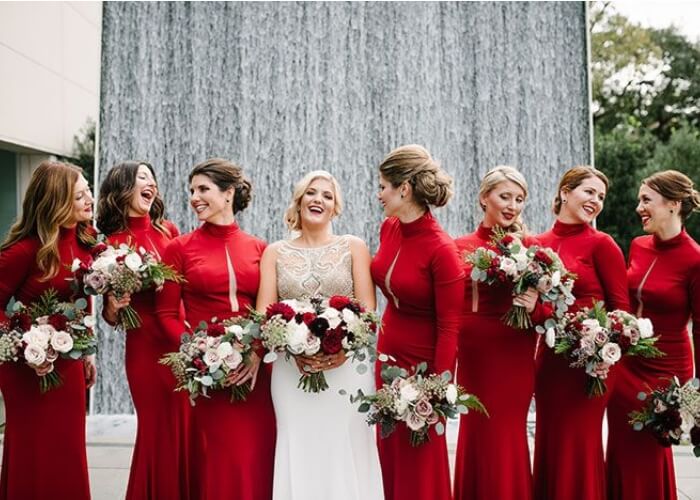 Since the weather around Christmastime is typically chilly, you should give them wonderful shawls that they can wear on that day and after that as well.

5. Frame the Altar With Christmas Trees
Tell me, what's a Christmas wedding decor without the presence of a Christmas tree? There is none! Having a Christmas tree on your Christmas wedding is A MUST. It will add more beauty to your venue. Get a decorator to design your altar with evergreens and beautiful Christmas lights.
6. Christmas Tree Farm Wedding
Having your wedding here is such a magical experience. You may choose to entertain your guests at a Christmas tree farm because the spirit of the holiday is already present there.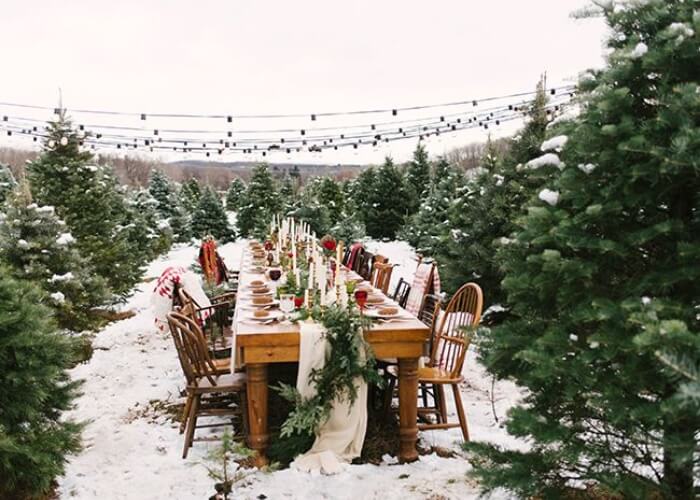 The enchantment of this location, along with the joyous atmosphere of the holiday, will be too much for any of your guests to bear.

7. Bridal Shoes
Your attire for the wedding reception needs to have a celebratory air about it. Invest in a pair of nice plaid or tartan heel shoes so you can wear them with your dress. Your bridal appearance will lend a sense of charm to the day.

8. Decorate The Scene
The use of greenery is essential for finishing off the look of a Christmas wedding. It's only natural and also rather frequent for marriages to take place around Christmastime.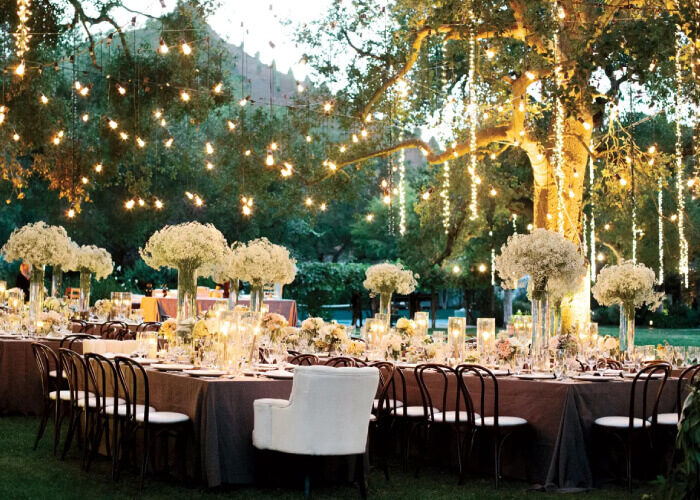 On the other hand, you shouldn't use it for anything and everything; rather, you should decorate the chandeliers with it or use it to line the tent in some kind of draping form for creating timeless and elegant wedding decor.

9. Make Special Signage For Your Guest
If you want your Christmas wedding to stand out from the crowd, consider designing personalized signage for your wedding day. You can make use of a signature cocktail and give it a special name.

10. Make Use Of Jingle Bells
A Christmas wedding decoration that does not include jingle bells will look unfinished. Therefore, in order to create the ideal decorations for a wedding with a Christmas theme, you must use Jingle Bells.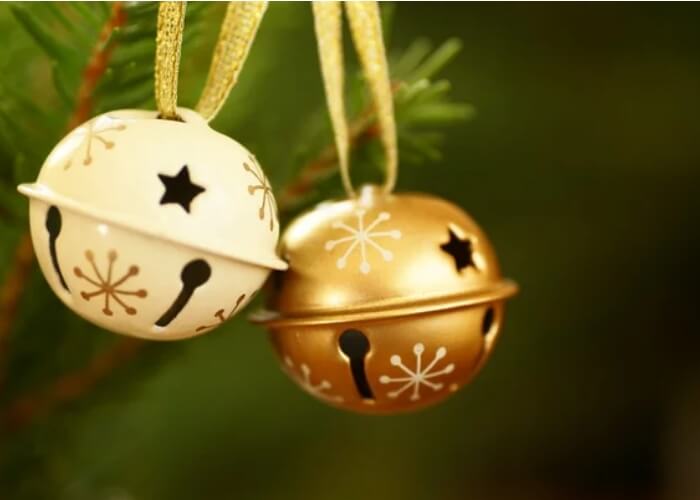 11. Get a Rustic Christmas Wedding Cake
The semi-naked look of a cake makes it look great for a Christmas wedding. This cake looks like a dessert frosted with snow. You may decide to add some pine cones to the cake and snippets of spruce and berries to give it a Christmas look.

12. Christmas Wedding Bouquet
If you are considering taking your vows during the Christmas season, then a Christmas wedding bouquet is mandatory to commemorate the celebration. Take your wedding to the next level by getting this bouquet.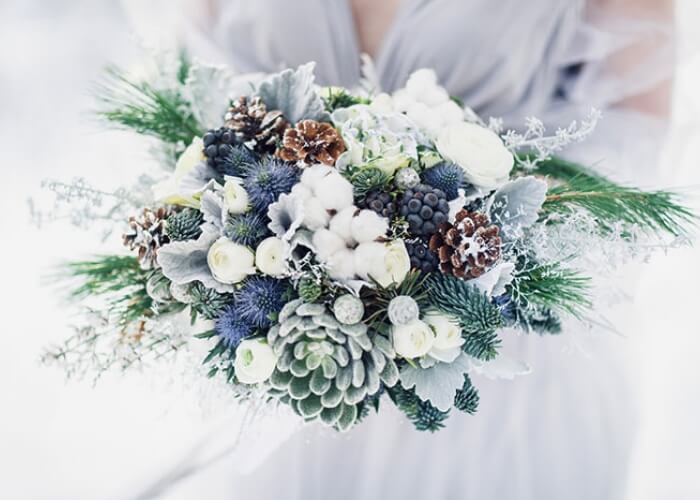 13. Pine Cone Fire Starter Favour
This is perfect for your Christmas wedding. This is the best Favour you can give to your guests, and they will appreciate it. It will be useful to your guests as they can have it as a keepsake of your special day. Whenever they will use it to light up their fireplaces – it will remind them of your big day!

14. Hang String Lights
There's nothing you will love as much as getting a magical twinkle light as part of your decor. These lights will help you create a romantic atmosphere for yourself and your spouse. The best thing about these lights is that they add elegance to any celebration without adding to your cost.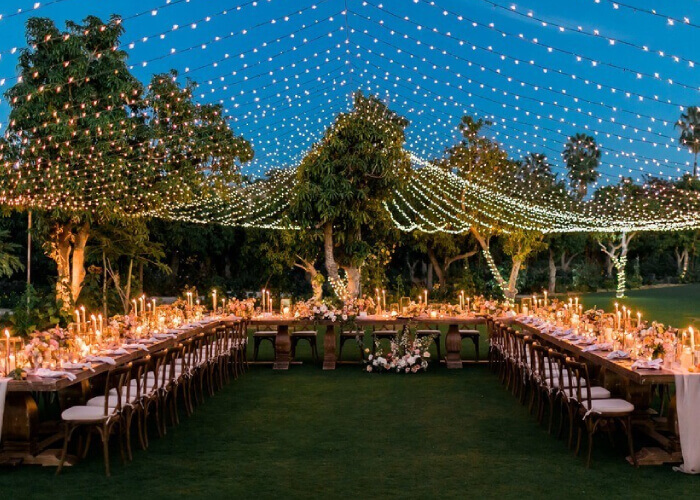 15. Gift Ornaments
There is no wedding ceremony without gifts and ornaments, this will create beautiful memories for your guest. For instance, with the assistance of a calligrapher, you may have the names of your guests written on glass ornaments. [Citation needed] Your guests will have the opportunity to acquire these items either on their way in or on their way out of the venue.

16. Let The Venue Look Snowy With Snowflakes
If you are planning an outdoor Christmas wedding, then you probably might not need a snowflake. But if the weather forecast does not show that your chosen date will be snowy, you can make your snowflake like a confetti shower.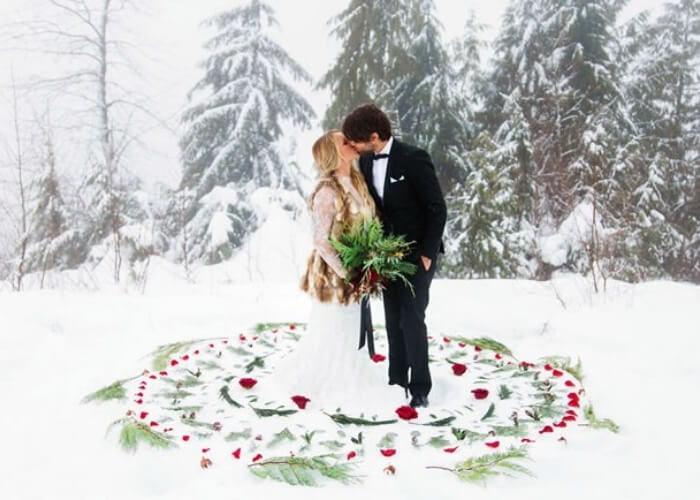 17. Poinsettia Centerpieces
Do you need small but attractive centerpieces? You can get some flowers from a poinsettia plant and then make use of it to decorate the center of the table. To make lovely flower arrangements in the center of your tables, you won't need nearly as many flowers as you might think.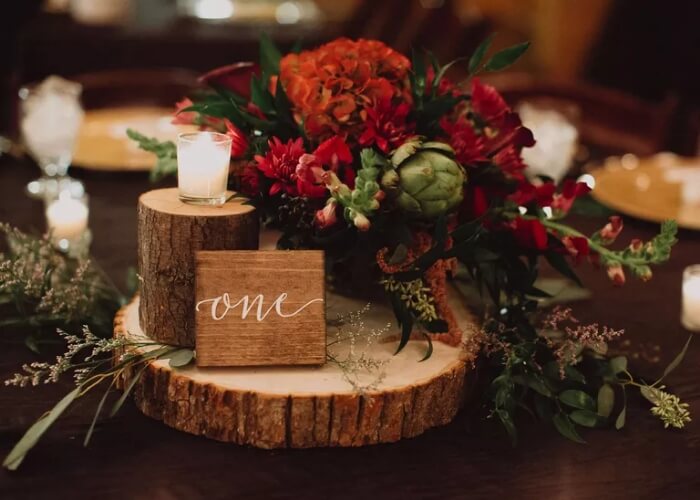 Your event and location both benefit from the addition of more color provided by this centerpiece decor. You are welcome to give it a shot!

18. Floating Candles and Berries
Yes! A floating candle, this can't be left out of your Christmas wedding decor. You can DIY these candles. It is very easy to create floating candle centerpieces. All you have to do is to take mason jars with floating candles and cranberries to create beautiful centerpieces. The best thing about floating candles is that they are not expensive, and they will make the venue look very adorable. Your Christmas wedding will be perfect with this decor.

19. Pine Tree Cake Topper
Wow! Have you ever thought of having a unique cake for your Christmas wedding? This cake recipe is splendid as it will be decorated with frosting trees as a topper. You can get decorate your wedding with pine tree cake toppers to create a magical Christmas-themed wedding cake.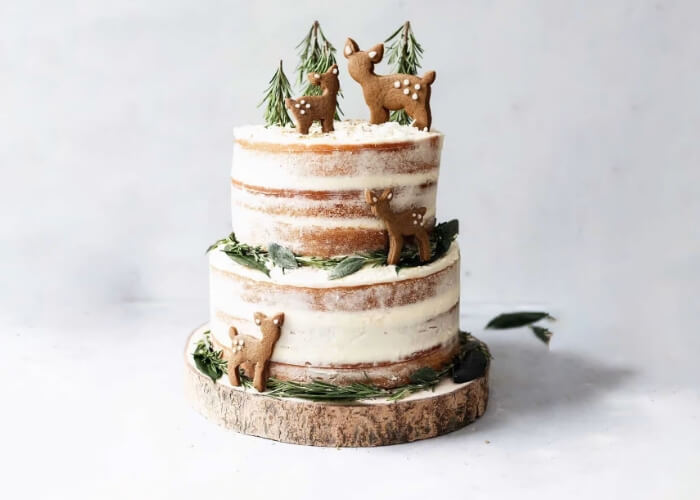 20. Holly Vases
Would you love to show off some Holly leaves and berries? Then you can get clear vases as this will give you the kind of appearance you want.
You may choose to combine different types of vases in order to achieve a more fashionable look. This might serve as the focal point of each table's arrangement.

21. Christmas Wedding Food
Food plays a crucial role when it comes to hosting a perfect Christmas wedding. Infusing your food and drink with Christmassy flavors like eggnog, cranberry, and peppermint can be a pleasant (but subtle!) way to bring a touch of the holiday spirit to what you're serving.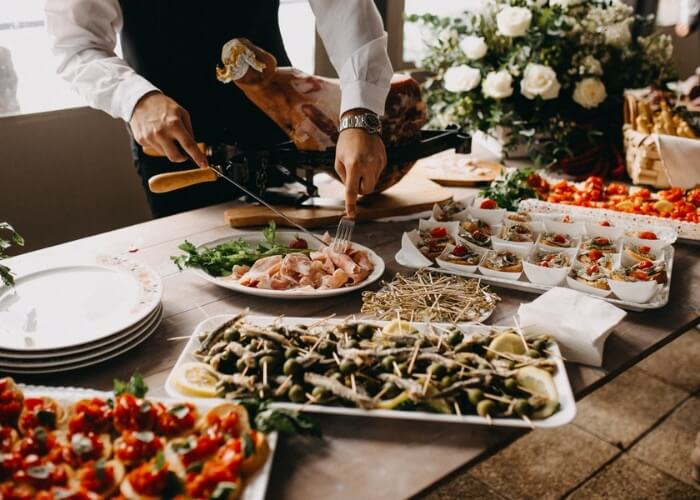 22. Serve Tree-Shaped Canapés
You can serve some dishes by making them unique and special for the occasion. You can make tree-shaped canapés with cheese, cucumbers, and nuts and serve them to your guests. Your guests will surely love the idea, and they're going to remember it for a very long time.
Wrapping it up…
Christmas wedding ideas are one of a kind as they can't be compared to other seasons of the year. Christmas weddings are very different from other seasons' weddings.
We hope this article has really been useful for you and will help you get some inspiration for your Christmas wedding.
Now, after Christmas Wedding Ideas, it's time to take a look at some frequently asked questions.
Here we go…
FAQs
➤ How Much Does a Christmas Wedding Cost?
Well, the cost of your wedding during Christmas will depend on many factors, including the location of your wedding, the number of guests, and so on.
However, a Christmas wedding with small gatherings will cost you around $15,000. Whereas, if you plan to host a big fat wedding, then you may have to spend about $35,000.
Make sure you book your wedding venue well in advance as most people prefer to marry during Christmas.
➤ When Should I Book My Wedding Venue?
You should always book your wedding venue well in advance to avoid regrets. As a rule of thumb, you should book your wedding venue at least 8 – 10 months prior to your wedding.
If you delay the bookings, you may end up losing your favourite wedding venue. There is no point in it.
➤ When Shall I Book My Wedding Vendors For Christmas Wedding?
Having a wedding during the holiday season requires making vendor reservations a very long time in advance. People might want to book in advance for caterers and decorators for the holiday season.
Also, delaying the hiring of your vendors could cause problems in the future. As a result, it is essential for you to book your wedding vendors after you have determined the date of your wedding.
➤ What Special Arrangements Do I Need To Make For My Christmas Wedding?
Christmas wedding simply means winter wedding. And if you're going to host a Christmas wedding, you need to exercise a great deal of caution, especially when it comes to ensuring that your guests are comfortable throughout the wedding. In the event that winters are particularly harsh where you live, you will need to ensure that your wedding guests have access to both blankets and heaters.
➤ What Should I Wear for My Christmas Wedding?
It's a no-brainer! Wear a full-sleeve bridal outfit made of heavy material that will keep you warm throughout the event.
Happy Wedding… ☺ ☺