Getting married? Congratulations! 
We understand how busy you will be organizing your big day and arranging things for the same. Well, there are a lot of things that we miss because of excessive pressure or a busy schedule. And we don't want you to be missing anything, for that matter.
When you are organizing your big day or helping someone else organize theirs, make sure you don't forget about the cookie table! Your guests will absolutely enjoy this beautiful tradition of yours. Aesthetics and personal preference are very important factors to consider when designing or furnishing one, despite the fact that there is no one best way to do either. 
As a result, we have got you some of the most beautiful and delectable cookie recipes that are suitable for the wedding reception.
The fact that you are free to include whatever variety of cookies you like is one of the most enjoyable aspects of cookie tables. Not only will the cookie table be more alluring to your guests if you provide a wide range of distinct cookies, but it will also provide them with more options to select from.
Why Do We Need To Add Cookies To Our Wedding Reception?
When it comes to desserts at weddings, we always have a soft spot in our hearts for the traditional wedding cake. However, providing your guests with more than one option for dessert is a great idea. And when it comes to more dessert options, assorted cookies come in handy.
Cookies were frequently baked in order to pay homage to the history and customs of a family. This is a wonderful way to keep things in line with the main theme of the party. At the same time, it's a great way to pay tribute to the unique recipes and traditions that have been passed down through the generations. 
The best thing about cookies is that they can range from simple and timeless, like a chocolate chip cookie, to sophisticated and personalized, like a custom sugar cookie. There is an almost infinite number of options, which provides a nice and varied selection that caters to a wide range of preferences.
With cookies, you have the opportunity to showcase many different kinds of treats. Moreover, you can even use cookies as wedding favors to make your guests eat them even after the wedding is over.
Let's now move to the list of 20 most popular cookies that you can try adding to your to wedding reception menu to make your day sweeter! 
20 Most Popular Cookies For Your Wedding Reception
Here is our list of most popular cookies for your wedding reception. We hope that this list will help you get some inspiration for your wedding reception and reduce your burden a bit! Take a look…
1. Chocolate Chip Cookies
It should not come as any kind of a shock that chocolate chip cookies are regarded as the most iconic kind of cookie all across the world. 
Some recipes called for cream cheese, while others suggested mixing sour cream and maple syrup together. Some of them included butterscotch chips or peanut butter inside of them. In addition, nuts such as walnuts, pecans, and even pine nuts were regularly included in the production process as additives.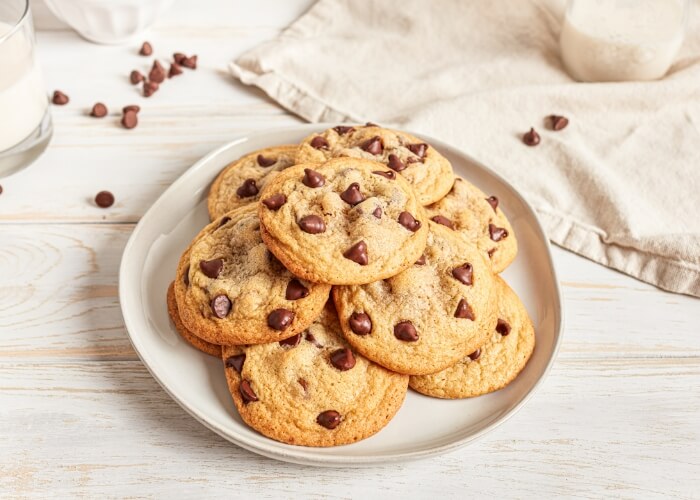 No matter what ingredients you use to make such wonderful cookies, just remember that you cannot go wrong with chocolate chip cookies.
2. Peanut Butter Blossoms
Cookies of this type are also known as Peanut Butter Kiss cookies. They first gained widespread recognition in the 1960s after an Ohio housewife baked them and won a baking competition.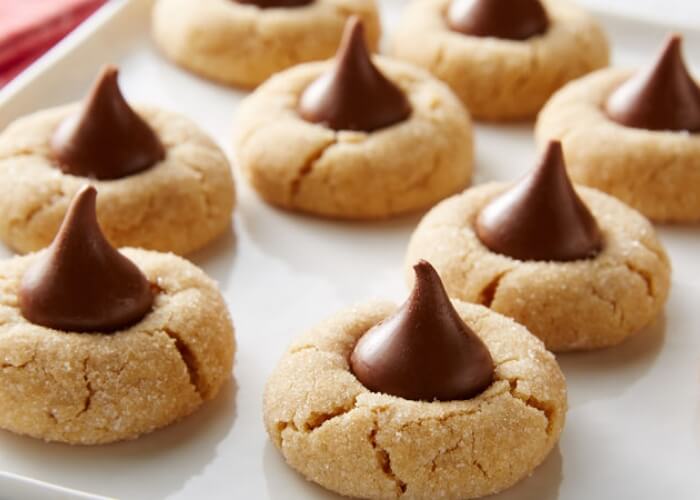 This cookie is a near relative of the traditional peanut butter cookie. Like its ancestor, it is soft, chewy, and topped with chocolate. However, it is during the holiday season that it enjoys the greatest level of popularity.
So, if you're looking for a great option for your wedding reception, peanut butter blossoms are the ones. All you have to do is to be a little creative or ask your chef to give his/her best!
3. No-Bake Cookies
These cookies are delicious yet healthy for one to eat. Oats, peanut butter, and chocolate no-bake cookies are nothing more than a basic blend of the three ingredients.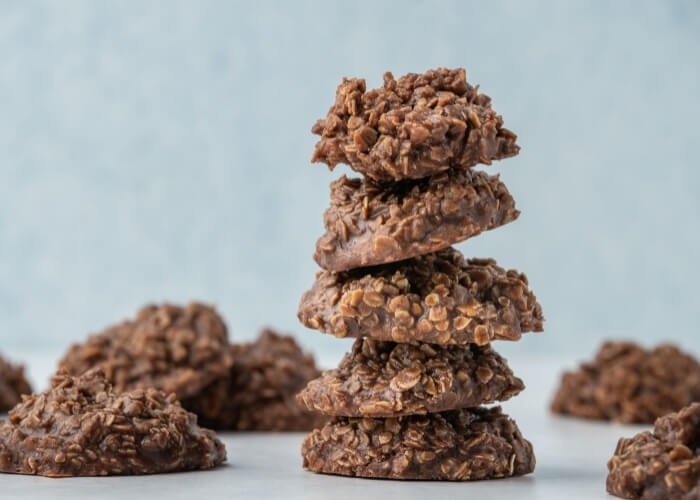 These cookies taste great! Having them at your wedding reception will just add an enchanting element. Moreover, your fitness freak guests will love to have them without worrying about their calorie intake at the wedding.
4. Molasses Cookies
If you're looking for a one-of-a-kind addition to your wedding reception, Molasses cookies are the ones.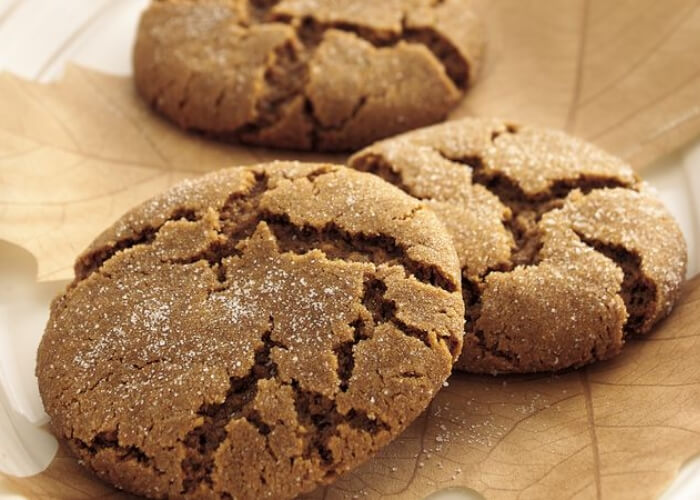 These cookies have a supple and chewy texture. And the best thing about these cookies is that they come in a wide variety of forms and sizes. Your purpose is best served by a molasses cookie that is puffy and has a slightly underbaked center, and it has a sugary crust on top.
5. Macaroons
Macaroons are a type of miniature cake or biscuit that can be made with a variety of different components, including ground almonds, coconut, other nuts, sugar, flavourings, glacé cherries, jam, chocolate coating, and so on. Even sweetened condensed milk can be used as an ingredient in it.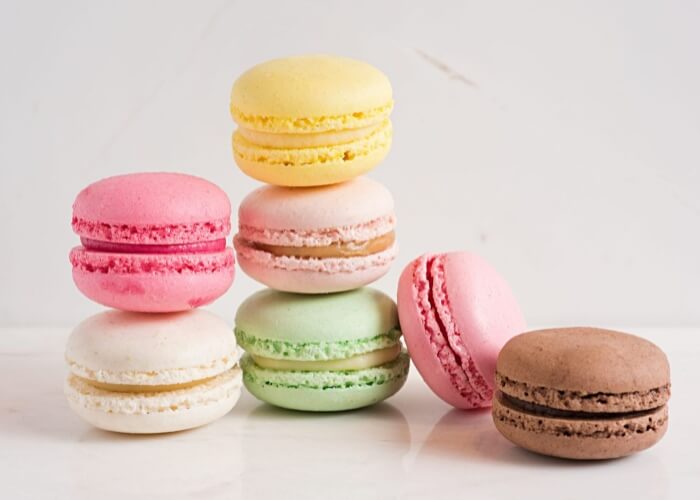 These almond coconut clusters are not to be confused with the 'macarons' that are popular in France. They are a breeze to make and make the ideal accent for any cookie platter. So, don't think too much as this is going to be an ideal dish for your wedding reception.
6. Lemon Cookies
Lemon-flavored cookies are the ideal recipe for a summer wedding reception. The coolest thing about lemon cookies is that they can come in a variety of forms.
Some of its popular forms include laced sugar cookies, lemon white chocolate chip cookies, or crinkle cookies.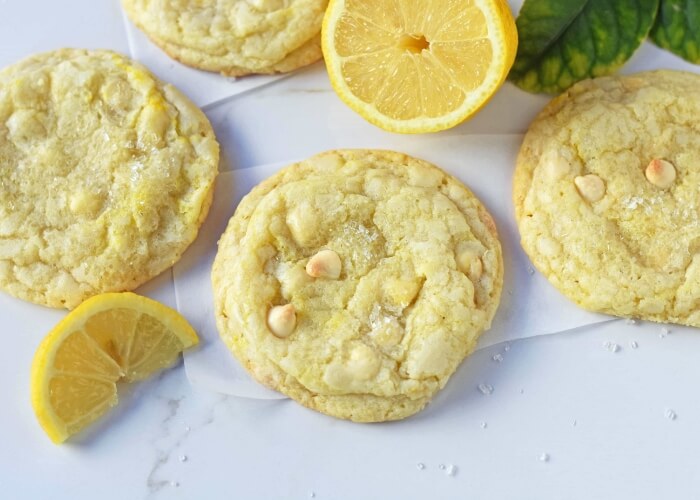 They have just the right amount of taste to go along with an iced tea on a hot summer day. These are dusted with a thin layer of powdered sugar and are so delicate that they crumble into pieces as soon as you pick them up.
They can even be added to your bridal shower or any other pre-wedding celebration to add flavor to your ceremony.
Also See: Top 15 Refreshing Welcome Drinks Ideas for Wedding Guests
7. Cream Horns
Cream horns make for the best cookies when it comes to adding the finest dessert to your wedding reception. Cookies like these have been around for a long time and are known as Lady Locks.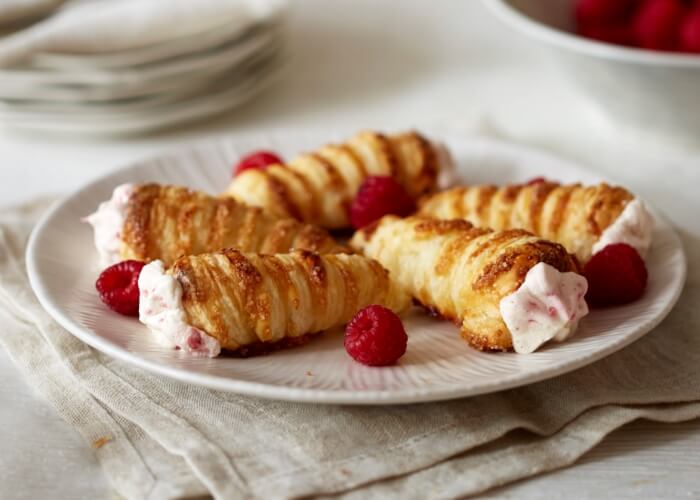 You might find them on cookie trays or tables. They are so delicately exquisite and refined. They are best suited for wedding receptions, no matter the size of the wedding. You can include them even in the most opulent of wedding reception ceremonies.
8. Nutella Cookies
Desserts like these are a surefire way to win over the heart of anyone who likes Nutella. The classic thumbprint cookie, which is often filled with jam, has been given a chocolatey makeover in the form of Nutella thumbprints.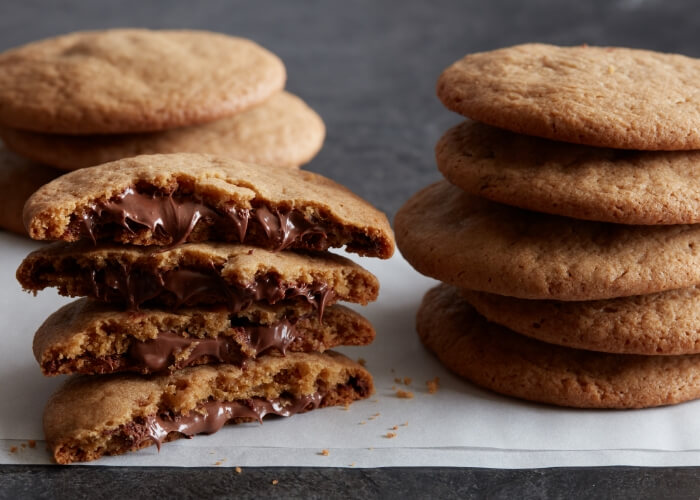 The combination of sweet and salty flavours in each mouthful of Nutella cookies will be a hit with your guests. These cookies are almost impossible to resist due to their chewy edges, soft cores, sea salt, and a Nutella swirl in the middle. 
The recipe for Nutella cookies is remarkably easy despite the abundance of scrumptious flavor it contains. Try adding chocolate chips to your cookies for a dramatic twist!  
9. Creamy Wafer Cookies
Treats such as these are proven ways to win over the affections of anyone. Your guests who have a soft spot in their hearts for creamy wafers will love to have them.
The classic Creamy Wafer Cookies are an all-time favourite! Creamy wafer cookies are extremely thin and flat. These mildly sweet cookies are a great addition to any party, including a wedding reception.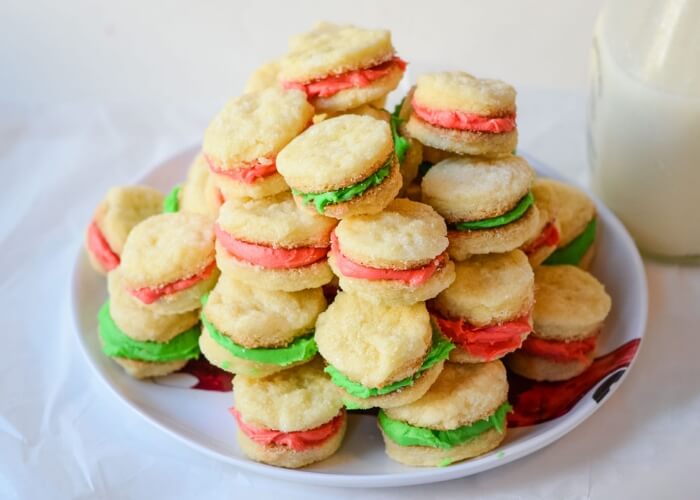 These cookies are also known as a sandwich, as they include a cream filling that complements the flavour of the wafer very well.
10. Almond Sugar Coated Cookies
Powdered Sugar Almond Cookies, also known as almond snowball cookies, are a type of nut cookies dusted in powdered sugar. They're an old favourite that always looks great on a Christmas cookie platter.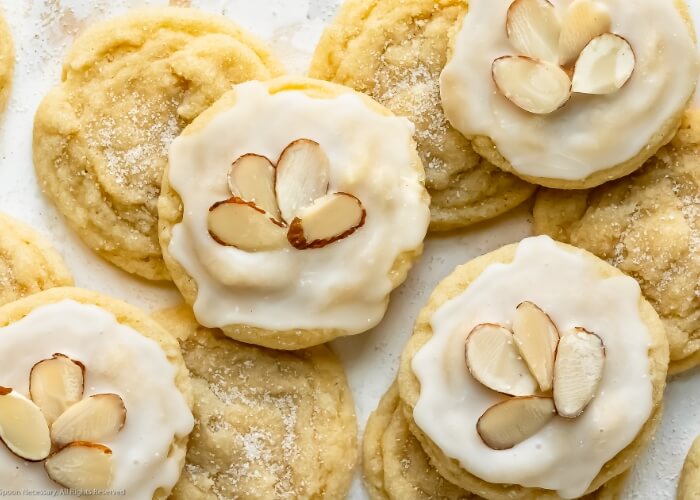 The attention of your guests will undoubtedly be drawn to these funny cookies designed in the shape of mushrooms. They include an unusual flavour combination of almond and orange, which everyone is going to absolutely adore.
Also See : Stylish Wine Dispensing Station for Elegant Wedding Reception
11. Chocolate Cherry Cookies
These cherry shortbread cookies, which are perfect for handing out to guests during your wedding reception, are an excellent addition. Because of their crumbly texture and sweet flavour, they make for quite popular desserts.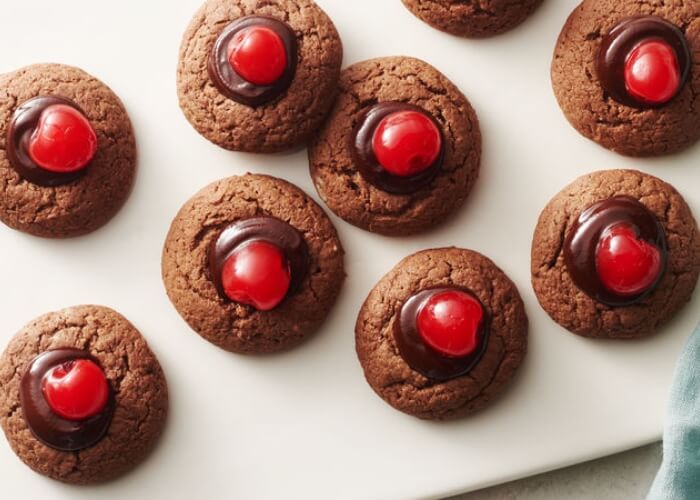 It is surely going to be a hit at your wedding reception. Not only is it a lot of fun to design them, but also they are going to make for a popular dessert at your wedding. 
12. Italian Cookies – Amaretti
Amaretti are almond-flavored cookies from the picturesque town of Saronno in the province of Varese, Lombardy, Italy. The red tins make them instantly identifiable all over the world.
An obvious bitter aftertaste and the dish's relative ease of preparation make it a delectable delicacy.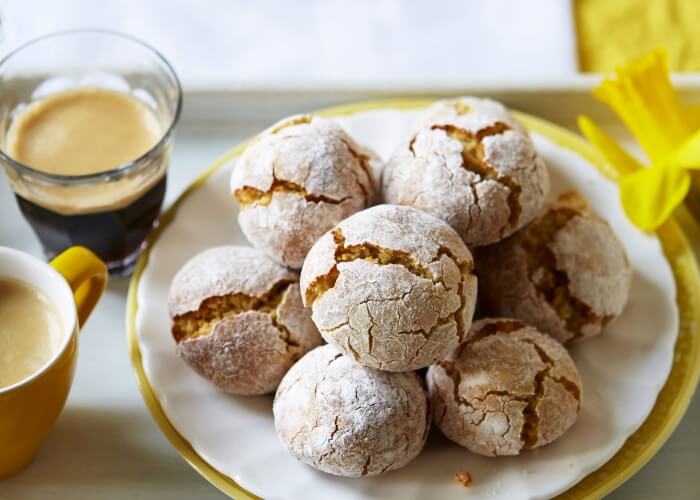 Amaretti can be enjoyed with a glass of sweet wine or as part of a lovely afternoon tea. 
On the big day, you shouldn't ignore the significance of offering classic and traditional Italian wedding sweets. This is an important aspect of the Italian wedding culture. It is not necessary for you to use the sprinkles. You could offer beautiful white cookies with silver sprinkles on top at a wedding reception, or you could simply forgo the sprinkles completely. Either option would be appropriate.
13. Chocolate Sandwich Cookies
Chocolate sandwich cookies are going to be the show-stopper at your wedding reception for sure. Everyone who enjoys the traditional delicacy that comes from Latin America will love these chocolate sandwich cookies. 
They are guaranteed to be a favourite with everyone. These decadent cookies are made up of chocolate wafers that are crunchy on the surface and have a creamy caramel filling on the inside.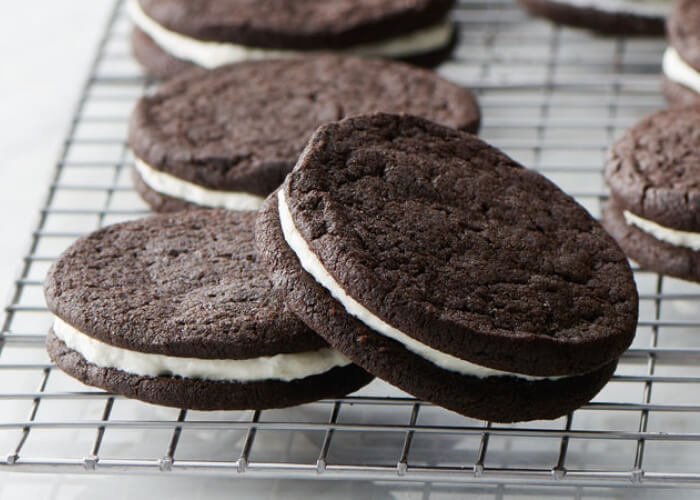 So, if you want to add some crunch to your wedding dessert, chocolate sandwich cookies are apt!
14. Caramel Dessert Bar
Simple and delicious, caramel butter bars are the ideal sweet treat. Each bite will be a balance of sweet and salty thanks to the caramel coating on top of the buttery, flaky shortbread crust. These sweet and savory dessert bars are a classy dessert option for your wedding reception. If you're looking for a crowd-pleaser dessert recipe, then try adding Caramel Dessert Bars to your dessert table.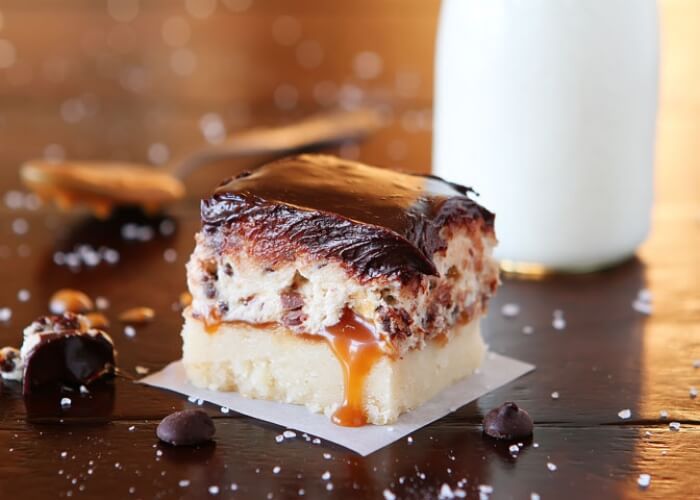 In addition to being an all-time favourite, these chewy peanut butter cookies are very popular among others. As long as the colours correspond with the appropriate holiday or season, you are free to stuff them with any holiday-themed M&M candies you choose. You might also keep to the standard practice and not include any candies at all. 
15. Apricot Kolaches
Apricot kolaches are popular Hungarian Christmas cookies that you can try adding to your wedding reception dessert platter. These are wonderful desserts made with pastry dough and rolled in sugar, filled with a simple apricot filling.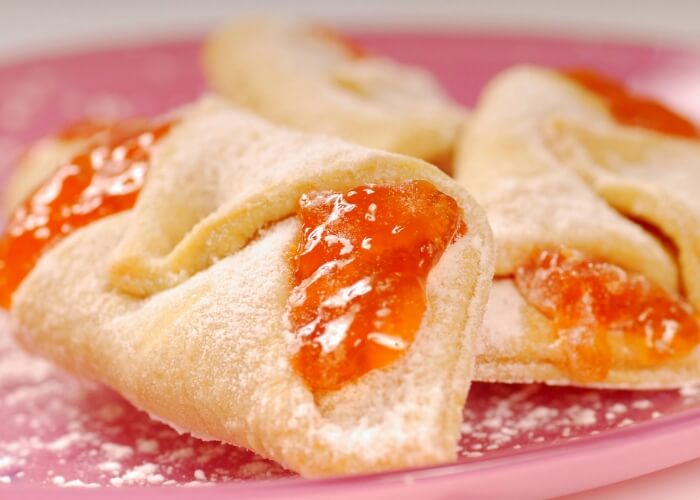 Crispy, sweet, and delicious, these Hungarian Christmas Cookies will make for a perfect treat at your wedding reception. The apricot filling complements the buttery, flaky crust with just the proper amount of sweetness. The bottom layer of caramelized sugar and the accompanying flavour is just enough to steal your guests' hearts!
Not only will they make your guests' mouth swim, but they will also provide some diversity to your cookie platter. The orange-apricot filling lends an understated yet nonetheless eye-catching splash of colour to your overall presentation. 
If you're looking for a mouth-watering dessert for your wedding, add these! 
16. Cream Puffs 
Cream puffs are one more type of sweet treat that is guaranteed to be well received by the guests.
Cream puffs are a traditional French dessert made with a thin layer of pastry dough that is filled with either sweetened whipped cream or pastry cream. Pate à choux, most commonly referred to as choux pastry, is what's used to make the shells of cream puffs.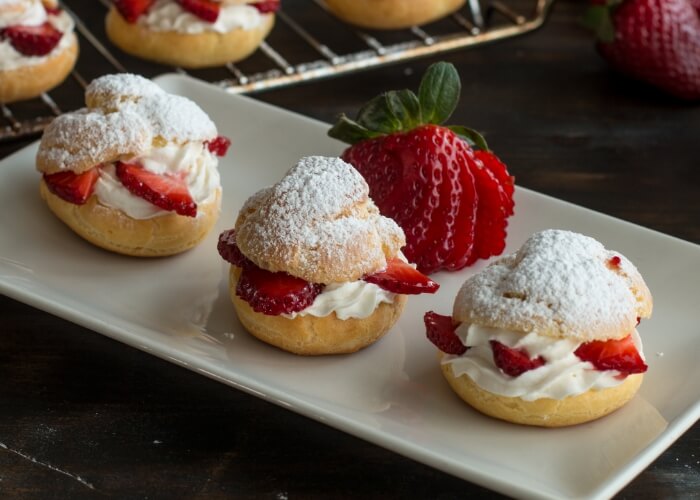 These center-filled puffs with cream should undoubtedly be included in the wedding reception dessert. Believe it or not, these utterly delicious desserts will simply take your wedding reception to the next level. 
17. Ladylock
Ladylock is one of the most famous desserts that can be included in wedding receptions. The name "Ladylocks" comes from the fact that these cookies were traditionally served at weddings, symbolizing how a man "locks himself into one lady for the rest of his life."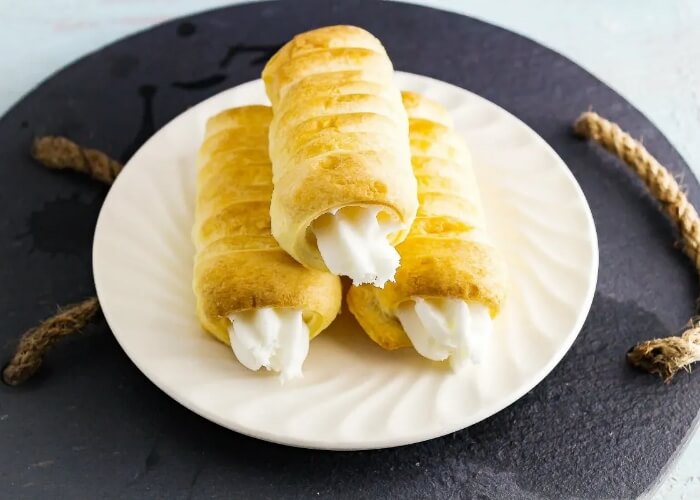 These cookies are known by different names in different regions. They were originally formed by wrapping dough around wooden clothespins; residents of Youngstown, Ohio, give them the term "clothespin cookies."
Your guests won't be able to resist their urge to have more than one Ladylock at the wedding. So, if you want to please your guests with an amazing dessert, this is the one.
18. Pizzelles 
Pizzelle are a type of waffle cookie that is traditionally baked in Italy. They have a very aesthetic look to them. They are made using flour, eggs, sugar, butter, vegetable oil, and flavouring. Depending on the ingredients used and the cooking procedure, pizzelle can have a firm and crunchy texture, or it can be soft and chewy. You can shape it into a variety of different forms, including a cannoli.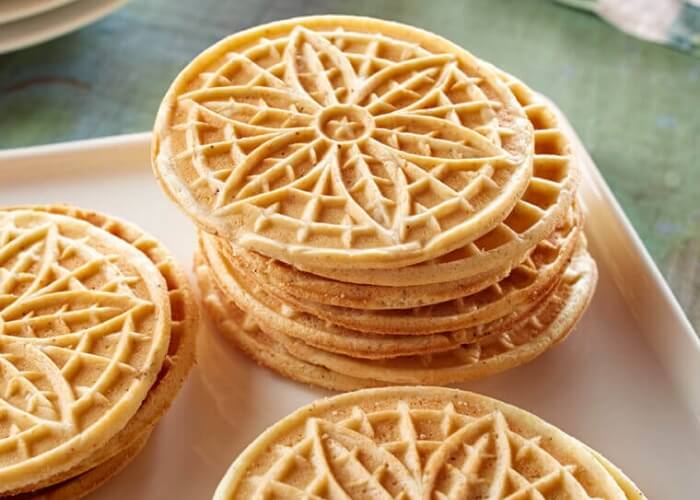 Undoubtedly, making fennel cookies is one of the toughest tasks. However, with the right chef, you will be able to bring your dream cookies to life. They will add a flavour that's all their own to the table. So, give it a thought! 
19. Fortune Cookies
Encourage everyone to have a happy and prosperous future by handing them out frosted fortune cookies.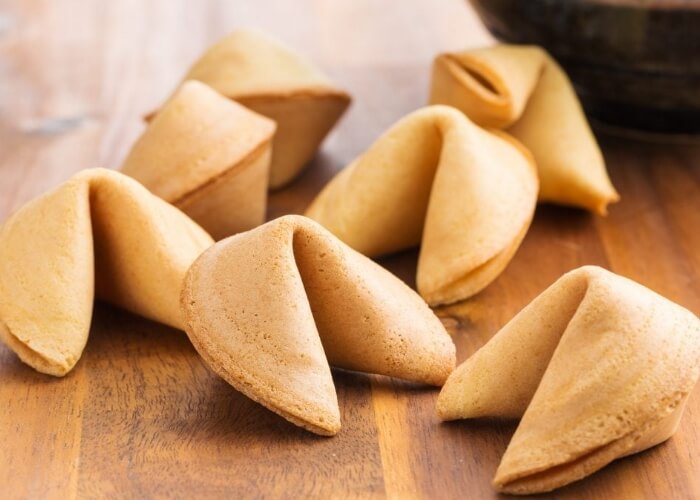 Wafer-shaped cookies typically made with flour, sugar, vanilla, and sesame seed oil and stuffed with a piece of paper are known as fortune cookies. You can add fortune cookies to your dessert table for a dramatic twist.
You can get small personalized messages filled inside of these cookies. This will not only taste delicious but will also put a smile on the faces of your guests while they have it. 
20. Milk Cookies
What could be more perfect than a wedding reception ceremony complete with milk and cookies? 
Cookies made with milk are the most subtle and delicious to include on your cookie table. In addition to being delicious, it will bring back pleasant memories of childhood for everyone.
So don't think too much; just add them to your wedding dessert! Much like the dessert table, you can display these desserts at your wedding reception for your guests to enjoy. You can even give them these cookies as a wedding favour so they can enjoy the taste even for a long time.
Wrapping It Up…
So there you have it, the top 20 most popular cookies for a wedding reception. Our experts have compiled this list after giving a lot of thought to it. All of the cookies mentioned in the list are excellent in their own way. If you're planning to offer your guests assorted cookies at the wedding, then the best is to have 5 – 7 of them included in your dessert list.
Your guests will appreciate having the cookies as a snack option while they wait for the bride, groom, and wedding reception party to finish taking pictures.
Let's now take a look at some frequently asked questions related to cookies for a wedding reception.
FAQs
When is the best time to serve cookies at the wedding?
The best time to serve cookies at the wedding reception is when you, your significant other, and your close family members will be busy taking wedding pictures.
Your guests will appreciate having the cookies as a snack option while they wait for the photo session to get over. They will love to enjoy cookies while chit-chatting with other guests at the venue.
Is there any rule to follow when it comes to including cookies at the wedding reception?  
Well, there is no hard and fast rule that you can follow. However, you will need to make sure that there are sufficient cookies for everyone to have at least a few sitting out on the table for them. 
The basic rule that should be followed is to lay out around three to six cookies for each person. However, the exact amount or number can change based on the size of the cookies. The idea is to keep your guests engaged in something while they are waiting for the meal or the music. Moreover, youngsters are going to have something fun to eat in the form of cookies at the wedding.
Make sure to choose the best cookies for your wedding reception. Your guests are going to be quite impressed with the selection of cookies for sure. 
Is it compulsory to set a cookie table at the wedding reception?
That is up to you absolutely. However, setting a cookie table will make things easy for your guests. They would be able to grab their favourite ones.
Moreover, the custom of setting up cookie tables at the wedding reception is a really enjoyable one. It's possible that they are only common in some regions of the world, but this tradition is interesting to have one at your party. Your guests will be pleased to see the overall arrangement and all the variety and sweetness organized in one place!