Each country and each religion follows different wedding traditions and customs. Each culture has the beauty of its own. In some traditions, marriages are simple, while in others, there are a lot of functions and celebrations. One such culture is Hindu Traditions. Undoubtedly, weddings in Hindu traditions are most happening and fun. The more the functions, the lengthier the shopping list. Here in this post, we are sharing with you a Hindu Wedding Shopping List that you can consider for your wedding as well.
Here we go…….
Whatever you buy for your wedding, it holds religious significance. Everything that your officiant asks you to buy make sure you buy all that. Each item that he asks is essential. It is always good to ask your officiant about the items to be purchased before you go shopping. Most of the things remain the same in all your functions, like engagement, pre-wedding rituals, and the main wedding.
Check Out: Auspicious Wedding Dates In 2023
Here are the lists according to different ceremonies…..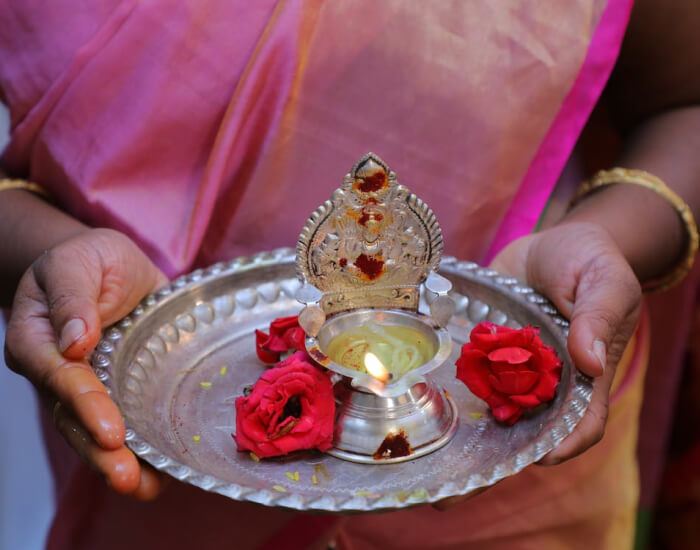 A metal plate
Small oil lamp (Diya)
Tiny statues of Lord Ganesha and Devi Lakshmi
Images of Lord Ganesha and Devi Lakshmi
Rice
Ghee
Few Deepak
Wick and oil
Cone Incense (dhoop)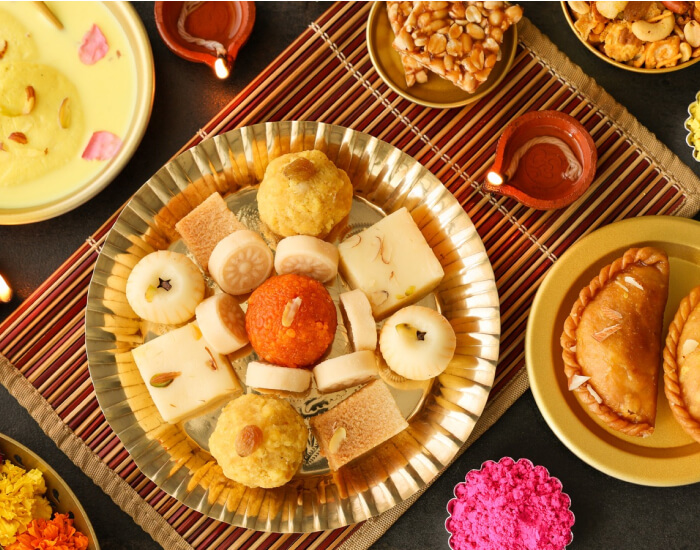 Sweets (Mithai – usually barfi or motichoor ladoo)
Flowers
Kumkum
Coconuts
Rosewater
Sindoor
Five Fruits (Apple, Banana, Peach, Custard Apple, and Pineapple)
Dry Fruits (Almonds, Cashews, Date, Pistachios, and Walnuts)
Rings
An Officiant
Yellow or White Cloth Pieces (preferably dhoti and kurta for the officiant)
All these items mentioned above will be common in most of the wedding functions. Besides, you will have to buy things for different functions, like:
List of items for your Haldi Ceremony: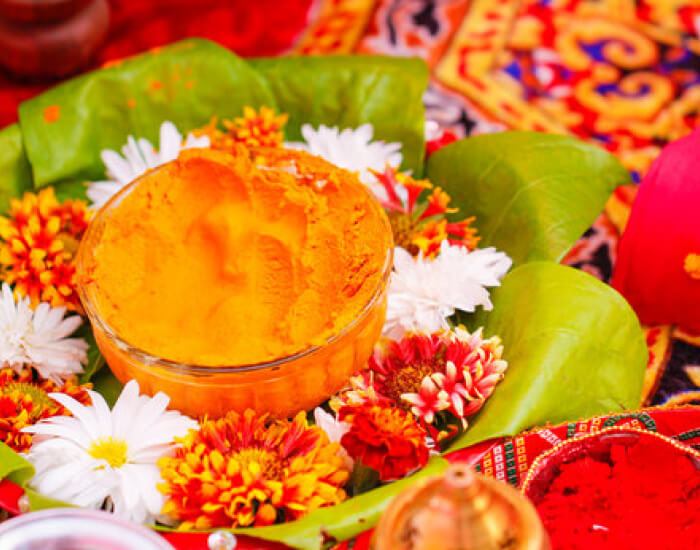 Plain salwar kameez and kurta pajama
A pooja thali (pooja plate)
Ubtan (which is applied to both bride and groom. This is the most critical part of Haldi ceremony. This ubtan is made up of turmeric mix, which is considered healthy for skin)
Small stools or chauki (for the bride and groom to sit on)
A bowl
Green Grass (it is used by people to apply ubtan to bride and groom)
Here is the Recipe for Ubtan:
Take a bowl, and add 3 tsp flour, 3 tsp turmeric (Haldi), rose water, and 3 tsp of milk to it. Mix all these items thoroughly to get a smooth texture. If you want, you can even add sandalwood powder to the ubtan for a pleasant, beautiful fragrance.
List of items for the Mehndi Ceremony: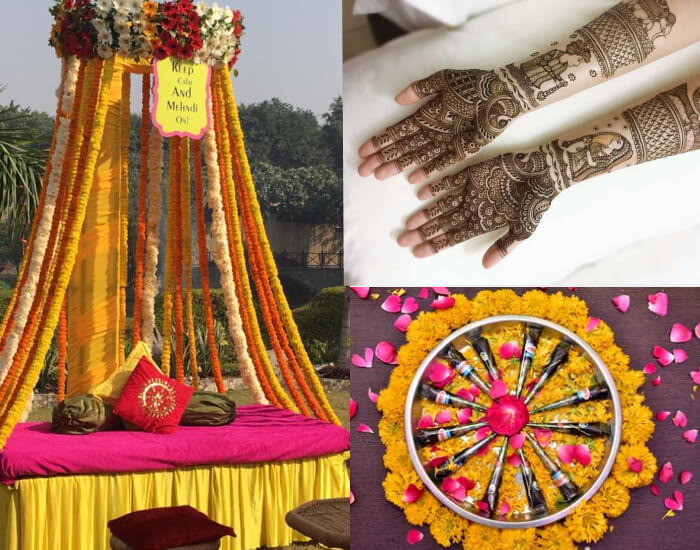 Mehndi Cones (Which usually mehndi artists get along with them. If you have hired a professional then he/she will bring it along. Otherwise you will have to buy)
Oil to apply once the mehndi is dried
Dress to wear on Mehndi ceremony (you can prefer to wear salwar kameez or light lehnga)
Floor Mattresses and Cushions (for making lower seating arrangement)
Upbeat music
Food, drinks, and snacks for your guests
Flower Jewelry for the bride
List of items for the Sangeet Ceremony: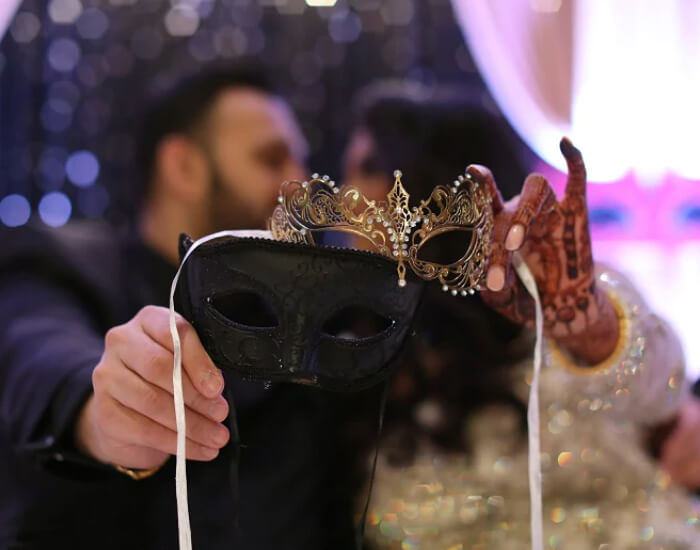 More often than not, couples celebrate Mehndi and Sangeet together. However, in many cultures, Sangeet is celebrated separately, just like in the movie "Hum Aapke Hain Kaun."
Dress for the bride-to-be
A dhol (that you can get from your neighbor or from the community temple as mostly they have dhols in spare)
Majire
Durries (depending on the number of ladies you have invited for the ceremony)
Cushions
Chairs for the ones who cannot sit on the floor
Spoons (for people to tap along with the music with)
Food and snacks for guests
RELATED:
List of items for Welcoming the Baraat:
This is the ceremony where groom, along with his baraat, is welcomed at the entry door. More often than not, groom and his family is welcomed by bride's family members. The entry gate is decorated beautifully for welcoming the baraat. Usually, you need
Mango leaves
Coconuts
Steel Utensils
List of items for the Main Wedding: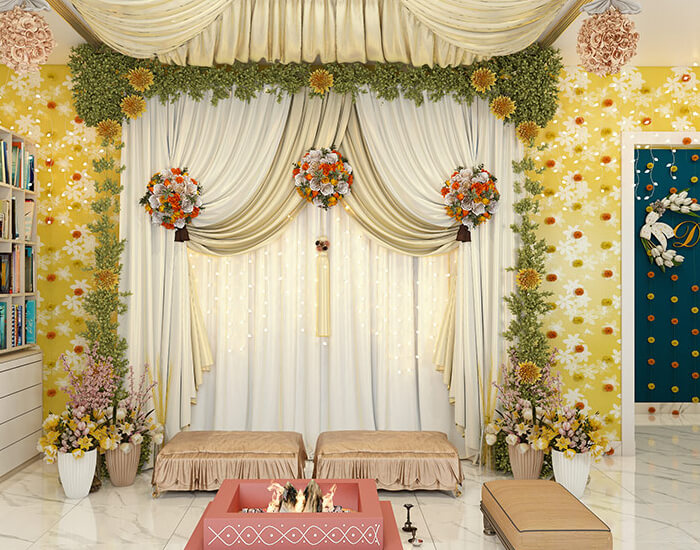 Bridal Lehnga
Sherwani for the groom
2 Flower garlands (For Jaymala that happens on the stage in front of every guest at the wedding)
Mangal Sutra (for the bride, usually groom bring mangal sutra. Groom put mangal sutra on bride's neck while the officiant says mantra. This happens at the time of Gau Daan and Kanya Pratigrahan.
Gifts (usually jewelry, appliances, household items, etc.)
A scarf that is worn by the groom and which is tied to bride's saree
Yellow Saree for the bride (which is wears during fera ceremony)
Gold ornaments (bride wear gold ornaments when she sits for the fera ceremony)
Silver rings for the girls on the bride's side (Groom brings silver rings for the bride side girls and gold rings for the bride's sister)
Money in cash in a decorative envelope (Groom gives cash to bride side girls when they steal groom's shoes)
POST WEDDING TRADITIONS
List of items for the Griha-Pravesh or Bride's Entry:
This is where the bride formally enters her new home.
Again, traditions differ on this.
Kalash with rice
Plate with vermilion
List of items for the wedding games:
This will hugely depend on the culture you belong to and the tradition that you follow. In some traditions, newly-wed couples are made to play some games. If you also follow the same tradition, then you will need:
Big Copper Utensil
Milk
Rose Petals
Water
Ring (which can be given by anybody for the game)
List of gift items for the Groom's family:
Once the games are over, bride gives away the gifts (usually Sarees) to the close family members. The list goes like this…..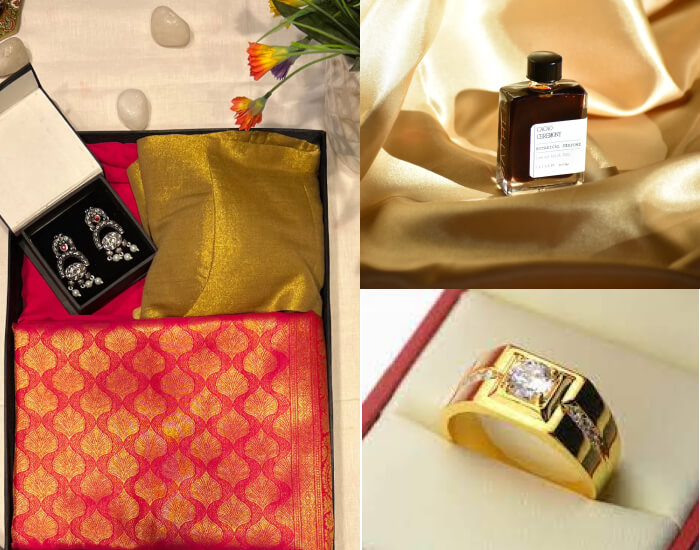 Sarees for the married women
Gold ring or earring for the mother-in-law
Gold earrings for the sister-in-law
Money in cash in a decorative envelope for young girls
Gifts for male members of the groom's family.
List of items for the Wedding Reception:
Food of all style (from snacks, chaats, drinks, to the main course)
A well-prepared playlist
Sweets (according to the season, like gajar ka halwa in winters, etc.)
Reception Gown for the bride
Suit for the Groom
DJ or band
List of items for the Bride:
Shaadi ka joda or Wedding Dress (Preferably Lehenga or Saree)
Jewelry for the bride's hair
Mangtikka
Bindi
Kohl or kajal
Eyeliner
Earrings
Lipstick
Nath or Nose ring
Necklace (preferably two or more of every length)
Baajuband
Gold Belt or Kamarband
Bangles or choodiyan
Kalire (depending upon the tradition that you follow)
Rings
Paayal or anklet
Toe Rings or Bichus
Perfume
Gown (for reception)
Sandals
Handbag or Clutch
Makeup kit (it will include, creams, lotions, eyeliners, mascara, different shades of lipstick, moisturizer, foundation, concealer, compact, small mirror, bindis, kajal, perfumes, etc.)
List of items for the Groom: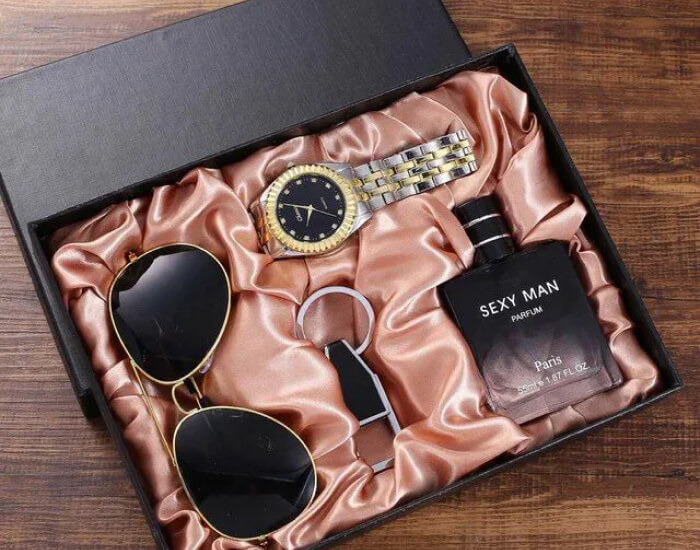 Sherwani
Turban or Safa
Sehra
Mojari
Brooch or chain brooch or necklace (depending on the design of your sherwani)
Shoes (for the wedding reception)
Tuxedo (for the wedding reception)
Wedding Accessories, like a tie, bow, socks, etc.
AND FINALLY…..
You can consider this Hindu Wedding Shopping List for your wedding as well. However, we recommend you to ask your officiant about the items that are related to wedding rituals. If you think we have missed out on something, please feel free to name the things. We would be happy to add them to our list.
Thanks for reading.
Happy Wedding…. ☺ ☺