Every couple wishes to have a dreamy wedding. It's not just the friends, family, and all the close ones that make it perfect. The decor of the wedding ceremony is equally important for couples these days. Whether you are going for a simple minimalistic décor or an extravagantly grand decor, some elements remain constant such as the flowers. Any traditional wedding is incomplete without flowers as part of the ceremony. Flowers are used in so many ways in a wedding like the bridal bouquet, bridesmaid's bouquet, corsages, altar flowers, and so many more. Flowers are also used in abundance in the wedding décor in centrepieces, garlands, table decors, and cake decorations.
It is imaginable to think of the amount of money spent on wedding flowers. As per reports, 15,000 couples who got married in 2021 spent approximately $34.5 million on wedding flowers. The wedding flower cost can be as a minimum and as exorbitant as you want. It really depends on how you set a budget, what kind of flowers you use, how many elements you incorporate into the flowers, etc.
Wondering how much wedding flowers cost? Here's a detailed article on how much wedding flowers cost including the average cost of each element flower is used in. We've also got some tips for you to save money on wedding flowers.
Before we look at the prices let's talk about the wedding florist. It's not possible for you to run back and forth for wedding flowers when you have so many other things on your plate. Therefore, it is essential to hire a wedding florist. Here are some things you need to keep in mind while hiring a florist.
Hiring a wedding florist
When should I hire a wedding florist?
You must hire a wedding florist as soon as you decide on the venue. It is important for the florist to visit the venue and prepare a plan for all the flower décor. You can make a list of the best florists in town or florists that fit your budget. After that, you can start the process of hiring a florist and decide on one at least 4-8 months before your wedding day.
What should I ask the wedding florist?
One florist that is perfect for someone may not be perfect for you. So, it is important to know your florist in and out before hiring them. It is important to assess their personality, choices, creativity, and most importantly experience.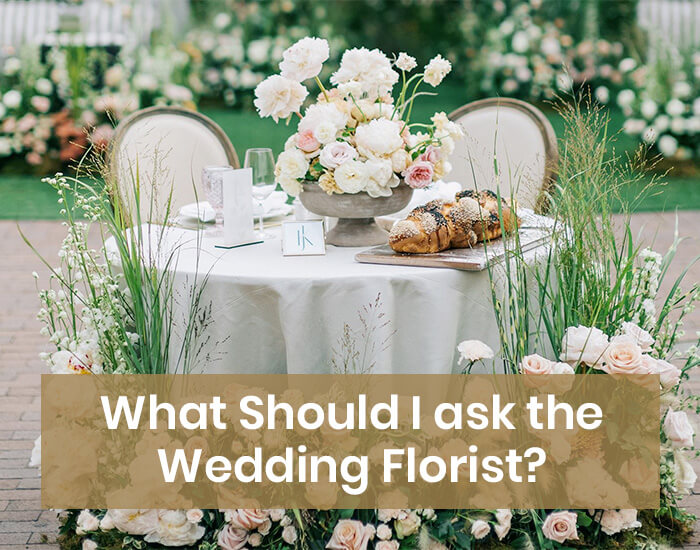 Here are some questions to ask to see whether the florist fits to your expectations.
– Do you have any prior experience as a wedding florist?
– Can you show some of your prior works?
– Are you available on the wedding date?
– Can I see a portfolio?
– What kind of flowers can you fit in my budget?
– What kind of flowers do you work with?
– What is your take on styling flowers at a wedding?
– What are the basic prices of the flowers you use?
– What is your cost as a florist?
– Are there any additional costs?
– What are your requirements from us?
– Is there any refund policy in case of improper work, or use of wilting flowers?
What services does a wedding florist provide?
A professional wedding florist has many services including and not limited to the following:
– Consultation to understand your requirements and budget.
– Samples to confirm that you are satisfied with the plan.
– Flower purchasing from wholesale market or farmers.
– Flower storage and processing till the wedding day.
– Workers and other required set-up for creating the flower decor
– Delivery of flowers and setting-up of the same.
What is the wedding florist's cost?
According to a recent survey, on average $600-$800 is the cost of hiring a wedding florist. If this is out of your budget you can also look for some cheaper options that work the best for you.
Do I have to tip my florist?
The wedding florist costs you a lot in the first place so it is not mandatory to tip the florist. However, if your budget permits you can tip the workers that deliver and set up your flower décor.
Now that you've got a good idea of wedding florists, here are some wedding flowers prices that can help you set a budget and find a florist accordingly. These prices can change from florist to florist and the cost can be affected by many factors such as the kind of flowers and the suppliers. So, these wedding flowers prices are just to give you an idea how much they can normally cost.
How much does a bride's bouquet cost?
The price of the bridal bouquet can vary as per the kind of flower, the arrangement, and the way it is designed and created. Normally, it can cost around $150. Some bridal bouquets also go up to $250 if you use a range of exotic flowers.
How much does a bridesmaid's bouquet cost?
Bridesmaids' bouquets cost around $80 but you can budget them as per the number of bridesmaids you have at your wedding. The small and simple bouquet for the bridesmaids are enough to elevate the whole look and you don't have to spend so much on it.
How much of my budget should I allocate for wedding flowers?
Wedding flowers are meant for elevating the look of the whole event and it really depends on your choices. The cost can be a lot higher if the wedding décor is purely base on floral theme. A lot of flowers are used in such decorations ranging from small cheap flowers to expensive and exotic flowers. On the other hand, some wedding flowers cost less as they are used with other decorative items such as lights, stands, etc.
If you want to go for the highest budget then we have prepared a rough budget for wedding flowers cost:
Bridal bouquet: $150
Bridesmaid bouquet: $50
Boutonniere: $20
Pin-on corsage: $25
Wrist corsage: $30
Reception centerpieces: $300
Flower girl petals: $25
Ceremony structures: $2470
Arrangements next to place cards and guest book: $180
Head table florals: $1,500
Sweetheart table décor: $400
Cake flowers: $150
Flower crown: $100
Wedding florist cost: $600-$800
Total: $6000
This is the highest you can spend on wedding flowers but you can set a budget of an average of $2000 as well. With this average wedding flower cost, you can still get an elegant decoration of your choice incorporating all the elements mentioned above.
Related Post: 25 Unique Wedding Boutonniere Ideas for Any Styles
Tips to save money on wedding flowers
These are our top 10 tips to easily manage and lower your wedding flowers budget.
Tip #1 Go for seasonal flowers
Tip #2 Use flowers with other décors such as lights and candles
Tip #3 Mix expensive flowers with non-expensive flowers
Tip #4 Choose voluminous flowers so fewer flowers are required in more space
Tip #5 Select a naturally floral venue for your floral theme wedding
Tip #6 Reuse the flowers in your reception
Tip #7 Use fake flowers and cover them with some real flowers to make it look real
Tip #8 D.I.Y and save the money on the florist
Tip #9 Focus more on 1-2 main decorative pieces rather than spending more on everything
Tip #10 Prioritize and make your budget according
You should spend only as much as your budget allows. You can create extraordinary floral decorations with less budget too. And remember… Wedding flowers can mean a lot in a wedding ceremony but nothing can top the emotions and presence of the couple and the guests in the ceremony.