Ever since the Coronavirus outbreak, intimate weddings have become new normal. While big fat weddings have their own allure, there is something truly unique about hosting an intimate wedding. Intimate weddings give you a lot of freedom and peace of mind. Not only do you save a lot of money, but also it reduces a lot of stress.
However, intimate doesn't have to be bland and uninspiring. Your wedding should be a memorable celebration, irrespective of its size. Here in this post, we are sharing 24 amazing ideas for intimate weddings to get inspiration from. Have a look…..
1. Wedding in a Heritage-Rich Location
If you're really inspired by Indian heritage and traditional Indian weddings, consider a heritage-rich location for your intimate wedding. Look for a heritage-rich location, such as an old palace with a fascinating history. You can even consider a historically significant temple for hosting your intimate wedding. It would be small in size but magnificent and superior in its own way.
2. Wedding in a Restaurant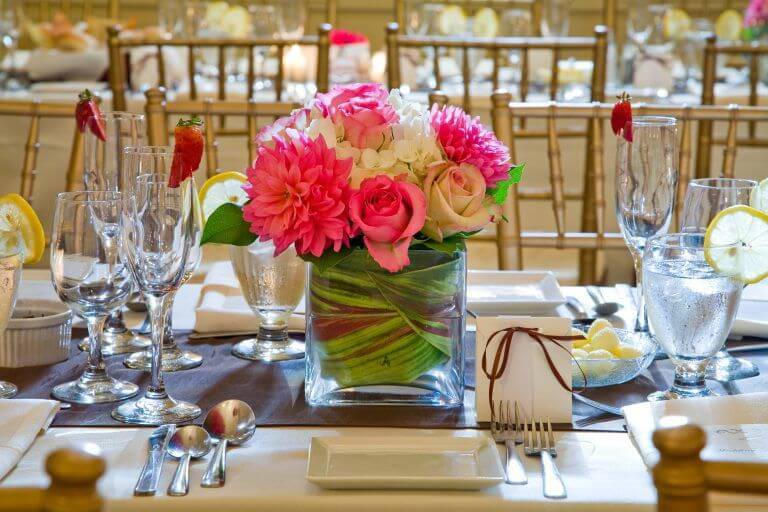 How is the idea of getting hitched in the same restaurant or café where you had your first date? Have you ever thought of it? Well, with a limited number of guests to accommodate, that implausible fantasy can become a reality! While a traditional wedding has its own flavor, the sentiments associated with this location can make the occasion even more special and meaningful.
3. Garden Wedding
Have you ever thought of hosting a wedding in a Garden? Yes, a garden wedding! When it comes to outdoor weddings, there is no doubt that a garden is the best option. Garden weddings allow for an infinite number of ceremony and reception ideas. Nature can be the best backdrop for such a special occasion, whether you arrange your intimate wedding in your own or a friend's garden or hire a garden-based venue. Garden weddings make for a whimsical and romantic wedding celebration, with lots of candles, natural scenery, and special seating areas.
4. Wedding in the Wilderness
When it's an intimate wedding ceremony, you can go to any extent to celebrate it in style! If you're mesmerized by the Wilderness, then a wedding in the wilderness is for you. There are numerous benefits to having a wilderness wedding that you cannot get from any other type. There are certain types of beauty on the planet that you simply have to walk to appreciate, and having a wedding at that location can be truly magical.
5. In-House Wedding
An in-house wedding is another idea for an intimate wedding. There are numerous advantages to hosting a wedding in the comfort of your own home: A sense of familiarity, indubitable charm and one-of-a-kind sentiment combine to create an original and noteworthy day. Invite your guests into a space that holds some of your most treasured memories as a child, adult, or both.
6. Terrace Wedding
If you wish to host an intimate wedding in style, then the terrace is a perfect location. In contrast to a banquet, which may feel claustrophobic to some, a terrace immediately conveys a grandiose feeling due to the open air and emptiness surrounding it. The place will feel more relaxed once you reach a higher level. Terrace venue on higher floors will allow you to make more noise at the party without disturbing too many people. Parties on the Terrace will bring your inspired celebrations to life!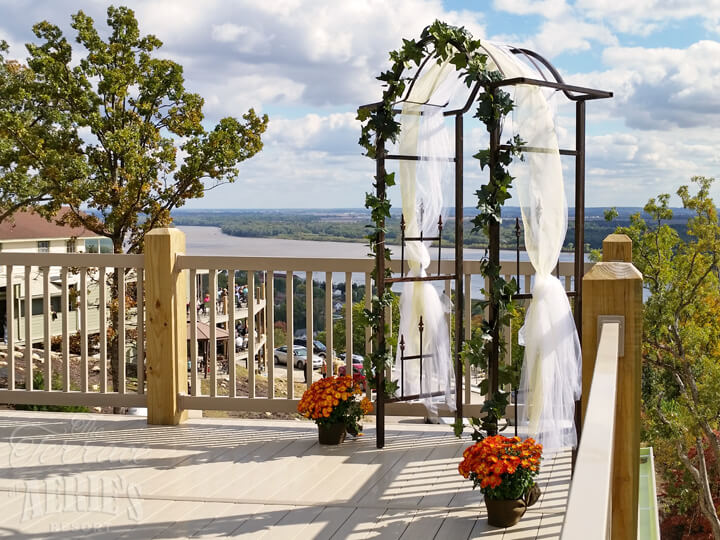 7. Yacht Wedding
There is no better venue than a yacht for a nautical wedding. Your entire wedding can be held on board, saving you the trouble and expense of transporting your guests from the ceremony location to the reception. Everything, from the marriage ceremony on the top deck, followed by cocktail hour on the second deck to a sit-down dinner in an elegant, enclosed dining room with floor-to-ceiling windows, will make for a mesmerizing intimate wedding celebration.
A wedding in the midst of picturesque harbor, coastal, and skyline views is unquestionably a visual treat. Plus, you'll have some fantastic wedding photos, and your guests will remember the panoramic ceremony backdrop for a long time.
8. Virtual Wedding
Weddings in India are known for being "big, fat, and grand." But this was before Covid. Weddings are becoming leaner as a result of the pandemic's mandated safety and social distancing norms, with no more than 50 guests physically present. In these times, digital weddings, in which a priest, the couple, and the guests are all connected via video or phone call, have emerged as a viable alternative to the traditional ceremony.
A virtual wedding includes video calling, e-invites, etc. It's a situation in which you are physically separated but participate in the festivities together. A virtual substitute replaces almost everything that happens at weddings on-site.
9. Luxury Safari Wedding
Whether you want an intimate destination wedding for just the two of you or want to celebrate your BIG day with close friends and family, a luxury Safari wedding is an excellent choice. It's difficult to imagine a more romantic setting to say "I do" than a romantic safari.
10. Bohemian Theme Wedding
Boho style has a way of looking incredibly chic while requiring minimal effort. The décor is simple but eye-catching and mesmerizing. Transform a traditional reception into a bohemian wedding with earthy details, tablecloth linens and different kinds of floral centerpieces and greenery installations.
11. Backyard Wedding
Nothing can beat a backyard wedding! They are intimate, convenient, and, most importantly, often a low-cost venue. There are countless backyard wedding ideas to make it into whatever you want it to be. There is, after all, no place like home—the coolest thing about hosting a backyard wedding is that you have the freedom to get creative. You can get as creative as you want to transform an empty and sprawling landscape into a stunning wedding venue.
12. Poolside Wedding
If you wish to have a 'hatke' wedding venue, then pull off a poolside wedding in a chic and elegant way. Make a pool your advantage for hosting a memorable intimate wedding. The venue décor is entirely up to you and your wedding style; most couples opt for neutrals, white, and some sparkles, but if it's a tropical affair, you can rock vibrant colors.
These are the best ideas for intimate wedding you can get inspired by. Besides these, if you want to add a little spark to your wedding, add some entertainment to your intimate wedding. Below are some of the ways you can make your wedding memorable:
1. Campfires
If you are planning a winter wedding, organizing campfires is a fantastic idea. If not on your wedding day, you can arrange it on another occasion, such as Mehndi night or a music night.
2. Photo Booth
Photo booths are novel ways to keep your wedding guests entertained. Make sure you have some amusing props on hand so that your guests can fully appreciate those Kodak moments.
3. Live Music Show
A live music show, believe it or not, will add to the fun factor at your wedding. You can have a live music performance during your cocktail night to hoist the whole experience!
4. Dance Show
You can have a professional dance show at your wedding if your budget allows it. To have professional dancers at your event, you will need to work with a wedding planning company or an event management company.
5. Chocolate Bar
Chocolate is love; everyone, young and old, enjoys chocolate. So, don't forget to include a chocolate bar in your wedding to get your guests excited.
6. Live Band
A live band can keep all of your guests entertained. Live bands are simply amazing, and they are an excellent way to fill a dance floor. You don't have to go with the most expensive band; in fact, you could even hire university bands for your wedding.
7. Nail Artists
All of your female guests will be delighted to see the nail artists at the wedding—a great way to keep your female guests entertained for a longer period of time.
8. Temporary Tattoo Stand
Tattoos are popular these days. Almost everyone wishes to get a tattoo. You can provide an excellent opportunity for your guests to experiment with body art.
9. Magic Show
Don't let your guests get bored! Magic shows are a great way to keep all of your guests entertained. This show can take place during the wedding breakfast or a day before the wedding.
10. Live Painting
It won't be difficult to find a painter. Having a live painter at your wedding event will make it even more exciting. Your guests will have a wonderful keepsake of your wedding to decorate their home with.
11. Games
Let all your guests get sportive. Games are a perfect way to keep your guests entertained. There are numerous games that you can consider incorporating in your wedding, such as the kite competition, giant Jenga, the scavenger hunt, passing the parcel, cricket competition, ring toss, spin the wheel, tug of war, etc. The best thing is you can customize most of these games according to your needs. Divide all your guests into teams, and yes, don't miss to include prizes for the winners.
12. Play Zone for Kids
Let your young guests have a unique experience at your wedding. For that, you can create kids' very own zone. Organize some games and activities to keep them occupied while the adults enjoy themselves. Perhaps an art contest or some indoor games are perfect for keeping them occupied.
Wrapping it up…..
You can consider these ideas for an intimate wedding to make your wedding fun and memorable. Remember making an intimate wedding an unforgettable event is not so tough. All you have to do is to be more creative to create a fairy-tale event!
Happy Wedding… ☺ ☺