An anniversary is one of the most important days of the year for any couple. It marks the completion of a year of a committed relationship. This is a momentous day that should be commemorated as a milestone between the partners in a relationship.
If you're planning to surprise your husband on a wedding anniversary, then this post is for you. This post will discuss numerous ways you can captivate your loving husband and win his heart.
A couple can do a variety of things to demonstrate their love for one another. However, in this post, we shall discuss what a woman can do to captivate her husband.
There is a misconception that you need to spend a lot of money on an anniversary celebration. That's not true at all! Know that celebrating your wedding anniversary does not have to be expensive. Even doing simple things can make your husband feel appreciated.
If you're not sure how to make it as special as your wedding date, ask your friends and family for help. They might help you with some useful suggestions on how to surprise your partners. If you don't get the right suggestions from your friends, use the following ideas to make the most of your special occasion.
So, let's get started…
► A Movie Night
Celebrating an anniversary can include going to the movies, having dinner, or simply going out on a regular date night. You can even give your husband an anniversary gift or present. Even an anniversary card or online anniversary e-card can do wonders.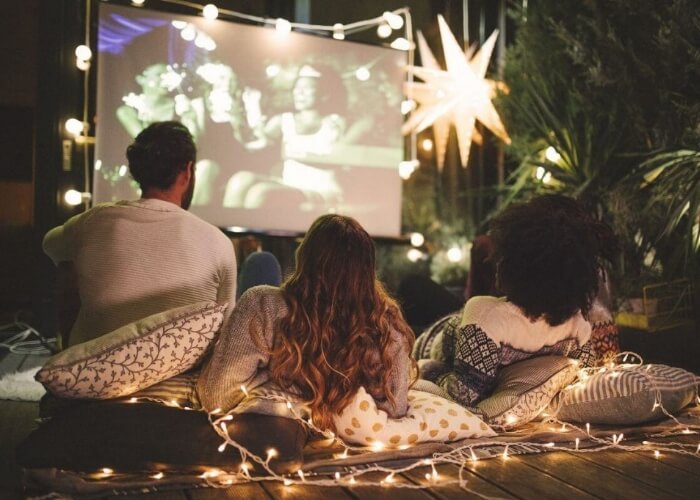 So if you and your husband are movie enthusiasts, book tickets for both of you and surprise him. Make sure you choose his favorite movie so that he enjoys the whole thing thoroughly. You can spice your night with a romantic dinner in your husband's favorite restaurant and conclude the night with a beautiful gift.
► A Romantic Poem
Another beautiful way to surprise your husband is by writing a love poem(s) for him. So, if you think you have a writer within, let your writer side pop up and write a romantic poem for your "HIM."
First and foremost, take the time to write a beautiful, romantic poem. A poem is a great way to express your true feelings for your partner. So, if you're a shy person, express your emotions through poetry to your hubby. He'll like it for sure (I can bet on it ☺).
Often poems are impromptu. But if you find writing a poem challenging, then just recall some special times you've had with him. Doing so will help you write a poem about your feelings for him. Make sure you present the poem in some creative way.
Wondering how?
Well, there are numerous creative ways you could present it to him. Such as,
Making your own card, decorating it with beautiful embellishments; then, in the card, including your own written poem is a wonderful way to surprise him.
Write your poem on brightly colored paper and put it inside an envelope. Put this envelope in his office bag (especially where you're sure he will see it).
You can place them in places around the house where he is prone to go, such as the dinner table. Of course, you can place the envelope containing the poem beneath his breakfast plate in the morning. Or you can put it under his pillow (he will be surprised to find a written poem while he's tossing in the bed). Aside from that, you could clip it to the refrigerator. He would be surprised to see the poem when he will open the door to get some food and drinks. You can place the written poem in his book (obviously the one he is ready currently). He'll love to read it then.
Another way to surprise your husband on his wedding anniversary is by pairing your poem with a gift. Of course, a gift will just add to the whole thing. He will undoubtedly appreciate your earnest efforts and affection for him.
► A Special Gift
When it comes to surprising your husband with a wedding anniversary gift, you have several options. You may consider buying anything thoughtful.
► A love message in a bottle
Personalized cufflinks with his initials engraved on them, in fact, anything personalized, really hits the spot.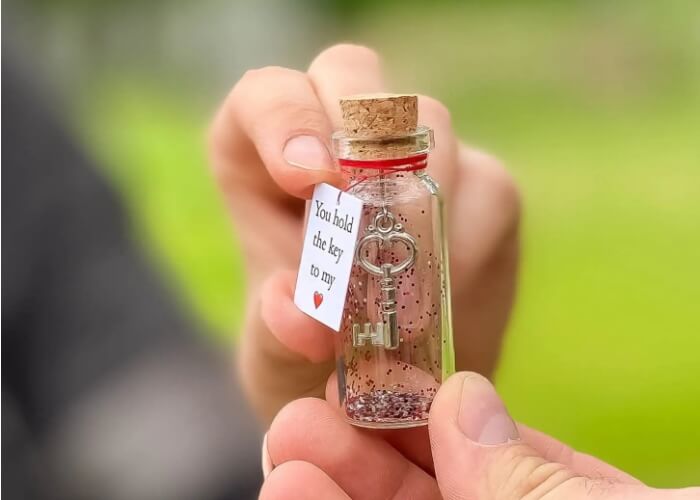 Alternatively, you could simply surprise your partner with a beautiful flower arrangement.
You can give your partner a variety of different gifts. All you have to do is to consider his likings while selecting an anniversary gift for your husband.
When looking for the best anniversary gift for your partner, there are a number of places to look. You can look for items in your favorite retail store. If your husband is away this anniversary, the most convenient way to find the perfect gift is to shop online and have it delivered to him. There are a plethora of websites online that cater to exclusive and niche gifts.
Your husband will feel valued and appreciated upon receiving a beautiful gift from his wife. He will appreciate your effort to give him something he will use and love having it. Even red roses bouquet with a beautiful handmade card will make the most of it!
► A Romantic Getaway
Going on a vacation is one of the most conventional anniversary gifts. If your husband has been doing it for you all those years, take the plunge and do it yourself this time. Yes, he will be surprised to see how efficiently you have arranged a beautiful getaway this anniversary.
However, before deciding on the best location for your special occasion, you must consider a number of factors. First and foremost, you must examine your budget. The next is the location (national or international). Furthermore, if you have decided to celebrate in a romantic location, you must research the best location for your event. Depending on where you go, you can arrange for a romantic dinner at that location.
If budget is a constraint, you can even consider celebrating your anniversary in a hotel. If not a hotel, go to a camp or go hiking, trekking, or any other adventure trip.
► Join A Class Together
If a hotel or a trip doesn't appeal to you, then join some classes (music, yoga, dance, etc.). Anything that appeals to you both and is unusual – go for it! Joining a class together is a great way to spend a wonderful time and re-create the experience of being a classmate.
Learning something together will let you spend more time together. This will not only boost your relationship but also will bring you two even closer. If you don't have time for longer duration classes, arrange a skydiving or river rafting session together. So that you two can enjoy your favorite adventures together on your next trip.
► A Domestic Celebration
Surprising your partner does not require you to spend a lot of money. A simple celebration will suffice as long as it is from the heart.
You can even choose to celebrate your wedding anniversary at home and surprise your husband when he returns from office. Do all these to make your anniversary ultra-romantic at home:
Make a delicious cake and other foods for your partner. Cooking his favorite delicacies will be cherry on the cake.
Decorate your living room (or the place you're planning to celebrate your anniversary at home). You don't need to spend a lot of money to decorate the place. Use lots of candles, fabric, tea lights, fairy lights, balloons, etc., to make your home look like heaven. Decorating your room with soft lighting, romantic music, and aromatic candles will just add to the fun.
Arrange for soft romantic music (create a playlist in advance).
Welcome your partner with his favorite romantic song.
You can also ask your partner to dance to your favorite song before you eat.
Give your partner some gift or any personalized item that you truly treasure to add to the excitement.
Later at night, you two can watch your favorite movie or your wedding video together.
Remember that there is no hard and fast rule to commemorate your anniversary. It just takes a little bit of creativity, and you can have a wonderful time together.
Putting it all together…
So, these are the ideas for surprising your husband on your wedding anniversary. You can utilize any of the aforementioned ideas. You can make your anniversary as memorable as you hoped it would be. Not only will these suggestions help you surprise your spouse in a nice way, but they also will bring you both closer.
Finding the ideal way to commemorate your anniversary can seem challenging at first. However, with the right planning, you can easily celebrate a great wedding anniversary. Many women have a good idea of what kind of celebration would help them surprise their partners, but some fail to do so. It is critical for women to have a good understanding of their partner's personality type. It will help them celebrate their wedding the right way and surprise their husbands.
You can easily plan the best activities for your special and memorable events with the aforementioned ideas. If you decide to look for more wedding anniversary celebration ideas, your last option is to scour through the internet.
So, wait no more! Add pizzazz to your wedding celebration with the abovementioned ideas and surprise your husband on his wedding anniversary!
Happy Wedding… ☺ ☺