You can't get enough of her beautiful eyes, precious smile, attractive personality, and delightful presence. That's a yes to the question if you're in love? She is the woman of your dreams, and you know it.
You are, indeed, meant to be in a romantic relationship. You know this, and she may or may not. It's time for you to stop dreaming of a life with her instead, make it a reality. Grab the chance to make it happen. Proposing to your special someone should be an event to remember, and there are many romantic ways to do so. You should take your lady's tastes into consideration as much as your own while arranging the proposal of your dreams.
We get it; just thinking about how to propose to your lady love makes you nervous. But hey, you can and should do it before she gets the wrong idea and gives up on you.
Not how she will respond, but how you will ask her out to be your girlfriend matters. But it doesn't only mean you have to get down on one knee and present them with a crimson rose.
Whatever you were thinking, chuck it. Here are some creative, unique, and memorable ways to ask her to be your girlfriend.
How To Propose To Your Girl Being Physically There?
1. Just Be Yourself
First things first, just be yourself! Yes, it is extremely important for you to be who you are and not be someone you can't become.
If going beyond your character isn't really your thing, then stick to what you can do the best. You should not change for the girl; she ought to accept you as you are. When you ask her out, you should make things sweet and simple, and then you should pop the question as soon as possible.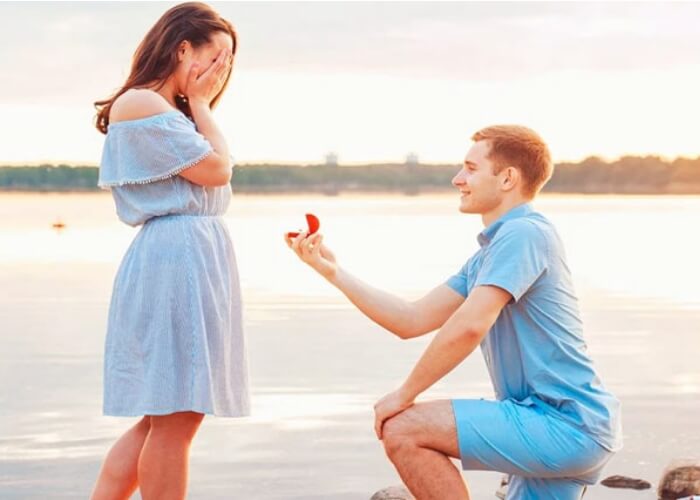 2. Bend Down on Your One Knee
Oh Well! Speaking of bending down on one knee is the most common and well-known way of proposing to your girl. But does that make it less useful? NO.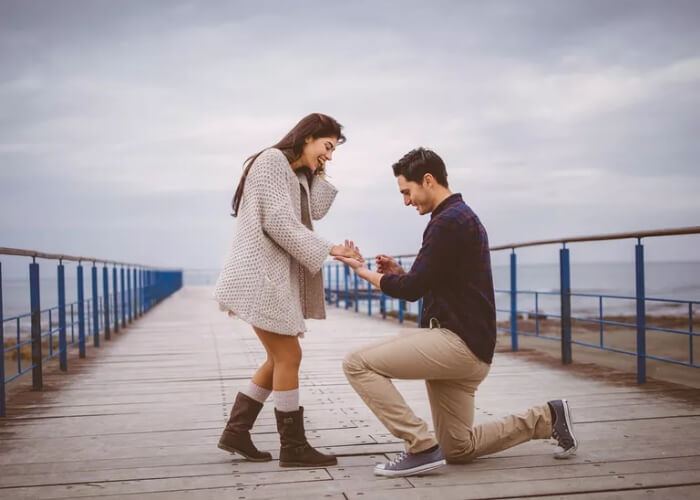 Even though this may be one of the more traditional approaches to asking a girl out on a date, you can rest assured that it will be successful. Women adore it when their partners have a mannerly demeanor. The cherry on top would be if you had a crimson rose in your hand.
3. Take Her to a Memorable Place
You can plan out a proposal at the place where you first met. It could be any place, from your college canteen to your favorite restaurant. Decorate the arena with flowers and her favorite things.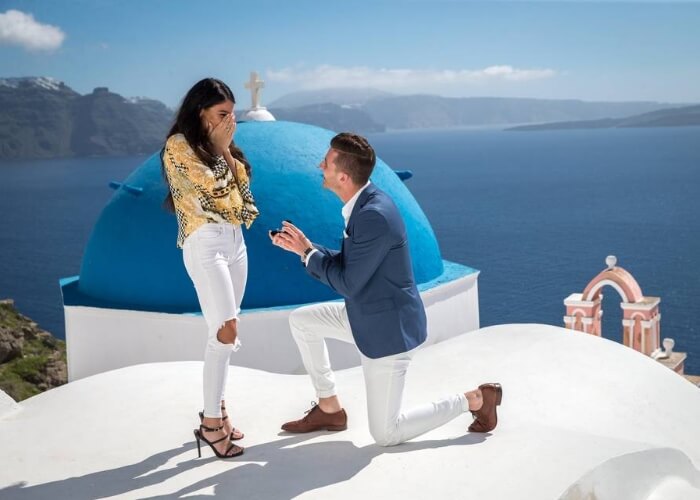 With just the two of you, start with a sweet conversation and pull out the ring at the right time. Your efforts will certainly have a positive impression on her. You can be sure of a favorable response. 
Also See:
4. Banner and Message
This is one of the most romantic ways to propose to your girl. All you have to do is to get a banner or sign bearing a message hung in front of her place of work or her home.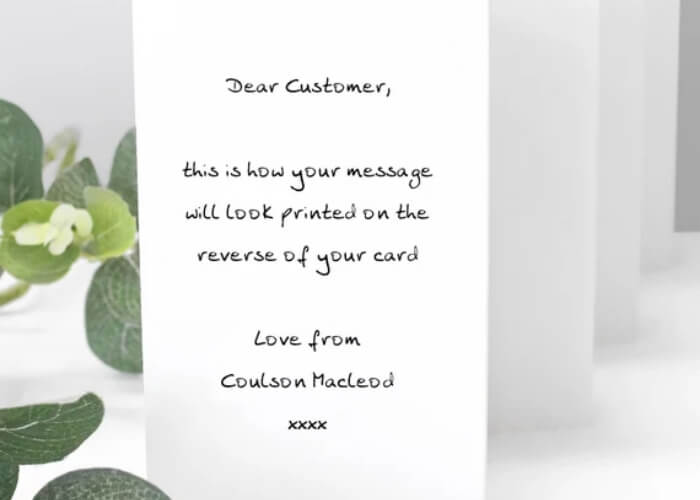 You can even include her relatives and close friends in this plan if you want to. They can carry the banner, and you can take care of the bouquet on the other side. But make sure you don't refer to her by her real name. You are free to write what you personally refer to her as.
5. Get it written on the sky
If it is within your means, you should consider having something inscribed on the sky as a gift for her. It would mean being a little over the edge. However, you should take care of her liking that if she will enjoy such a proposal in public or if she likes the traditional way better.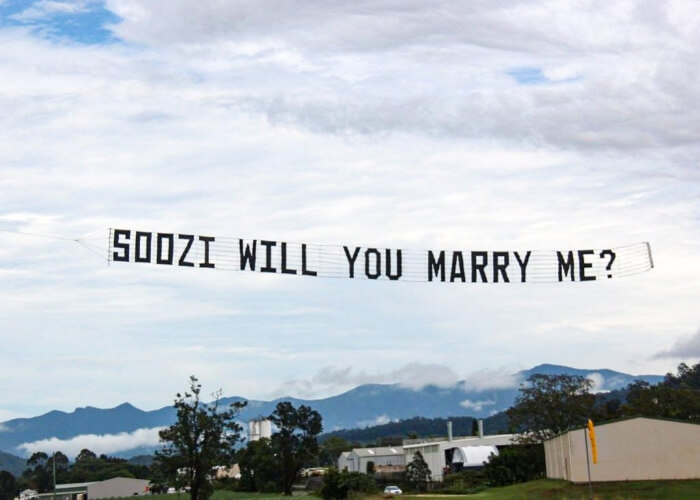 6. Take Her Out for Dinner
Taking her out to a beautiful restaurant for dinner and treating her like a queen is one of the most effective ways to show her love.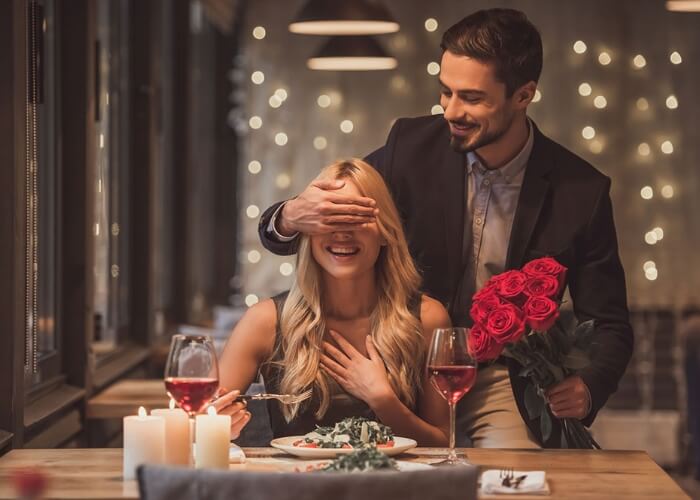 Ask her out after having some of the music that she enjoys listening to played there, as well as after ordering something scrumptious. You might even try the idea of putting the ring in her drink or in the cake she is eating so that she discovers it later and is completely taken aback by surprise.
7. Use the Balcony 
A dreamy yet subtle proposal on the balcony is all that a girl would want if she favors simplicity more. Request your neighbors that they write "I Love You" on their blinds while they turn off their lights.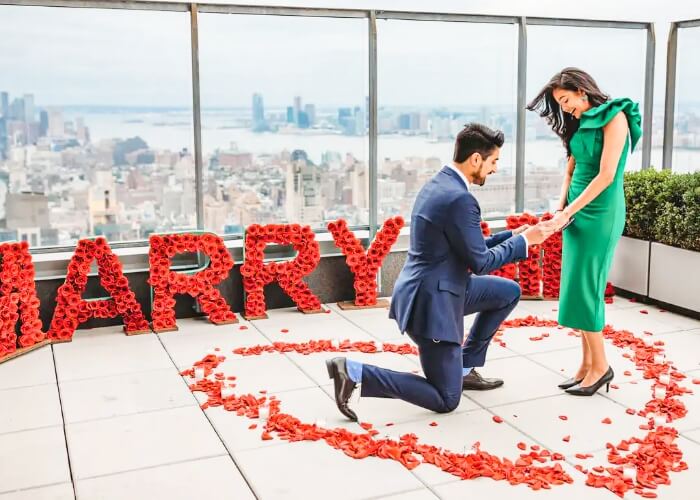 Bring her to the balcony while she is blindfolded, and then have her remove the blindfold when everything is ready. It will be perfect for her. She will definitely love this one!
8. Take Her On a Romantic Movie Date
You can go wrong with the right movie! A romantic film is a must-watch for any couple. Don't let her in on the plan, and take her out for a night on the town. Look at her for a second during a particularly touching or romantic scene in the film. Instead of telling her outright, use your body language to convey your feelings.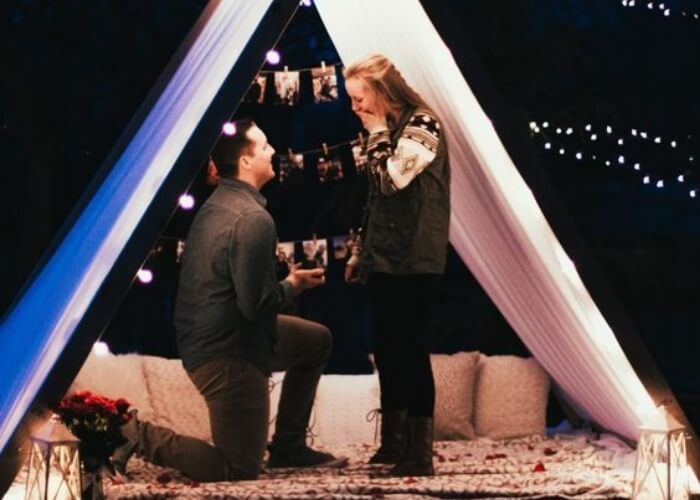 When the movie's credits roll, turn around to face her and pop the question using your own words (or the movie's). Another way of doing it is filming your own happy moments, booking the theatre, adding people to your plan, and then showing that video on the movie screen. At last, call her out in front of everyone and propose to her.
9. Go On An Adventure Trip
For those who live by the motto "life is an adventure," a trip to a neighboring hill might be in order. Attempt to leave before sunrise and get there in the morning. You don't need to go extravagant for this form of a proposal. There are myriads of romantic places where you can take your girl.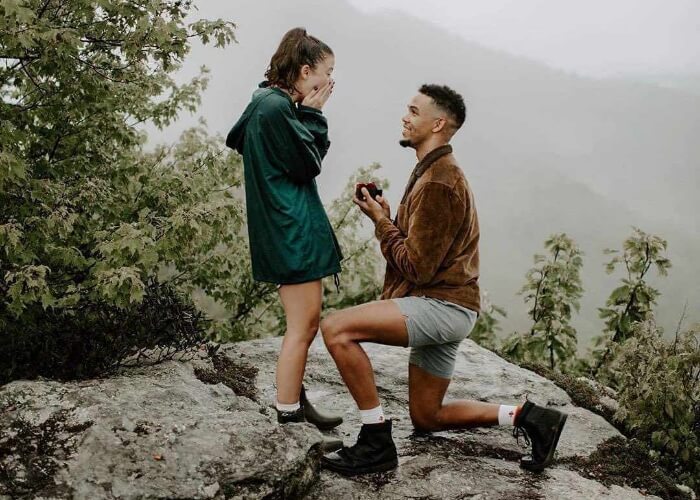 Of course, when it comes to the most romantic places, Paris tops the list. But you can surely go to other places as well however your budget allows you. At first light, go down on your knees and ask her out.
10. Drive Her to the Beach 
Beaches are the most romantic places when it comes to proposing to someone special. You can also drive her to the beach and pop the question.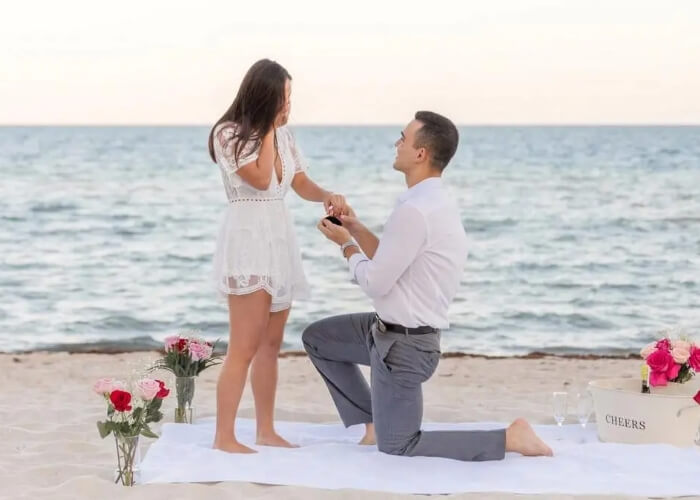 Just take a trip down to the coast just as the sun is beginning to set. While you are driving with her, play some soothing music and softly whisper the most awaited magic words to her. You can even have it planned out on the beach as well. 
Related: How to Propose a Guy – Know Unique Ways to Propose a Boy
11. Cook For Her
If your girl admires small little things, then this is the best way you can propose to her. You don't need to visit overpriced, crowded eateries and shared spaces.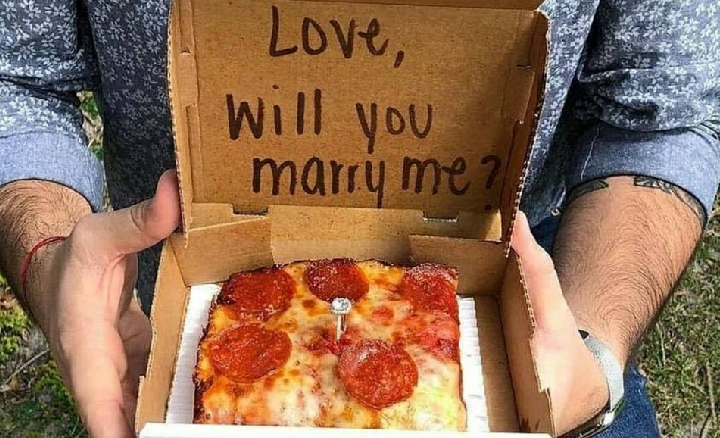 Instead, cook her a three-course meal of her favorites to win her heart. Present the dinner on a Personalized Platter with her name. That'll surprise her.
You can even wear a personalized apron with "Your cook for the day" written over it. Even if you don't, she'll enjoy the extra mile you go for her. If the food isn't right, have a laugh and order. After all, you are proposing to be her personal chef for life.
12. Add Some Flair to Your Proposal.
You don't need to be too straightforward or boring. Adding some flair to your proposal will take things to another level.
You can set up a whole playful game mode. Get a water cannon, let her get shocked for a time with it, and then tell her that she is wanted for taking my heart because you have it.
13. Clue Hunt is the Game Changer
Similar to a treasure hunt, the trail of breadcrumbs leads from one clue to the next. You and your partner need to become close, so think of imaginative ways to get to the hint, such as having them kiss or dance for you.
Since it's about love, make sure to give her a small incentive after she solves each mystery to keep her interested and working toward the end goal—your proposal. Make it clear that her gifts are specially tailored to her by adding a personal touch.
14. Artistic Approach
Is it you, or do you have artistic talent? Are you also someone who sings or dance or who writes poetry? Then use that to your benefit, and propose to the one you love through your creative endeavors.
Create an image of her with the words "I love you" drawn on it, write a love song for her, say "I love you" to her in verse, or just surprise her with a flash mob dance as she walks to class or work.
15. Go Camping with a Little Twist
An inside glitzy camping date is the most romantic date ever. Close the blinds and turn on the LED lights to create an inside campfire in front of your bed sheet tent. Use four or five LED Light Bottles. Watch an old romantic comedy while you drink from your custom wine glass. This is such a sweet thing to do for your significant other.
Propose to her in the middle of a romantic comedy by making a two-minute video of your thoughts and feelings. When you do this, she will feel like the queen that she truly is. Such a romantic move on your part will have her completely smitten in no time.
These are surefire ways to win over your lady love!
There are people who are in distant relationships or are away from each other. What should you do in such a situation? Of course, sharing your emotions when the person is in front of you is easier than when a person is far away.
She may be your childhood friend who you always loved, and now you feel like telling her your feelings. Or you might have seen the girl at your friend's party in another city; you became friends now you have developed feelings for her. Whatever the case be! You must not wait for so long to convey your feelings to the love of your life.
So, scroll down to know how to propose a girl on chat or how to propose a girl by text. 
Here are some of the best ways you can propose to a girl when you live far away.
How To Propose To Your Girl When You Live Far Away?
1. Send Her a Love Letter
It may sound a little old way to propose, but trust it is one of the best ways even today. A love letter is the quintessential expression of affection.
Take some time to put your thoughts and feelings down on paper and drop them in the mail. Include a memento, such as a pressed flower or a snapshot, if you desire. In addition, you could send her a postcard while you're away. It would be sweet if you take the time out to make a card just for her.
2. Surprise Her with a Personalized Care Package
Sending a care box is a wonderful approach to expressing your feelings over a long distance. Include things you know she'll enjoy or find useful, and show that you put some effort into it. If you don't warn her in advance, she'll be all the more surprised.
To show her how much you care, put together a care package with some of her favorite things, including her favorite snacks, pictures or keepsakes from your time together (if you've met in person), or scented bath products. Include a handwritten letter in it, asking her the question, if she will go out with you. 
3. Send Her Flowers or a Chocolate Bouquet
Do something adorable to brighten her day. Another option is to send her favorite wine, an Eatable Bouquet, or a singing telegram. Put a note inside to show her how you feel about her.
Don't go overboard until you've thought about who she is as a person. Sending flowers to her house can be a better option than a singing telegram to her workplace if you believe she might be embarrassed by it.
4. Ask Her Out on a Virtual Date
Thankfully, we are living in an era of technology. We have the technology to see each other, talk to each other and even date virtually. So, you can also take advantage of technology and ask her for a virtual date.
You should make it feel as much like a real date as possible. A virtual candlelit supper, drinks via Zoom, and a romantic movie all await you and your partner in the digital world. Dress up as though you were going on a real date. Make every effort to make it feel unique! 
You can really impress her by showing up to your date with a bouquet of flowers or a bottle of wine delivered to her door if you know her address.
5. Gift Her a Scrapbook of all The Memories Made Together
Luckily if you both have met physically and not just over text and calls and have shared great moments together, it's best to compile all that in one scrapbook and gift it to her.
Have your mutual acquaintances give you an honest opinion on how they feel about the two of you together. Your scrapbook tale should close with you asking her how she would feel if this were the rest of her life forever. Then on the next page, have a box engraved with a ring in it. Trust, this is going to be one of the most romantic ways to propose to your girl when you live away.
6. Buy Her a Pet
If your girl-to-be is a pet lover, then this is your chance to shoot. Gift her a pet she loves the most. Be it a cat, dog, hamster, or any. Deliver it to them with a note explaining how much you love her. This gesture will not only excite her but will also show how much you care for her. 
7. Order Her Favorite Dish
As said earlier, we are in the age of technology. Now everything, from online gifting to online food ordering, has become a breeze for all. So, if your girl loves trying different cuisine or is fond of some special cuisine, then it's your best chance to impress her.
Online food ordering doesn't take forever, no matter where you are. You can always be simple yet romantic for your woman. Just order her favorite meal and include a message along with it, asking her out. 
8. Plan Out a Flash Mob
Using a flash mob to pop the question is a unique idea if your girl has a passion for dramatic and exquisite gestures. Find dancers from their hometown to help out, or hire a professional group. Find out when and where they'll be and surprise them with a song they'll like while the video of you proposing to her is being played.
9. Pen it Down
If you're a passionate writer or love writing anyway, then you can use this in your favor. A piece of writing is the simplest yet the most creative way of expressing how much your girl means to you.
All you have to do is to write a poem and send it in the mail. You can even read it out loud on a video chat service like Skype or FaceTime after you're done. She will love this for sure!
10. Create a Personalized QR Code 
Last but not least, create a personalized QR code for her. You may have a one-of-a-kind piece of jewelry made with a personal message encoded in a QR code. When she scans the necklace, she'll be warmly delighted to see a message from you proposing to her.
BONUS TIP: You might even make your proposal over text or chat with your girlfriend. However, when you do so, you should make sure that you are not being overly direct. If the two of you talk to each other on a daily basis, then you must undoubtedly have some notion about how your girl is feeling. You can thus ask her out on a date while you are conversing with her, while she is feeling more at ease.
Wrapping it up…
So, these are our top 25 romantic ways to propose to your girl. We hope that these ideas will help you take the first step that you have been waiting for.
You can use any of the ideas mentioned above to propose the love of your life. If any of the idea mentioned above has inspired you, then don't wait. Just ask her out NOW!
If you have any other ideas aside from the ones mentioned above, do share them with us. We would be delighted to have your ideas!
Thanks for reading!
Happy Proposing… ☺ ☺