When we talk about make-up the happiest souls on earth are all girls. And when it is about wedding every girl gets excited, as, besides having her attire and accessories, she has this wonderful opportunity to get what all she has been desiring for quite a long time. Wedding is a wonderful occasion for any girl, and the best part of any wedding for a girl is to buy a lot of make-up items as every bride wants to look her best not only in her wedding, but also after her wedding.
And why not? After all it's her wedding, a once-in-a-life-time event and even after her wedding the pompous will be on, if not for a year than at least for a few months, in the beginning. She will soon be getting several invitation for attending parties, lunches, dinners, brunches, and what not for that matter.
Importance of Make-up Tools
Well, this article is for all the brides-to-be, just to tell how make-up plays an important role not only on the wedding day, but also even after the wedding. Hiring a make-up artist for every occasion after wedding won't be possible, and you know that. Right??? It's better you pull your socks and be ready for your own personalized make-up kit, which will contain everything which is important and essential. Now, you must be thinking how are you going to do it? For few girls it is really a tedious task to apply make-up, and they hardly can do it. But don't worry at all! Every problem comes with a solution and this one also has a solution.
Here is a list of most important or we can call MUST HAVE make-up items which you will need in your bridal make-up kit on the day of your wedding and after your wedding. It is recommended that all brides-to-be should buy these items and learn to use them all.
Also, you must know that everything is done in an order. And here is the order along with few recommended brands of all those make-up items.
MAKE-UP FOR YOUR FACE
1. Make-up Primer
Makeup primer, a substance used as a preparatory coat. It forms a base for your foundation or your face makeup, which allows it to go on smoother and last longer. A primer is a must have make-up item in your bridal kit, which will help your keep your makeup fresh for photos for a longer period from the minute you walk into the event to all the way through to the after-party. Also, primer helps to hide obvious foundation streaks, noticeable pores, and the redness around the nose from view and reduce fine lines.
Also, it is essential that you purchase the right and quality primer as it will regulate dry and oily skin. Good primer makes for easy blending. Also, it is recommended to include Indulge oil for priming the face, in case of very dry skin. Below are some widely used primer brands and the most recommended ones.
Smashbox Photo Finish Foundation Primer
POREfessional Face Primer
Clinique Super primer Face Primer
Mac Prep+Prime Face Protect
NYX Studio Perfect Photo-Loving Primer
2. Make-up Foundation
Foundation comes next after primer. The foundation is applied on face to give your skin an even tone and coverage. Foundations come in two types liquid foundation and powder foundation. While choosing the foundation make sure you choose the good quality and right foundation as it will help you have a natural look. Also, the easiest way to test a perfect matching shade is by simply applying a streak to the side of your jawline, just down to the neck. Below are some widely used foundation brands and the most recommended ones.
NARS Foundation
Aqua Luminous Perfecting Foundation
NARS All Day Luminous Weightless Foundation
Matte Loose Powder Mineral Foundation Broad Spectrum SPF 15
Pro Filt'r Soft Matte Longwear Foundation
Bobbi Brown Skin Long-Wear Weightless Foundation SPF 15
MAC Studio Sculpt foundation
Maybelline Dream Liquid Mousse Foundation
Fleash Beauty Foundation Stick
Estee Lauder Double Wear Foundation
Mac MatchMaster Foundation
Makeup Forever HD Foundation
L'Oreal Paris Infallible Lasting Perfecting Foundation
Kryolan TV Paint Stick
3. Make-up Contour
Contouring is when you use a matte powder, liquid, cream, or stick product to shade areas you'd like to define or reshape such as your nose, chin, forehead, and cheekbones. A face when contoured provides definition to your facial features, specifically enhancing your nose and cheekbones. It leaves you with a modeled look for your wedding day.
However, if you are new to make-up and its techniques then it is recommended that you practice and learn how to contour beforehand. Below are some best contour creams that you would want to buy for your bridal make-up kit.
Anastasia Beverly Hills Original Contour Kit
Makeup Revolution Pro Highlighter – Illuminate
LA Girl Pro Contour Cream – Deep
MAC Studio Conceal and Correct Palette
Maybelline New York V-Face Duo Stick
Kat Von D The Shade + Light Creme Contour
LORAC Pro Contour Palette Plus Contour Brush
Odbo Bronzing Powder
Smashbox Step by Step Contour Kit
Nicka K Duo Contour
NYX Professional Makeup Cream Highlight & Contour Palette
MAC Hyper Real Glow Palette
4. Make-up Highlighter
On the wedding day and other wedding celebrations, brides wear heavy outfits such as lehengas, anarkali suits, ghararas and shararas. So, it is essential that your make-up also gel properly with the attire. And for that you need to add highlighter to your make-up kit. Highlighter as the name says, the pigments in it attract light, thereby leading to a brighter and enhanced look for your features. Highlighter is applied over your foundation and before the concealer above your eyebrows, cheekbones, brow bone, and the bow of the lip. Here are some highly recommended highlighters for you to have in your kit:
Amrezy by Anastasia
Avon True Color Illuminating Stick
MAC Mineralize Skin Finish
The Balm Mary-Lou Manizer Highlighter
Lakme Absolute Illuminating Blush, Shimmer Brick
KAT VON D Metal Crush Extreme Highlighter Palette
Bobbi Brown Highlighting Powder
MAC Prep+Prime Highlighter
KAT VON D Metal Crush Extreme Highlighter Palette
CLÉ DE PEAU BEAUTÉ Luminizing Face Enhancer
FENTY BEAUTY BY RIHANNA Killawatt Freestyle Highlighter (very new)
Lakme Absolute Highlighter
BECCA Shimmering Skin Perfector Pressed
5. Make-up Concealer
Like our body, our skin also goes through several changed all our lives and in the process by the time we grow it start to show many blemishes. Due to stress, pollution, pimples at young age, etc., it hardly remains same as it was at the time of birth or during childhood. Only some are graced with an impeccable skin but others have to conceal their facial marks. And that is done with the concealer.
Concealer, as the same says conceals all the facial marks, such as under eye marks, marks on upper lips etc. But make sure you buy a right one for yourself. Moreover, with the right makeup application technique, you can easily brighten up your under eye area and look fresh all day long. They come in liquid, cream and sticks. Also, if need be you can also buy color correctors, which will help you hide your dark circles and other blemishes. Here are some good concealers for you:
NARS concealers
Mac Pro Long-wear Concealer
Mac Studio Finish SPF35 Concealer
LA Girl Pro Conceal HD
M.A.C Studio Finish SPF 35 Concealer
L'Oreal Paris True Match Concealer
Maybelline New York Fit Me Concealer
Lakme Absolute White Intense Concealer Stick
NYX Professional Makeup Gotcha Covered
Bobbi Brown Creamy Concealer Kit
Estee Lauder Double Wear Stay In Place Flawless Concealer
Revlon Colorstay Concealer
6. Make-up Bronzer
A Bronzer is used to intensify the facial glow. Bronzer is used for night-time parties, good for dinners and parties after your wedding. The easiest make-up to apply, make a fish face and simply apply it to your cheekbones.
NARS Laguna Bronzing Powder
Lakme Absolute Sunkissed Bronzer
Oriflame Giordani Gold Bronzing Face Pearls
Maybelline Dream Mousse Bronzer
Mac Refined Golden Bronzing Powder
Chanel Soleil Tan De Chanel
Lakme Gold Dust Shimmer Bronzer
Estee Lauder Bronze Goddess Powder
7. Make-up Blush
Blush is needed to help you get a chiselled face. Simply make a pout and apply blush alongside your cheekbones and your temple. Here are some most recommended blush
Orgasm by NARS
NYX Mocha
Sweethearts Perfect Flush Blush in Candy Glow by Too Faced
Mac Earth to Earth
Mac Gleeful
Sugarbomb by Benefit
8. Make-up Compact
Now, after doing all these above mentioned steps, you need to set your makeup in place. That you can do with a compact. While buying a compact make sure you buy the right one, the one which matches with your skin tone. Most preferred are powder formations. Here are some best compacts for you:
Lakme Absolute White Intense Cover Wet And Dry Compact
The Body Shop Extra Virgin Minerals Cream Compact Foundation SPF 15
Maybelline's Fit Me Pressed Powder
Mac Prep+Prime
Bourjois Healthy Balance Unifying Powder
MUA Pro – Base Matte Satin Pressed Powder
Revlon Nearly Naked Pressed Powder
Lakmé 9 to 5 Flawless Matte Complexion Compact
All-In-One Face Base
MUA Pro-Base Matte Satin Pressed Powder
L'Oreal MAT MAGIQUE
The Body Shop Extra Virgin Minerals Compact
Colorbar Timeless Filling & Lifting Compact
Revlon PhotoReady Powder
Freedom Pressed Powder
BB Beauty Balm Compact SPF 30
MAKE-UP FOR YOUR EYES
When it is about your eyes, voluminous eyes look best. Here is a series of make-up which you need to put on your eyes.
9. Eye Primer
More often than not, eye make-up starts with a primer and it is good for setting the eye make-up. Eye primer prevents your concealer and eye shadow from creasing and let it stay longer. Here are the best eye primer to have in your bridal make-up kit:
NYX Professional Makeup Glitter Primer
Revlon Photo ready eye primer+ brightener
Laura Mercier Eye Basics
Urban Decay Eyeshadow Primer Potion
Jordana Eye Primer Eyeshadow Base
Faces Metaliglow Eye Primer
10. Eyeliners
For that dramatic effect, eye liner is a must and you have myriads of style to choose from such as cat eye, winged eye, or the subtle inner eye line effect. Buy right kind of eye liners for your further use also. Here are some eye liners for you:
Bobbi Brown Long Wear Gel Eyeliner
Essence eyebrow stylist set
L'Oreal Paris Supergel Intenza.
Revlon Colorstay Liquid Eyeliner.
Colorbar: Colorbar Just Smoky Eye Pencil.
MAC Fluidline Gel Eyeliner.
Lakme Absolute Gloss Artist Eyeliner.
Maybelline Eye Studio Lasting Drama Gel Liner
Sleek eyebrow stylist
Revlon Brow Fantasy Pencil and Gel
Rimmel London Professional eyebrow pencil
Lakme eyebrow pencil
Charlotte Tilbury Rock 'N' Kohl Liquid Eye Pencil L'oreal Brow Stylist Sculptor
11. Eye shadow
Next comes the eye shadow. Eye shadow help you enhance your any look be it simple or your bridal look. Applying eye shadow needs a lot of practice so make sure you practice a lot beforehand. Because you will need to apply even after your wedding on various occasions. Here are some very good eye shadows to choose from:
M.A.C Eye Shadow
Clinique All About Shadow Quad
Bobbi Brown Metallic Long-Wear Cream Shadow
LA Girl Inspiring Eyeshadow Tin
Clinique Quick Eyes Cream Shadow
Freedom Pro 12 – Audacious Mattes
Estée Lauder Pure Color Eye Shadow
Maybelline New York Eye Studio Color Tattoo 24HR Cream Gel Shadow
L'Oreal Paris HiP Studio Secrets Professional Bright Shadow
Urban Decay Matte Eye Shadow
Bare Escentuals Buxom Stay-There Eye Shadow
12. Eyebrow pencil
To define your eyebrows properly spend in eyebrow pencil. Here are some eyebrow pencils recommended for you:
L'Oreal Paris Cosmetics Stylist Definer Brow Liner
Revlon Brow Fantasy Pencil and Gel
MAC brow set clear
Rimmel London Professional eyebrow pencil
Lakme eyebrow pencil
Maybelline New York Define-A-Brow Eyebrow Pencil
ANASTASIA Beverly Hills Brow Wiz Soft Brown
NYX Micro Brow Pencil
BareMinerals Frame & Define Brow Styler
Kevyn Aucoin The Precision Brow Pencil
Essence eyebrow stylist set
L'oreal Brow Stylist Sculptor
Sleek eyebrow stylist
Milani Easy Brow Automatic Pencil
13. Kajal or Kohl Pencil
Who doesn't love kajal, I think none. Kajal is one such make-up item which can add a whole lot of refreshment to your make-up and define your eyes beautifully. It has medicinal properties also, age-old technique of making it with charcoal residue, prevent your eyes from infections too. A MUST HAVE make-up item in your bridal kit, do not miss to buy it! Here is a list of some beautiful and long lasting kajal brands, you can choose from:
18 Best Kajals And Kohl Pencils in India
L'Oreal Paris Kajal Magique
M.A.C Modern Twist Kajal Liner
Plum Natur Studio All-Day-Wear Kohl Kajal
Lakme Eyeconic Kajal
Maybelline New York Colossal Kajal Super Black
Lotus Herbals Ecostay Creme Kohl Intense Kajal
Bobbi Brown Long-Wear Eye Pencil
Inglot Kohl Pencil
Faces Ultimate Pro Intense Gel Kajal
Faces Magnet Eyes Kajal
Maybelline New York Eye Studio Lasting Drama Gel Eyeliner
Lotus Herbals Colorkick Kajal
Biotique Kajal Nourishing and Conditioning Eye Liner with Almond Oil
Colorbar Just Smokey Eye Pencil
Revlon Eye Liner Pencil
Himalaya Herbals Kajal
L'Oreal Paris Kajal Magique
M.A.C Modern Twist Kajal Liner
Maybelline New York Colossal Kajal Super Black
14. Eyelash Curler
Those curled eye lash create more drama than the simpler ones. For that you need to have an eyelash curler. Eye lash curler add right frame to your eyes. If used regularly it lengthens the lashes. Here are some best brands for eye lash curlers:
KEVYN AUCOIN The Eyelash Curler
Inglot BP Eyelash Curler
The Body Shop Eye Lash Curler
TWEEZERMAN Classic Lash Curler
Elf Eyelash Curler
SHISEIDO Eyelash Curler
LANCÔME Eyelash Curler
Lash Star Individual Lash Curler
Konad Eyelash Curler
Faces Canada Eyelash Curler
Colorbar Showstopper Eyelash Curler
Shiseido Eyelash Curler
Oriflame Eyelash Curler
15. Mascara
Your eye make-up ends with Mascara, it makes your eyelashes noticeable. Mascara makes your eyes look bigger and brighter by darkening and thickening the appearance of your lashes.
L'Oréal Paris Voluminous Lash Paradise Washable Mascara
Revlon Water Tight Mascara
Lakme Eyeconic Curling Mascara
L'Oreal Paris Volume Million Lashes Mascara
Glossier Lash Slick
L'Oreal Paris Voluminous Papillon Waterproof Mascara
MAC In Extra Dimension Lash Mascara
Lancôme Monsieur Big Mascara
Colorbar Zoom And Whoosh Mascara
Benefit They're Real Mascara
MAKE-UP FOR YOUR LIPS
Your make-up is incomplete until your lips are undone. Here is how you can do it.
16. Lip balm
Lips balms are essential for your bridal make-up kit as lip balms help you moisturize your lips. Just imagine cracked or flakey lips on the day of your wedding, just imagining it gives Goosebumps. So, better you keep your lips moisturized with right lip balm. Also, a delicate layer of lip balm can work wonders for your lip make-up. Here are few good lip balms for your lips care:
Nivea Lip Balm (Most commonly used)
Oriflame Sweden Lip Care
EOS Smooth Sphere Lip Balm.
L'Occtaine Ultra Rich Shea Butter Lip Balm
The Body Shop Born Lippy Pot Lip Balm
Fresh Sugar Lip Treatment Sunscreen SPF 15.
Carmex Original Tube.
Badger Classic Organic Lip Balm.
Burt's Bees Beeswax Lip Balm.
Vaseline Lip Therapy Cocoa Butter.
Jack Black Intense Therapy Lip Balm SPF 25.
Avene Cold Cream Nourishing Lip Balm
Forest Essentials Luscious Lip Balm Kokum Butter and Honey
17. Lip liner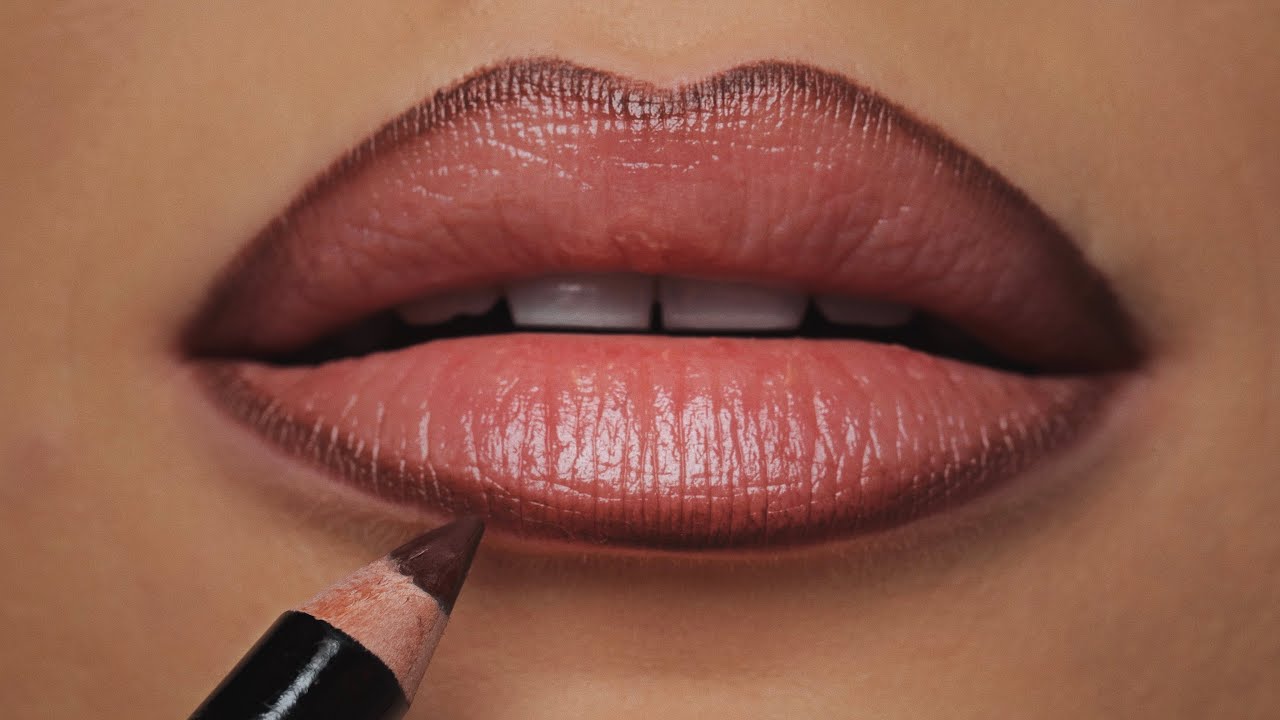 Lip liners are needed to give an outline to your lipstick and it is considered that without a lip liner a lipstick is incomplete. Use of lip liner make your lipstick stay for a longer time than without using it. Also, it prevents your lipstick from feathering. Here are some main ones:
Colorbar Definer Lip Liners
Maybelline Colorsensational Lip Liners
Chambor Velvette Touch Lip Liner Pencils
NYX Professional Makeup Slim Lip Pencil
Milani Color Statement Lip Liner
Boots No7 Precision Lip Pencil
Maybelline New York Color Sensational Shaping Lip Liner
L'Oreal Paris Color Riche Lip Liner
CoverGirl Lip Perfection Lip Liner
Revlon Colorstay Lip Liner
18. Lipsticks
Now is the time to apply the color on your lips. Lipsticks comes in matte, creme, and glitter. However, there are many lipstick brands and shades in the market, still choose wisely and only those shades which you really thing go well with your skin tone and also are required. Here are some brand suggestions:
MAC Impassioned Lipstick
Mac Retro Matte Lipstick Rooby Woo
Colorbar Velvet Matte Lipstick
Mac Satin Lipstick Retro
Chambor powder matte lipstick
Lakme Absolute Matte Lipcolor
Inglot Lipstick
Nyx Soft Matte Lip Cream in Addis Ababa
MAKE-UP FOR YOUR HANDS
19. Hand cream
Hand creams are other than your daily body moisturizers. They are used to keep your hands moisturized for your further make-up. They work as base for your hands. Here are some of best ones for you:
Neutrogena Norwegian Formula Hand Cream
Kama Ayurveda Hand Cream
Himalaya Herbals Age Defying Hand Cream
Oriflame Milk And Honey Gold Nourishing Hand And Body Cream
The Faceshop Daily Perfumed Hand Cream – Macadamia
Colorbar Fruit Drop Hand Cream
Khadi Pure Herbal Milk And Saffron Hand Cream
Avon Naturals Sultry Red Rose And Peach Hand Cream
The Body Shop Almond Hand & Nail Cream
Khadi Herbals Milk & Saffron Hand Cream
Oriflame Milk & Honey Gold Moisturizing Hand Cream
The Body Shop Hemp Hand Protector
20. Nail Paint or Nail Polish or Nail Enamel
Nail paints are a must make-up items, and you can have as many as desired nail paint shades for your bridal make-up kit. To keep your nail and hands look beautiful. Here are some great brands to choose from:
Lakme
Revlon
Colorbar
Faces
Elle 18
Inglot
Chambor
Maybelline
NYX
OPI
China Glaze
Inglot
MAKE-UP TOOLS & REMOVERS
21. Makeup brushes
Make-up brushes are necessary to apply make-up effectively and efficiently. Allying with fingers may not get you that perfection.
22. Blenders or Sponges
Along with make-up brushes you need to have blenders or sponges also in your make-up kit.
23. Nail Paint Remover
How can you complete your kit without having a nail paint remover? A must have for your make-up kit. These days they come in wipes also, make it very handy. Here are some very good Nail Paint removers:
Zoya 3-In-1 Formula Remove Plus
Sally Hansen Strengthening Nail Polish Remover
Cutex Quick & Gentle Nail Polish Remover
O.P.I Expert Touch Lacquer Remover
Pure Body Naturals Nail Polish Remover
L.A Colors Nail Polish Remover Pads
Aromatherapy Non-Toxic Nail Polish Remover
Inglot
Colorbar Ultimate Nail Enamel Remover
Revlon Nail Enamel Remover Extra Gentle
Onyx Professional Gel Nail Polish Remover
Karma Naturals Organic Nail Polish Remover Wipes
24. Makeup Remover
Undoubtedly, a savior when your make-up go wrong and otherwise an essential item to remove make-up daily before hitting your bed. The also come in liquid form and in wipes, whichever way is comfortable for you.
Maybelline Eye & Lip Makeup Remover
Lakme Absolute Bi-Phased Makeup Remover
Neutrogena Oil-Free Eye Makeup Remover
Clinique Take The Day Off Makeup Remover For Lids, Lashes, And Lips
Sephora Waterproof Eye Makeup Remover
Maybelline Expert Eyes Oil-Free Eye Makeup Remover
Garnier Micellar Cleansing Water All-in-1 Makeup Remover And Cleanser
The Body Shop Camomile Gentle Eye Makeup Remover
Bioderma Sensibio H20 Micellar Water, Cleansing And Makeup Removing Solution
Simple Eye Makeup Remover
Japonesque Pro Performance Makeup Wipes
Sephora Cleansing And Exfoliating Wipes in Coconut Water
RMS Beauty Raw Coconut Cream
Maybelline SuperStay Eraser Lip Color Remover
Colorbar Ultimate Makeup Remover
L'Oreal Paris Derma Expertise Gentle Lip & Eye Makeup Remover
Chambor Eye and Lip Makeup Remover
25. Cotton balls
You know already why you need them.
26. Rose Water
Rosewater is a multi-purpose item for a make-up kit. Rose water can be used as makeup remover, also it can be used as natural toner, or if you want you can also use this with making a face mask by mixing rose water with fuller earth. Likewise, rosewater can be used in many ways, thereby making it a must have item in your kit.
OTHER ITEMS FOR YOUR MAKE-UP KIT
27. Small mirror
Small mirrors are needed as they make perfectly handy item to see if everything is okay or you need a touch up. Also, before a picture you can check things and give a quick touchup if needed.
28. Safety pins
You never know when a small pin can become a savior for you in case of emergency. Otherwise also it is a must. Well, while buying safety pins make sure you buy in different sizes as some outfits do need big safety pins to get good hold. So, don't miss to have safety pins that too in good numbers.
29. Hair Combs
I am sure you know why you need a comb. But for your bridal make-up kit buy hair brush, combs in different sizes. So that you can use them accordingly, as and when needed. Your make-up kit should have:
Fine tooth tail comb
Wide tooth combs
Teasing combs
Fine and wide tooth combs or cutting comb
Styling combs with metal pins
Comb Picks
30. Extensions, hair nets and hairpins
For a perfect bridal make-up you need to have good number of hair pins along with hair extension and hair nets. Your hair will only complete the look of yours as a bride. Make sure you buy everything.
31. Bindi
In Hindu wedding system wearing Bindi is sort of compulsory. Hence, you should buy nice bindis to complete your make-up and your make-up kit. You will need to apply bindi after your wedding too. Also, there are variations in designs and shapes of bindi, according to the size of your forehead you can buy designs and shapes for yourself too.
32. Sindoor or Vermillion Powder
This is also a must have for Hindu brides as sindoor is considered a sign of wedding, and there is a belief in the Hindu tradition that sindoor should be used for husband's long life. There are liquid and powder forms of sindoor which ever you feel, you would be comfortable with, you can opt.
33. Sanitary Napkins
You will be absolutely new to your husband's house and you never know when suddenly you will need one. So, for any emergency, keep one for yourself so that you can easily grab when needed.
34. Body Lotion
Body lotion is for regular use to keep your body moisturized, especially if your wedding is happening in winters then it is crucial to have. Choose according to your skin type. Here are some good body lotions to choose from:
Nivea Smooth Milk Body Lotion
The Body Shop Cocoa Butter Hand & Body Lotion
Dove Go Fresh Body Lotion
Lotus Herbals Sheamoist 24-Hour Moisturizer
Vaseline Healthy White Triple Lightening Body Lotion
Neutrogena Oil Free Moisturizer
Forest Essentials Light Day Lotion
Plum Wild Cherries & Kiwi Luscious Body Lotion
35. Sunscreen
It is essential to have sunscreen lotions in your make-up kit, because obviously you will leave bare make-up and sunscreen is a must as it prevents you from ultra violet sun rays. While buying one do check the SPF of the sunscreen. Here are some good sunscreen lotions:
Dermalogica Prisma Protect SPF 30
Coppertone Pure & Simple Sunscreen Lotion for Face SPF 50
Lotus Safe Sun 3-In-1 Matte Look Daily Sunblock SPF 40
Biotique Bio Sandalwood 50+ SPF UVA/UVB Sunscreen
Kaya Youth Protect Sunscreen SPF 50
Lakme Sun Expert Fairness + UV Lotion SPF 50 PA+++
Lacto Calamine Sun Shield SPF 30 PA ++
36. Hair Oil
You know why you need it. Have the one you use, still here are few options:
Satthwa Hair Oil
Himalaya Anti-hair fall oil
Parachute Advanced Scalp Therapie Hair Oil
Biotique Bio Bhringraj Hair Oil
Khadi Tulsi Hair Oil
37. Shampoo
Buy whichever suits your hair, make sure your shampoo is sulphate free and free from harmful chemicals. Here are some good shampoos:
The Body Shop Rainforest Shine Shampoo
Giovanni Root 66 Max Volume Shampoo
Wella Elements Renewing Shampoo
Biotique Bio Green Apple Fresh Daily Purifying Shampoo & Conditioner
L'Oréal Paris Ever Fresh Sulfate-Free Anti-Dandruff Shampoo
Kerastase Discipline Bain Fluidealiste Smooth-In-Motion Shampoo
Khadi Mauri Herbal Aloe Vera Shampoo
WOW Apple Cider Vinegar Shampoo
The Moms Co. Natural Protein Shampoo
St. Botanica Activated Charcoal Hair Shampoo
38. Hair Conditioner
Your choice of hair conditioner is good enough, otherwise some shampoos come with conditioner too. Here are some good conditioners:
Verb Hydrating Conditioner
Briogeo Be Gentle Be Kind Kale + Apple Replenishing Superfood Conditioner
The Body Shop Rainforest Shine
L'Oréal Paris Ever Fresh Balancing Conditioner
To pan out……
So, this is the list of must have make-up items for your bridal make-up kit. If you think something is missed, do write to us.
Well, make-up and make-up kit is essential for a bride but the most essential is her inner beauty, which comes when you are truly happy from within. Be happy, be content, eat healthy, drink lot of water and stay hydrated because when you are happy within that happiness reflects back and add to the overall charm of your bridal make-up.
Happy Wedding….. ☺ ☺