Firstly, outdoor weddings offer enough space for invitees to interact other than indoor weddings do. It has lots of benefits that attract the brides and grooms to emulate this format. Many venues have a large landscaped ground that is enticing, while others offer beautiful features. Some of the stunning features include waterfalls, fountains, babbling brooks, fairy tale bridges, and gardens.
Even a photographer's dream is an outdoor wedding because it has natural light. Outdoor offers too many stunning and natural backdrops to become creative while taking photos of the couple. This helps professional wedding photographers create the most splendid photos. They know the phenomenal spots where to capture newlyweds and other parts of the event.
Outdoor weddings are the dream of many couples, especially when they plan to host a wedding in the summers. The best thing about the outdoor wedding venues is that these weddings are possible irrespective of the city, state, or country you choose. While planning for it, there's a need to consider something to enjoy your day. Most importantly, the season, weather, and so on.
Outdoor settings are perfect means to display all that nature offers humanity. Undoubtedly, you will have to work closely with your wedding planner to make your dream a reality. An outdoor wedding sounds very enchanting, and it creates a romantic moment for the bride and groom.
Table of Contents
Do you desire to have a great outdoor wedding?
Then Washington has the best venues. If you want to have your event celebrated in water, a garden, or a ranch, Mother Nature, Washington is the place to consider for that perfect outdoor wedding.
So, here are the top 21 outdoor wedding venues in Washington State to choose from…

1. Belle Gardens, Spokane, Washington
This beautiful outdoor wedding venue is located in Spokane, Washington. It has about 5 acres of lush gardens. Aside from that, the major attraction includes a pond, waterfall, and gazebo.
The best part about the Belle garden is that it has free parking space for about 200 guests. It has become one of the best outdoor wedding venues in Washington state, in the Northwest region. Apart from that, the Belle garden is famous for its welcoming staff and services. Their guests are all well treated and served during the event. Moreover, you'll get an in-house wedding planner. Yes, the moment you book the Belle Gardens for your wedding, you'll be given a planner who would work with you to create your dream wedding just the way you have expected it.

2. Craven Farm, Snohomish, Washington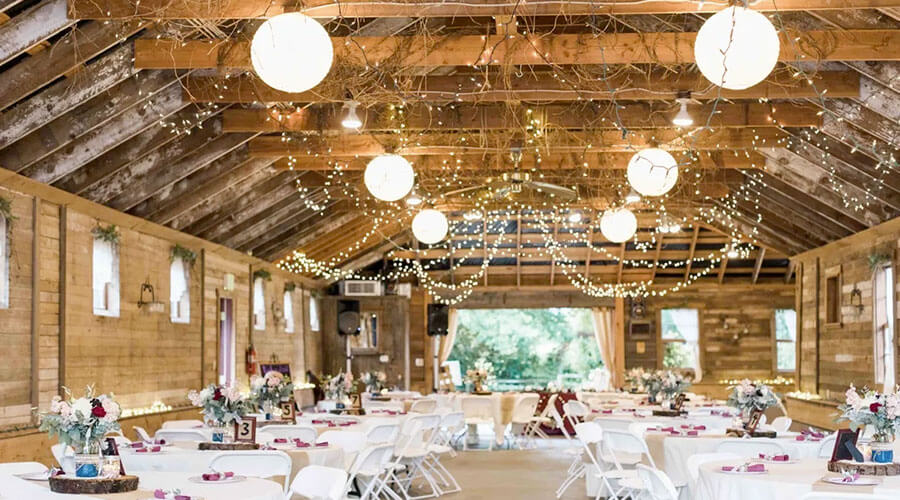 This lovely family farm is well-known in the area for its fall harvest festival. Holding a wedding ceremony here comes with access to lovely features, such as two barns, restrooms, kitchen, gaming lawn, children's play area, bridal suite, groom's room, two ceremony settings, and so on.
Craven farm is located at Snohomish, Washington, with a lovely site. It is a cardinal wedding destination that is located on a serene country road at the lower part of Lord's Hill. It offers the perfect site of the country charm together with a sophisticated barn and decorated ceiling lights. Silver wood walls make the venue very enchanting; the staff here is committed to making your visions a reality. So, if you want the best of both worlds, Craven farm is the best outdoor wedding venue in Washington state.

3. Lakedale Resort, Washington
Lakedale Resort in Washington offers a stunning ceremony location and reception area that nature lovers will adore. It creates a serene and welcoming atmosphere conducive to a memorable Friday Harbor event. The best thing is Lakedale's celebration coordinators are always there to assist you and your wedding planner with your once-in-a-lifetime event.
It's a perfect site for more intimate weddings or receptions for up to 200 guests. Lakedale Resort at Three Lakes on San Juan Island offers breathtaking ceremony and reception options. This magnificent timber Great Room with views of Neva Lake creates an inviting reception ambiance ideal for a memorable wedding ceremony.

4. Club at Snoqualmie Ridge, Snoqualmie, Washington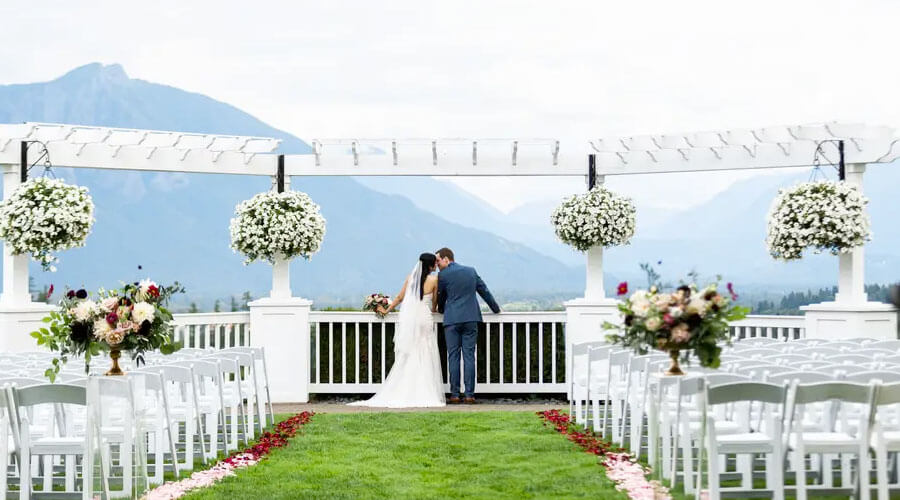 The Club at Snoqualmie Ridge is a private luxury golf club. It is located in Snoqualmie, Washington, 25 miles east of Seattle in the Cascade foothills.
The fabulous feature of this outdoor wedding venue is the waterfall from the mountain, which serves as backdrops. It offers a highly superlative unique event space. Aside from stunning outdoor, the place also has meeting rooms that can accommodate about 300 guests.
They also ensure to offer a wedding each day in order for the couples to get all the attention needed. Club at Snoqualmie Ridge offers a glamorous outdoor setting for your once-in-a-lifetime ceremony.

5. Salish Lodge and Spa, Snoqualmie, Washington
Salish Lodge and Spa is located in Snoqualmie, Washington. This venue is one of Washington state's most charming and brilliant wedding sites. It offers a fantastic selection of venue options. A wedding at this exquisite site is always magnificent, cozy, natural, fabulous, and one-of-a-kind.
This establishment serves couples in Seattle and Tacoma and is located in Snoqualmie, Washington. It's an excellent mountain escape for couples; it can accommodate a large group of guests. Apart from housing, they provide bartending, cuisine, event cleanup, planners, and sound, among other things, to help make your day unique. Additionally, they provide rental services such as photo sessions, sound system equipment, tents, chairs, tent accessories, chair covers, and centerpiece designs.

6. TreeHouse Point, Issaquah, Washington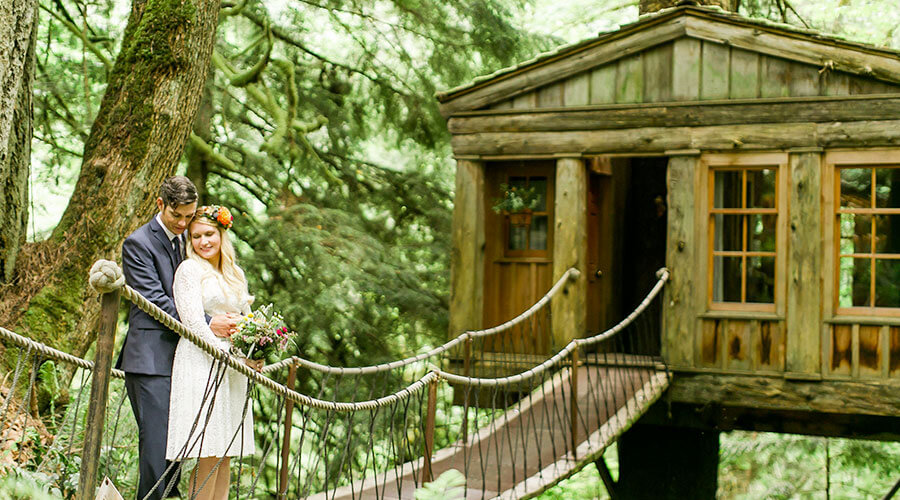 TreeHouse Point is located in Issaquah, Washington. This exquisite site makes for a stunning outdoor wedding venue in Washington. If you love forests or have ever wanted to host your wedding in a forest, this is the place for you. Set alongside a river and located in a grove of trees, this cedar-lined lodge will have your guests feeling fully immersed in nature.

7. Tin Roof Barn, White Salmon, Washington
The Tin Roof Barn is located among the rolling hills, apple orchards, and verdant meadows of the Columbia river canyon in the Pacific Northwest's Pacific Northwest. This barn is almost a century old and has retained its turn-of-the-century authenticity and beauty.
Equipped with all the amenities of a classic ranch home, this barn offers a stunning outdoor setting. Weddings at this White Salmon farm feature vow exchanges surrounded by apple orchards and rolling hills, followed by a reception in a charmingly rustic old barn.
Tin Roof Barn has retained its standard and attractiveness over the years. Whether you desire a boho, classic, or modern style for your centerpiece, this venue gives a gorgeous backdrop for your accession. It features leather and wood furnishings, dining chairs, a covered pavilion for cocktail hour, and more photo options. You will be astounded by the beauty and enchantment that this site brings to your event.

8. Nature Bridge Olympic, Port Angeles, Washington
Nature Bridge Olympic, located in Port Angeles, Washington, is one of the state's most beautiful outdoor wedding sites. If you're interested in a summer camp-themed wedding, this is the place to opt for.
Nature Bridge Olympic offers numerous stunning wedding locations overlooking Olympic National Park's glacier lakes. The best part of this venue is your site fee. Your site fee is a donation to a fund that provides scholarships to children wishing to participate in field science education programs.

9. Skamania Lodge, Stevenson, Washington
Skamania Lodge, located 45 minutes from Portland, Oregon, offers a variety of year-round wedding locations amidst the gorgeous Columbia River Gorge. It has about 175 acres of land that allows you to host a large-scale wedding with 400 guests.
Skamania Lodge offers vast open space and comfortable accommodation, and the service rendered makes it a perfect choice for the wedding. It has a gazebo which gives a warm atmosphere for your occasion. It also creates natural maple beams, indoor and outdoor fireplaces.

10. JM Cellars Winery, Woodinville, Washington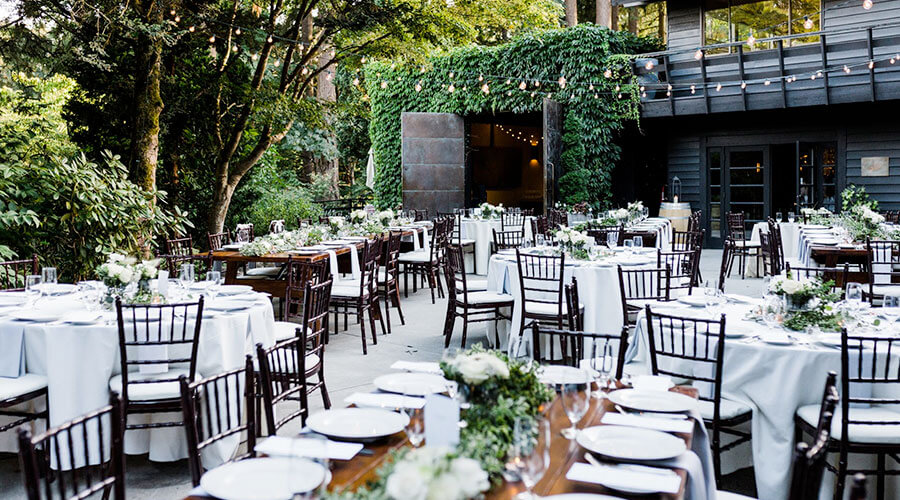 JM Cellars Winery is a small, family-owned winery located in Woodinville, Washington, with a tasting area set in a wooded rural environment.
It's the ideal outdoor wedding site for couples looking for a cool yet classy wedding occasion. JM Cellars' winery event evokes stylish, boho, and classy feelings. It is lovely, lush, and cozy yet has plenty of great open spaces.
JM Cellars is an ideal setting for couples who do not wish to have a large number of guests present on their wedding day. Additionally, it features woodland flora and a transparent tent with illuminated hanging lanterns.

11. ESB (Environmental Service Building), University Place, Washington
It is located in a spectacular part of Chambers Creek Regional Park, southwest of Tacoma and a short drive from Seattle. This 930-acre establishment is home to trails, wildlife, and some of the most breathtaking views in the area.
It creates a one-of-a-kind setting for commemorative occasions, such as your wedding. The Environmental Service Building features a large event room and a commercial catering kitchen. Aside from that, it also features separate rooms for couples to host their relatives and close friends prior to the ceremony.
At ESB, additional services like cups, plates, flatware, and glasses, round and rectangular tables, outside white resin chairs, and interior seats are also available.
12. Dairyland, Snohomish, Washington
Located on the 50-acre Woodland Meadow Farms in the greater Seattle area, this charming event site was intended to allow couples to celebrate their love without having to adhere to the traditional wedding format. The farm earns bonus points for mastering sustainable farming practices.
This former dairy farm dates all the way back to the 1940s, as seen by its worn-in, vintage vibe. You can host your wedding ceremonies can either on the tree farm or a hill overlooking the property. The best thing you can host both your wedding ceremony and wedding reception in this setting. The perfect place for your wedding reception is a whitewashed barn, a charming site for holding a memorable wedding reception.

13. Bella Luna Farms, Clearview, Washington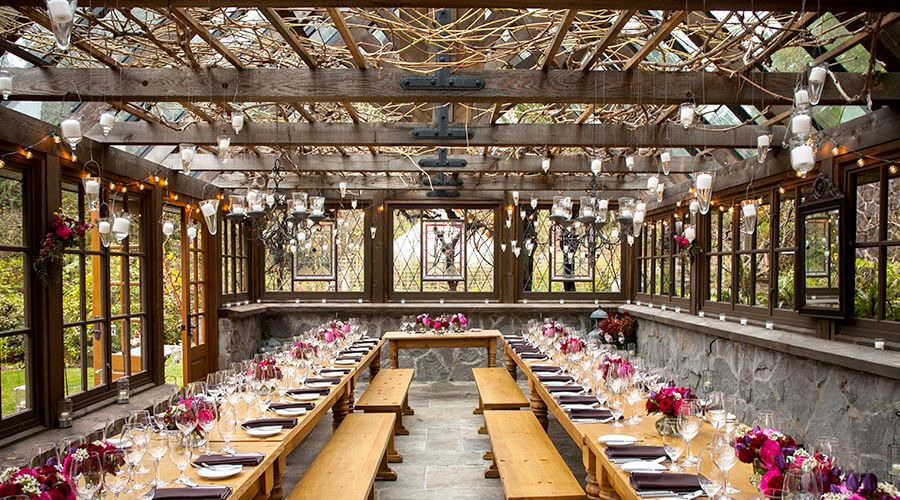 This adorable family-run farm is located in Clearview, Washington. It is one of the most beautiful outdoor wedding locations in the state of Washington. It offers a stunning farm-to-table experience for weddings and other special occasions. Thousands of trees and rhododendrons adorn the paths. A fairytale-like landscape surrounds this venue with low evergreens, ponds, and meadows, as well as European-inspired architecture. As a consequence of its impressive attributes, Bella Luna farms assist you in creating memories that will last a lifetime.
You will love to exchange vows beside the serene duck pond. And for celebration, the charming Grape House, which features glass walls and a grapevine-draped ceiling, is a stunning location. The major attraction of this place is your menu that includes farm-fresh fares such as crisp salads brimming with seasonal vegetables, fresh eggs from the chicken coop, and velvety cheese from the on-site fromagerie.

14. Des Moines Beach Park Event Center, Des Moines, Washington
The Des Moines Beach Park Event Center is located in the city of Des Moines, Washington. This location can host both indoor and outdoor events. It features a versatile open space that may accommodate either a large or small event. Stunning natural settings surround this charming location, making it one of a kind place in Washington.
The location features a view of the Olympic Mountain Range from the altar, which is located just yards from the gorgeous Puget Sound.
It can accommodate approximately 300 guests and allows them to witness couples marry against the backdrop of Puget Sound.

15. Twin Willow Garden, Snohomish, Washington
Twin Willow Garden is situated at Snohomish, Washington. It features beautiful gardens and landscaped grounds that are connected by enchanting forest paths. It's ideal for your occasion. It features a forest that leads to a lovely garden. When the celebration concludes, your guests will be in awe of the surroundings, tranquility, and natural splendor that the Pacific Northwest has to offer.
This is a one-of-a-kind venue, offering the ideal setting for a romantic forest garden wedding. So, if you want to host a wedding in a serene location with beautiful natural backdrops, this is the location for you.

16. Ballard Bay Club, Seattle, Washington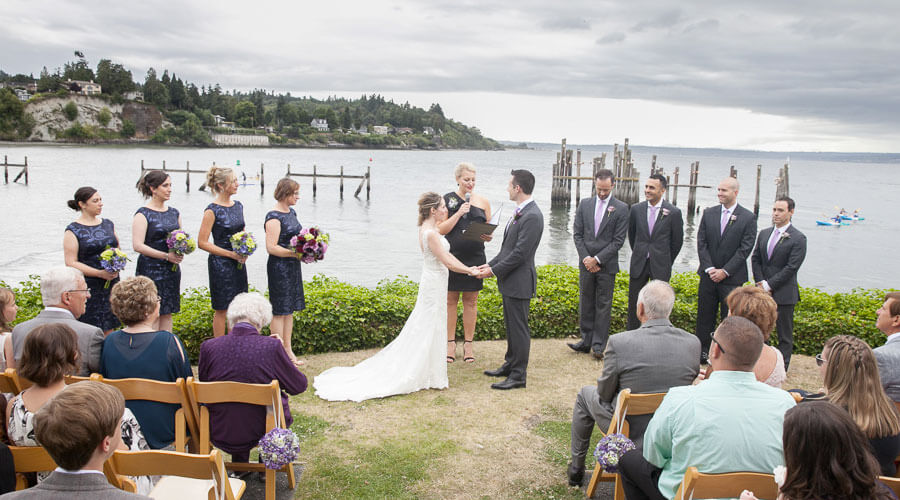 Ballard Bay Club is located in the city of Seattle, Washington. This contemporary facility with rustic accents in Seattle's famed Ballard area features breathtaking waterfront views, floor-to-ceiling windows, and exposed brick for a chic occasion. It's a romantic water location to host a stunning summer wedding in Washington.
This place offers a huge dance floor, windows overlooking the waterways, spacious outdoor courtyards, and an event-friendly glade area to host a memorable outdoor wedding.

17. Gold Mountain Golf Club, Bremerton, Washington
Gold Mountain Golf Club is located in the city of Bremerton, Washington. This beautiful spot features a breathtaking view that transports couples and their guests to a northwest setting. This is ideal for a wedding in a natural wooded setting. Gold Mountain provides couples with a unique set for their wedding day.
Irrespective of the size of your wedding, whether modest or grand, Gold Mountain can accommodate you. It's the ideal location for your wedding vows and celebration. Gold Mountain's photo galleries are always dazzling, natural, and appealing.

18. IslandWood, Seattle, Washington
IslandWood is the classic rural Pacific Northwest wedding venue. This 250-acre property is stunning, quiet, and tranquil for hosting a memorable wedding in a serene setting. This location is only a 35-minute ferry trip from Seattle. IslandWood features woodland pathways, pond, meadow, garden, two treehouses, a suspension bridge, and a canopy tower that will surely entice your guests.
It has a ferry ride from Seattle, making it interesting for your guests. They can freely move around while exploring the forest trails, meadow, garden, pond, two treehouses, and suspension bridge. It has quintessential rustic Pacific Northwest backdrops. Having an IslandWood wedding makes your day exceptional and will definitely make you feel good.

19. Rosario Resort and Spa, Eastsound, Washington
The Rosario Beach House Lawn is located in Eastsound, Washington. With amazing views of Cascade Bay, forested slopes, and distant islands, this location is ideal for an outdoor wedding celebration.
Additionally, it is the finest pick for every occasion, whether huge or small. It features luxurious guest rooms, exquisite cuisine, and dedicated staff, all set against the natural beauty of Orcas Island. Additionally, it has a Mansion Music Room, making the venue ideal for any celebration.

20. Novelty Hill-Januik Winery, Woodinville, Washington
Novelty Hill-Januik Winery, located in Woodinville, Washington, is the best outdoor wedding venue in Washington State. Novelty Hill and Januik are two independently owned wineries in Woodinville that share a destination tasting room and state-of-the-art winery. Both are led by Mike Januik, one of Washington State's most celebrated winemakers. This facility is ideal for wine tastings, gatherings, and weddings. Your guests will be mesmerized to see the beauty both inside and outside. Novelty Hill-Januik Winery is a showstopper for a clean, modern wedding background.

21. Fremont Foundry, Seattle, Washington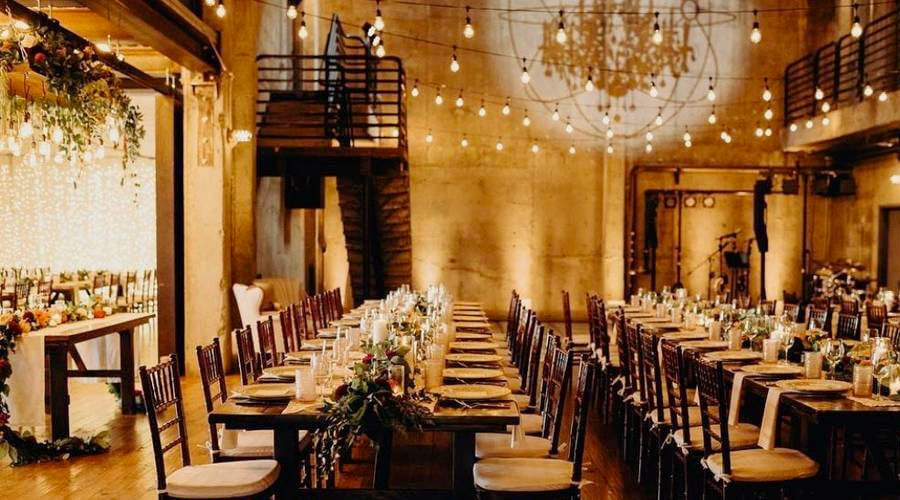 The Fremont Foundry is a multi-purpose event space in the center of Fremont's attractive neighborhood. Host your event in a sky-lit atrium with a 20-foot ceiling as drinks are served in the outdoor courtyard, or exchange vows on the rooftop terrace with panoramic views of North Seattle while enjoying a delectable dinner and boisterous reception in a historic location.
This beautiful venue features a charming courtyard, cement walls, exposed steel beams, a rooftop terrace, and a legendary past. What else do you need to host a memorable wedding in Washington?
Summing it up…
So, there you have it: the best 21 outdoor wedding venues in Washington State for you. Outdoor weddings are typically the best and most popular due to the natural beauty that surrounds them. Therefore, if you're planning a spectacular wedding in Washington, choose one of the venues listed above.
Pro Tip: Book your wedding venue very well in advance. Make sure to book your outdoor wedding venue in advance as the best places are booked first. And we don't want you to lose on your favorite wedding venue.
Happy Wedding… ☺ ☺