Winter is here, and it is the best season for hosting an outdoor wedding. We can all agree to the fact that outdoor weddings are fascinating events. If you also want to make your wedding a mesmerizing event, here are some wonderful outdoor wedding decoration ideas.
So, let's get started…
Table of Contents
1. Stretching Tents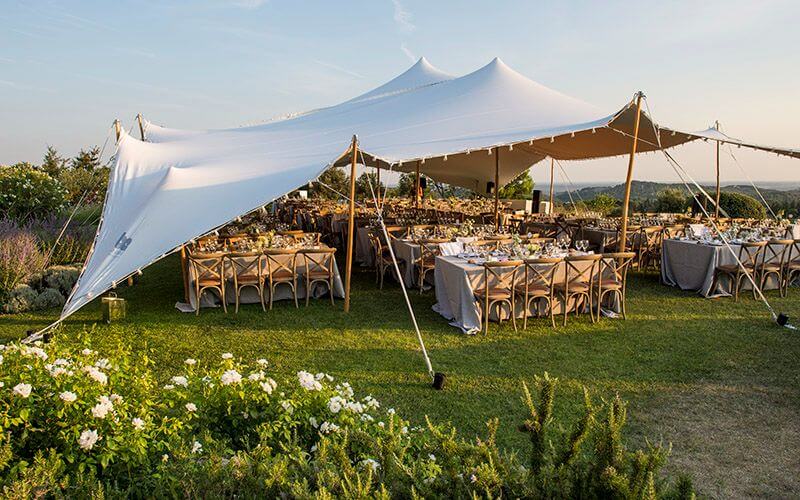 Tents, particularly stretch tents, can provide shelter in a variety of settings such as a hilly region, a riverbank, an open countryside, and so on. Using stretching tents, you can plan an enthralling outdoor wedding.
These modern, easy-to-assemble shelters have grown in popularity for use at a variety of events, including weddings. Tents will also protect your guests from rainfall in the event of a sudden downpour.
You can opt for any design or color tent matching your wedding theme. The coolest thing about outdoor tents is that they can be decorated in a variety of ways.

2. Fairy light décor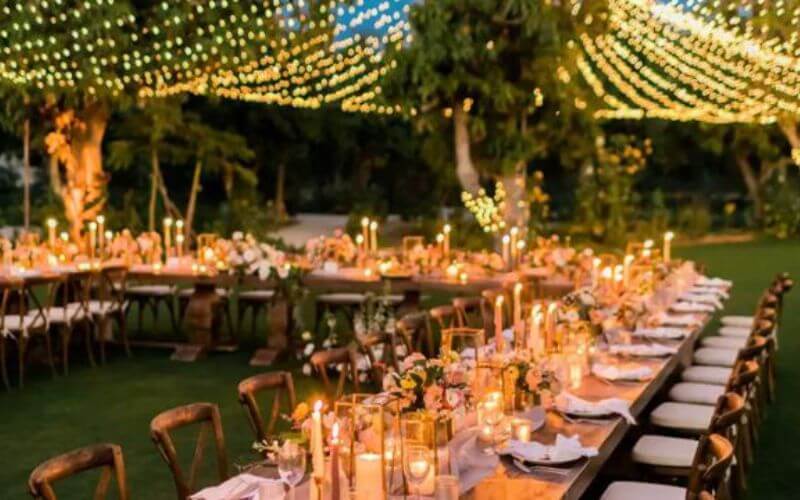 Fairy light is another fantastic way to add glam to your outdoor wedding event at night. Whether covering the whole venue with a tent or leaving it all open, fairy lights can be used in myriads of ways. You can place fairy lights along the tent's edges, curves, and guiding ropes, giving it a magical appearance. You can use the lights over the trees in a crisscross pattern or however you like it.

Also Read: 15 Latest Wedding Stage Decoration Ideas to Wow Your Guests
3. Par Cans Light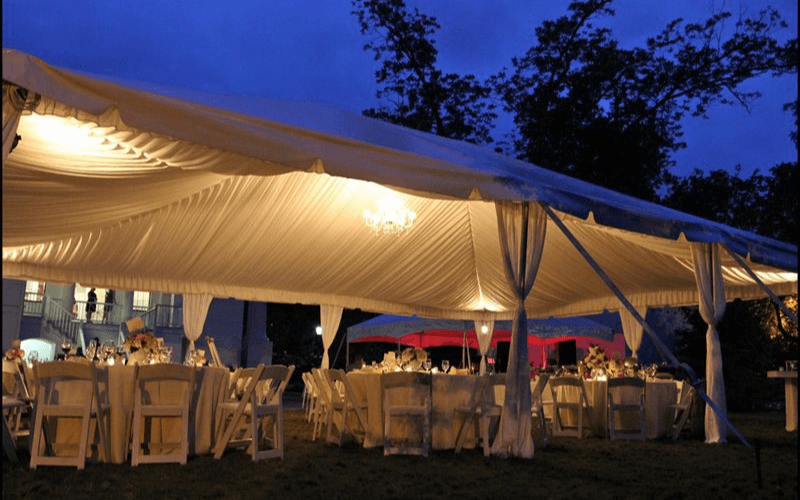 PAR cans are the lights that assist in focusing light from a distant source. Typically, the light is positioned at a lower angle so that it illuminates the venue elegantly. These lightings just spruce up the venue and make it visible from a distance.
Related: Creative & Trending Ideas for Outdoor Wedding Venues
4. Lanterns and Chandeliers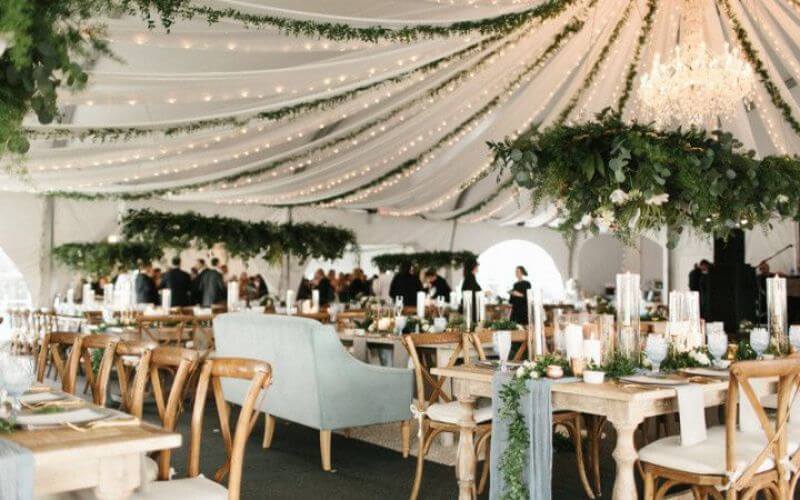 Adding lanterns and chandeliers to your outdoor wedding will simply improve the appearance and make the event more elegant. If you want to add charm to the event and make it look more romantic, adding lanterns is one of the best outdoor wedding decoration ideas.

5. Swanky Dance Floor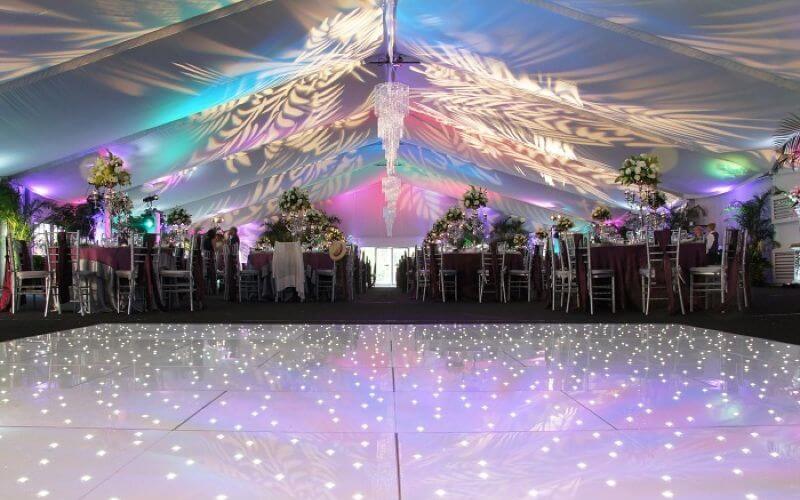 How can you not pay attention to the wedding dance floor? Of course, this is one of the most important areas where most people would gather together (to show their moves). If you don't want your guests to hurt themselves while dancing on grass (due to pebbles, rock, etc.), have a solid dance floor. So why not go for a swanky design like a checkerboard, mosaic themed, wooden, or illuminated floors?

6. Floral Hoops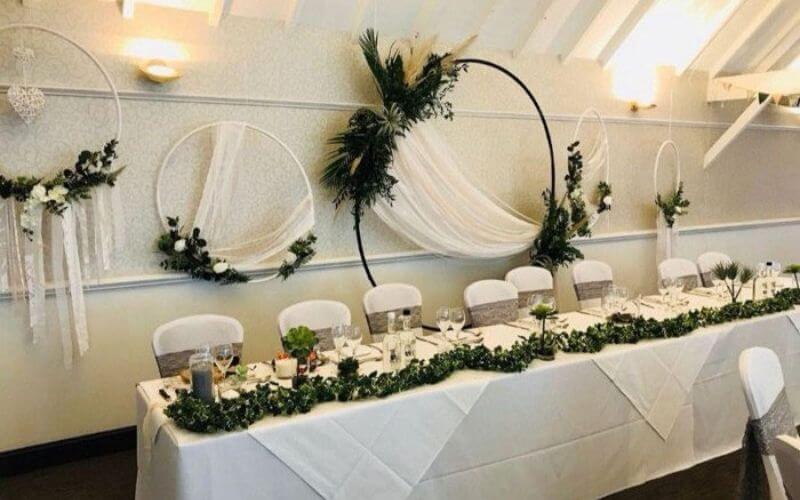 Floral hoops are one of the hottest wedding decor trends right now. Whether you're hosting an indoor wedding or an outdoor celebration, floral hoops just add to the glam. You can have them above your head table, incorporate them into your cake, or wherever you want them. Floral hoops are trendy at the moment!

7. Make the best use of flowers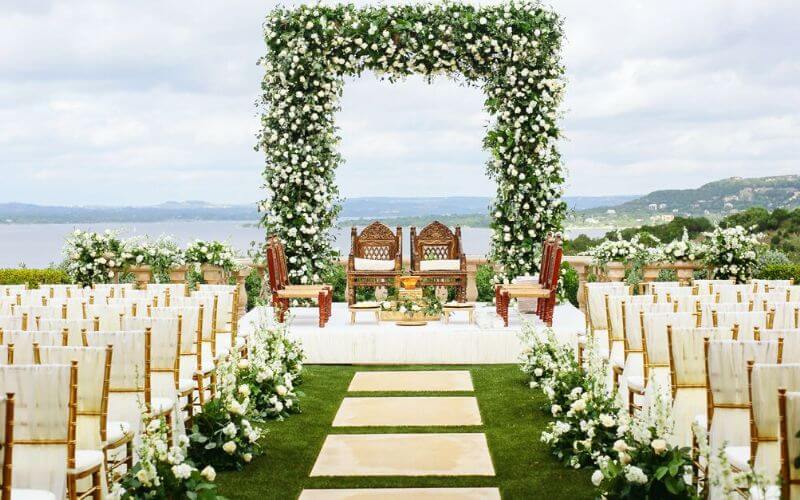 The floral decoration at the venue will just add to the overall appearance of the venue. You can add flowers in numerous ways, such as making a wedding entrance walkway with flowers. Adding beautiful and colorful flowers to the event will help you brighten the mood.

8. Add color to the event with balloons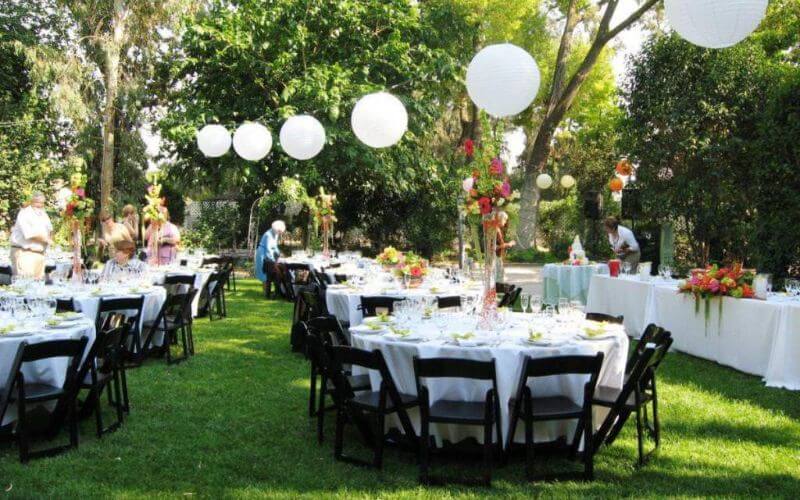 This childhood favorite of most people can be used to jazz up any event, including an outdoor wedding. In fact, balloons can play a vital role if you're hosting a day wedding in winter. You can use balloons of various shapes and colors to decorate the place.
Related: Top 10 Creative Balloon Decor Ideas for Wedding Reception
9. Oversized floral arrangement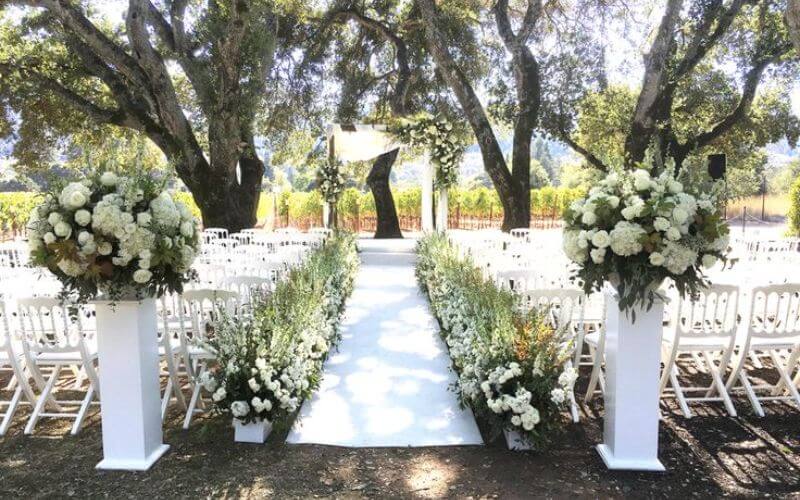 You can simply enhance the beauty of the outdoors by having an oversized floral arrangement. You can have them placed throughout the ceremony area or use them to fram the altar at your ceremony. Not only will these flowers enrich the event, but they will also serve as stunning backdrops for your wedding photos.

10. Utilize ladders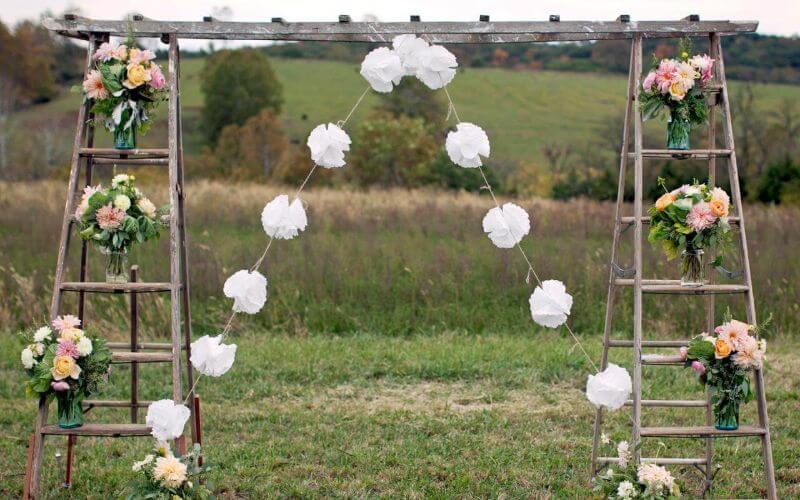 Have you ever thought of creating a vintage outdoor wedding? If not, then consider it. Utilizing ladders at the outdoor event, you can enhance the overall appearance of the event. It is one of the best outdoor wedding decoration ideas as it helps you create vintage décor at the wedding. Add ladders as a decorative feature, cover them with flowers and twinkling lights to make the whole thing look magical.

11. Floral wreaths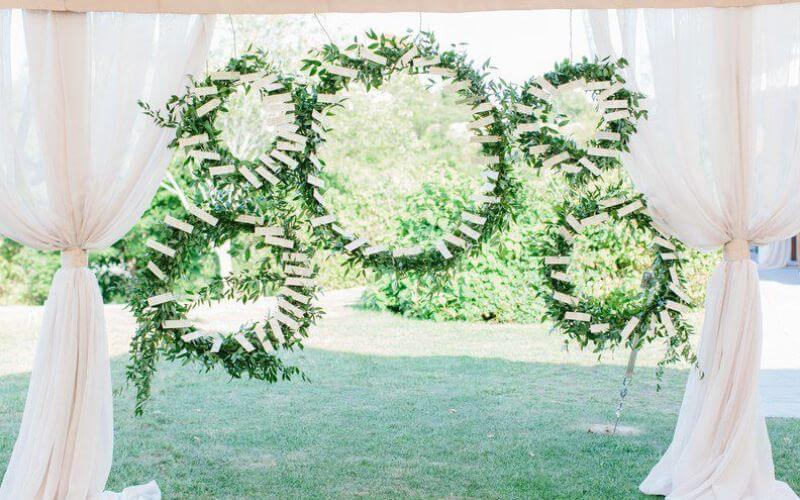 This list of outdoor wedding decoration ideas will be incomplete without wreaths in it. Wreaths can be used to enhance the appearance of the outdoors. You can hang them throughout the event area or on the structure above or place them on the venue's entrance as a warm welcome.

12. Snappy Welcome Signs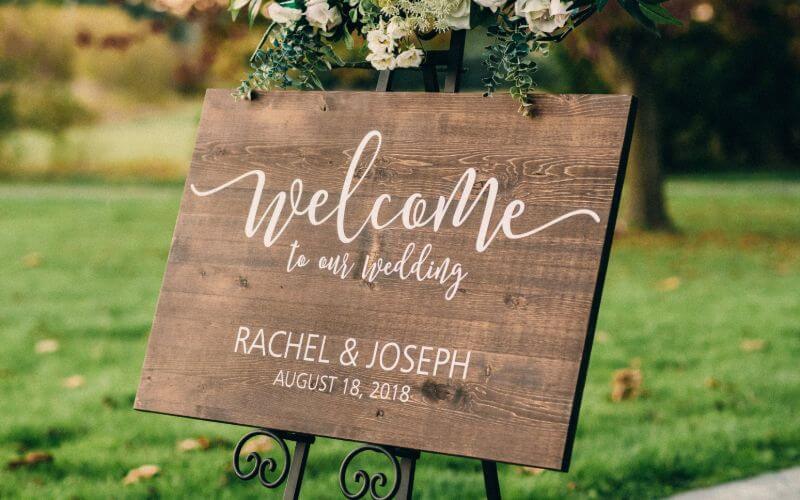 Get snappy welcome signs at the event to make it look lavish and rich. A lush floral welcome sign at the entrance is a great way to add charm to your ceremony or wedding reception. You can choose to keep it simple with greenery or go all out with more elaborate flowers that match your theme's color scheme. In either case, guests will be unable to take their gaze away from it.

13. Chalkboard Signs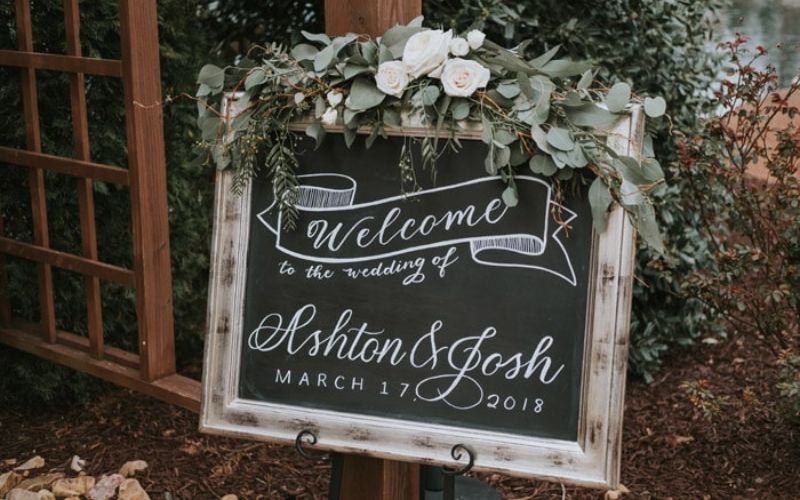 Chalkboards can be used to create lavish signboards for your wedding. And trust that chalkboard signs will simply add charm to your outdoor wedding decor. Use them to create table numbers, seating charts, welcome signs, directions, etc.

14. Splashy Seating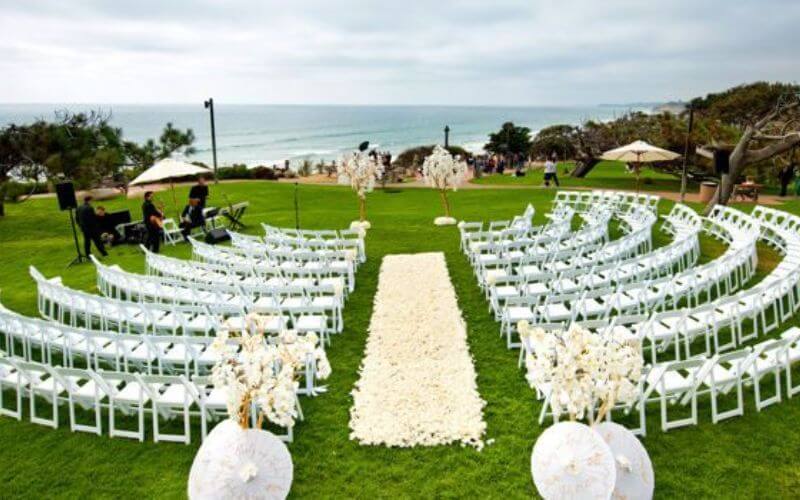 You don't need to opt for a regular seating arrangement when you can have a splashy one at your wedding. Yes, you can make your wedding a memorable event by having benches in place of chairs at your outdoor wedding event.

15. Serve drinks stylishly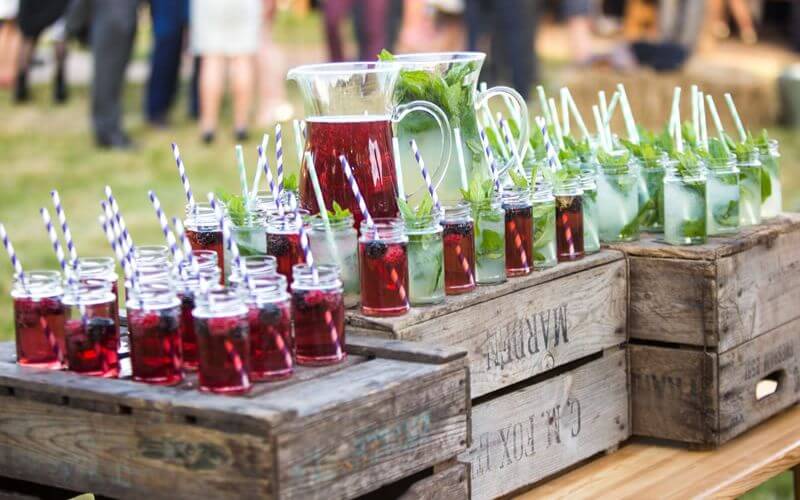 Your outdoor wedding can become an extravagant event if you serve drinks at the event stylishly. Of course, presentation matters a lot! Your guests would love to be served in style. You can opt for vintage tables to stack all your drinks or old cabinets to flaunt them distinctly, the choice is yours!

16. Incorporate a dessert bar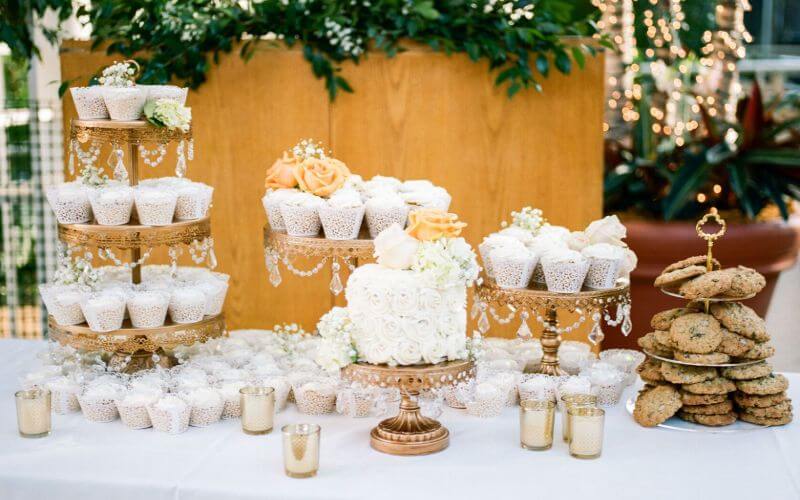 Colorful desserts displayed distinctly just add fun to the overall wedding theme. You can have colorful cake pops, pastries, mini desserts, macrons, etc., at your wedding to add bright colors to the event.

17. Have traditional swings incorporated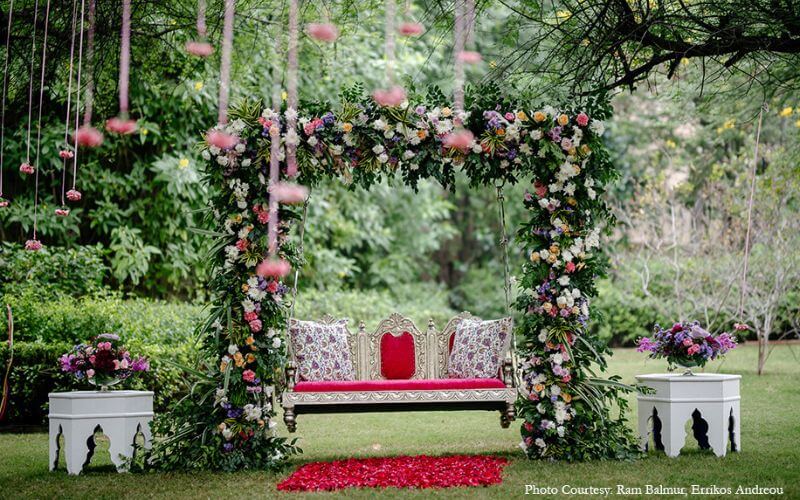 Yes, the ones that are hung on trees! A perfect way to reminiscence your childhood days! You can have a swing incorporated at the event as a distinct decoration feature as well. Not only will it provide a romantic backdrop for outdoor wedding photos, but it will also add glam to the event. You and your partner can have some of the best pictures of the event at the swing. So make sure your photographer is creative enough to utilize the swing for wedding pictures.

18. Mobile bars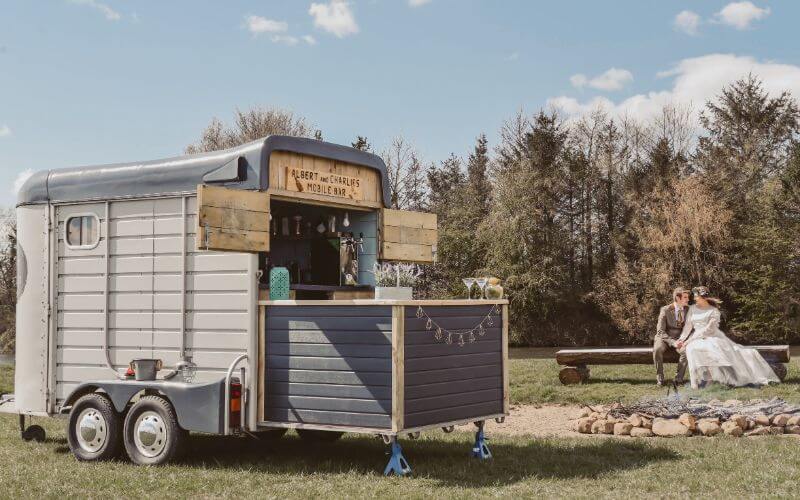 Take your outdoor wedding to new heights with mobile bars. Yes, mobile bars are a rage now! More and more people opt for mobile bars when it comes to the best outdoor wedding decoration ideas. So, if you want to make your event memorable, get mobile bars at the event.

19. Rolling carts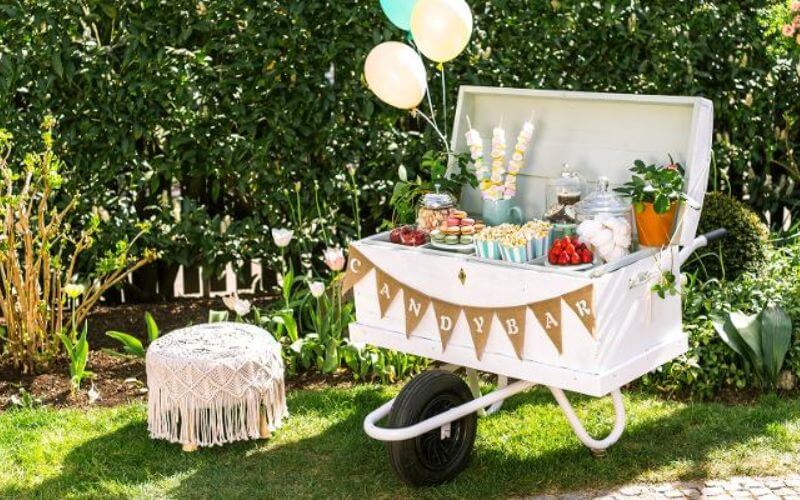 If mobile bars are not your thing, get rolling carts to add to the event and make it jazzy! Yes, rolling carts are a great way to serve your guests. The best thing is that you can decorate these carts with flowers of your choice matching with your wedding theme.

20. Make use of fabric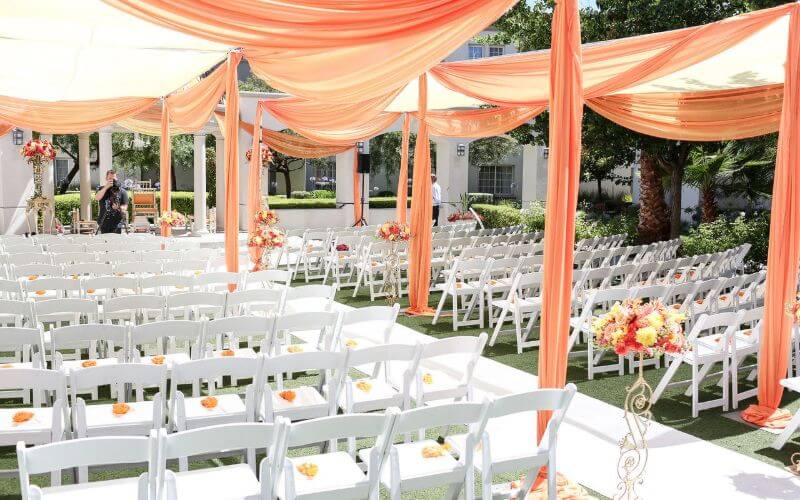 Fabric is a great way to beautify the whole area. You can use fabric in a variety of ways, such as creating fabric canopies or glamming up your entrance with fabric, or you can simply create fabric arch to add to the charm, or you can use fabric refreshment stations. There are numerous ways you can utilize fabric to jazz up your event without spending a fortune on outdoor wedding décor.

21. Use nature as your backdrop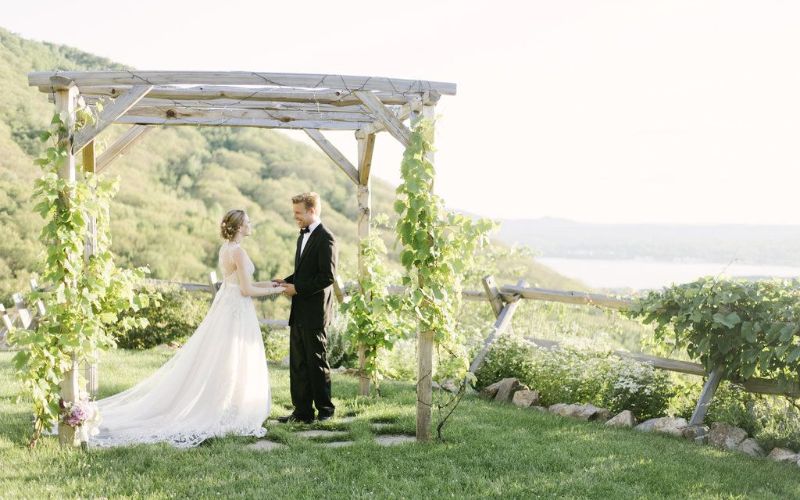 Keep it simple and straightforward, using nature as the backdrop for your wedding! Yes, what else would be better than nature itself? There is no dearth of beautiful scenic surroundings, flora, and greens in winters. You can use all of them to have a stunning outdoor wedding setup that your guests will cherish for sure.
Moreover, this is one of the greatest ideas for couples planning a green or eco-friendly wedding!
Putting it all together…
So, these are the 21 outdoor wedding decoration ideas for you to consider to make your wedding an unforgettable event for all. Besides these, you can even come up with numerous other ideas to decorate your wedding space.
The best thing about an outdoor wedding is that they give you a lot of freedom to be creative. So be creative and create a wonderful, stylish, swanky outdoor wedding with the aforementioned outdoor wedding decoration ideas.
Hopefully, this article has been informative for you and will help you create a stylish outdoor wedding!
Happy Wedding… ☺ ☺