Pool parties are a fantastic way to get summer weddings started. Now more and more couples are preferring Pool Party at Destination Wedding parties over conventional parties. And why not?
A pool party will make your guests extra happier because it will provide them with endless pleasure and delight. The serene blue pool lifts one's spirits, while water activities add to the total enjoyment. And the best thing about these parties is that there is no dearth of Wedding Pool party ideas. You can have a fantastic pool party with minimal effort and within your budget.
There are numerous ways you can customize a pool party. However, planning a pool party is a huge undertaking. If you're planning to host the quirkiest pool party, then this post is for you.
We will walk you through the entire process of hosting a stunning pool party. We have rounded up a list of some simple and eye-catching ideas you can get some inspiration for your pool party planning for a destination wedding. The list includes everything from décor to props to food and drink that will help you organize the perfect pool party.
So, without further ado, let's get started…
Table of Contents
Stunning Wedding Pool Party Ideas
Pool parties are one of the newest ways to make your summer wedding stand out. You can have a cocktail party at the pool or conduct a modern sangeet ceremony with a pool party. There are many of wedding pool party ideas to make it a memorable occasion. Here's how to organize an unforgettable wedding pool party for your guests.

1. Book a Pool Area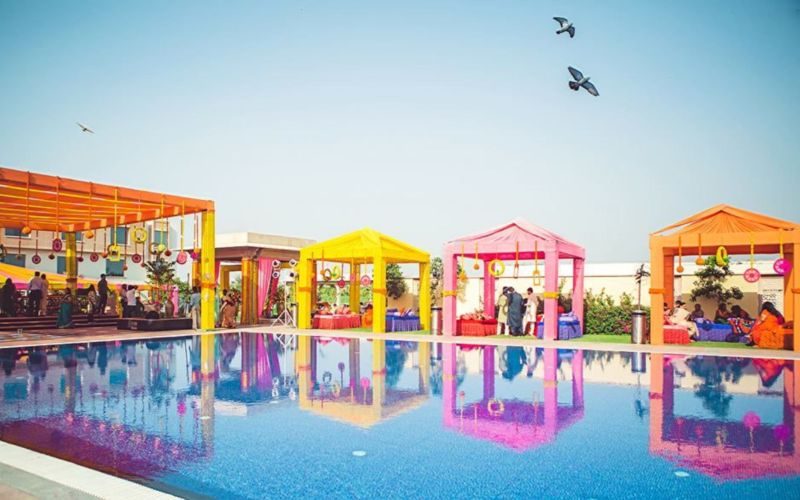 A pool party will only add to the pleasure, whether you're having a summer destination wedding or a wedding in your hometown.
Every town has hotels, resorts, and five-star or luxury properties with pool facilities. You can host your pool party at any of the properties in the region. If budget is a constraint, look for open-to-the-public pools in your neighborhood. These pools are usually rented out by the owners or managers for gatherings and parties. The nicest part is that these pools are less expensive than those seen in upscale properties.

2. Pool Party Theme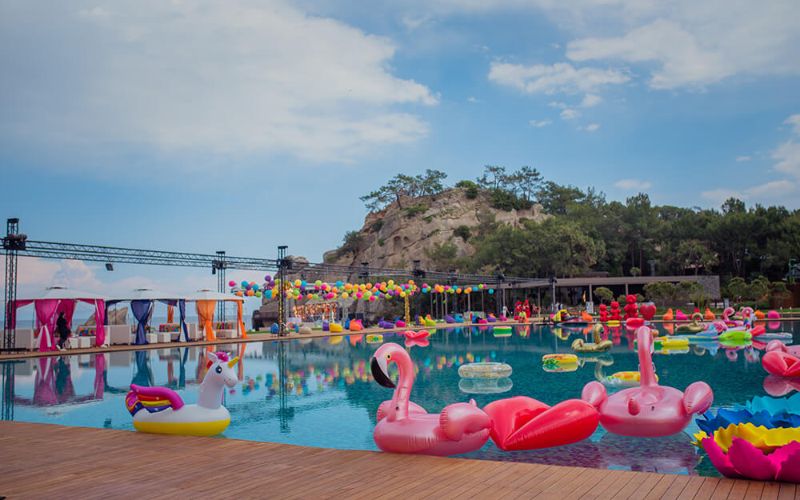 Once you have booked the pool area, it's time to plan the theme of the pool party. There are numerous themes you can choose from, such as Hawaiin, Tropical, Boho, Brazilian, Spanish, and so on. Once you know the kind of pool party you want to host, planning the rest of the things will be easier.
Of course, you need a ground to prepare on, and your wedding pool party theme is that ground for you. Whatever theme you choose, the rest of the things will depend on that.

3. Pool Area Decoration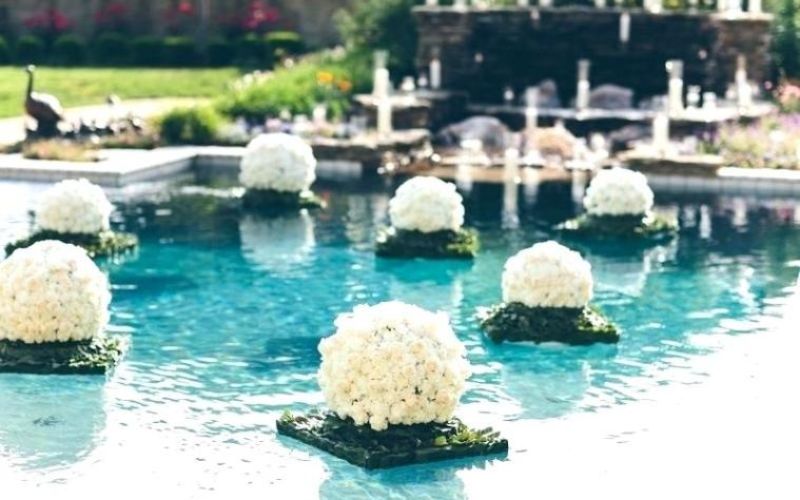 Your pool area decoration will absolutely be inspired by your pool party theme. For example, if you have a Hawaiin theme, you'll have to use more and more luau colors for the decoration. Lemon yellow, ocean blue, sunset orange, lime green, and cherry red are all excellent luau colors. These colors will just make your party look appealing.
Tropical is another wonderful pool party theme. If you're having a tropical pool party, include coconuts, palm fronds, and orchids to complete the look.
Also, use quirky designs and decors to amp up the area. You can even use alphabet balloons with party-related phrases, hanging decoration items, and lovely flamingo floats would certainly light up your celebration!
For a nighttime pool party, you can have gorgeous paper lanterns hanging all over your pool party area. Make sure to have a colorful banner with "POOL PARTY" printed in bold.

4. Pool Party Table Arrangements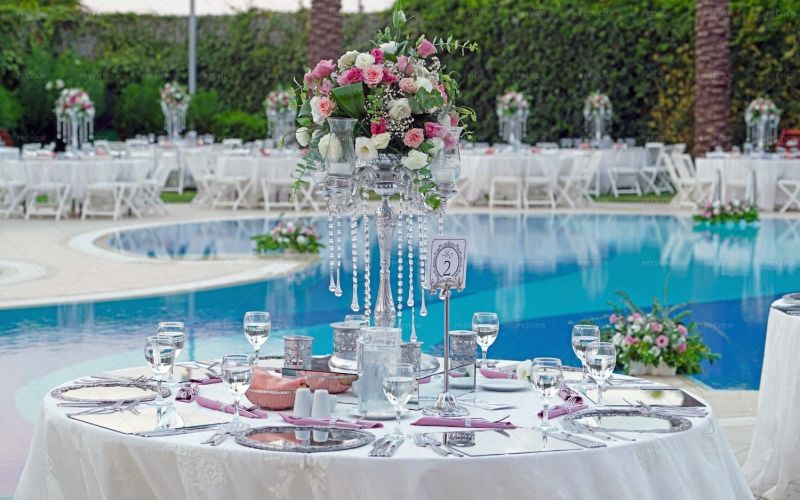 When it comes to pool party table decor, it's simple – go funkier and quirkier. There is no rule to follow to decorate tables for the pool party. Just use the pool-inspired or beach-inspired to make your table decor pop up.

5. Pool Party Signboards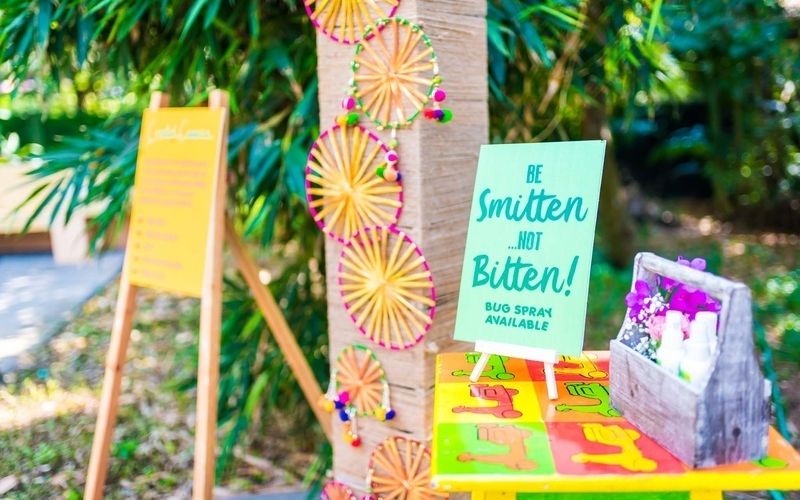 Colorful wooden sign boards around the pool area add to your overall pool decor. You can have direction sign boards for helping your guests with the right direction and add pizzazz to your wedding pool party decor.

6. Pool Party Food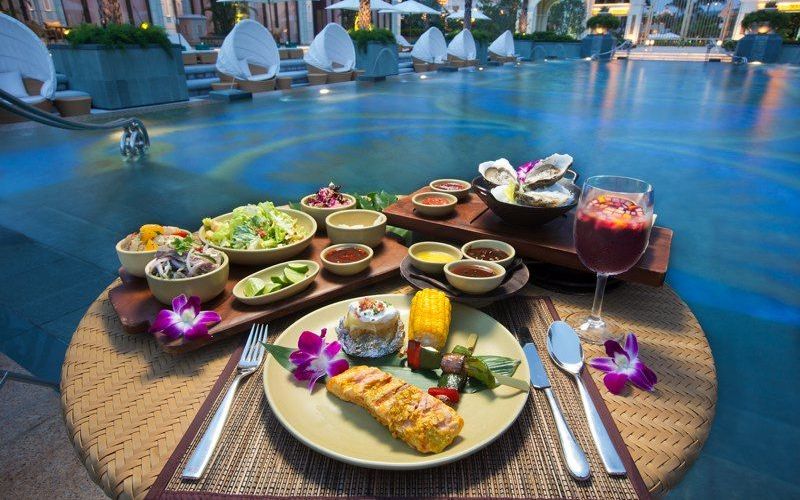 Food is, without question, a crucial feature of any gathering. However, when it comes to food for the pool party, it is recommended to keep things light. Stick to finger meals that are easy to eat, digest, and won't interfere with your games or pool time. Food items such as nachos, chips, butter pecan cookies, Chocolate Chip-Pretzel Bars, cupcakes, and so on are excellent for a pool party. The idea is to keep the refreshments and desserts light.

7. Pool Party Drinks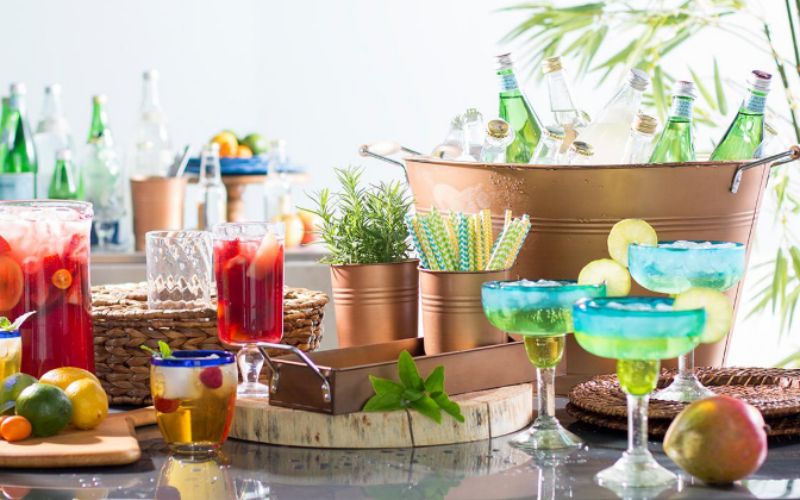 Make your meals and drinks as colorful as possible. Make arrangements for fresh juices, mocktails, and drinks. Coconut water is a great drink for a pool party because it goes with the theme.
Serve your guests in style. Yes, it matters how you serve them food and drinks at your pool party. Serve drinks in attractive disposable glasses with colorful straws embellished with flowers or other decorations. Disposable glasses help you avoid making a mess and make getting into the pool easier!

8. Pool Party Dessert Bar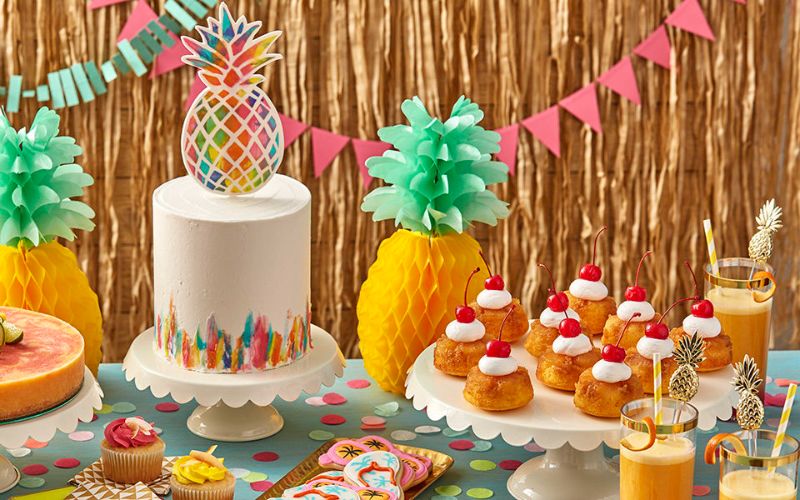 Make this the most beautiful spot! Have all the favorite desserts at your party to let your guests have the best time eating and enjoying. You can have cakes, cupcakes, doughnuts, cheesecake beach balls, etc. Make your dessert bar look cool with flowers, foliage, and balloons.

9. Pool Party Games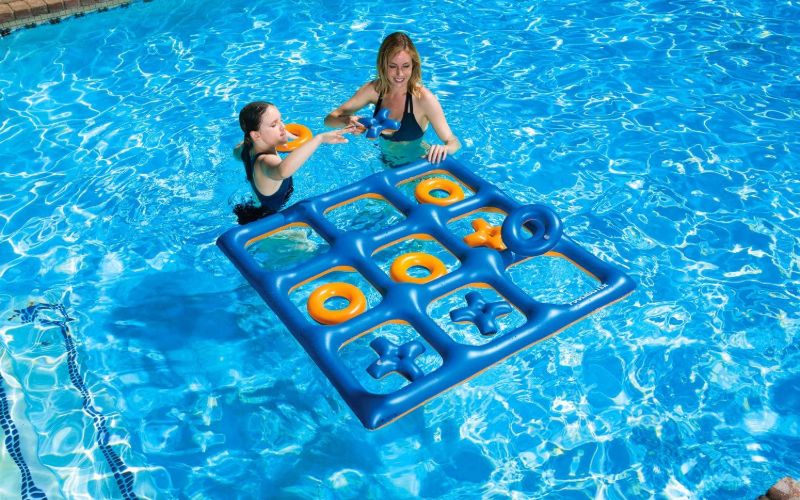 A pool party without the games is just incomplete. Yes, how long can you keep your guests engaged in water? Not for too long, of course! With games, though, you may have a fantastic and unforgettable pool party that you and your guests will remember for the rest of their lives.
Games like TIC TAC TOE, Jenga, and even beer pong can make your party even more entertaining. You can also arrange for plenty of water cannons so that your guests can have fun both inside and outside the pool!
Related: Innovative Activities and Fun Games to Make your Wedding Outstanding
10. Pool Party Photo Booth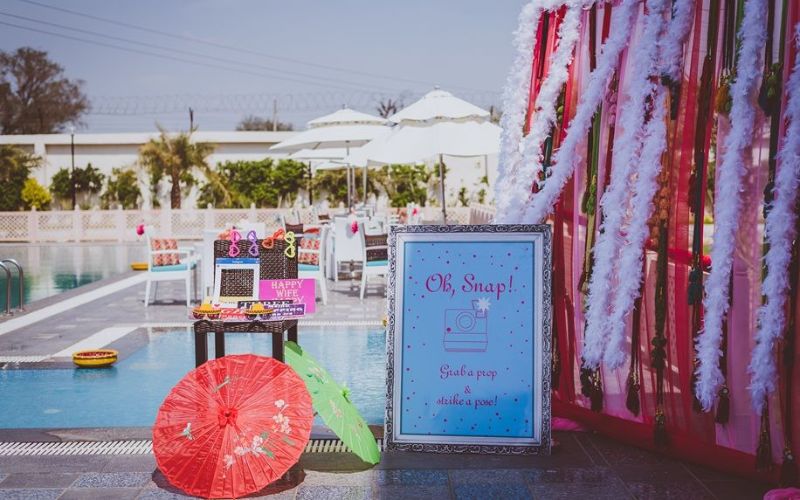 A lively photo booth with amazing pool party-inspired props is a great way to have an unforgettable pool party. Of course, you and your guests will need to make some wonderful memories of the day. A Hawaiian floral photo booth would be stunning and exciting!

11. Pool Party Props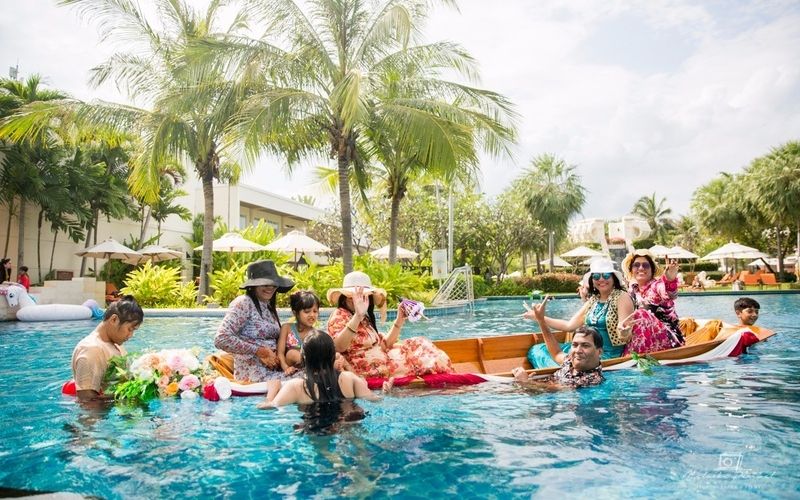 A pool party without the right props is just like a cake without cherries. So make sure to arrange for the right props, such as:
Sunglasses: Make quirky multi-colored trendy sunglasses available to your guests. Not only will sunglasses add to your guests' look, but they will also protect your guests from sun rays.
Paper Fans: Pool parties are summer wedding food celebrations, so make sure to arrange for some paper fans to keep the heat at bay!
Garlands and Tiaras: Garlands and tiaras are a must for a Hawaiin-inspired pool party. Keep a package of garlands, tiaras, and other pool party props on hand for your guests.
12. Pool Party Essentials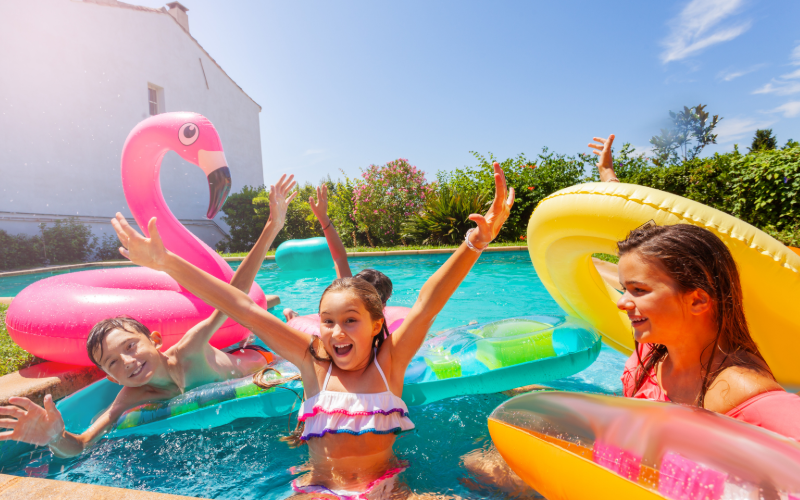 Sunscreen: Make sure you have top-quality sunscreen lotion on hand, especially if the celebration is during the day. Pool parties, without question, are a lot of fun. However, keep in mind that the combination of sun and water can be deadly. Your skin will become tanned as soon as you and your guests enter the water. Of course, you want to look your best in your bridal gown, so wear sunscreen to avoid sunburn.Distribute sunscreen creams to your guests as well because no one wants to be surprised with a bill right before the wedding reception!
Water: Keep the water and juices handy so that your guests don't feel dehydrated.
So, these are the wedding Pool party ideas. You can use this guide for pool party planning for destination wedding or to host a stunning wedding pool party in your hometown.
Let's now take a look at some FAQs related to the pool party.
Here we go…
FAQs
1. When Attending A Pool Party, What Should You Wear?
Well, usually pool party dress code should include floral print clothing. You and your bridesmaids' can coordinate outfits at the party. You can opt for Party Luau Skirts or other floral print clothing to achieve a lovely Hawaiian style. Make sure to accessorize with floral garlands, wreathe and tiaras.

2. How To Take Care of Yourself During Pool Party?
As previously said, the combination of sun and water causes intense tanning; therefore, a generous amount of sunscreen lotion should be applied to your entire body. To avoid obtaining a tan, make sure to apply sunscreen to your entire body. It's also critical to invest in a high-quality waterproof sunscreen cream (with at least 50 SPF). Using low-quality sunscreen will do you no good.
Also, make sure that water and drinks are readily available so that your guests can sip as needed. It's natural to feel less thirsty when you're in the pool, but don't dehydrate yourself. Stay hydrated by drinking water every 15-20 minutes.

3. How To Take Care Of Your Skin After The Pool Party?
Post pool party care is pretty essential; hence, it should be ignored no matter how tired or exhausted you feel. In fact, it will help you feel refreshed after the party. So, here are the three main steps you need to take to have a gentle and smooth skin post pool party:
Take a shower
Pool water contains chlorine; hence, it is crucial to take a shower after you're done with the pool party. Know that chlorine water affects the skin.Allowing the chlorine water to dry on your skin is not a good idea. So, it is advised to take a warm water shower as soon as you get out of the pool to cleanse your hair and skin thoroughly. Finish with a final rinse of cold water before stepping out of the shower to help shut the pores on your skin.

Allowing the chlorine water to dry on your skin is not a good idea. So, it is advised to take a warm water shower as soon as you get out of the pool to cleanse your hair and skin thoroughly. Finish with a final rinse of cold water before stepping out of the shower to help shut the pores on your skin.
Moisturize
Pat dry your skin after the shower and apply a deep nourishing moisturizer or lotion to your skin right after drying. Moisturizing will help retain all of the skin's moisture. Make sure to use good-quality moisturizer for the best results.
Exfoliate
You can also exfoliate your body the next day after the pool party. Using a mild scrub will remove built-up debris and dead skin from your face and body. Also, it will instantly smooth and soften your skin for the BIG DAY!
Happy Wedding… ☺ ☺
Enjoy Wedding Pool Party to the Fullest… ☺ ☺