Love is in the air, and chimes are ringing! As you embark on the exciting journey of planning your special day, one element that sets the tone is the attire of your beloved groomsmen. If you're dreaming of a wedding drenched in timeless elegance and a touch of nature's beauty, look no further than the enchanting hue of sage green.
With its gentle allure and versatility, sage green creates a palette that embodies both sophistication and tranquility. In this guide, we'll delve into a treasure trove of sage green wedding groomsmen attire ideas, inspiring you to curate an ensemble that reflects your unique love story. Let's dive in and create remembrances that will stay forever.
Sage Green Wedding Groomsmen Attire Ideas
1. Sage Green Suit
Picture this: a group of dapper groomsmen strolling down the aisle, exuding an air of timeless charm and unity. How can you achieve such a captivating sight? Dress them in matching sage green suits, my friend! Whether you choose tailored suits for a sleek and polished aesthetic or breezy linen suits that embrace a more relaxed vibe, the result will be an ensemble that harmonizes perfectly.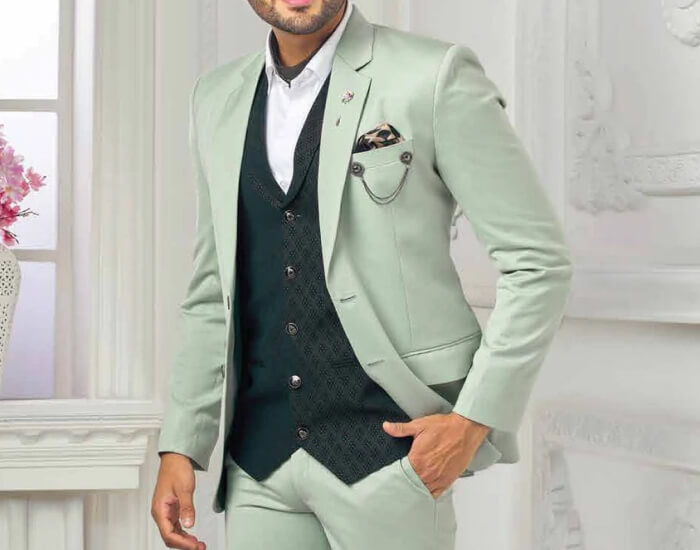 These sage green suits radiate elegance and allow your groomsmen to shine as a cohesive unit, adding a touch of enchantment to your wedding day. Prepare to witness the magic unfold.
2. Sage Green Suits with Contrasting Vests
It's time to make a contemporary statement with an unexpected twist! Dress your groomsmen in captivating sage green suits, but here's the secret ingredient: contrasting-colored vests. Imagine the visual feast as they stride down the aisle, each donning a sage green suit accented with a light blue or dusty pink vest.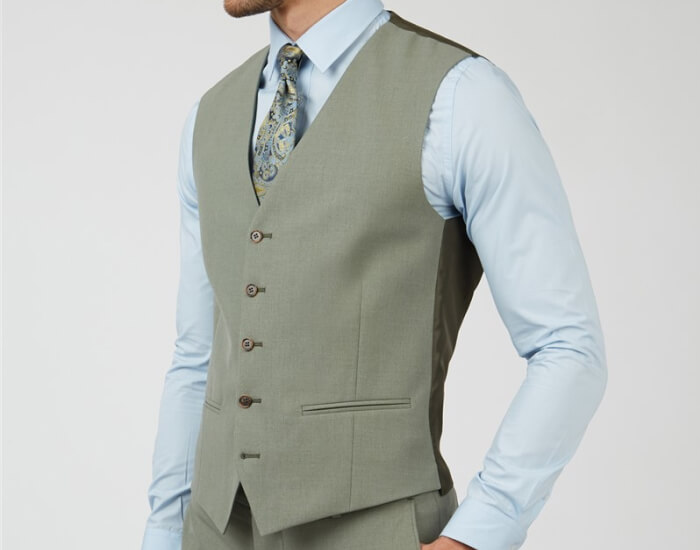 This unexpected pop of color adds depth and visual interest and showcases their individuality in a harmonious ensemble. The result is a dynamic and captivating look that will have everyone swooning. Prepare for a wedding that celebrates the perfect balance between tradition and modernity, leaving lasting impressions on all who attend.
3. Sage Green Seersucker Suits
Let the summer breeze dance through your wedding day with the cool and refreshing charm of sage green seersucker suits. This quintessential warm-weather fabric brings a touch of vintage elegance and a dash of Southern flair to your groomsmen's attire.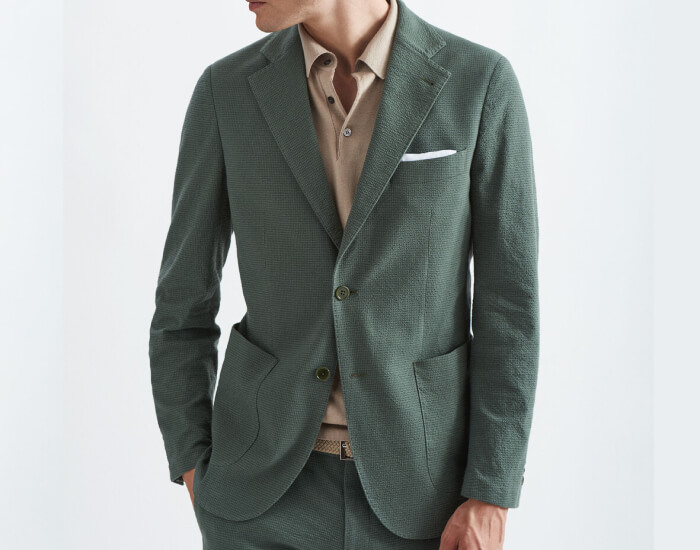 Picture them strolling amidst a blooming garden or standing under a sun-kissed sky, exuding effortless style in their seersucker ensembles. The soft sage green hue adds a modern twist to this timeless classic, creating a sophisticated and laid-back look. Embrace the outdoors with these dapper suits, perfect for garden or outdoor ceremonies where love and nature intertwine.
4. Sage Green Bow Ties and Suspenders
Let's add a touch of whimsy to your groomsmen's classic black suits! Picture them exuding timeless elegance but with a playful twist. Dress them in dapper black suits, then elevate their ensembles with sage green bow ties and suspenders. This unexpected pop of color creates a delightful contrast, infusing the outfits with fun and lightheartedness.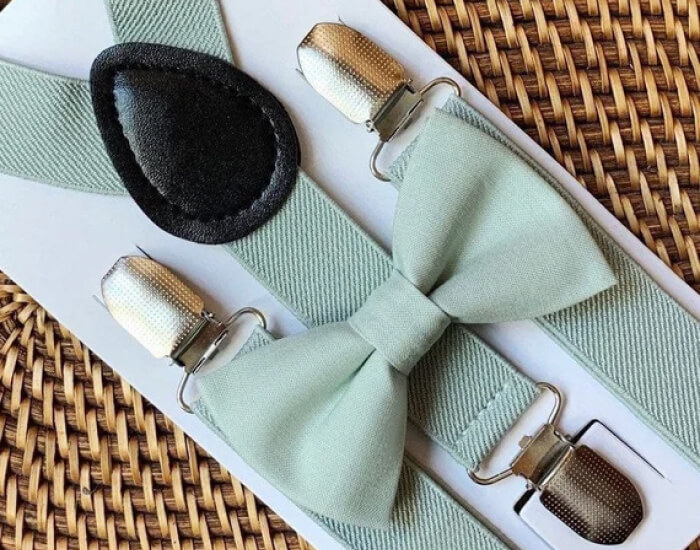 As they walk down the aisle, the sage green accents will catch everyone's eye, evoking smiles and admiration. Embrace the perfect blend of sophistication and charm, creating a look that celebrates the joy and camaraderie of your special day. Get ready for a classic and whimsical celebration, leaving unforgettable memories in its wake.
5. Sage Green Ties with Gray Suits
Prepare for a truly refined and subtly captivating aesthetic as your groomsmen don elegant gray suits paired with sage green ties. This exquisite combination strikes the perfect balance between sophistication and refreshing touch. The soft green hue of the relationship adds a whisper of freshness to the ensemble, creating a subtle yet visually striking effect.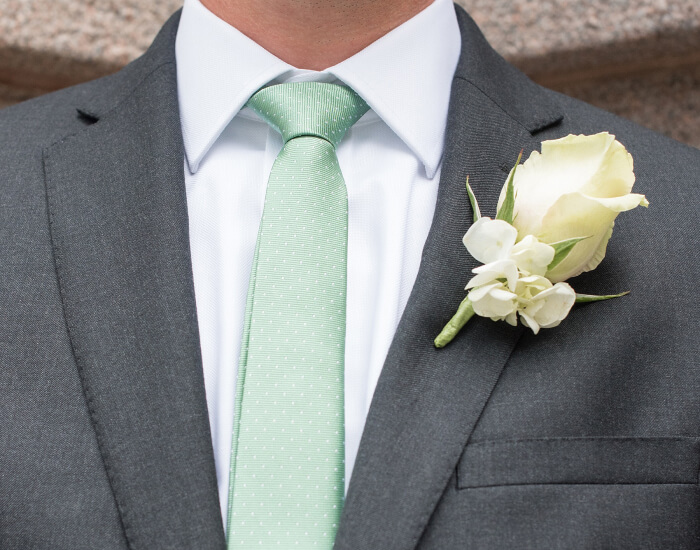 As your groomsmen stand by your side, the refined and timeless appearance of the gray suits, complemented by the understated charm of the sage green ties, will leave a lasting impression. It's a look that exudes elegance and sophistication, capturing the essence of everlasting love on your special day.
6. Sage Green Shirts with Dark Pants
Get ready to embrace modern sophistication and sleek style on your big day. Imagine your groomsmen donning sage green dress shirts paired with dark-colored pants like charcoal gray or navy blue. This striking combination creates a contemporary, polished look that will turn heads.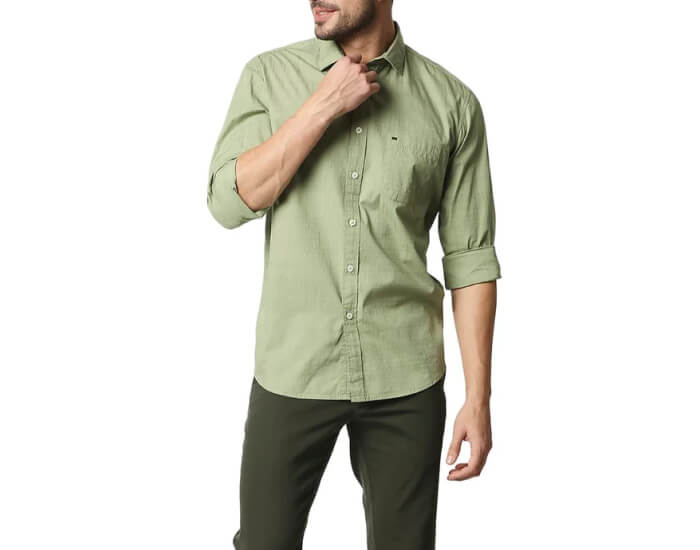 The sage green shirts bring a touch of freshness to the ensemble, while the dark pants add depth and timeless elegance. As your groomsmen stand by your side, they exude confidence and refinement, showcasing a perfect blend of modernity and sophistication. Get ready to celebrate love with an effortlessly chic and undeniably captivating look.
7. Sage Green Velvet Blazers
Indulge in the opulence and regal charm of sage green velvet blazers for your groomsmen. Picture them in this luxurious fabric, radiating sophistication at your winter wedding. The plush texture and rich sage green hue create an instant aura of elegance.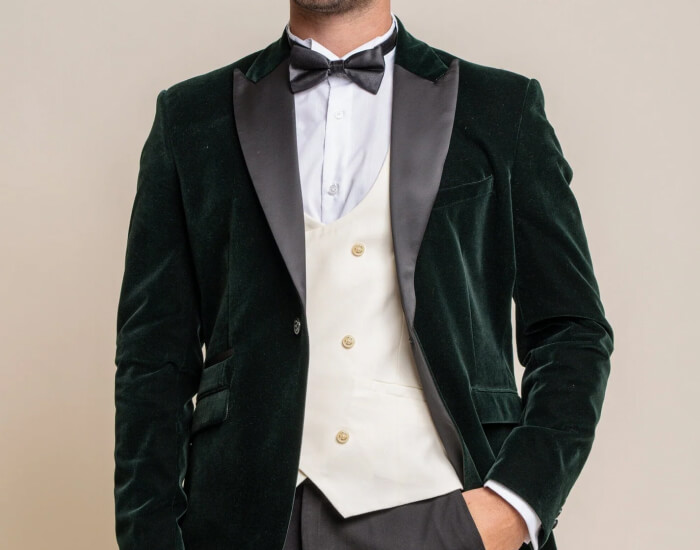 Pair the velvet blazers with sleek black pants and accessories to heighten the impact. The contrasting combination adds a striking visual appeal, allowing the sage green to take center stage. As your groomsmen exude confidence and grace, they become living embodiments of refined luxury, making your wedding an affair fit for royalty. Prepare for a day filled with exquisite beauty and unparalleled grandeur.
8. Sage Green Tuxedos
When making a bold and unforgettable statement at your formal wedding, sage green tuxedos are here to steal the show! Picture your groomsmen stepping onto the scene, exuding sophistication and oozing charm in these exquisite ensembles. The lush sage green hue adds a touch of uniqueness, setting them apart from the traditional black and white.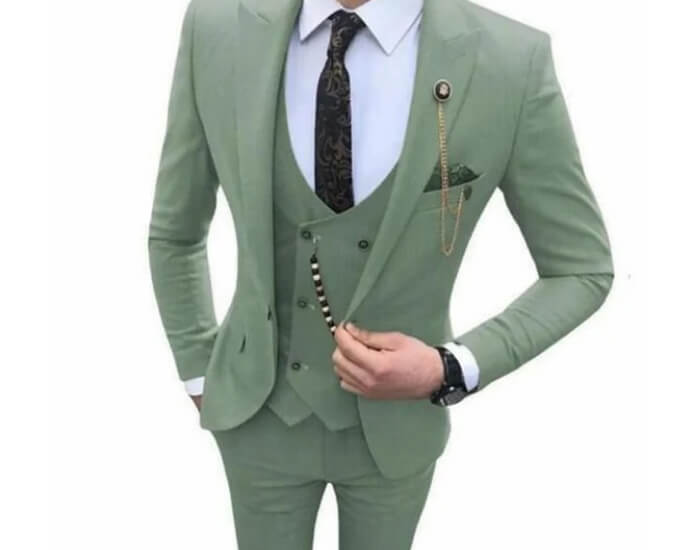 To elevate the elegance, opt for black lapels that create a striking contrast while coordinating bow ties and pocket squares complete the look with finesse. Prepare for gasps of admiration as your groomsmen take center stage, embracing a truly stylish and unforgettable ambiance.
RELATED: Tips to Select a Wedding Tuxedo or Suit
9. Sage Green Accessories with Classic Black Suits
Elevate the timeless elegance of classic black suits with the enchanting allure of sage green accessories. Picture your groomsmen donning these sophisticated ensembles; each accentuated with sage green ties, pocket squares, or boutonnieres. The deep black and vibrant green marriage creates a captivating contrast, allowing the verdant color to command attention without overpowering the sleek and formal aesthetic.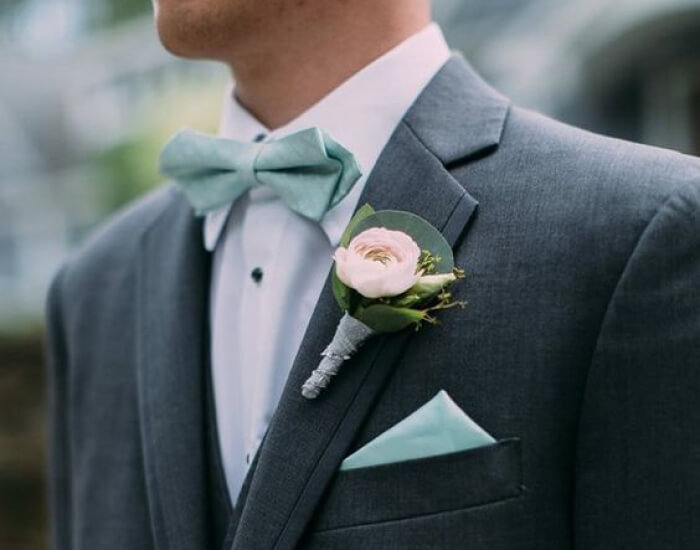 Every step down the aisle, your groomsmen become beacons of refined style, embodying the perfect balance between tradition and modernity. Prepare for a celebration where classic meets contemporary, leaving an indelible mark on the hearts of all who witness your unforgettable day.
10. Sage Green Pants and White Shirts
Imagine a picturesque beach wedding, with the sun-kissed beach and the gentle breeze of the ocean in the air. Now picture your groomsmen emanating effortless style and relaxed sophistication in sage green pants paired with crisp white shirts. This enchanting combination embodies the carefree spirit of the surroundings, creating a refined and laid-back look.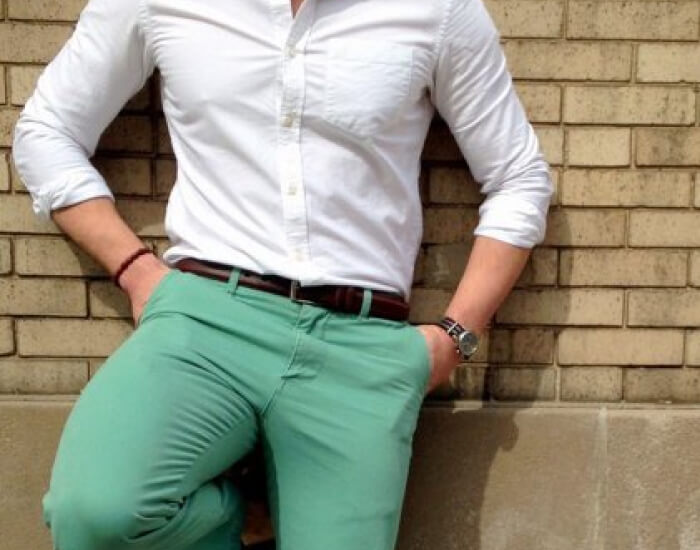 For an extra touch of charm, consider adorning their ensemble with supple leather suspenders, adding a rustic and whimsical flair. The result? A group of groomsmen that perfectly complements the natural beauty of your outdoor or beach wedding, making memories that will be cherished forever.
11. Sage Green Vests
Every groomsmen ensemble should tell a story, and if you're envisioning a tale of individuality and unity, sage green vests are the perfect narrative thread. By allowing your groomsmen to wear different colored suits or pants, you create a symphony of styles. Introduce sage green vests as the unifying element to weave them together harmoniously.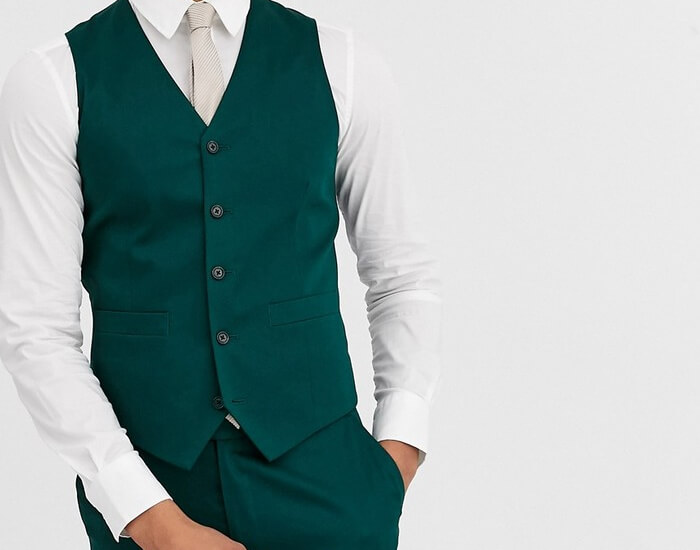 Whether worn over crisp white shirts or paired with complementary-colored ties and pocket squares, these vests bring cohesion and a touch of nature's elegance to the scene. Watch as each groomsman shines in their unique attire while celebrating the bond that ties them together—a tale of unity beautifully told through sage green vests.
12. Sage Green Trousers and Neutral Blazers
Get ready to witness a fusion of modern style and timeless sophistication! Imagine your groomsmen donning sage green trousers, exuding contemporary charm. To elevate this look, pair them with neutral-colored blazers, like light gray or beige, for a refined and polished ensemble.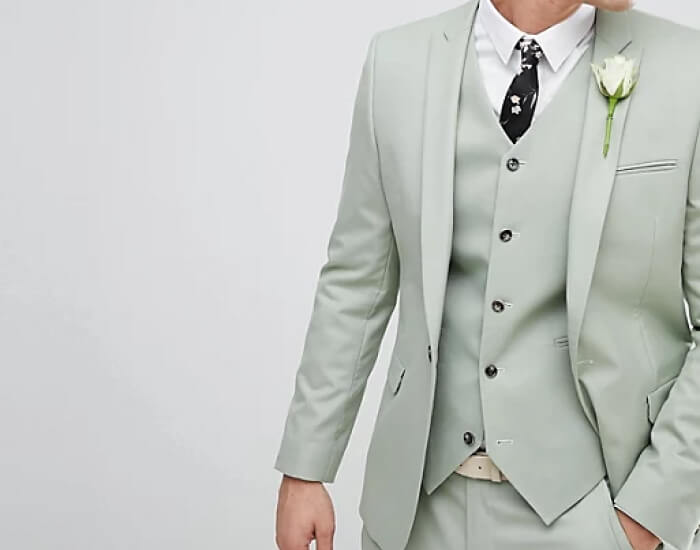 Here's the secret ingredient: coordinating sage green ties or pocket squares. These subtle pops of color add a touch of vibrancy and tie everything together flawlessly. The result is a captivating fusion of modern and classic aesthetics, creating an undeniably chic and utterly unforgettable look. Get ready to be awestruck by all who witness this sartorial masterpiece.
13. Sage Green Trousers and Patterned Shirts
Prepare to infuse your groomsmen's attire with a playful and vibrant touch! Imagine sage green trousers paired with patterned shirts, a combination that exudes personality and charm. Embrace the opportunity to showcase their individuality by opting for shirts adorned with subtle geometric patterns or delicate floral designs.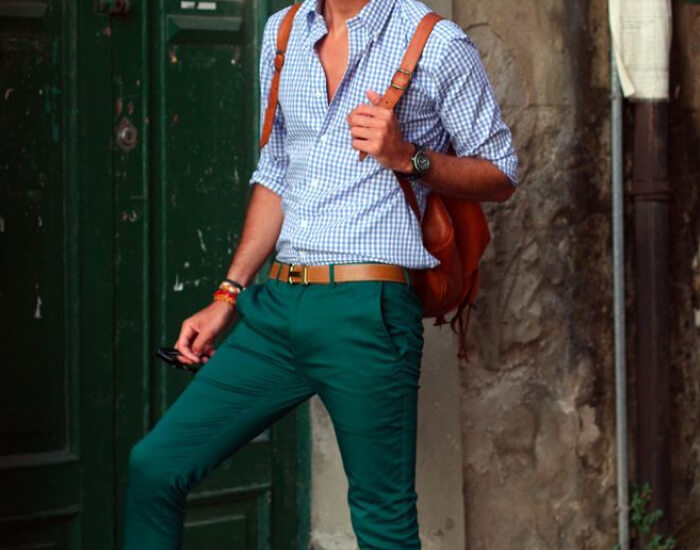 Each groomsman becomes a walking canvas, adding their unique brushstroke to the overall aesthetic. This lively ensemble creates a visual symphony, celebrating the joy and liveliness of your special day. Prepare for a celebration that is as captivating as personal, leaving lasting memories filled with color and laughter. Let your groomsmen's outfits reflect their spirits for a wedding day that bursts with vibrancy.
14. Sage Green Blazers with Jeans
Imagine a fusion of casual, cool, and refined styles for your groomsmen. Picture sage green blazers paired effortlessly with dark-wash jeans, creating a stylish and contemporary look. This ensemble strikes the perfect balance, offering a versatile option for various wedding styles. Whether you're planning an outdoor garden wedding or a trendy urban affair, this combination exudes a relaxed yet refined charm.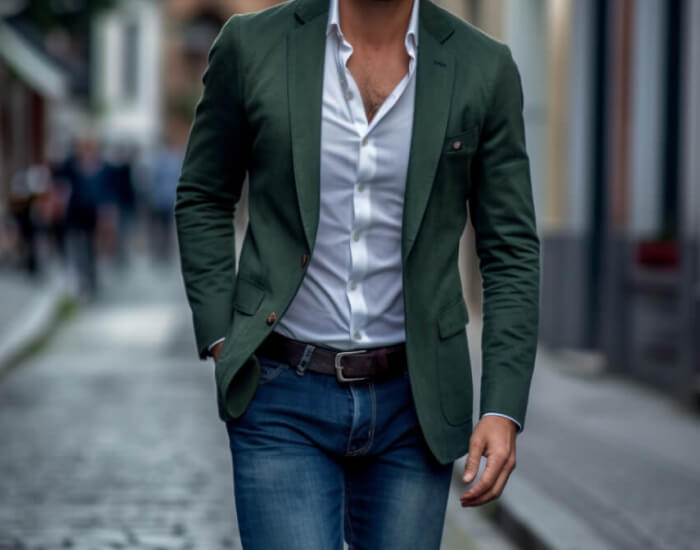 As your groomsmen confidently rock this ensemble, they radiate an air of effortless elegance, making a fashion statement that is bound to impress. Prepare for a celebration where contemporary style meets timeless charm, leaving lasting memories etched in style and grace.
15. Sage Green Three-Piece Suits
Imagine a scene where your groomsmen step onto the stage, exuding confidence and refinement in tailored sage green three-piece suits. The polished and elegant look they embody is genuinely captivating. Crisp white shirts and matching sage green ties complement the timeless ensemble as they stand united by your side.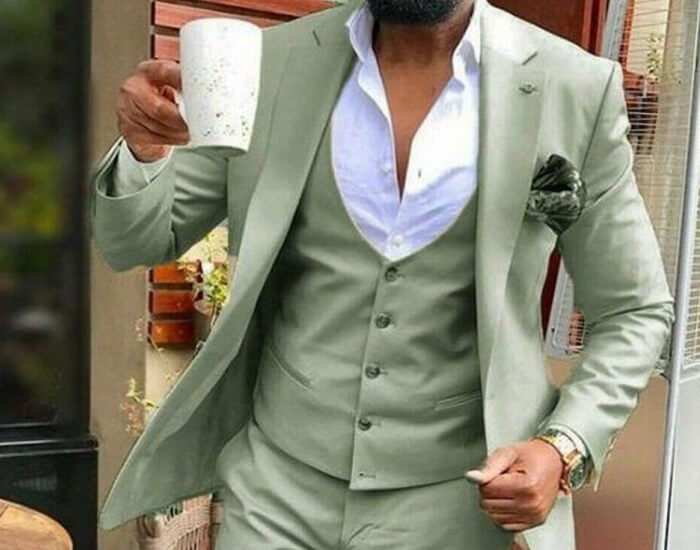 Every detail exudes sophistication, from precisely tailored suits to coordinated accessories. This cohesive vision reflects the harmonious bond shared among your groomsmen and celebrates the beauty of unity. Prepare for a wedding day with classic charm and unforgettable style as your groomsmen shine in exquisite sage green three-piece suits.
16. Sage Green Tuxedos with Black Lapels
Prepare for a formal affair that exudes timeless elegance and sophistication. Dress your groomsmen in sage green tuxedos with sleek black lapels, creating a striking contrast that commands attention. This classic combination merges tradition with a modern twist, resulting in an ensemble that is nothing short of exquisite.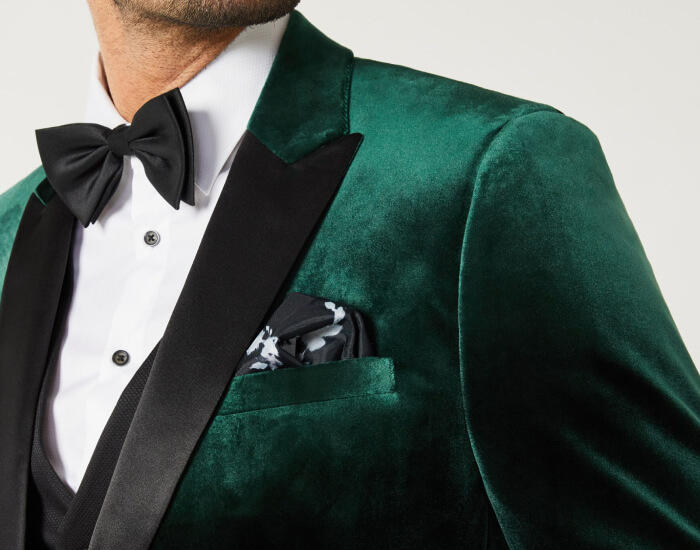 Complete the look with black bow ties and pocket squares, adding an extra layer of refinement. As your groomsmen stand tall, exuding confidence and style, they embody refined sophistication. Prepare for a wedding day that leaves a lasting impression, a celebration of love, and an impeccable fashion sense.
17. Sage Green Cardigans and Chinos
Get ready to embrace a casual and comfortable vibe on your special day! Imagine your groomsmen adorned in sage green cardigans layered effortlessly over light-colored chinos. This ensemble exudes a relaxed charm ideal for rustic weddings or celebrations in the open air. The sage green cardigans add a touch of warmth and style, while the light-colored chinos create a breezy and laid-back feel.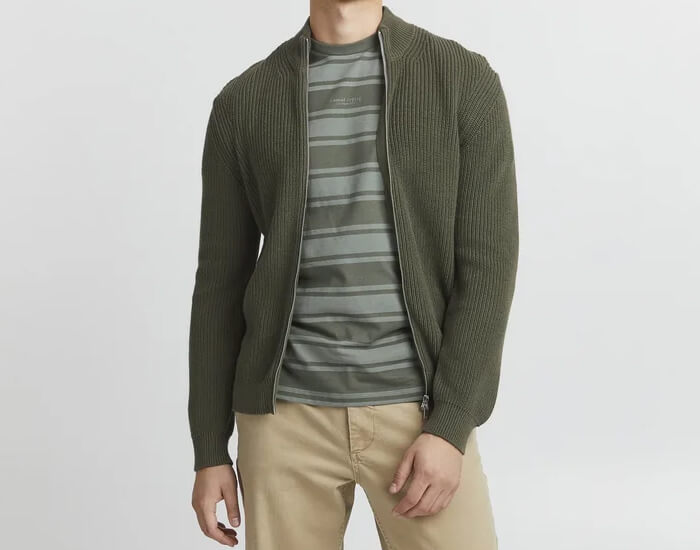 As your groomsmen stroll through nature's embrace, they radiate an air of ease and contentment. Prepare for a wedding day filled with natural beauty and effortless elegance as your groomsmen embody the spirit of comfort and joy.
18. Sage Green Accessories
Sometimes, a subtle touch of sage green is all you need to infuse your groomsmen's attire with a hint of enchantment. Enter sage green accessories—the elegant and versatile solution for those seeking a balanced and flexible approach. Imagine your groomsmen donning handsome suits or dapper tuxedos in various colors, each accentuated by sage green ties, bow ties, or pocket squares.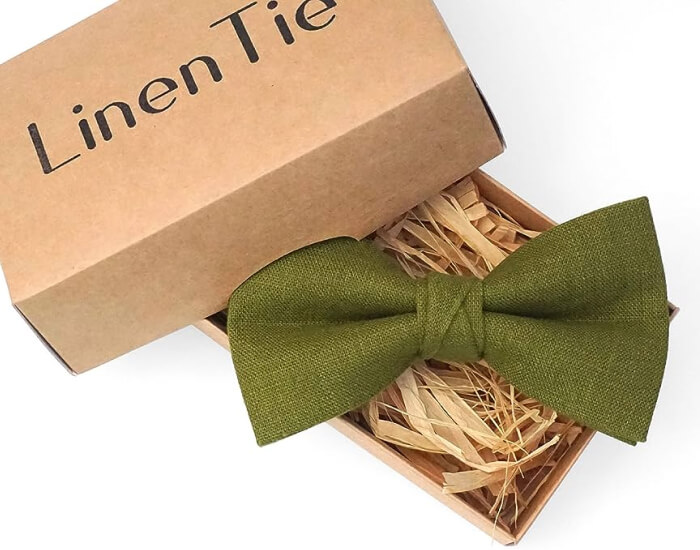 These delightful pops of green effortlessly tie the looks together, harmonizing with any suit or tuxedo hue. The result is a refined ensemble that embraces individuality while radiating a cohesive charm. Let the sage green accessories be the threads that weave your groomsmen's styles into a breathtaking tapestry of elegance.
19. Boutonnieres and Corsages
Enhance your groomsmen's ensembles with nature's delicate touch by adorning them with sage green boutonnieres or corsages. These small yet impactful details bring a touch of charm and cohesiveness to their outfits, tying in perfectly with the sage green color scheme. Imagine a dashing lapel adorned with a small succulent or a sprig of eucalyptus, adding a fresh and organic feel to their overall look.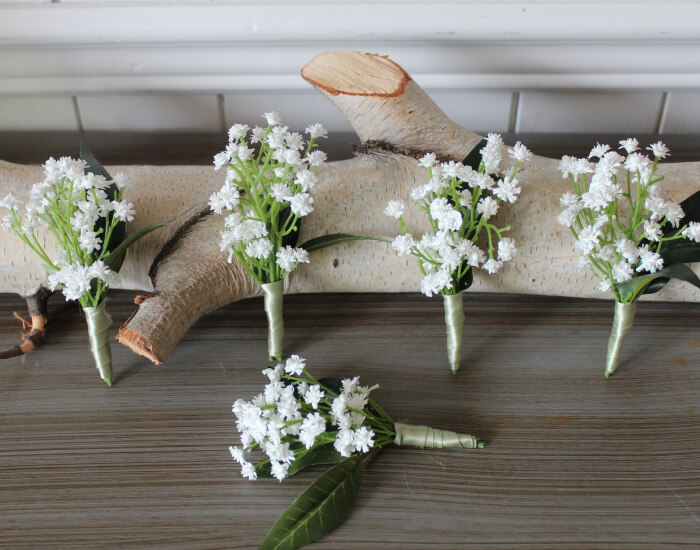 These botanical accents beautifully complement their suits or tuxedos, breathing life into their attire. As your groomsmen proudly wear these nature-inspired adornments, they become living embodiments of your love, carrying a piece of the natural world with them throughout your special day.
In conclusion, the realm of sage green wedding groomsmen attire ideas is a treasure trove of possibilities. From tailored suits to playful accessories, each concept carries its allure. Whether you seek a polished, elegant aesthetic or a relaxed and whimsical vibe, sage green is a versatile and captivating choice.
You must create a cohesive and visually appealing wedding party by curating the perfect ensembles for your groomsmen. Let the sage green color scheme weave its magic, accentuating the love and joy that fill the air. Your groomsmen will shine, radiating style and unity, confirming your memorable special day.