For all the soon-to-be-married couples, selecting a wedding venue is one of the most important tasks that must be accomplished first. It is essential for you couples to know where to hold the most important event of your lives as soon as possible so that you can move on to other equally important things to take care of. The theme, number of invited guests, and location of the wedding ceremony will all be determined by the wedding venue you select.
As a result, you and your partner must select one of the best wedding venues in your area as soon as possible. Some expert wedding planners have shared a few pointers for choosing the best wedding venues you can use as a reference.
Ready to explore?
Read on…
7 Quick Tips To Choose The Best Wedding Venues
Here are the best tips to select the most stunning wedding venue:

1. Determine the type of wedding you want
The first and most crucial step is to decide on the type of wedding you want. Of course, different types of weddings have different requirements. For example, an intimate wedding with a few close friends can be held in a restaurant, whereas a large wedding will require the rental of a banquet hall or a hotel. As a result, this should be the first thing you decide.
Consider whether you want to invite a large number of people or keep things more intimate. The answer will imply that you will require a wedding venue with sufficient capacity. Once you've determined this, you'll be able to narrow down your options.

2. Determine your budget
Your wedding budget, believe it or not, will play a significant role in determining the type of wedding venue you want. This is the next thing you should think about once you've decided on the kind of wedding you want. The last thing you want is to find a beautiful wedding venue but have little money left over for other expenses such as wedding photography, catering, and wedding food, all of which have a significant impact on the success of your wedding.

3. Take into account the wedding location
This is yet another very important consideration, especially if you're planning to host your wedding ceremony and reception in different locations. You must factor in the time required to travel between the two locations. There will be a lot of things to consider with this option, such as the transportation of your guests, couple photography, etc.

4. Search, search, search
Of course, choosing the best wedding venue from among so many is a difficult task. That is why it is recommended to search the internet. The internet is chock-full of wedding-related information and details. It expedites your search. All you have to do is choose the top few venues (say, 5 – 6) in your area and then choose the one that best meets your needs.
Pro Tip: Pay a personal visit to the wedding venue. Personal visits to your venue will provide you with a better understanding of the location. You can imagine how your wedding will look in actual. You can also select some spots for the couple photography and other functions.

5. Ask for recommendations
Asking for recommendations is another great way to find the best wedding venue. You could ask a friend or cousin sister who recently married, and you liked their wedding venue. You can also get ideas from other people who you believe can help you choose the best wedding venue.

6. Select a wedding theme
Your wedding theme will also influence your venue selection. For example, if you are planning a vintage-style wedding, you would not select a seaside wedding venue. A forest or garden wedding would be ideal for your vintage-style or a more relaxing wedding theme.

7. Meet your venue manager or coordinator in person
Lastly, it is indispensable to meet your venue manager in person before finalizing the venue. Talk to the venue manager or the in-house coordinator about any special deals or promotions they're offering. Furthermore, they may have a list of preferred vendors who can provide their services at a reduced rate. You will end up saving both time and money this way.
Is that all…..
No, wait, we have bonus tips for you.
Here we go…

BONUS TIP 1: Read the contract before signing the dotted lines.
Yes, even if the venue manager is someone you know or a friend or relative, you must read the contract. DO NOT RELY ON THEIR WORDS ALONE; ensure that they have a proper agreement in place that includes terms and conditions as well as their services. This will help you avoid future chaos and ensure a happy wedding celebration.

BONUS TIP 2: Don't delay the booking process.
If you do not want to compromise on your dream venue, it is best to book it as soon as possible. It is best to book your venue 12-18 months before the big day. It is always a good idea to book your venue as soon as you know where you want to get married and when you want to get married.

⇒ What are the different wedding venue options, and how much do they cost?
After deciding on a wedding date, the next step in the wedding planning process is always selecting a venue. And, in order to find the best wedding venue to host your dream wedding, you must separate your venue budget from the rest of your wedding budget. The wedding venue budget heavily influences the type of venue and its location.
The cost of wedding venues is heavily influenced by the number of guests invited, the menu, and other requirements such as décor. Depending on your requirements, a wedding venue can cost anywhere from $3500 to $35000 or more. The venue cost varies depending on your preferences and specific needs. However, a wedding venue typically accounts for 40–50% of your total wedding budget.
Here are some popular wedding venue options for you to choose from.
I. Hotel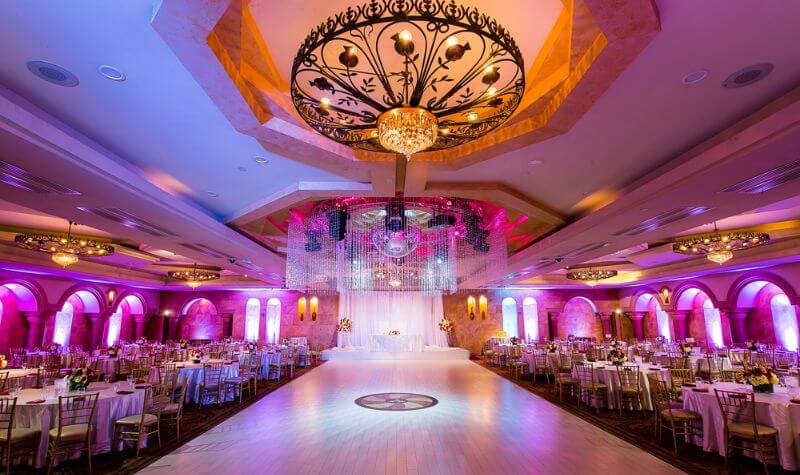 When it comes to a grand indoor wedding celebration, a hotel has it all. Hotels have all of the amenities you could want for your wedding. The best part is that you don't have to worry about making arrangements for your ceremonies because the hotel management will handle everything. Furthermore, you can always find great deals or discounted rates at your wedding venue.
Hotels can be costly because there are hidden costs that may become apparent later. Hiring a hotel for your wedding can cost anywhere between $13500 and $30,000 on average. This price includes venue fees as well as basic decors such as tables, chairs, and food. You will be charged extra for live food counters and additional décor.
II. Banquet Halls
When it comes to choosing a wedding venue, banquet halls are top-rated. Many large hotels also offer these services. You can select any banquet hall based on your needs, guest count, and budget. Banquet halls are larger, closed-in halls. Most banquet halls will also provide you with lodging.
This means that if you need to provide lodging for your guests, you can easily book rooms in addition to the banquet hall. You can also arrange for a separate dressing room for the bride to prepare. Aside from that, they also offer additional services such as wedding décor, catering, DJ, and so on. A banquet hall is an option for a low-cost wedding. A banquet hall will typically cost between $2378 and $22,576 for 100 guests. The banquet hall venue price, on the other hand, will vary depending on your guest count and menu preferences.
III. Barn/Park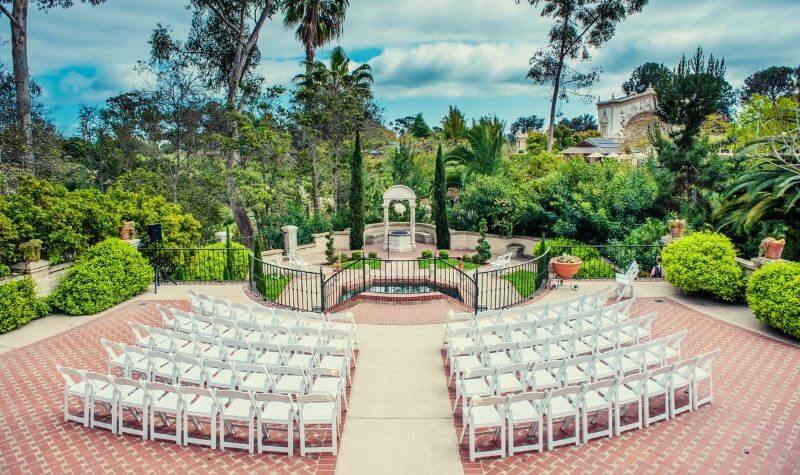 Another option for an outdoor wedding venue is a barn or a park. A barn wedding can easily accommodate a large number of guests. If you are planning an outdoor wedding with a large number of guests, a park or Barn would be an excellent choice. Barns offer ample space for hosting a large-scale wedding. The coolest thing about barn or park is that your guests will have enough space to park their vehicles as well.
Typically, you will receive basic wedding services such as decoration, chairs, tables, and so on. You can get your Barn decorated by professionals. A barn can cost you $5500 to $12,500 or more. This cost, however, does not include catering, electricity, and so on. Barns are an excellent choice for a low-budget wedding with a large guest list.
Besides these, there are other wedding venue options such as Event Centers, Private Clubs, Historical or Landmark Buildings, Brewery, museums, etc. You can choose any of these venues based on your needs. These may cost you around $2500 – $22,500.
Other wedding venue options include Event Centers, Private Clubs, Historical or Landmark Buildings, Brewery, Museums, and so on. You can select any of these venues based on your requirements. These are likely to cost between $2500 and $27,500.
Final Thought…
So there you have it: nine quick tips for selecting the best wedding venues. Hopefully, this post will assist you in making the right decision and choosing your dream wedding venue. Make sure you do your research before deciding on a wedding venue. Also, don't miss reading and sign the contract and make your first payment. This will help you have no chaos on the final day!
Happy Wedding… ☺ ☺