The aisle of a wedding is the path that takes the bride and groom from the church to the altar, where they exchange vows and start their life together as a couple. This is a special and sacred place that needs to be decorated with stunning decorations that reflect each couple's unique fashion and personality.
The aisle wedding decorations set the mood for the ceremony by creating a romantic and magical atmosphere. The options for aisle decorations are endless. Each can transform the aisle into an amazing masterpiece, from elegant lighting to delicate floral arrangements. The right aisle decorations will create a memorable experience for your partner and guests, whether you are going for a bohemian or rustic look.
1. Beach wedding aisle decor
The beach aisle makes for a romantic and thoughtful ceremony. Beach weddings can be a beautiful way to celebrate your love. The options are limitless when it comes to beach aisle decor. There are many ways to make a beach wedding aisle unique, from simple and elegant to bold or whimsical. The most popular option is to decorate the aisle with starfish, seashells, and other beach themed elements.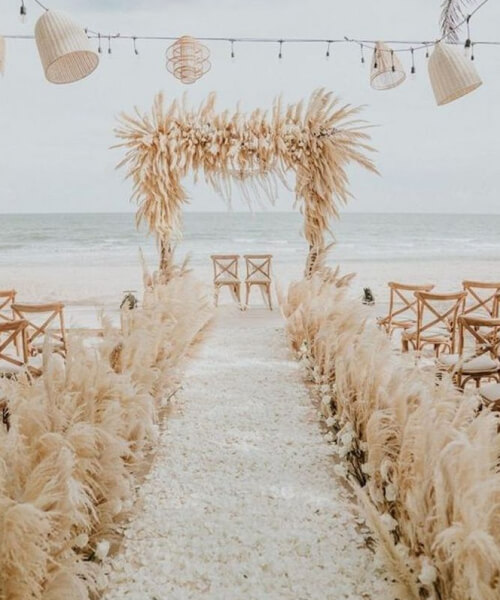 For a more exotic look, you can add flowing drapes or tropical foliage, as well as hanging lanterns. The color palette of the beach wedding aisle can vary from pastels to vibrant and bright hues, depending on the preferences of the couple. The beach aisle decor should be a reflection of the couple, their personality, and their style. This will create a magical moment for the wedding.
2. Boho wedding aisle decor
In recent years, boho weddings are becoming more popular. The boho aisle decor is the perfect way to create a relaxed and free-spirited celebration. Boho wedding decor incorporates textures and natural elements, including macrame, feathers, and dreamcatchers. To create a rustic, bohemian feel, you can incorporate earthy elements like dried flowers and driftwood.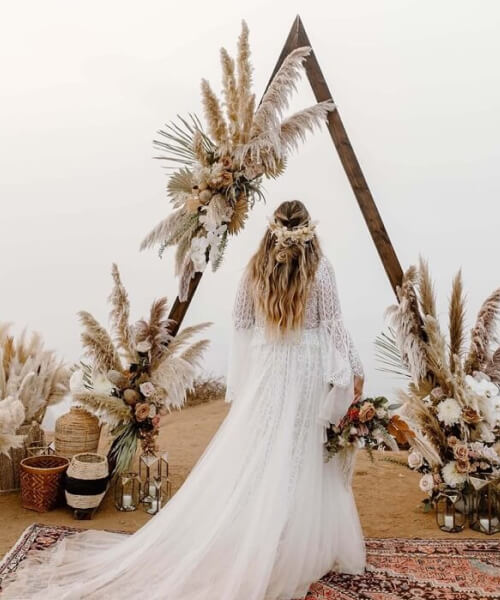 Rugs or tapestries can also be used as aisle runners, adding warmth and texture. Colors for boho aisle decor are usually muted earthy hues with a pinch of resonant colors. Boho wedding aisle décor is a way to express your personality and create a relaxed and romantic atmosphere on your special day.
3. Keep it simple
Sometimes the most straightforward ideas can be the most elegant and timeless. The classic way to decorate the aisle is with candles. This creates a warm, intimate atmosphere that's perfect for the exchange of vows.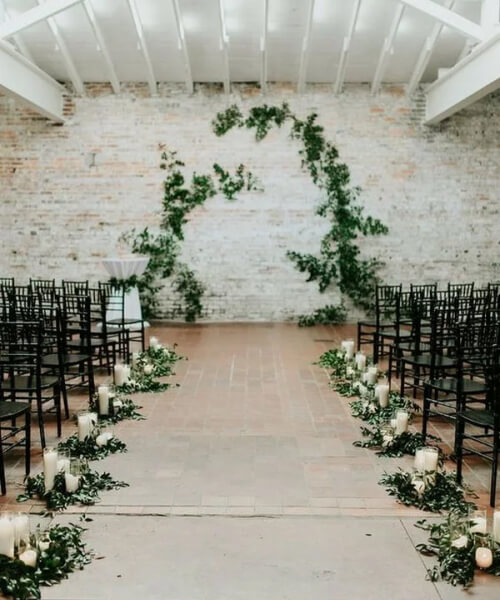 Fresh flower petals can be used in an elegant pattern or scattered along the sides. You can bring out the beauty of your outdoor wedding by using minimal decors, such as white drapery and delicate greenery. Keep it simple to highlight the love of the couple and the sacredness of the ceremony. It's one of the unique wedding walkway decoration ideas.
4. Candle wedding aisle decor
Candles create a romantic and warm atmosphere for couples as they walk down the aisle. Candles can be used in a variety of ways for wedding aisle décor, from rustic mason jar votive candles to traditional taper candle holders. Candle lanterns and luminaries can be used to create a graceful and theatrical effect.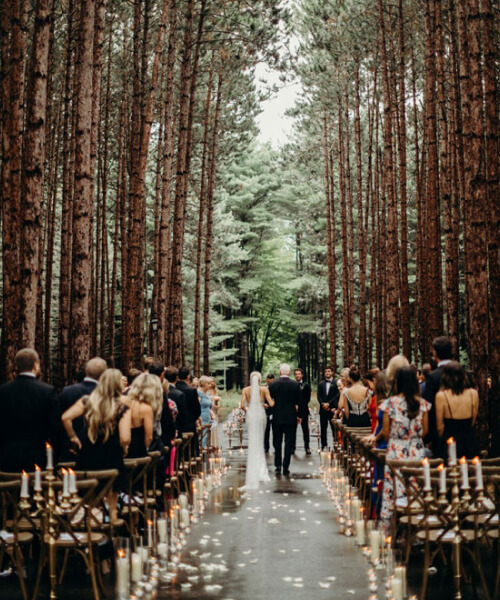 You can create a pathway of tea lights or candles in hurricane vases for an outdoor wedding. With delicate floral arrangements and the warm glow from the candles, you can create a timeless atmosphere for the couple to exchange vows.
5. Garden wedding aisle decor
Garden weddings are a romantic, enchanting setting for the couple's wedding day. The garden wedding aisle décor is a key element in creating an enchanting and memorable atmosphere. For a garden ceremony, you can use natural elements such as fresh flowers, greenery, and blooming plants. You can either create a lush, verdant archway to mark the entrance of your aisle or decorate it with delicate floral arrangements.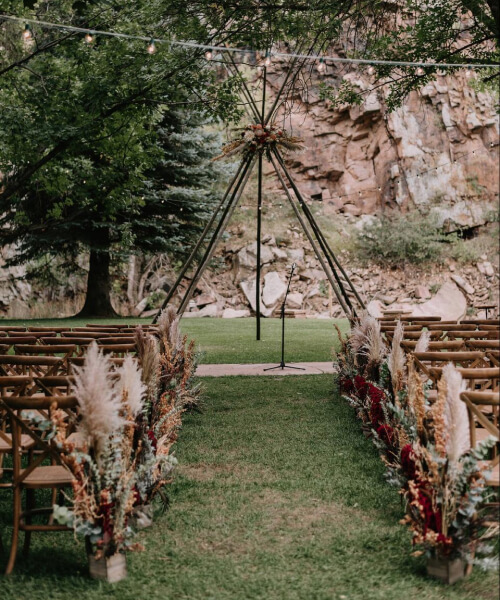 You can add a rustic charm to your aisle decor by using wooden signs, vintage lamps, or birdcages with flowers. Colors for the garden aisle decor can vary from pastels to bold and vibrant shades, depending on what the couple prefers. The garden wedding aisle décor should reflect the beauty of the surrounding natural environment, creating an unforgettable experience for both the couple and guests.
6. Fern wedding aisle decor
Ferns are becoming a popular choice of wedding aisle décor, as they add a touch of elegance and natural beauty. You can create a verdant and lush aisle by using ferns to line the aisle or create an arch or backdrop. Fern fronds can be incorporated into floral arrangements to add texture and depth.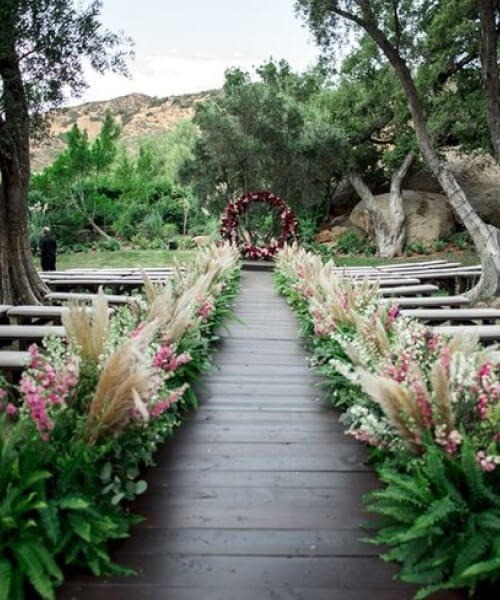 Ferns are available in a variety of shades, from emeralds and deep mint to soft sage, so they can be used with any color scheme. The intricate and delicate patterns of ferns add a romantic and whimsical touch to the aisle.
7. Paint the floor
Paint the floor to create a beautiful wedding aisle. Use stencils or freehand patterns to create intricate patterns such as geometric shapes or floral motifs that compliment the wedding theme. Use metallic colors and vibrant colors to add some glamour.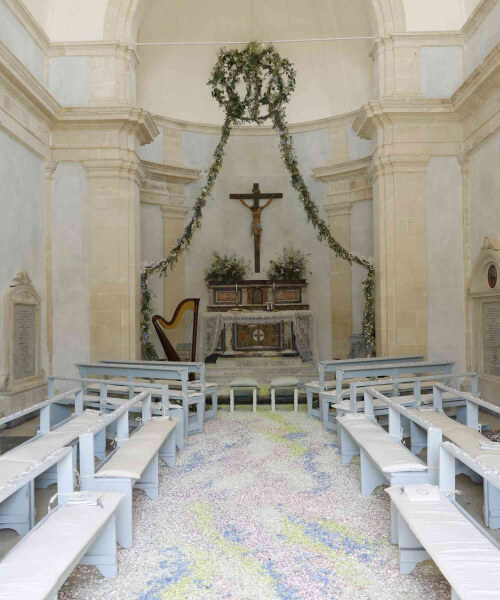 The painted floor is especially useful for outdoor weddings or venues that are not traditional, as the surroundings provide an amazing canvas on which to display the artwork. The painted floor is also a stunning backdrop for wedding photos. This creates a memorable experience for both the couple and guests.
8. Use bright and bold flower petals
Use bright and bold flower petals to decorate the aisle at your wedding ceremony. This will add color and vibrancy. Use petals of different shades to create a fun and playful atmosphere. Spread the petals on the aisle sides or arrange them into a pattern to create a stunning look.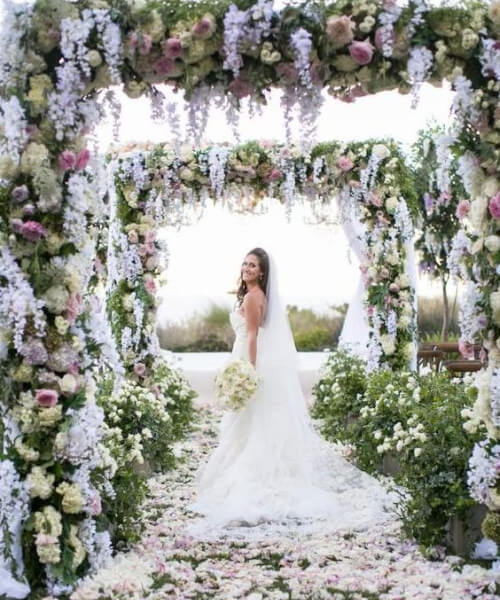 Use petals to create a meaningful monogram or design for the couple. Bright and bold flower petals are perfect for outdoor weddings where the natural lighting can bring out the vibrant colors.
9. Larkspur wedding aisle decor
Larkspur's tall, slender stems with delicate flowers can be a beautiful addition to aisle decor. Larkspur, with its soft, romantic colors, such as pink, purple, and blue, creates a dreamy, ethereal ambiance for the ceremony. Larkspur can be used to create beautiful arrangements in tall vases or hanging installations to line the aisle.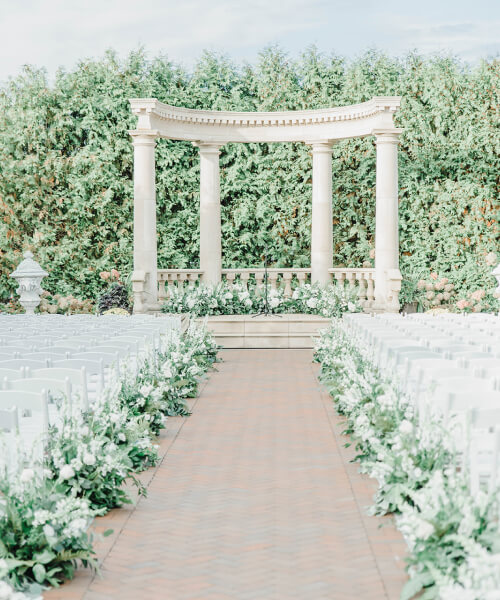 Larkspur can be incorporated into boutonnieres and bouquets for the wedding party to create a coordinated and elegant look. Larkspur is a great choice for garden or outdoor weddings where the surrounding natural beauty can enhance the delicate and enchanting characteristics of the flowers. It's an excellent wedding walkway decoration ideas.
10. White Rose Petals along with the Wedding aisle
The white rose petals add a touch of romance and sophistication to your wedding ceremony. You can scatter petals down the sides of aisles or arrange them into a pattern to create a beautiful pathway for the couple's walk.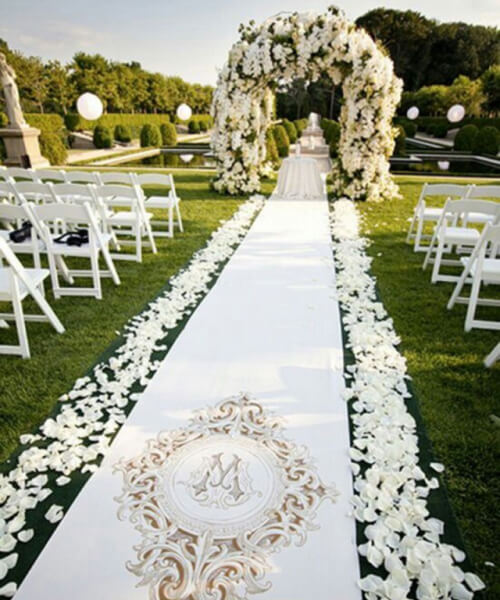 White rose petals can be used to create a meaningful design or monogram for the couple. White roses look great with other white flowers like hydrangeas and lilies or greenery to create a natural, organic look. The delicate and soft petals of the white flower can be used to add a graceful and subtle touch to any color scheme or wedding theme.
11. Potted flower arrangement aisle decor
Potted flower arrangements can be used to decorate the aisles of the wedding ceremony. Potted flowers are available in a wide range of plants, from blooming flowers to lush greenery. They can also be arranged to fit the theme and location.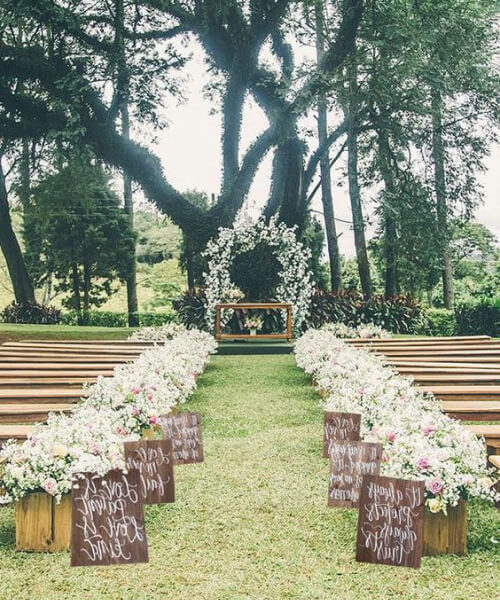 The potted arrangements can be placed along the aisle or used to create an archway or backdrop. The potted arrangements make a beautiful keepsake that the bride and groom or their guests can take home. Potted flower arrangements are popular for rustic, outdoor, or garden weddings because of their versatility.
12. Custom monogram wedding aisle decoration
Custom monogram aisle decorations are a personal and unique way to bring a little elegance and personality into the ceremony. The monogram may feature the couple's initials, their names, or a symbol of their relationship. The monogram can be operated in many ways. For example, you can incorporate it into floral arrangements or create a floor sticker.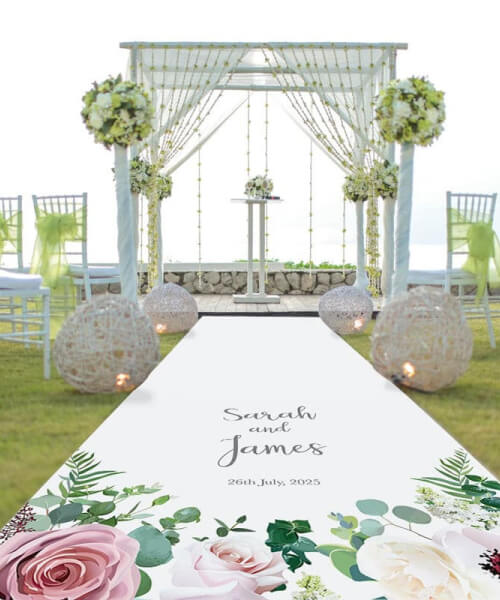 The monogram can be tossed onto a wall or used as a beautiful backdrop for the wedding ceremony. Custom monograms can be made in a variety of fonts, colors, and materials that suit your wedding theme. A monogrammed wedding aisle decoration adds a special touch and is memorable.
13. Lighting elements
Lighting can transform aisle decor and create magical, romantic surroundings. Lighting elements such as lanterns, chandeliers, or string lights can be used to create warmth and ambiance in the room. String lights can create a whimsical and starry effect by hanging them above or along the aisle.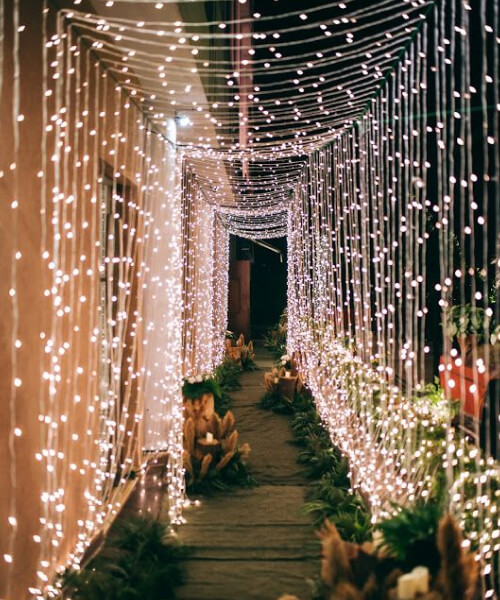 Candles and lanterns can be put on the path to create a warm and cozy glow. You can hang chandeliers above the area to add a touch of glamour and sophistication. Lighting elements are especially useful for outdoor or evening weddings where the darkness of the night can bring out the beauty of the lights.
14. Greenery
The addition of greenery to aisle decor can bring a sense of freshness and elegance. Use eucalyptus or ferns to create stunning arrangements on the aisle sides or behind the archway. Greenery's soft, delicate leaves can add a romantic, organic feel to the ceremony. Greenery can be incorporated into boutonnieres and bouquets to create a natural and cohesive look.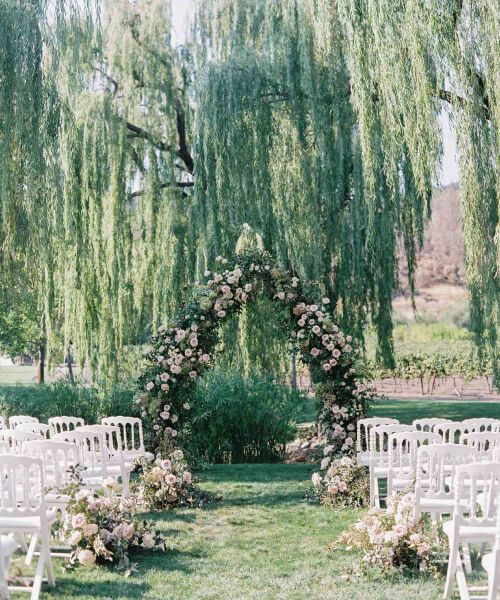 The greenery can be combined with other flowers, such as baby breath or white roses, or used alone for an understated and simple style. Greenery is often used for weddings in the garden or outdoors, where the beauty of the surrounding environment can enhance its natural qualities.
15. Use Rugs
Rugs can be used to create a warm and elegant wedding aisle. Rugs are a great way to create an aisle that is beautiful and defines the path for the couple as they walk down. Choose a rug to match the color scheme or theme of your wedding, like a colorful kilim rug or a neutral-toned Persian rug.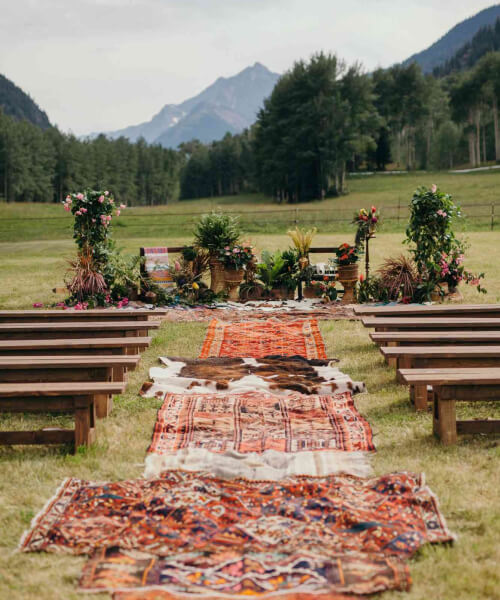 Rugs can be mixed or layered with other textures, such as candles or floral arrangements, to create an eye-catching effect. Rugs can be used as aisle decor for weddings, and they are also practical. They provide a safe, comfortable surface for guests, especially on uneven or outdoor surfaces.
16. Romantic aisle decoration with roses
The classic choice of roses for aisle decorations is always a good one. Rose petals are soft and delicate, creating a romantic and dreamy ambiance that is perfect for any special day. Roses can be used in different colors, such as cream, blush, or deep red, to match the color scheme or theme of your wedding. Roses can also be kept in many different ways.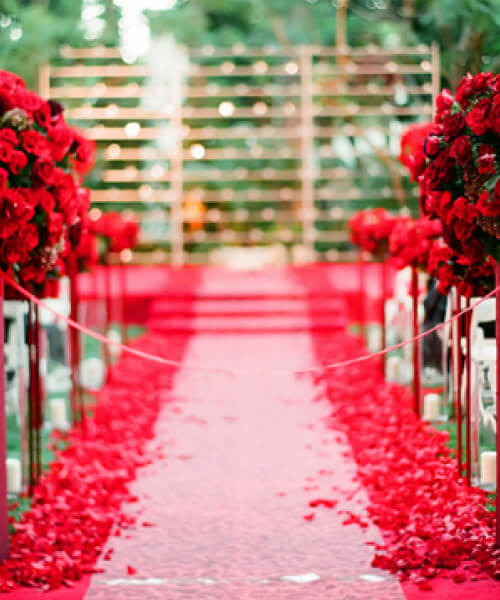 For example, in a flower archway or along the aisle. Or, in bouquets for your wedding party. To add depth and texture to your decor, you can mix roses and other flowers, like eucalyptus, or greenery, such as the baby breath. Roses are a popular choice for wedding aisle decorations, especially in romantic or vintage weddings. The roses' timeless elegance can add to the overall atmosphere.
Conclusion
Aisle wedding decorations can add style and personality to your big day. There are many ways to make your aisle decor special and unique, whether you choose a simple design or a dramatic one. There are many methods to produce an extravagant and romantic ceremony.
From candles and greenery to lighting and rugs, there are so many options. You can convey your fashion by choosing the aisle decor for your wedding. You can create an unforgettable moment with a little creativity and inspiration. It will be a memory that you and your household will love for many years.