You, as the father of the bride, will have the privilege of giving the opening toast during the reception for her wedding.
If you have experience writing father of the bride speech, this may not seem as intimidating to you. On the other hand, if this is your first time, you may find writing a speech a daunting task.
So, to help you prepare one of your best father of the bride speeches, here are some recommendations.
Just scroll down to get some inspiration…
Top Tips to Write a Simple Father of the Bride Speech
#1. Introduce yourself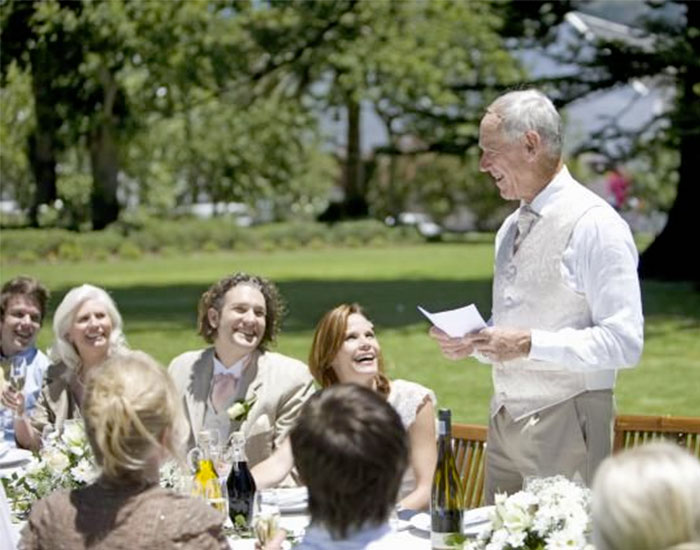 The first and foremost step to writing a stunning father of the bride speech is to introduce yourself. Undoubtedly, most people would know you; however, introducing yourself is a MUST in the speech.
Your first order of business should be to introduce yourself to the group. You are welcome, to begin with a joke if you choose, but remember to keep it brief and tasteful!
#2. Welcome your guests
Once you have introduced yourself, it's time to extend a warm welcome to all of your guests. Formally welcome your guests, which may include members of the bride and groom's family, friends, and other notable visitors, such as the officiant and the groom's parents. Please thank them for participating in this significant event and being with you.
Here is an example:
Hi!
My name is (your name). I am the father of (daughter's name). I would like to take this opportunity to extend a warm greeting to all of our family and friends, as well as __ and __ (the groom's parents), and the rest of our special guests who were able to take the time to participate in this happy occasion.
I would want to express my gratitude to (officiant) for the beautiful wedding ceremony that brought (bride and groom) closer together for the rest of their lives.
#3. Share some heartwarming stories from the bride's childhood.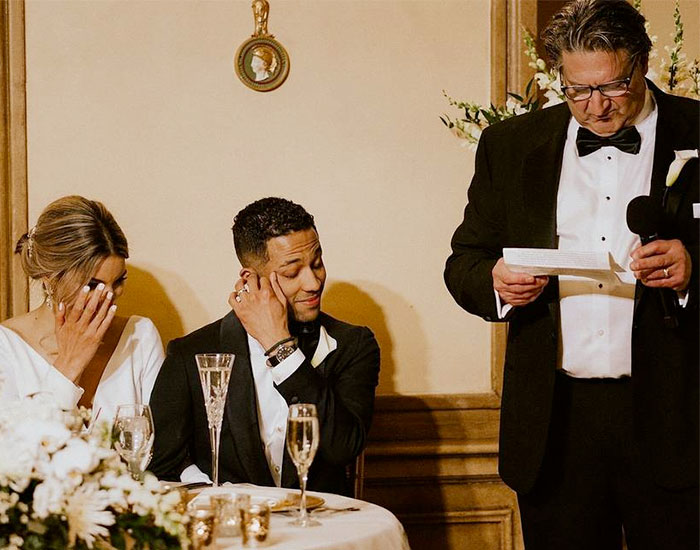 In your father of the bride speech add some heartwarming stories from the bride's childhood to make it exciting.
Sharing endearing anecdotes about the future bride will help you make your speech exciting. Since you are one of the few people who has known her throughout her entire life. There is no doubt that the two of you have quite a few touching memories that you could talk about.
You could also tell about how you felt the day the bride was born. Aside from that, you can talk about how she has improved your life in some way, and so on.
RELATED: Engagement Toast Ideas: Tips for Perfect Engagement Speech
#4. Make it exciting by adding some humorous anecdote
Include some humorous and moving anecdotes from her upbringing and adolescence. Ensure she knows how proud you are of the woman she has become.
Mention how delighted you are for her that she has found the man she will spend the rest of her life with (mention husband here).
#5. Talk a bit about the groom.
The section of your father of the bride speech must contain some matter about your son-in-law. Make sure you let him know how you feel about him and how much he means to your family.
You can sprinkle in some humor as well, but make sure to keep the tone heartwarming. You may talk about the first time you met him or how he has improved the quality of life for your daughter. Either one of these topics would be appropriate. Please extend your heartfelt warmth and sincere greeting to him as he joins your family.
You may even add some humorous anecdotes about the couple in the narrative. Make sure to keep it soft, and try to avoid saying anything too embarrassing. It's the way you can make the environment a little lighter for all. The idea is not to embarrass them or make them feel uncomfortable in any way.
Moreover, including some hilarious events from the past will make your father of the bride speech more entertaining. You probably have a funny story about the first time that she invited him around for supper at your house and something amusing occurred or anything in similar lines. But make sure whatever you add is not embarrassing for anyone. Try to maintain a humorous and tasteful tone in your funny father of the bride speech.
#6. Talk about the groom's parents
Include Some Brief Information Regarding the groom's Parents in your father of the bride speech. They are now part of your extended family. You are going to spend time with them around the holidays, birthdays, and other events.
Thank them for being a part of the special day and for becoming a member of your family. You should also thank them for any contribution they made to the wedding. You could congratulate them on the excellent job they did raising their son. Also, let them know how delighted you are to have all of them join your family.
#7. Talk about your wife.
Make sure not to leave out your wife when introducing the bride's mother. Add some quick tale about how you two first met and how your lives have combined since then. Let her know that you love her as much now as you did on your wedding day.
Express your gratitude to her for the role she played in the development of your daughter into the lovely young lady she is today. If you feel comfortable doing so, you could tell a tale about how much your daughter resembles her mother. Then, transition the conversation to your daughter's marriage in your father of the bride speech.
#8. Finish with a Toast
Your father of the bride's speech ought to conclude with a toast, as a customary. Request that everyone join me in standing and clinking their glasses in toast to the newlywed couple on their special day.
Simply offer your congratulations to the bride and groom and your best wishes for their future as a married couple in a few brief phrases.
Here is an example:
I want you to join me in standing and raising your glasses as we congratulate the newlyweds. For the past (number of years), (name of the bride) has been the shining star in my life, and today I give her away to (name of the groom). I do not doubt that he will adore and cherish her just as much as I do, so let us raise a glass to a long and healthy life packed with love and laughter.
Father of the Bride Speech Sample
Here is How to Write a Father of the Bride Speech
Hello everyone,
I am (your name) the ecstatic father of this lovely young girl (name of the bride), as well as the brand-new father-in-law of the dashing gentleman (name of the groom). This is my proudest and happiest moment, seeing her now and reflecting on all the years I've spent watching her grow up.
She has always been the best daughter, and I consider myself fortunate to have had the opportunity to be with her and guide her as she grew into the lovely woman she is now. She had my heart back then, and she still does, my darling girl, my sunshine. I shall always consider myself blessed to be referred to as your father.
Well, writing a speech is a challenging task, especially for people like me, as writing is not my cup of tea. However, I tried my best to express how I felt about my daughter's special day.
I have to admit that I have always looked forward to the day that someone would come forward and take (name of your daughter) and all of her never-ending demands far away from me. And (name of the groom), it makes me so happy that you came for the same. I have no doubt that you're very committed to my daughter and will take care of all her demands now on.
I knew from the moment that I met (name of the groom) for the first time, that he was the guy who would be able to handle all the tantrums of (name of the bride) excellently.
I welcome (groom's father's name) and (groom's mother's name) to our family. I am happy to have them become part of our extended family. I am sure that we're going to have immense fun in life while playing with our grandkids.
I am grateful to my wife (name of your wife) for being such a wonderful woman and making (name of your daughter) a woman of substance. She has always taken good care of our family and kids. In the same way, I expect my daughter to be taking care of her family and kids.
Love and humor are the two things I recommend to both of you today. Even while getting married is just as serious as getting a mortgage and should be treated just as seriously, you should also make sure to enjoy yourself. You will be successful in life as long as you remember to laugh at each other and with one other no matter what the situation may be. Life will bring its ups and downs to you.
I want to ask everyone here to join me in raising a glass to celebrate my gorgeous daughter and her great spouse. I hope that they have a long and fulfilling life together. Love you two always!
Wrapping it up…
So, this is how you can write father of the bride speech. Whether you have written a speech before or not, these tips will help you create the best father of the bride speeches. You can even write a funny father of the bride speech to make the whole environment lighter for all.
Also, make sure to keep your speech crisp by writing short father of the bride speeches. Your father of the speech must always have soft and tasteful tone. If you want to make your speech more exciting, you can opt for father of the bride speech poems. Poems just make the whole thing beautiful, even the father of the bride speech. So get innovative and create a stunning father of the bride speech on your daughter's wedding.
Happy Wedding… ☺ ☺