Weddings are special events where every couple seeks to create photograph-ideal memories. Regardless of how far you have gone with your wedding ceremony planning, don't forget to include stunning wedding backdrops. You can make your venue stunning by making use of unique backdrops.
Yeah, gone are the days when simple backdrops were enough. Today, the couple wants more, more than what one can imagine. Wedding backgrounds have evolved from the simple pieces of cloth they once were. They are intended to frame the newlyweds while they exchange vows, but they can be anything you want them to be—just let your personality as a couple or your wedding style lead you.
They may be anything you want them to be. A rustic wood arch or beautiful floral altar might enhance the atmosphere if you're planning an outdoor ceremony. Even you can have partitions for wedding ceremony backgrounds. The best thing is you can customize them to fit any theme. You can do it in several ways, like flower partitions, foliage partitions, and more.
What is a Wedding Backdrop?
An appropriate backdrop for your wedding ceremony is akin to placing the ideal frame around a photograph that represents the two of you. It helps to define the area, fits your concept, and brings life to the event!
Choosing the perfect wedding backdrop is ideal for enhancing your wedding venue to the next level. It transforms a plain space into something very remarkable and memorable.
So, if you're planning to incorporate a mesmerizing backdrop to enhance the venue and have a focal point, then this post is for you.
Here are some of the best wedding backdrop ideas for you. Take a look…

Best 23 Wedding Backdrop Ideas
1. DIY Wedding Backdrop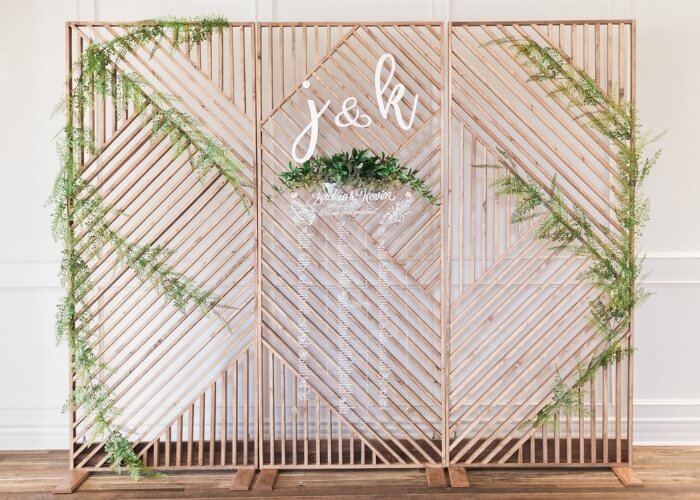 If your marriage ceremony is to be hosted on top of a hill with marvelous overlooking views, you may possibly do away without a backdrop. But in case you wanted to accentuate the ceremony location, having an easy arch can be a game-changer. You can DIY a frame-like arch that would draw every person's interest in the couple and the celebrant.

2. Copper Square Arch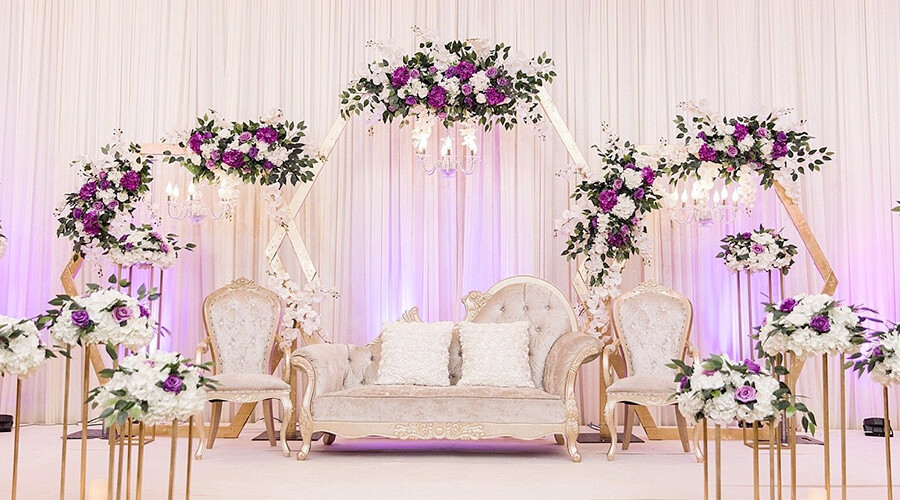 If the bridal ceremony is indoors, an enormously smaller square arch can do wonders this time. You don't have to get one custom-made for you.
All you need to do is cross around thrift shops to discover a tall clothes rack. The industrial or commercial-sized ones ought to do the trick. Ask your nearby stores, and perhaps they can lease it to you for a minimum value.
Give it a fashionable antique appearance by painting it with copper spray paint. If you borrowed or rented the garments rack, you can apply high-quality copper foil tape over it. You can dispose of it after the marriage.

Related Post: 15 Latest Wedding Stage Decoration Ideas
3. Wedding Flower Wall
A floral wall is yet another one of the beautiful wedding backdrop ideas that you can utilize for an indoor wedding reception. Consider it perfectly placed against the wall behind the counter, retaining your wedding cake.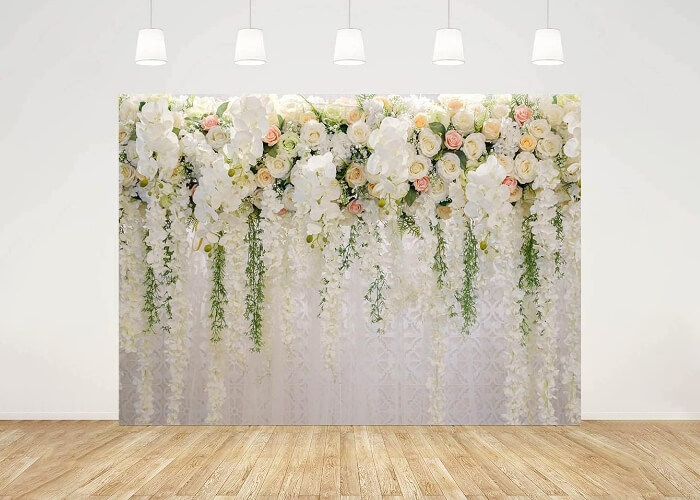 Dedicated picture booths or photo zones have been popular at events, particularly with the emergence of Instagram. If you intend to have one during your wedding ceremony, a floor-to-ceiling floral décor would be a suitable backdrop. Having this with real flowers can be steeply priced; however, if budget is a constraint, you can opt for faux flowers to create a budget-friendly wedding backdrop.

4. Floral Hoop Backdrop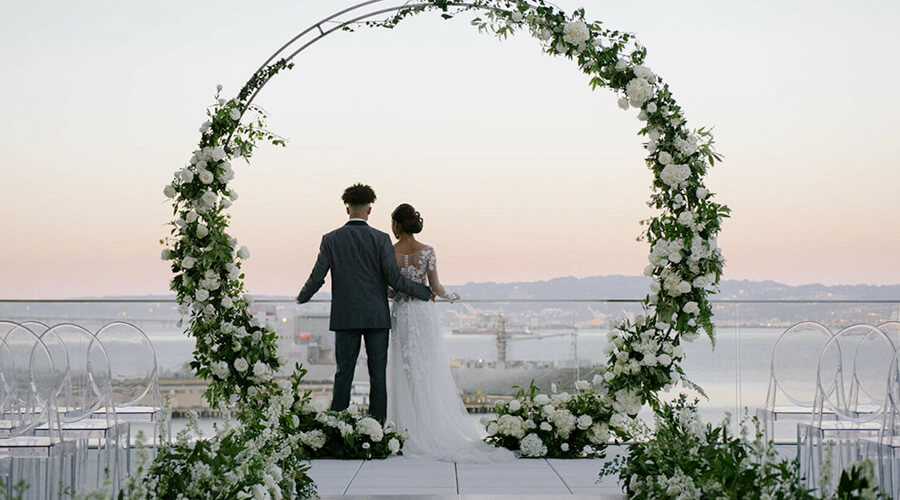 In the case of an outdoor wedding, a floral hoop background may be the finest option. For wedding reception at night, the combination of different light sections looks even more beautiful than it does during the day.
If you're a fan of gorgeous pendant lightbulbs, you may purchase them in bulk and use them to spice up your wedding backdrop.

5. Layered Arch Backdrop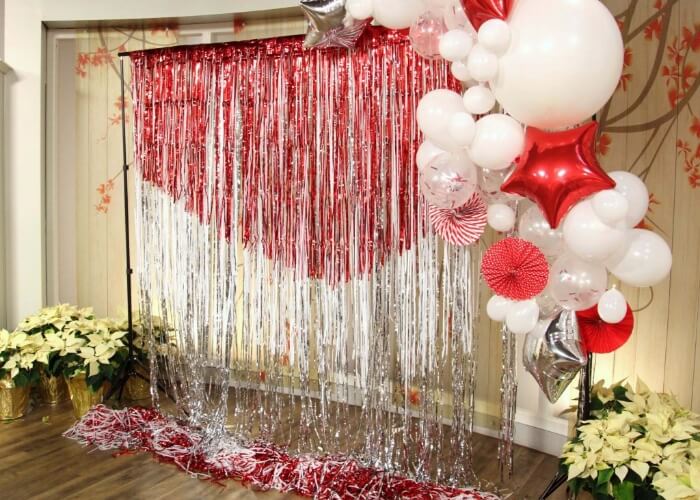 Adding depth to the background may be accomplished brilliantly by combining various colors and sizes of arches. Terracotta hues can be used in a desert-like setting. You can use them in a variety of colors and different styles of weddings.

6. Monogram Wall Wedding Backdrop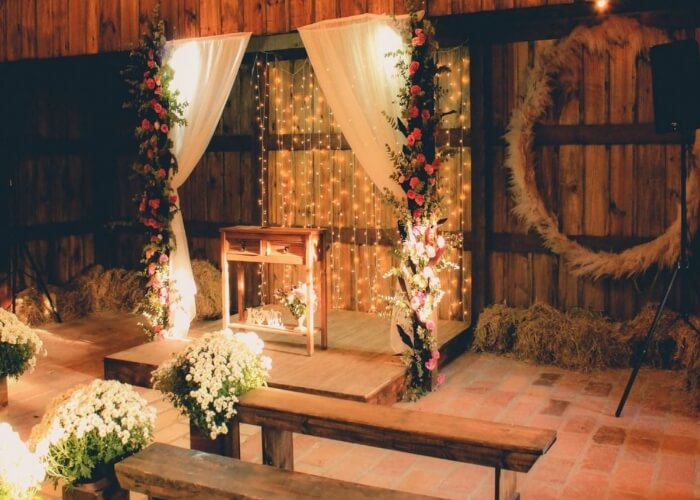 On this relatively neutral but elegant-looking backdrop, less really is more. If you're looking to make something similar, cardboard or plywood will do the trick. Ask one of the wedding ceremony photographers to use this as a backdrop for guests as they arrive at the reception site.
You can put it on the present table or next to the exit door once everyone is in the room, and then ask your guests to write notes on the board. You can keep it as a keepsake at your new home after the wedding.

7. Mosaic Wall Wedding Backdrop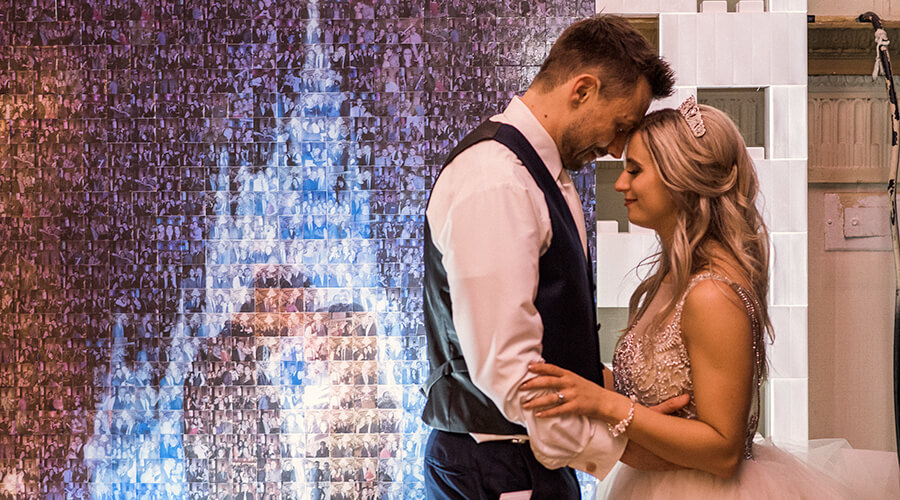 A mosaic wall makes a lovely backdrop if you're getting married in a wide-open area. The couple and the wedding celebrant will be the center of attention if the room is decked out in stunning panels. Just make sure that the colors in your mosaics are not too loud so that they dominate your wedding attire.

8. Crepe Paper Outdoor Wedding Backdrop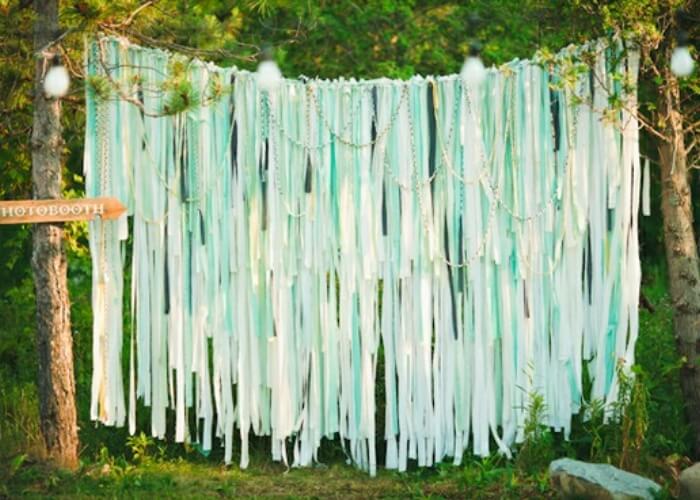 Crepe paper's adaptability was drilled into your head from an early age. Even your wedding backdrop could benefit from their versatility. A flowing crepe paper background is ideal for beach weddings or other outdoor ceremonies. If you opt to use crepe paper as a backdrop, buy it in bulk.

9. Simplicity is Always Best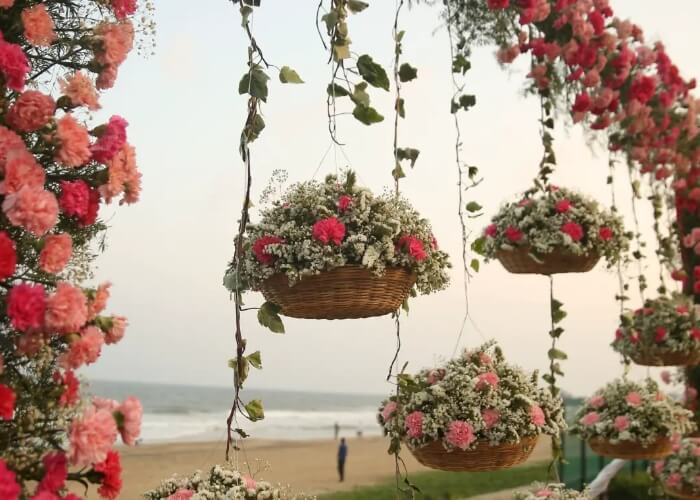 We like the idea of a desert setting with a modern yet natural backdrop. Adding dried palms to a simple copper frame may make a world of difference.

10. Macramé Wedding Backdrop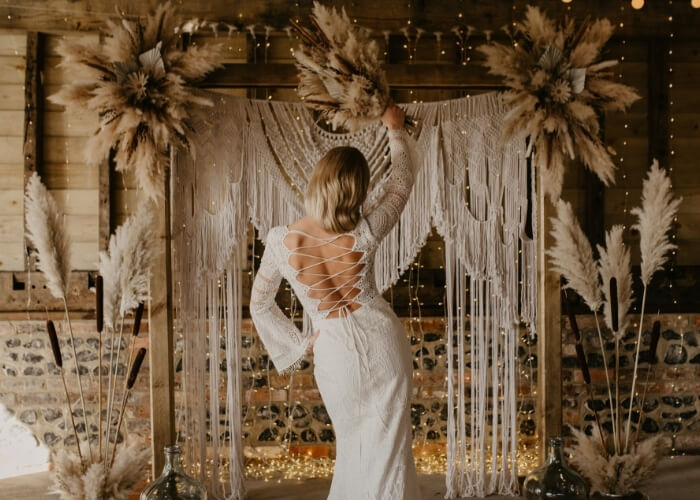 In the world of bohemian weddings, macramé wedding backdrops are a must! You can either buy them ready-made or make them from scratch. Also, it's possible that finishing it will take you several days or even weeks, but all in all, it will be worth it!

11. Circular Wedding Backdrop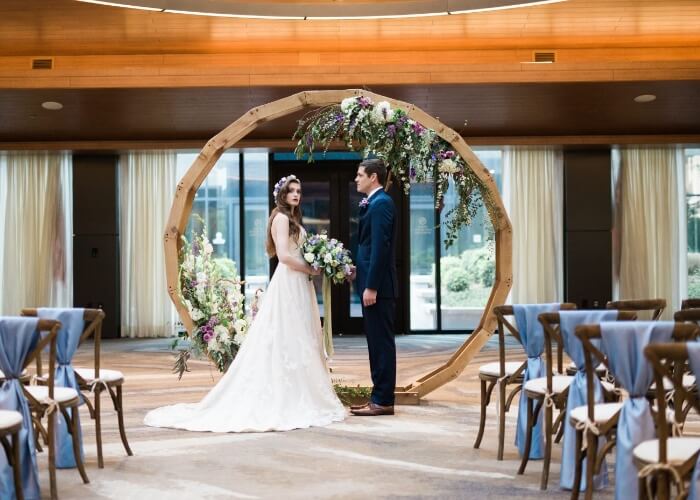 It's a tropical fantasy come true, a mix of minimalism and traditionalism. Monstera leaves, rich greenery, white roses, and tulips are all you need to adorn the backdrop in a crescent shape to add a contemporary touch.

12. Floral Arrangements and Crates Made of Wood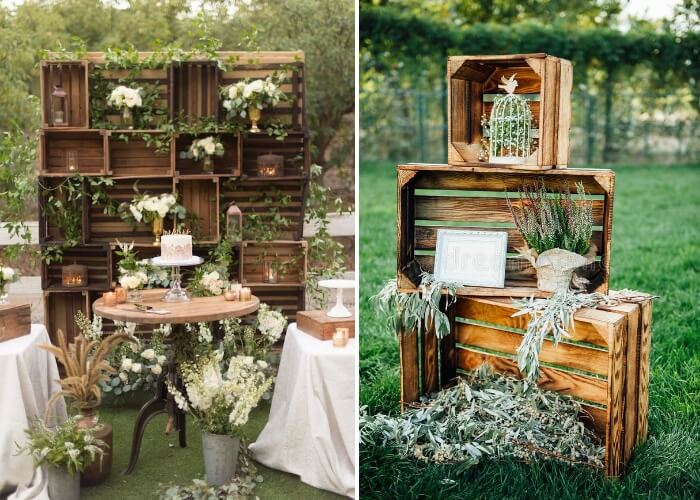 Wooden crates festooned with plants are another option for an outdoor wedding ceremony background. Again, it's a stunning background for outdoor ceremonies. Everyone's attention will be drawn to it instead of the surroundings.

13. Green Wall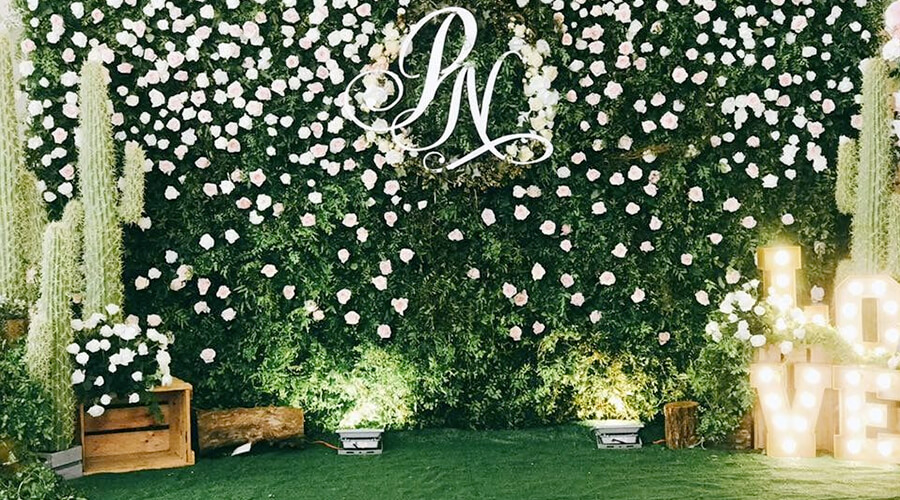 You don't have to go to a place where there is a lot of greenery if you require that texture. This is the perfect solution to your backdrop dilemma.
Your venue's perimeter can be lined with veggies if your budget allows, or you can create a background that spans the entire wall.

14. Make the best use of Lanterns, Flowers, and Greens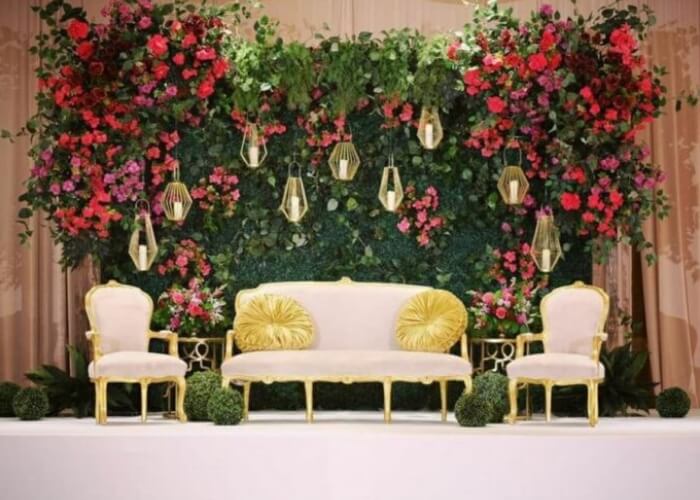 If you're looking for an attractive backdrop for your wedding ceremony, use a variety of plants, lights, and vines to add additional life to the current arch in this garden-style area. Some venues already have it, and if yours lack it, you can make it.

15. Balloon Backdrop Ideas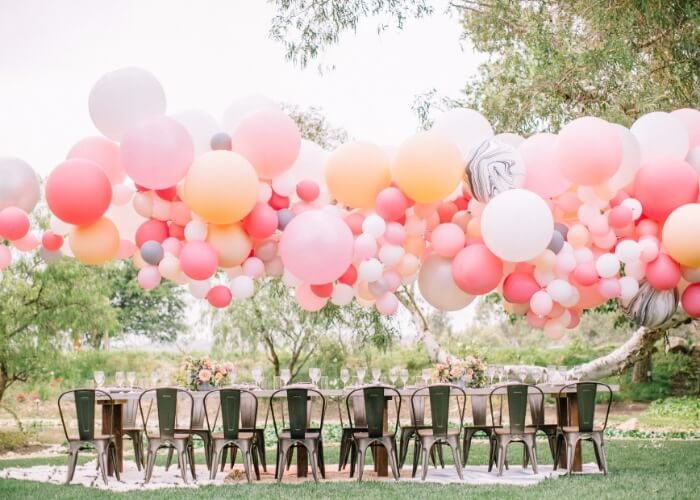 Balloon arch wedding backdrops are fun and add just the right amount of color to a wedding ceremony, making them a popular choice. You can even buy ready-made balloon arch kits or DIY fantastic wedding backdrops all by yourself.

16. Rustic Wedding Backdrops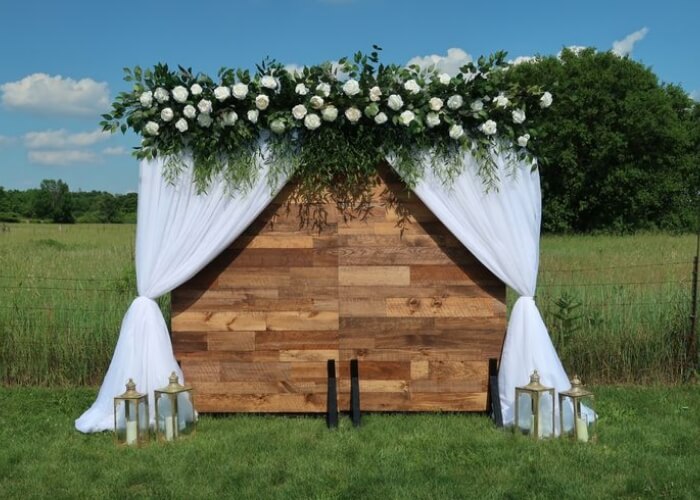 There are various rustic wedding backdrop designs, which look beautiful and enchanting. Other rustic designs include;
Rustic Barnwood floral backdrop
Escort card displayed with jars
Modern floor and indoor reception
The rustic wood pallet ceremony backdrop
Rustic elegant wedding sweetheart table.
17. Vintage Folding Screen Backdrop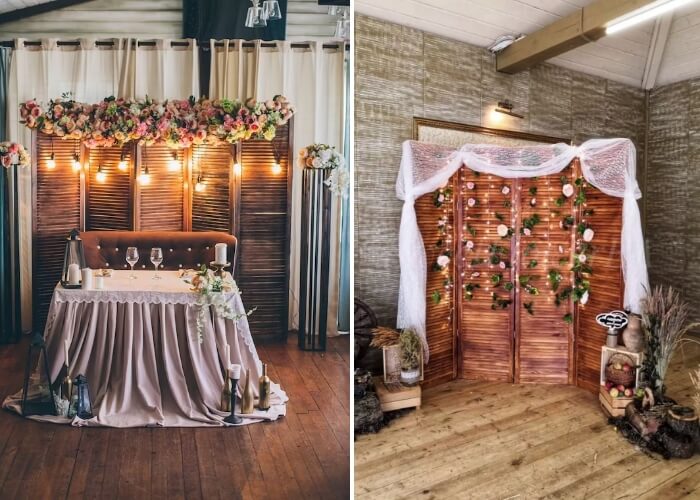 You can even use a vintage folding screen. You can add some greenery or floral decorations to this ancient monument folding display to make it look stunning. You may transform it into the perfect backdrop for your wedding photos.

18. Candle Display Wedding Backdrop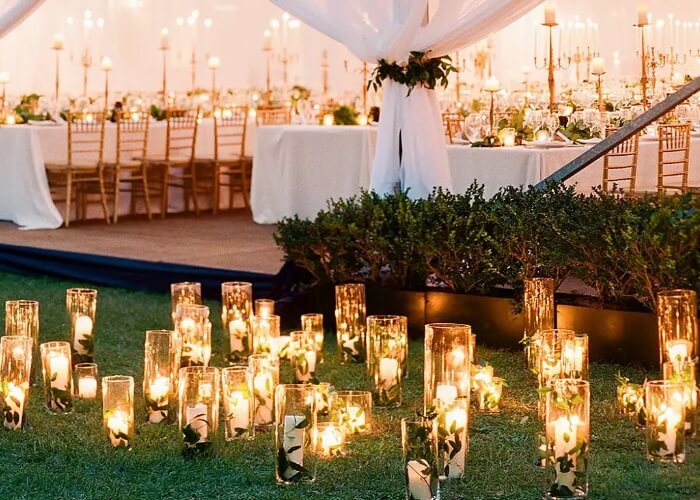 For an outside wedding background, this is a great option. For many couples, lighting a candle symbolizes a special occasion. It enhances the altar's aesthetic appeal. A fake candle can be used in place of your real one.

19. Chandelier of Greenery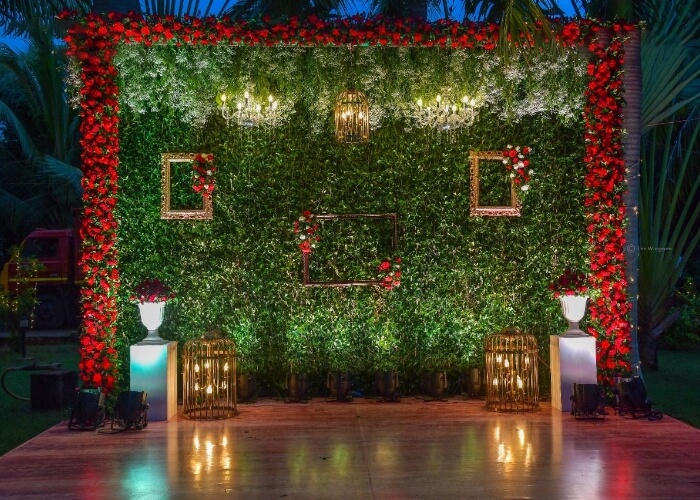 You can create an upscale and opulent atmosphere for your wedding reception with this stunning wedding backdrop idea.

20. Budget-friendly Wedding Backdrop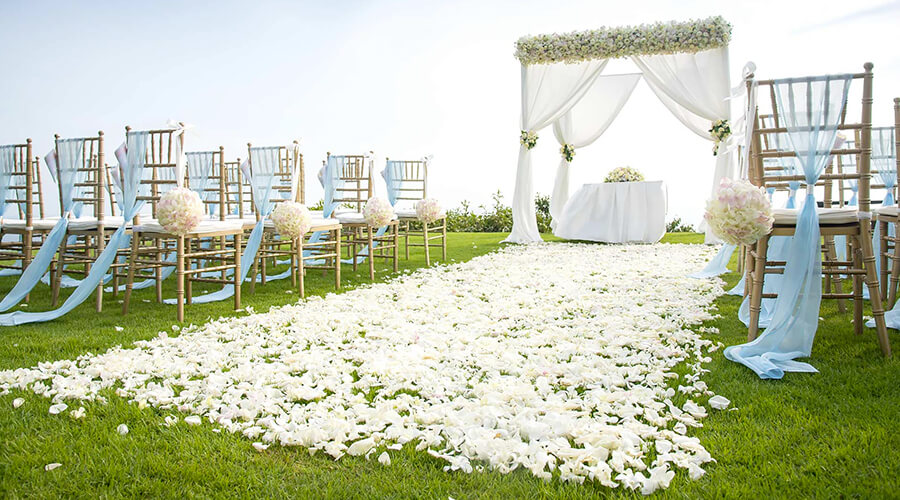 There are options for backdrops for those on a tight budget planning a wedding. These backdrops are reasonably priced, come in a variety of colors and sizes, and are easy to use. It may be inexpensive, but it will undoubtedly serve as an attractive backdrop for your wedding photos.

21. Go Natural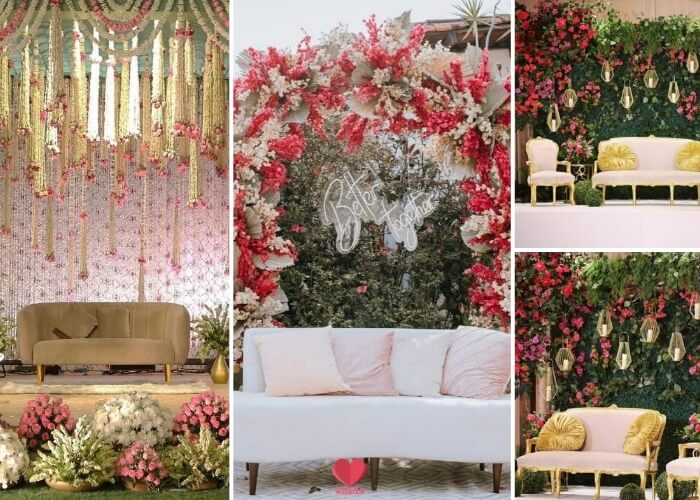 You don't need to put yourself through any unnecessary worry for a backdrop. For the most part, nature's backdrops are stunning and beautiful. So, if you're planning to get hitched in a beautiful setting with palm trees in the surrounding, just go natural. You will get the most beautiful pictures of your ceremony in a natural setting.

22. Go Creative with Refurbished Old Doors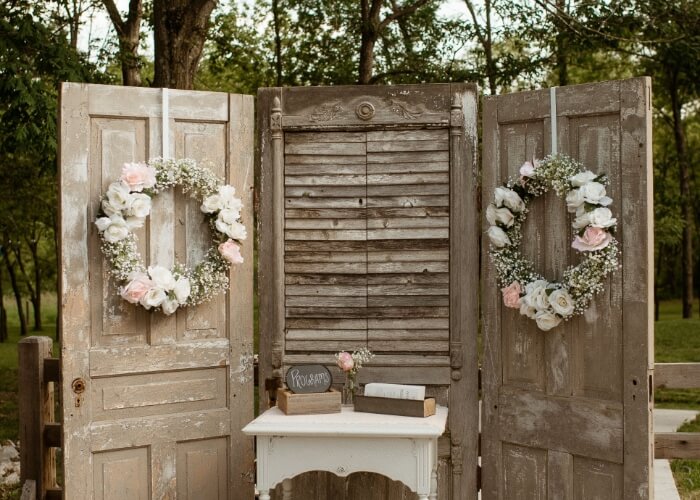 If you're having a vintage or country-themed wedding, consider using old door panels as a backdrop. Your farmhouse or vintage decor will look better if you don't cover them in paint since their aged appearance enhances their beauty.

23. Love Poem on Fabrics For That Mesmerizing Look
Poems about love can be used as backdrops for the event if the couple is fans of poetry. To make your backdrop even more distinctive, consider the following idea:
Have a copy of your wedding ceremony vows pre-revealed on material by asking your maid of honor or your friend. You may then use this as both a wedding cake table backdrop and an image place background at the reception location.
This would be a lovely addition to your home after the wedding, serving as a regular reminder of the vows you made to one another on that memorable day.

The Bottom Line
So there you have it: the best wedding backdrop ideas. We're sure you'll find some inspiration for your own wedding in these wedding backdrops.
Even if you don't go overboard, adding a creative and enchanting backdrop to your wedding site will enhance its attractiveness and make your special day even more memorable for you and your guests.
Happy Wedding… ☺ ☺