A wedding is a once-in-a-lifetime event for any couple. That's the reason couples put their heart and soul into their weddings. They give attention to everything, from their wedding attires to wedding centerpieces.
And why not? After all, a wedding is one such event in life that you cherish all your life. Everything from your wedding attire to your wedding reception venue needs to be classy, which helps you reflect your personality as a bride and groom.
There are a lot of arrangements that you make in order to make your big day the memorable one. And wedding centerpieces are one of the most important parts of your wedding reception. To make your reception venue appear unique and extremely beautiful, you need to pick the right kind of centerpieces for your wedding reception.
While planning for a wedding, there are lots of things that are to be considered. However, when it comes to wedding centerpieces, there is no right or wrong selection. It is all up to your imagination and creativity. And trust those wedding centerpieces ideas can only be limited by your imagination. The more imaginative and creative you become, the better your decoration will be. With lovely centerpiece decorations, your event can be the talk of the town.
So, if you're wondering what kind of centerpieces you should consider for your wedding reception, then this is the article for you.
In this article, we will share with you a list of some amazing centerpiece ideas to help you pick the right ones for your BIG DAY.
So, let's get started…
What are Centerpieces?
Centerpieces are decorative items or pieces that are kept at the center of the table or dining table. These decorative pieces are intended to be the center of attention. They make the venue look more attractive and stunning. Centerpiece decorations are pretty common at wedding events. You can use them in any event, including weddings. Whether you host an outdoor wedding or an indoor wedding, these centerpieces can help you make your venue look eye pleasing.
There are a plethora of tempting options for table decorations that you can employ on your special day. It can be anything from a beautiful bouquet of flowers to a candlelit tablescape or a swathe of greenery.
Before we get into all the numerous centerpieces, let's speak about the broad categories that wedding centerpieces fall into.

Different Classes of Wedding Centerpieces Ideas
It is recommended that you consult with a professional wedding planner as you organize your big day. They will add a touch of glamour to your special day, giving your guests something to look at in addition to the refreshments they'll be served.
We are going to talk about the different classes of wedding centerpieces ideas. We've broken wedding centerpieces down into four distinct categories:
Elegant Wedding Centerpieces
Simple Wedding Centerpieces
Unique Wedding Centerpieces
Tall Wedding Centerpieces
These tabletop ornaments are classified into different types based on their unique designs and patterns. Knowing the various types of wedding centerpieces available will help you zero in on the perfect one.

1. Elegant Wedding Centerpieces
Tabletop decorations that exude an aura of elegance are known as elegant wedding centerpieces, which is exactly what the name implies. This provides the elegance and glamour that you require to make your reception venue stunning. The best thing about elegant wedding centerpieces is that they do not obstruct your guests' views or prevent them from seeing what is happening at the event.
When it comes to the decor of a wedding reception hall, orchids are one of the most stunning elements. You may consider them using at your wedding reception to make the décor look adorable. Aside from that, you can create amazing centerpieces using roses, anthuriums, and ferns in conjunction. These wedding centerpieces are one-of-a-kind, magnificent, and exquisite. So, if you're looking for something minimalistic for your wedding reception décor, elegant wedding centerpieces are for you.

2. Simple Wedding Centrepieces
Simple wedding centerpieces are a great option for minimal wedding decor. These centerpieces make the best use of greenery or flowers in a vase.
These wedding centerpieces call for only a few flowers to be used to make the location look appealing. Candles are another option for embellishing the table that can be used. Decorate the tables at which your guests will be seated by placing beautiful bouquets of mixed flowers in attractive vases.

3. Unique Wedding Centerpieces
Do you want your wedding reception venue to have a decor that is one of a kind? If yes, then unique wedding centerpieces are for you. You can opt for unique wedding centerpieces to take your wedding reception to the next new level.
When it comes to unique centerpieces for weddings, you have a lot of options available to you. And if you don't like flowers, you don't need to worry at all. As the name suggests, it possesses originality and creativity in plenty. The creative freedom and sense of accomplishment that come with the ornamentation are what give it its one-of-a-kind quality. You can make the best use of natural elements in order to come up with unique centerpieces. You may also select this centerpiece to use as part of the decoration for your bridal shower.

4. Tall Wedding Centrepieces
Need some inspiration for a show-stopping focal point?
If yes, then go with tall wedding centerpieces. Tall wedding centerpieces usually make use of tall vases or tall thin branches. They make for excellent wedding centerpieces. You can use them to give a glamourous touch to your tablescapes at the wedding reception. They make for table decorations that are both polished and modern in appearance.
Greenery, pampas grass, and flower arrangements are good options. They contribute to the opulent atmosphere. These wedding centerpieces are ideal for the reception's main table, the head table, the dessert table, and the bouquet. These centerpieces will lend the venue an air of sophistication.

Top 20 Wedding Centrepieces Ideas
There is a wide range of beautiful wedding centerpiece designs available that you can choose for your wedding reception. Here is our list of the best 20 wedding centerpiece ideas to get some inspiration from. Take a look…

1. Floating Candles
If you want to keep things simple or looking for budget-friendly centerpiece ideas, then floating candles are for you. The best thing about these centerpieces is that you don't need to put in a lot of effort to arrange them. All you have to do is to get cylinder glass vases filled with water. Then, place floating white candles inside each case. Trust that these centerpieces will make the tables look attractive and elegant at the same time.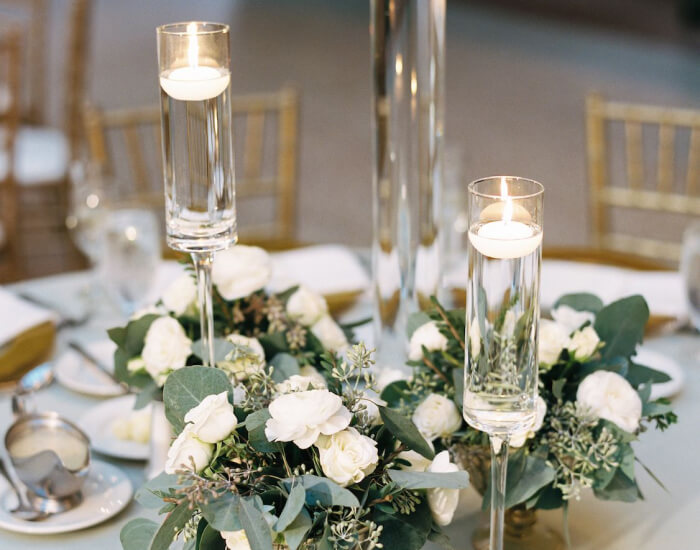 2. Simple and Natural Wedding Centerpieces
This is a great centrepieces idea for those who have a deep appreciation for nature. This specific piece of decoration is stunning, although it does not come at an exorbitant price. You can make your own centerpieces by using a few clear glass bottles, which you then fill with water and then decorate with flowers. Making use of this concept for centerpieces won't put too much of a financial strain on you.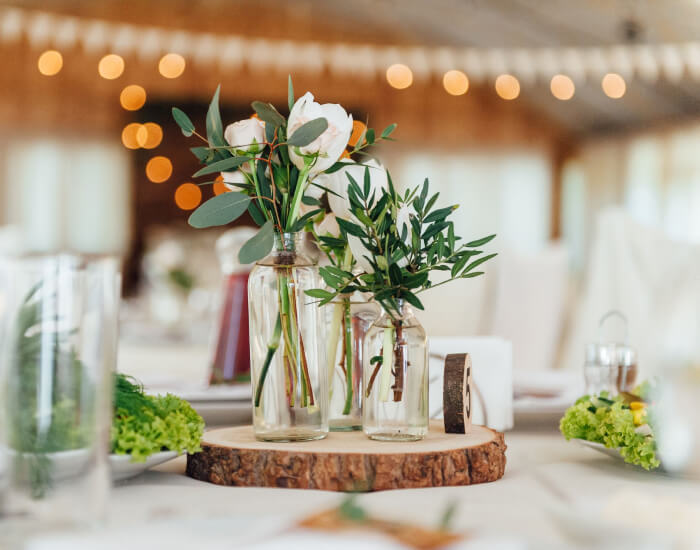 3. Flower Garland
A lovely approach that works well for harvest tables that are really long. You can use long garlands to decorate your tables. This decoration might cost you much but it is worth doing, but trust that it will be worth every penny.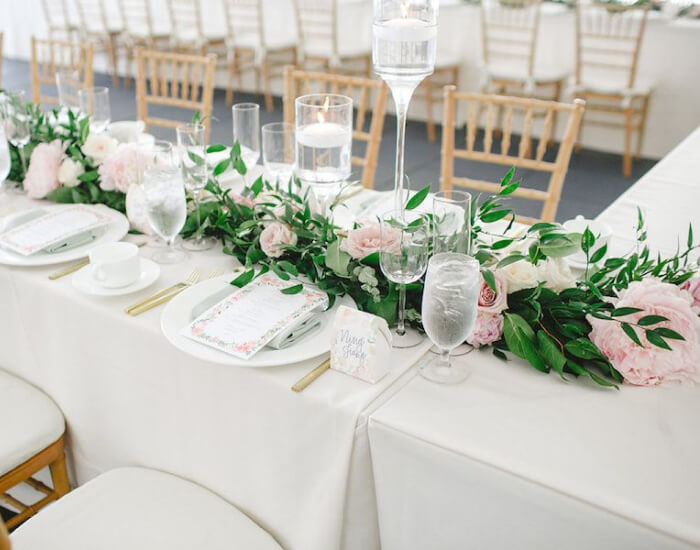 The best thing is that you can DIY this décor. All you need for this table décor is votive candles, 7 feet of garland, and seven bud vases filled with flowers and foliage appropriate for the season. Commence stringing your garland along the perimeter of the table. In the desired location, hammer in a tack and then wind some fishing line around both the tack and the garland. Make use of the tack to fasten the garland to the surface of the region. If the garland is heavy, you will need to secure it in place using a number of tacks in addition to the fishing line.

4. Wooden Lanterns
Wooden lanterns are yet another fabulous wedding centerpieces ideas you can consider employing at your wedding reception. You can light up your table with wooden lanterns. These lovely wood lantern centerpieces are perfect for use as budget-friendly wedding table decorations. All you have to do is to buy them from the market and arrange them or ask your decorator to arrange them for you.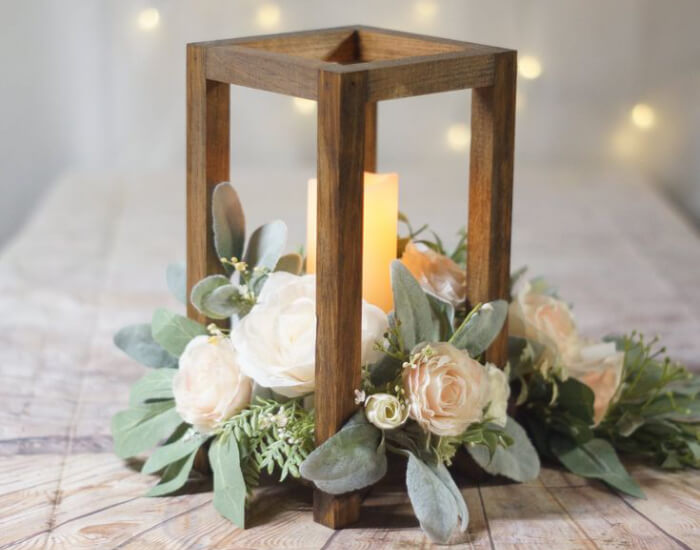 5. Celebrate With Cherry Blossoms
Cherry blossoms make for stunning wedding reception décor ideas. You can have them arranged at your wedding reception tables. These centerpieces will make a wedding venue look stunning and beautiful.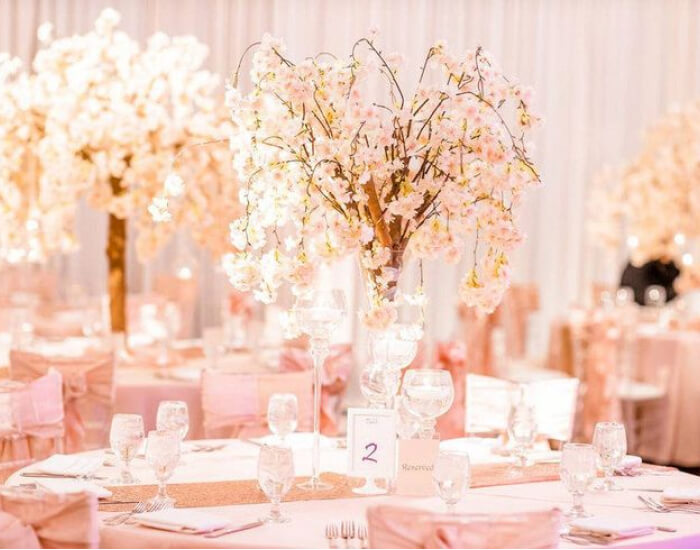 6. Pair Florals and Branches
If you're tight on budget, then this is the best wedding centerpiece idea for you. These centerpieces are a great option to add texture to your venue. It is sure to capture the attention of your guest. Moreover, these centerpieces can also have some other added features that will make your big day more stunning.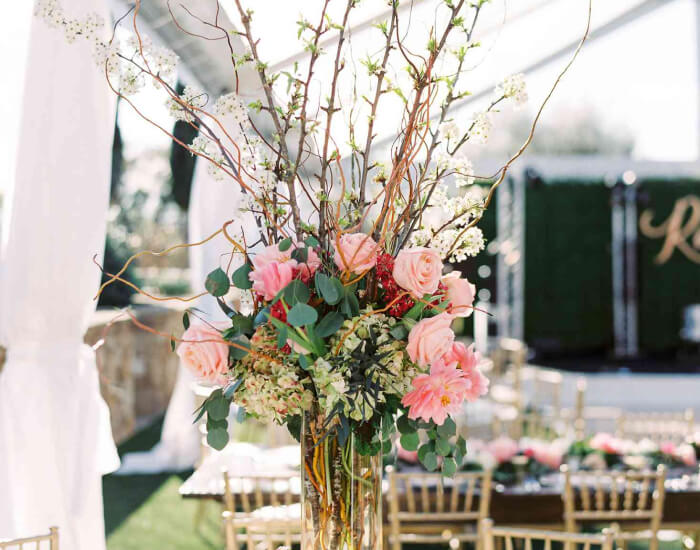 7. Candle Carousel
A candle carousel will give your interior design exactly the right amount of edginess you're looking for to make a statement. It is special, easy to obtain, and does not come at an exorbitant cost. A beautifully laid-up table that is illuminated by the flickering light of candles casting a warm warmth over the surfaces of the tables will make the ambiance look heavenly.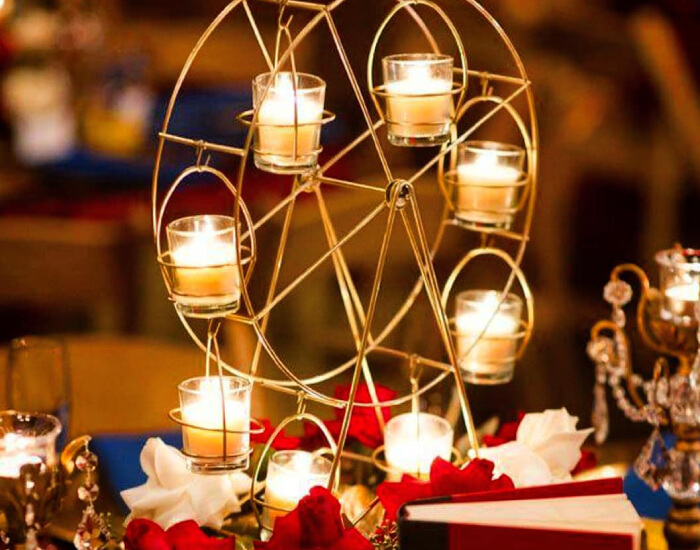 8. Tall Flower Centerpieces
Tall Flower Centrepieces are yet another gorgeous wedding centerpieces ideas for you to consider. You can make use of tall flowers to create lovely table decor at your wedding venue. The use of flowers in decorating is typically quite eye-catching and gorgeous. You can't just have a floral arrangement that's horizontal; a vertical flower centerpiece would make more sense.

9. Simple Greens
If you want to keep things simple at the wedding venue, then simple greens are the best option for you. All you have to do is to use greens to decorate your wedding venue. There is nothing else like it, and it really makes the venue stand out. If you have company around for dinner, decorate some rectangular tables instead of round ones. You'll need to add a few extra details if you plan to put this centerpiece on a round table.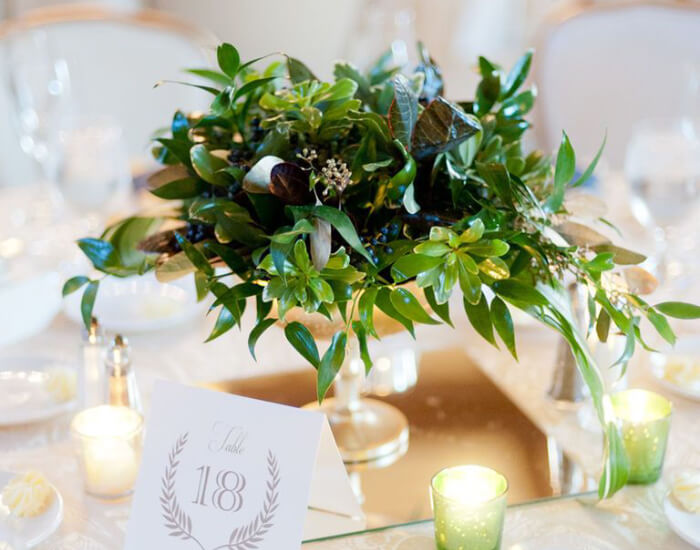 10. Incorporate Plenty of Greener
There is no such thing as too much opulence when it comes to the design of a wedding venue. The primary focus is going to be on making the location look as lovely and alluring as possible. You may attract a lot of attention to the space by incorporating towering pillars of foliage as part of the decoration. At the wedding, this will undoubtedly garner a great deal of attention from guests.

11. Rock Colorful Tapers
Tapers of various colors should be used to create the appropriate ambiance. Your imagination is the only thing holding back ideas for tablescapes. As said earlier, a tablescape is the arrangement of materials on a table to create a certain atmosphere for an occasion or a room. Colorful rock tapers are a great way to set the right mood at the wedding.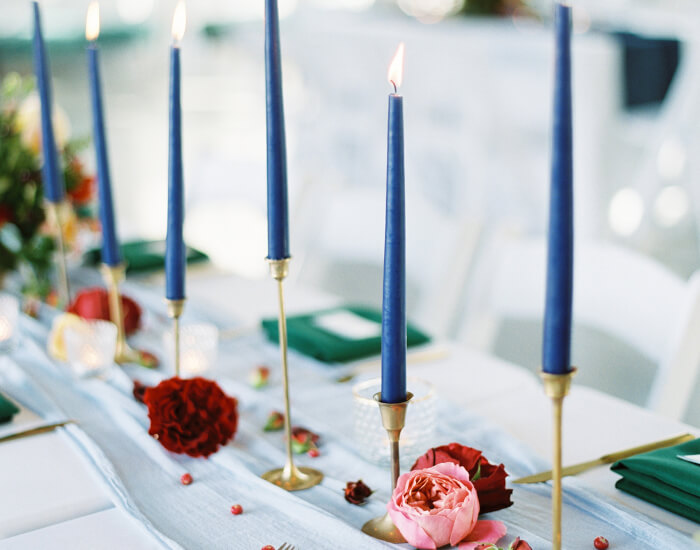 12. Top the Table with Topiaries
If you are looking for a centerpiece that is a little bit different from the standard arrangement of flowers in vases, then you should consider using this one. To create the feeling of being in a garden at your wedding location, you can add topiaries with a touch of greenery. If you are planning to have traditional round tables at the wedding reception, then these embellishments are perfect for sure. They will make the entire venue look stunning.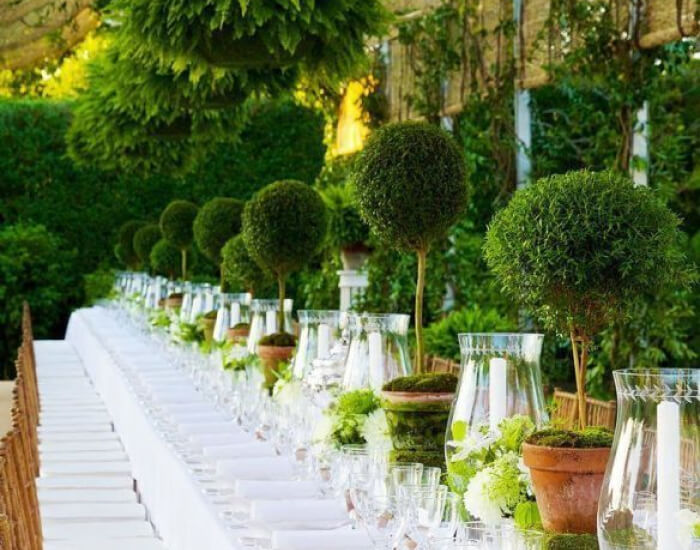 13. Add a Touch of Whimsy
This is yet another one-of-a-kind centerpieces ideas for a table decoration that you can select for your wedding reception. This is an additional method for adorning the tables, in addition to the floral arrangements. A quirky wildflower with gorgeous colors is likely to offer a great deal of charm to the location that you have chosen.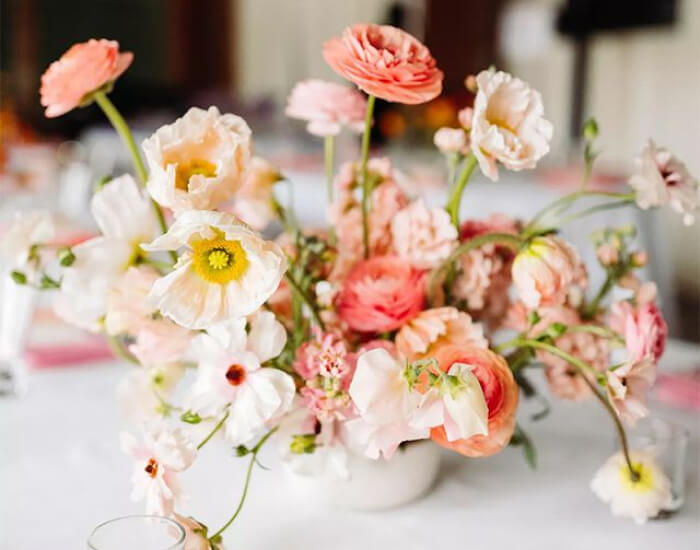 14. Pair Floral and Branches
If you want something that will get so much attention, then use flowers and branches in conjunction. This will help you create a whimsical wedding décor. The combination of flowers and branches is so unconventional and artistically pleasing; it will provide a lovely touch to your wedding decor.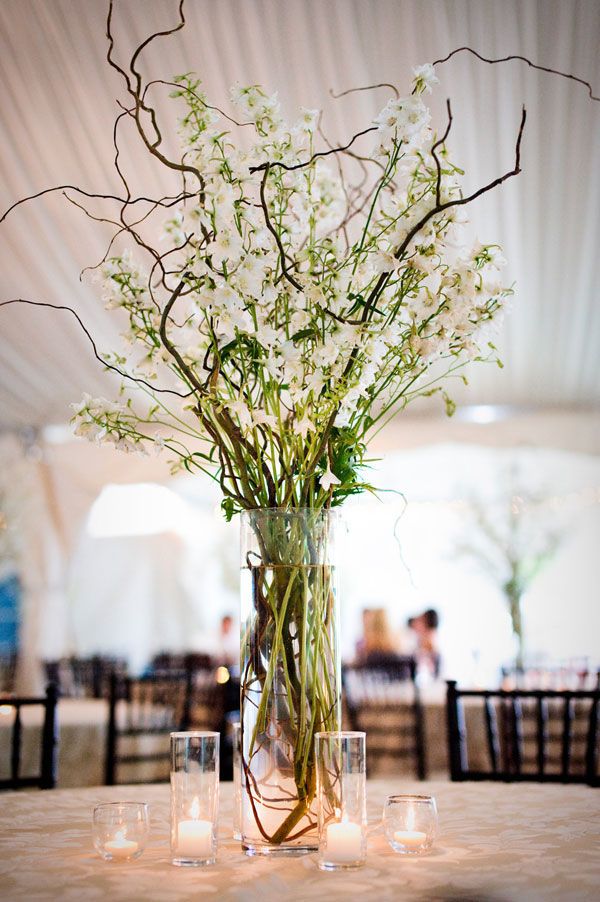 15. Gold Hoop Centrepieces
Gold Hoop Centrepieces are in the mainstream today. You can use them on any occasion, from weddings to bridal showers, to make the venue look glamorous. They come in a variety of shapes, sizes, patterns, and colors, including ivory, dusty blue, and navy blue. You can either buy these wedding centerpieces online or rent them through a local business nearby.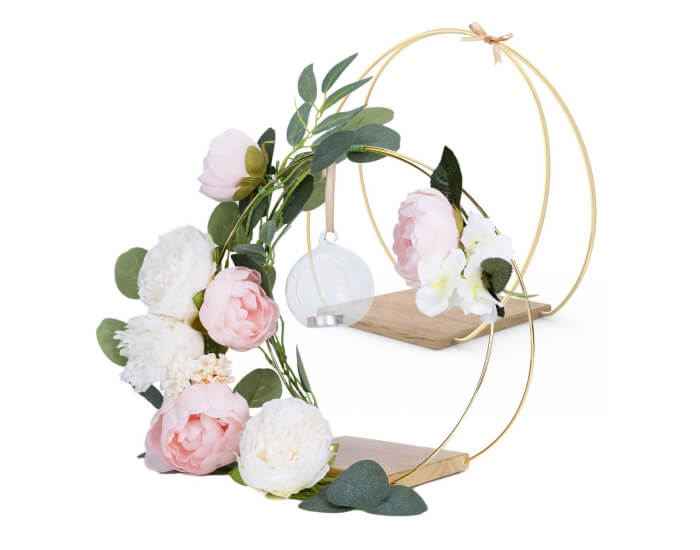 The best thing is that these can be customized to match your wedding theme. Even if it's expensive, this is the kind of thing that will make an impression on your guests. You can enhance the appeal of this centerpiece by decorating the gold hoop with floral arrangements and candles.

16. Simple and Chic Balloon Centerpiece
When it comes to budget-friendly décor ideas, including wedding centerpieces, balloons top the list. Balloons can be put to use for anything and for any occasion you can think of. This is an absolutely beautiful centerpiece idea. When you use this centerpiece at your wedding reception, you won't need to spend as much money getting it done as you would have otherwise. You can connect the balloons to the tables. Put a vase of flowers below each of these balloons to really make your decoration stand out.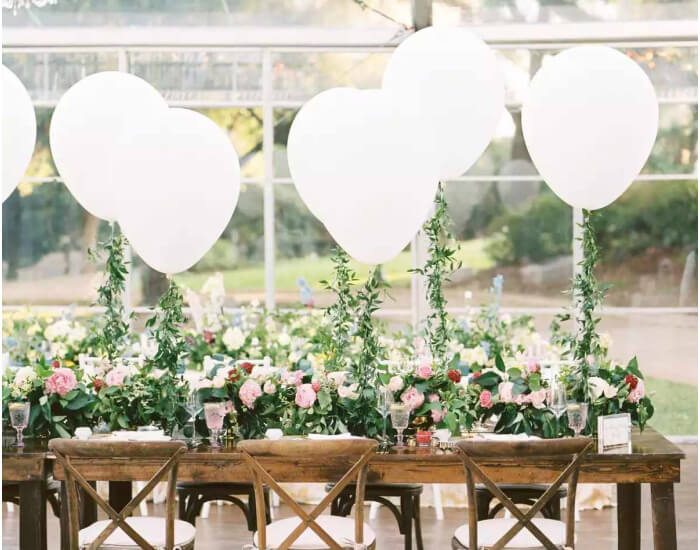 17. Crystal Glass Candle Holder
Have you ever considered making use of a candle holder made of crystal glass? This is, without a doubt, one of the most impressive centerpieces that you may consider utilizing for your wedding decor. Even though it could end up costing you quite a bit to get this done, it is very stunning. If you truly don't want to spend the money buying it, you can always rent it instead.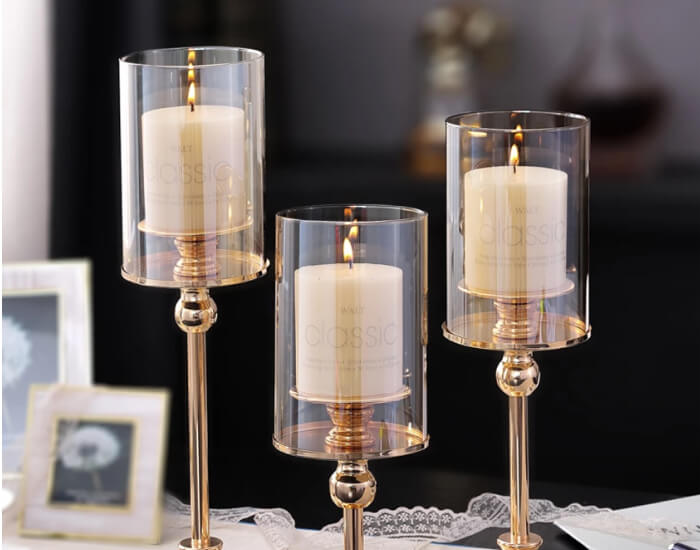 18. Goblets
Most religions make use of goblets, which have symbolic meanings and are employed in a variety of rituals. You can use goblets as table decorations regardless of their symbolic significance. It all depends on how it is laid out on the table, but it has the potential to look really appealing. You won't be sorry if you go with this stunning centerpiece as your centerpiece choice.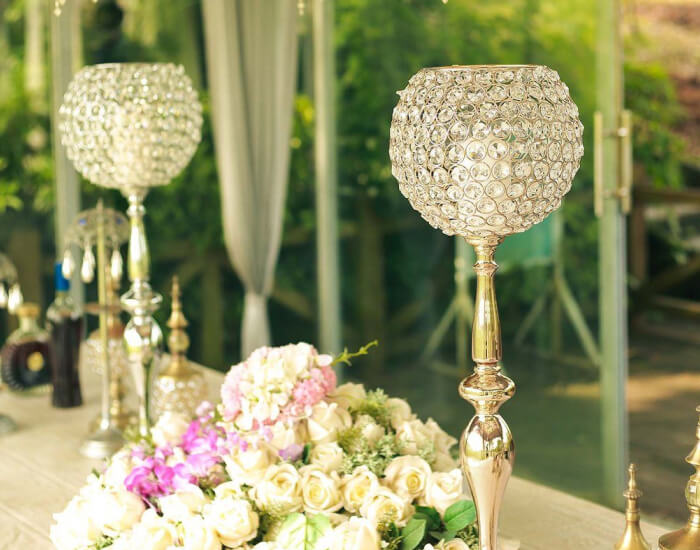 19. Colored Candles
Everyone is aware that the color white predominates at each and every wedding. By placing candles in a variety of hues, you may avoid having the entire space appear to be entirely white, which will help the venue give off a more inviting vibe. The best thing is that these wedding centerpieces are pretty on budget. In addition to that, it features a wonderful pattern that can exude an air of sophistication to the venue.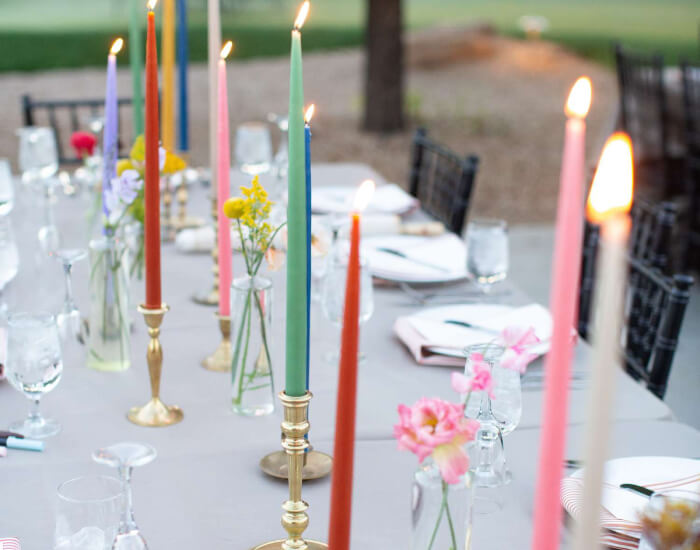 20. Floral Rose Centerpiece
A centerpiece featuring a floral pinky rose is required for this list to reach its conclusion. These flowers are remarkable due to their naturally stunning appearance. You can create a foundation for your rose floral arrangements by making use of a planter made of iron.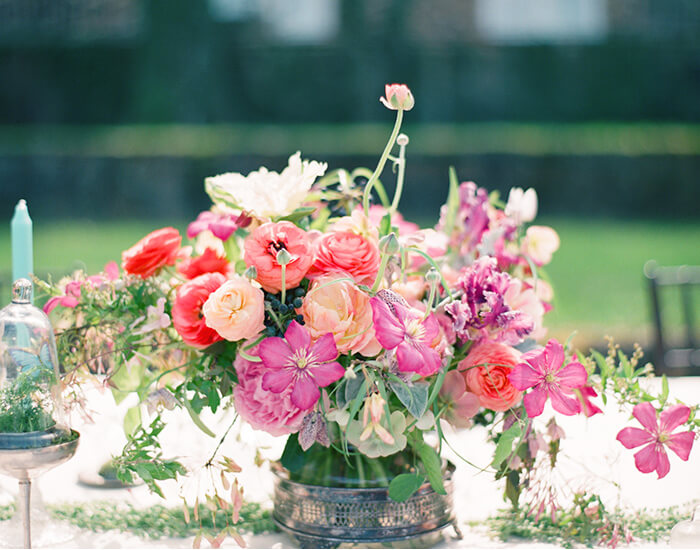 The Bottom Line
It's time to conclude our list of the top 20 wedding centerpiece ideas. Hopefully, this list will help you get some inspiration for your wedding reception décor. With these suggestions, you may create a beautiful centerpiece that everyone will admire. If DIYing seems like a task, take the help of professionals. Planning your wedding with the assistance of a professional can help you create memorable and special decorations. The purpose of these layouts is to leave your guests in awe of your artistic prowess.
There are certain centerpieces that look more expensive than they actually are. What makes it special and original is the design you create in the end. One item that will stand out to visitors as soon as they enter the reception hall is the creative centerpieces you've put together. So, make sure you pick the right kind of centerpiece for your wedding venue.
Pro Tip: When planning the decorations for a wedding, one of the most important factors to take into account is the event's theme color. Doing so will make you create stunning décor. Your wedding's centerpiece idea will remain the topic of conversation long after the reception has ended. Hiring an excellent decorator with fresh and original ideas will liven up the day of the event even before the festivities begin. A professional wedding planner should be able to provide you with budget-friendly, visually spectacular centerpiece ideas.
Happy Wedding… ☺ ☺