A beach wedding is very common, and it's also unique when you have one. There are various locations in the world where you can host a beach wedding. However, when it comes to the best beach wedding venues, California tops the list. You will find fantastic beach wedding venues in California.
California has many fantastic beach venues you can visit while searching for one for hosting your wedding. This place has a lot to offer, from its pristine beaches to super cool surroundings for your wedding photography. You will be amazed at the beauty of each coast in California. California has lots of beautiful beaches that you can't resist. It is a sunshine state, so getting a perfect location for your wedding can be overwhelming. In order not to stress you much, we have rounded up a list of the top best beach wedding venues in California. 
Just take a look…
Table Of Contents
Before we discuss the different beach venues in California, let's talk a bit about a beach wedding. You will also find out how you can plan for a beach wedding as you read this post.

➣ What Is a Beach Wedding?
A beach wedding is just like every other wedding celebration. If you decide to take your vows at a beach, it still doesn't stop your day from being elegant as you want. Beach wedding comes with romantic settings with views of the ocean and the natural lights you will get.
Numerous couples are under the impression that having their wedding on the beach will prevent them from having an impressive wedding ceremony. However, that is not the case!
Your big day can be as sophisticated as you want it to be; all you need is a plan and some funds set aside. It would assist if you also had a picture of what you want your day to look like. In this way, the appearance of your wedding ceremony will be just how you want it, notwithstanding the location. A beach wedding is an unforgettable experience, and despite popular belief, it does not require an excessive amount of money to pull off.

➣ How To Plan A Beach Wedding
While making plans for a beach wedding, there are quite a several things you should put in place. Properly planning your beach wedding will help avoid some mistakes. Your attire for your big day must go well with the environment and temperature of the beach. For your outfit, you should remember that softer fabrics are the best for a beach wedding.
Here are some tips you should put into consideration as you plan for your beach wedding:
First, you must choose your location carefully. 

Ensure that the beach venue you select is easy to locate for your guests. 

While decorating your venue, make it windproof so you don't get distracted by the decoration curtains being blown by the winds.

Make provision of shade for your guests.

Make provision of an excellent place for food storage.

Choose a proper outfit for your beach wedding. Ensure it is light so you can be comfortable throughout the ceremony. 

Appoint a perfect photographer to give you the best shots of your wedding that you can cherish all your life. 
Also See: All that you need to know for the beach inspired wedding
➣ Different Beach Weddings In California

Using a beach as your wedding venue is an excellent idea for hosting a romantic wedding. Take a look at our list of the best beach wedding venues in California… 

1.
La Valencia Hotel in La Jolla, California
You can find this venue just by San Diego, and your guests will love this hotel. This is a perfect Mediterranean-style hotel where you can take your wedding vows. It's generally called "Pink Lady," and it's located in La Jolla. It is an ideal location for an intimate beach wedding celebration in California. This venue can accommodate about 90 guests or more. It also has beautiful palm trees all around as it sways in the sky with the cool breeze. La Valencia is a perfect place where you can host your guests during your big day celebration.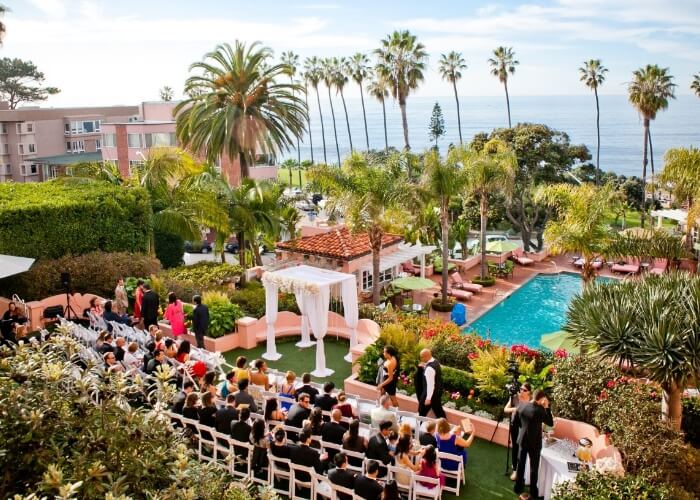 2. L'Auberge Del Mar in Del Mar, California
This venue is located in the heart of Del Mar, which makes people refer to it as the heart of Del Mar. It's close to the sea and perfect for your wedding event. This venue is breathtaking, with lots of beautiful sites. You can use it for your wedding event as it can accommodate many guests. Whatever space you choose in this beach venue will be perfect for your wedding ceremony.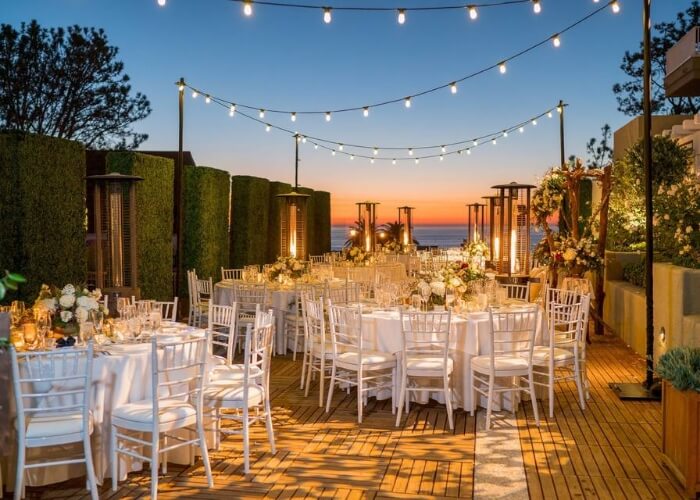 Also Read: 15+ Best Bridal Shower Venues In Los Angeles
3. The Ritz-Carlton, Half Moon Bay in Half Moon Bay, California
If you want a California beach venue for your wedding, then Ritz-Carlton is the best. It has ample space, which makes it perfect for an outdoor wedding ceremony. It has a ballroom which is the largest in Northern California, and it can occupy up to 300 guests. This is a perfect location to hold your dream beach wedding in California.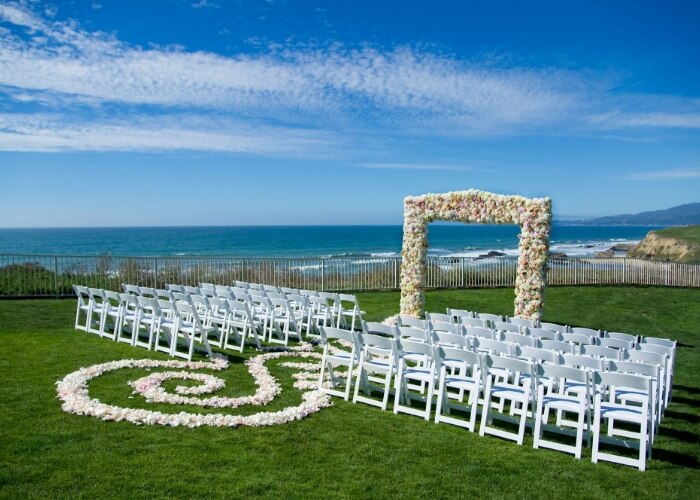 4. Shutters on the Beach in Santa Monica, California
If you are searching for a beachfront wedding venue, then you can try this venue. Shutters on the beach are not far from Santa Monica. This can be used for either an outdoor wedding or an indoor wedding. It can accommodate up to 250 guests. Also, it has a luxury day spa. You and your guests would love this place for sure; trust that!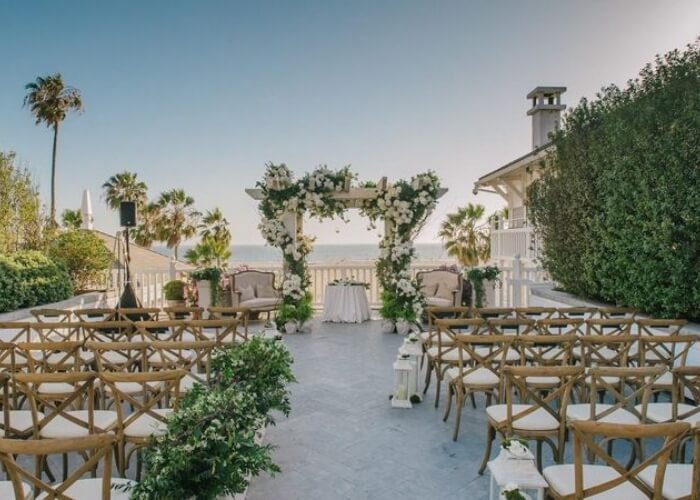 5. Casa Romantica Cultural Center and Gardens in San Clemente, California
Casa Romantica in San Clemente is popularly known as the house of romance. It's a Spanish name and answers to its name with the services you will get. It is the ideal location for you to have your event if you wish to enjoy a view of Catalina Island. You and your significant other will enjoy yourself here.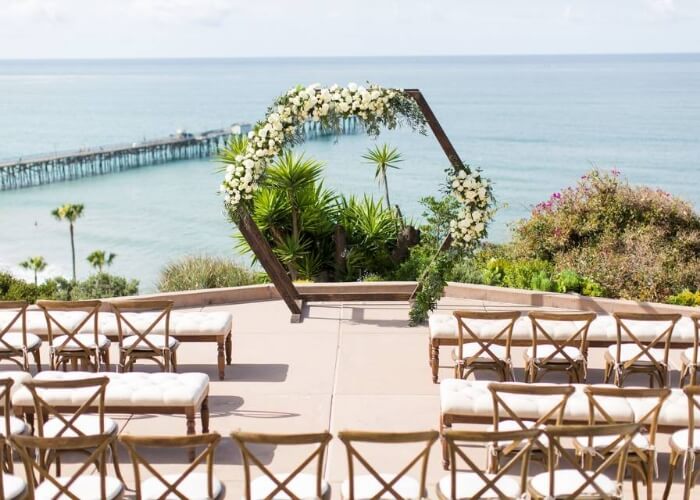 6. Hotel Del Coronado in San Diego, California
You can host your beach wedding at Hotel Del Coronado for a memorable ceremony. This site offers a number of different event venues, but the beach is by far the most desirable of these. A wedding on the beach is sure to be one of the most unforgettable days of your life if it takes place at the Hotel del Coronado. It's located in San Diego, Southern California. This location also provides you with a ballroom in the event in case you require one. You have the option of holding your wedding ceremony on the sands of the beach or on a private beach.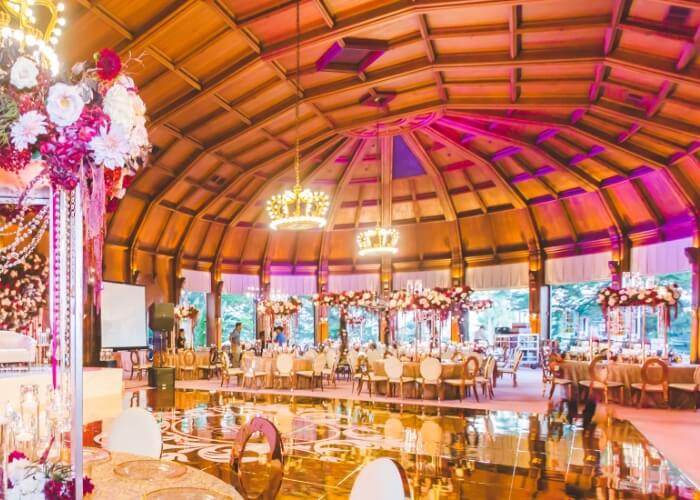 7. Surf & Sand Resort in Laguna Beach, California
If you want an orange county beach wedding, you do not need to go far. The surf and sand resort in Laguna is a perfect venue for a beach wedding in California. This venue is excellent for an intimate wedding ceremony as it can occupy about 50 guests or more. You can book this venue ahead to ensure there is no chaos later.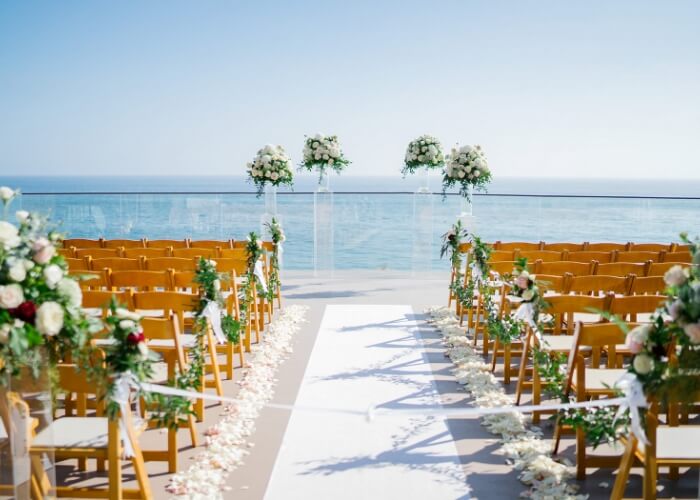 8. The Ritz-Carlton Bacara in Santa Barbara, California
The Ritz-Carlton Bacara is nestled in Santa Barbara. It has fantastic and inspiring views of the ocean around, which makes it the best resort wedding venue in California. It has about 1250 guest rooms, so you don't have to worry about the appropriate place to host your wedding. The best thing about this beach wedding venue in California is that you can even consider celebrating your honeymoon here after your beach wedding.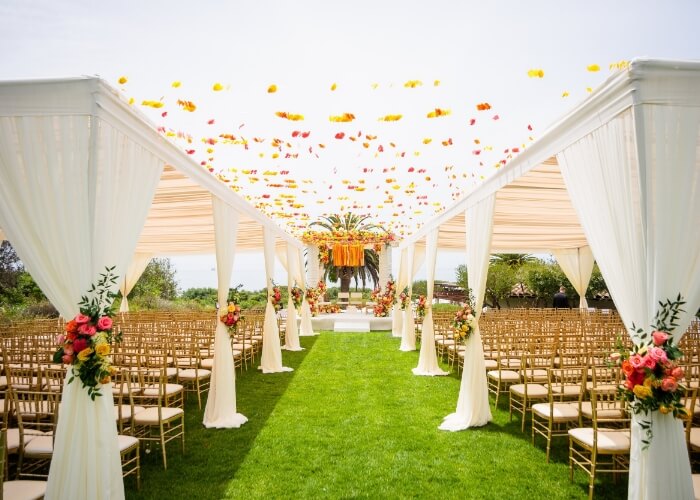 9. Duke's Malibu in Malibu, California
You are going to have a wonderful day at Duke's Malibu, which is located on one of California's most beautiful beaches. This location is ideal for both the wedding ceremony and the reception because it is right on the water. The Duke's Malibu has the capacity to host around 250 guests. All of your guests will enjoy ocean views. Additionally, there are a few private rooms available for use. You can consider booking them for yourself and your guests.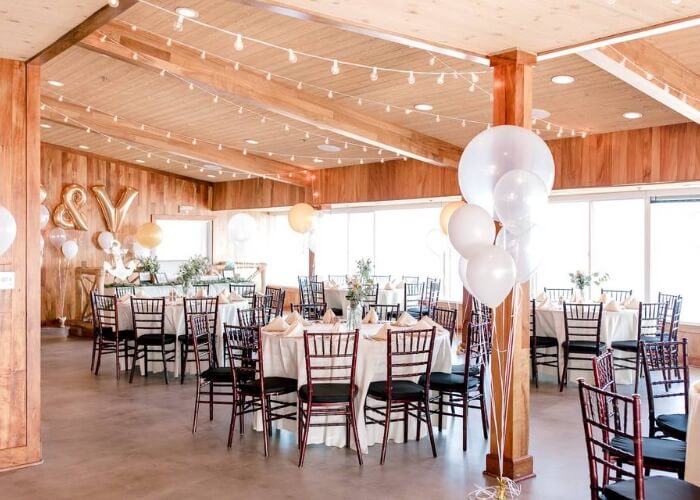 10. Monterey Beach House in Monterey, California
Monterey beach house is a perfect beach wedding venue in California. It has everything that you need to host a perfect wedding on the beach. Wedding ceremonies that take place in this venue are on the sand. After the exchange of your wedding vows, you can make use of the beach banquet hall for your reception. This enormous venue can accommodate about 300 guests. It's a perfect location to host your dream beach wedding.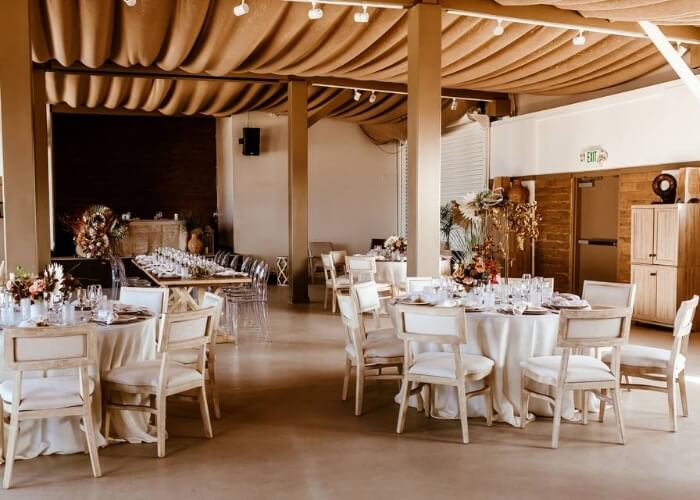 11. Hyatt Regency Huntington Beach in Huntington Beach, California
It is located in Huntington, California, and it provides wedding packages that include everything you could possibly require for your big day.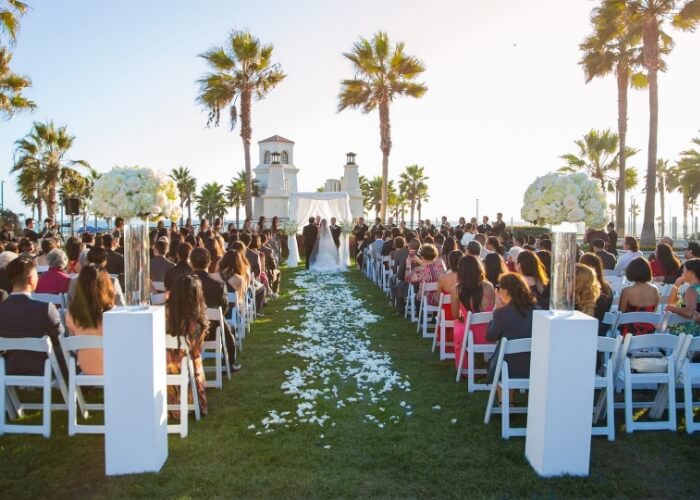 It's a beachfront hotel in Orange County with plenty of amenities for each and every guest. The Hyatt Regency Huntington is the ideal location for holding a huge beach wedding celebration.

12. Newport Dunes Waterfront Resort & Maria in Newport Beach, California
No matter what size of celebration you plan, the venue in Newport Beach provides what you're looking for. This is one of the best beach wedding venues in California for hosting a memorable wedding celebration. And that's the reason it deserves to be on your short list. This lovely beach location features a gazebo that has been decked up with flowers, as well as a waterfront and palm trees. Your wedding pictures will look absolutely breathtaking, taken in this location.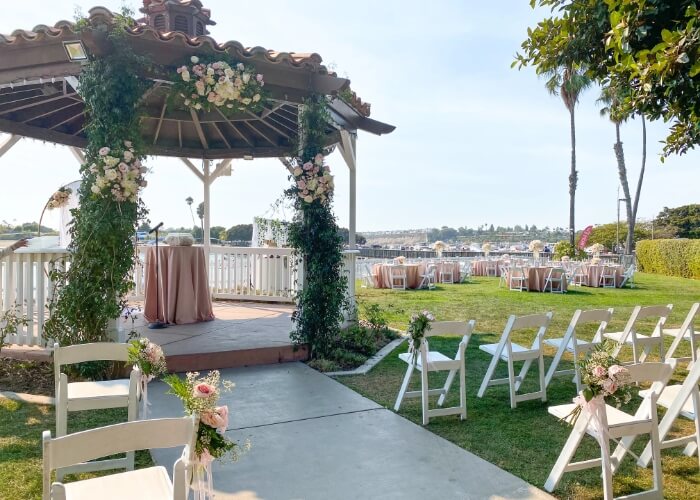 Putting it all together
So, there you have it: the top 12 beach wedding venues California. Due to the one-of-a-kind nature of a wedding held on the beach, it is an event that guests are unlikely to forget. When it comes to organizing a beach wedding, you do not have to spend as much as you might think. 
As you have read, the state of California is home to some of the world's most beautiful beaches. Every beach in California has something that makes it special that simply can't be ignored.
Hopefully, this article has been informative for you and will help you select the best beach wedding venue in California. 
Thanks for reading! Now it's time for some frequently asked questions. Take a look…
➣ Frequently Asked Questions
How Much Does It Cost To Host A Beach Wedding In California?
Well, the cost of hosting a beach wedding in California will vary based on the location you choose, in addition to other variables. However, when planning a beach wedding in California, you can expect to spend between $100 and $150 per guest. 
Do We Need Permit To Host A Beach Wedding In California?
Yes, you will need to acquire a permit before you plan a beach wedding in California. It is because the beaches in California are under the jurisdiction of the counties; you will need to obtain a permit from the county where the beach is located. You won't be able to use a beach location in the state of California if you don't have this permit. 
Which Outfit Is Best For a Beach Wedding?
It is recommended that women choose to dress in a manner that is uncomplicated. A ball gown is not an appropriate attire for a wedding that will take place on the beach since the sand could ruin it as you are walking down the aisle.
Is A Beach Wedding Affordable?
Yes! Beach weddings in California are more affordable than other types of weddings. If you want to host a beach wedding, you won't need to spend as much money as you may think. 
There is something for every taste and every price point in California. With careful preparation, you can have a lovely wedding celebration within your available funds in the state of California. The only thing that you should do is find a beach in California that is within your price range and then make the necessary preparations for your wedding on the beach there.
Happy Wedding… ☺ ☺