As a soon-to-be bride who is eagerly anticipating her wedding day, it is perfectly acceptable to have grand dreams. Of course, a wedding is an important event in one's life. Every bride wants to have it the best way. Everything from wedding attire to wedding flowers plays a significant role. When selecting your wedding gown, consider opting for designer dresses inspired by royal weddings. Royal wedding dress can make a significant impact.
The wedding dresses worn by royal brides are known for their elegance and unique designs. You can even get inspiration from Royal Wedding Designer Dresses. As a bride, it is important to carefully choose the perfect outfit as you make preparations for your big day. Fortunately, there is a wide array of stunning royal bridal outfits for you to select from.
You don't need to be a princess or belong to a royal lineage in order to choose a royal wedding dress. Queens and princesses frequently wear royal wedding gowns. But that should not be a reason to give up on your dream. Don't forget that it's your special day, so it's important for you to look your best. Royal wedding gowns are widely regarded as the epitome of elegance for a wedding outfit. When it comes to an elegant wedding, the expectations and importance are significantly elevated.
In this post, you will have the opportunity to explore a wide range of royal wedding dresses for brides that are sure to suit your style and preferences.
So, let's see what's in store; here we go…
Table of Contents
The bottom line

Importance of a Royal Wedding Dress
Royal weddings are customary among individuals who belong to royal families. These weddings hold global significance. Royal wedding dresses are of great cultural, historical, and symbolic significance for several reasons. The royal wedding dress worn by the bride is not just a piece of clothing but also holds great cultural significance as an artefact. It has a significant impact on the fashion industry, cultural traditions, and wedding attire.
Royal wedding dresses often reflect the values and traditions of the royal family and their country. Royal brides hire top-notch designers for their dresses. These designers brilliantly incorporate elements that reflect the national heritage of the royal family. Whether you're a royal bride or not, it is crucial to exude elegance in your choice of a royal blue wedding dress.
The previous weddings of queens and princesses hold historical significance. The designer dresses worn at royal weddings provide valuable insight into the fashion and style of a particular era. The wedding dresses worn by royal brides have a significant impact on the fashion industry worldwide. Today, many of the fashion styles worn by past royal brides are being emulated in the fashion world. It has been uniquely redesigned to align with current trends in bridal wear. The royal wedding dresses stay in trend irrespective of the era we are in. They are remembered as a truly unique creation.

Why Shour You Choose a Royal Wedding Dress?
If you want to make your wedding look one-of-a-kind, then surely a royal wedding attire is the best pick. The royal wedding dress serves as a symbol of status and prestige. As a bride, it is important for you to exude glamour in your royal bridal attire. These dresses are typically a symbol of luxury and opulence. This often serves as inspiration for future brides-to-be when it comes to selecting their style and fabric.
The choice of a royal wedding dress often becomes a subject of public interest. As a bride, all eyes will be on you, symbolizing the elegance and joy that your wedding will bring. When selecting a royal wedding gown, it is important to carefully consider the available styles and the right fabric in order to make the best choice. The choice you make as a royal bride will reflect your personal taste and style.
If you are unsure about what kind of gown to wear in order to achieve a royal look as a bride, then read this article. We have rounded up a list of some of the best royal wedding dresses for you to help you get some inspiration.
Let's dive in…
Let's take a look at some of the best royal wedding dress ideas for brides….

Best Royal Wedding Dress For Bride
Here is our list of the best royal wedding outfits. This list contains various dresses from renowned designers that are worn at royal weddings. You can also consider opting for any of the dresses listed here for your wedding if you aspire to have a regal appearance on your special day.
Take a look…

1. Regal Ball Gown Splendour
This exquisite bridal outfit is fit for royalty, making it the perfect choice for any bride. If you are seeking a stylish ensemble that will enhance your appearance with a touch of glamour, this is the ideal choice. The choice is impactful; your guests would be stunned to see you walking down the aisle in it.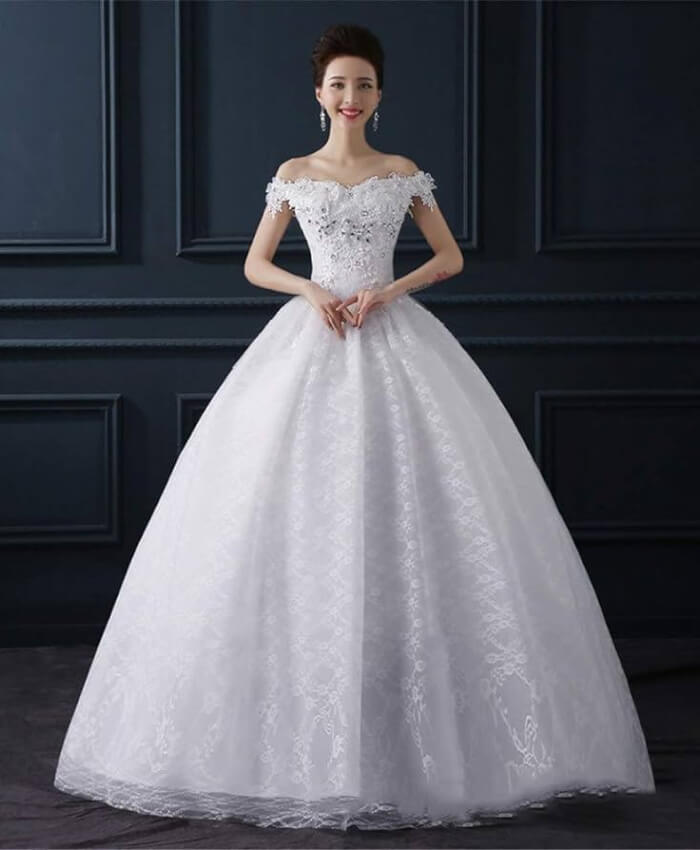 This dress features a well-fitted bodice and a luxurious, voluminous skirt, which adds to its overall appeal. Consider selecting this exquisite royal wedding gown as your outfit of choice for your celebration.

2. Royal Blue Elements
Are you interested in having an extraordinary royal wedding dress? If yes, then a dress with royal blue elements is for you. This designer dress for a royal wedding features an elegant royal blue element. These elements include embroidery, appliqués, and sashes. The royal wedding dress appears even more glamorous and attractive. So, if you're looking for a unique bridal dress, this is the one for you. A beautiful tiara with it will make you like a princess for sure!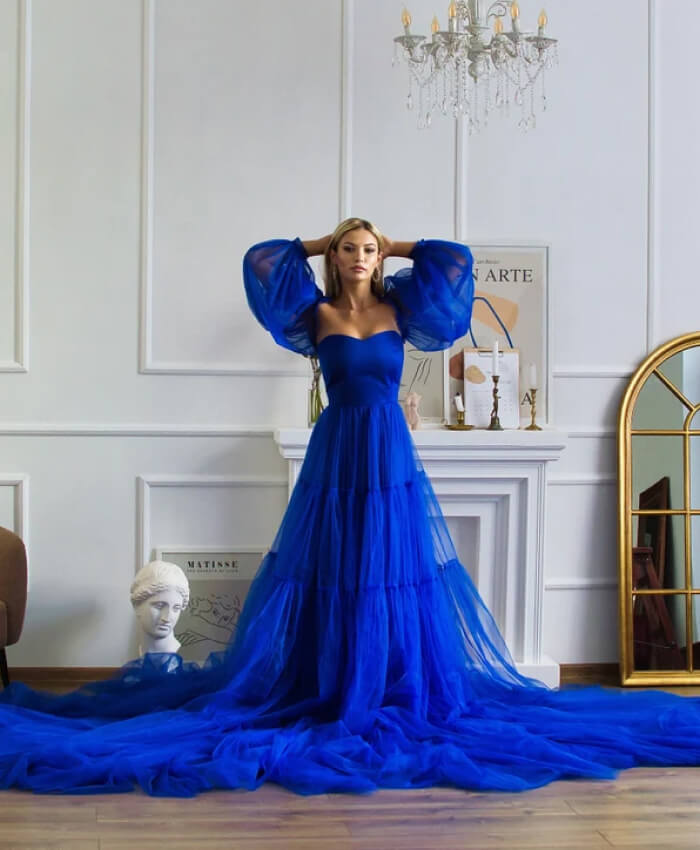 Image Source : colorsforwedding
3. A-Line Elegance with Beaded Bodice
The A-Line Elegance dress features a beautifully beaded bodice. If you are aiming for an elegant and timeless look on your special day, consider this particular style. The royal wedding dress is made unique by pairing it with a beaded bodice. This royal wedding gown typically differs from the usual ball gowns.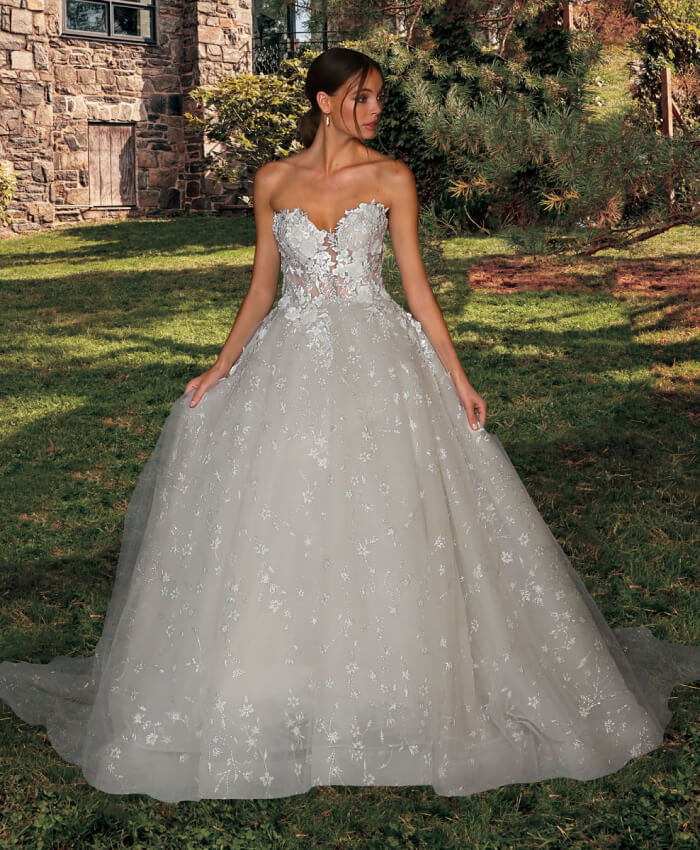 Image Source : kleinfeldbridal
The royal wedding gown features elegant flowing lines that exude a sense of romance and royalty. If you are not interested in wearing a regular ball gown, then this royal wedding outfit would be an excellent option for you.

4. Embellished Cathedral Train
Take your wedding look to the next level with an embellished cathedral train. This royal wedding dress will surely capture the attention you desire as a bride. The royal bridal outfit exudes an aura of opulence and grandeur, gracefully sweeping behind you. Every step you take while walking down the aisle in this outfit will exude regal splendour.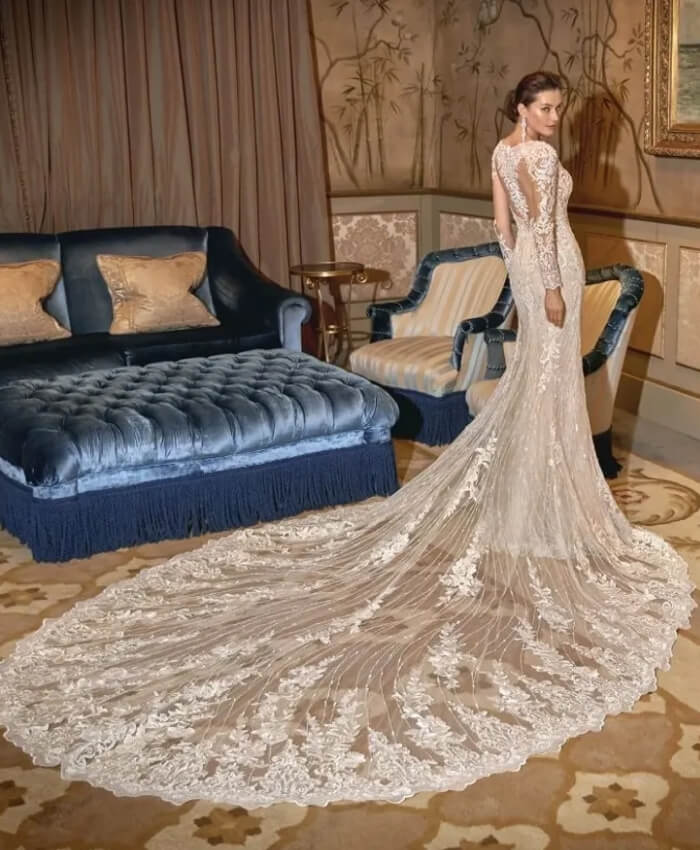 Image Source : lilymaebridal
Also See : Top 10 Latest Wedding Dress Trends and Styles For 2023
5. Duchess Satin and Silk Organza Opulence
If you desire a royal wedding dress crafted from opulent fabrics, then duchess satin and silk organza would be an ideal selection. This is a perfect choice for brides aiming for a classic and elegant wedding. This exquisite royal bridal outfit will make you look your best at your wedding.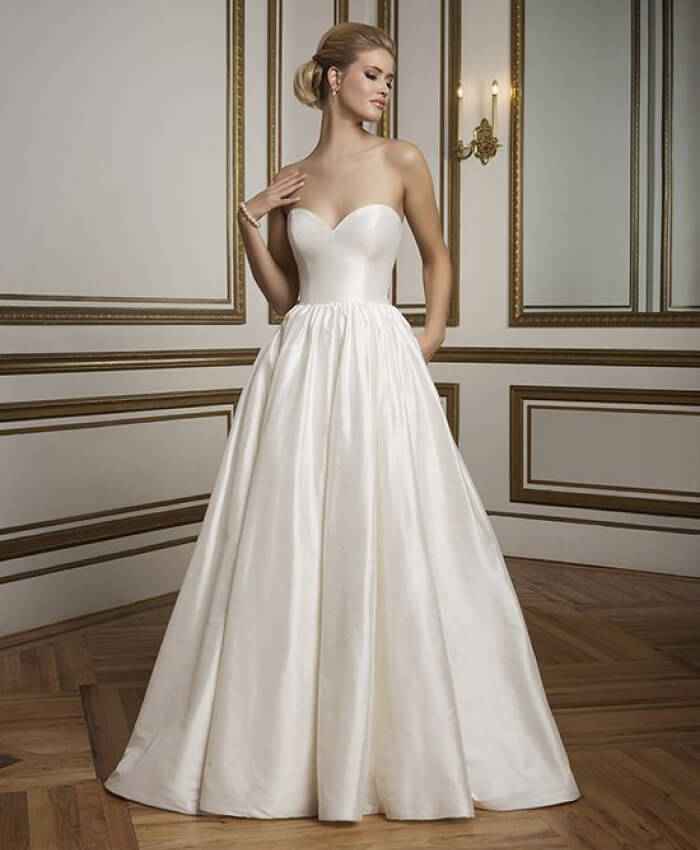 6. The Off-the-Shoulder Overture
If you aspire to look like a princess at your wedding, then this is the attire to look for. This elegant bridal outfit exudes a regal charm, making it a perfect choice for any bride. Additionally, it is accompanied by a fitted bodice that elegantly transitions into a flowing skirt. Consider this unique royal wedding dress for your wedding. The outfit will make you look absolutely stunning.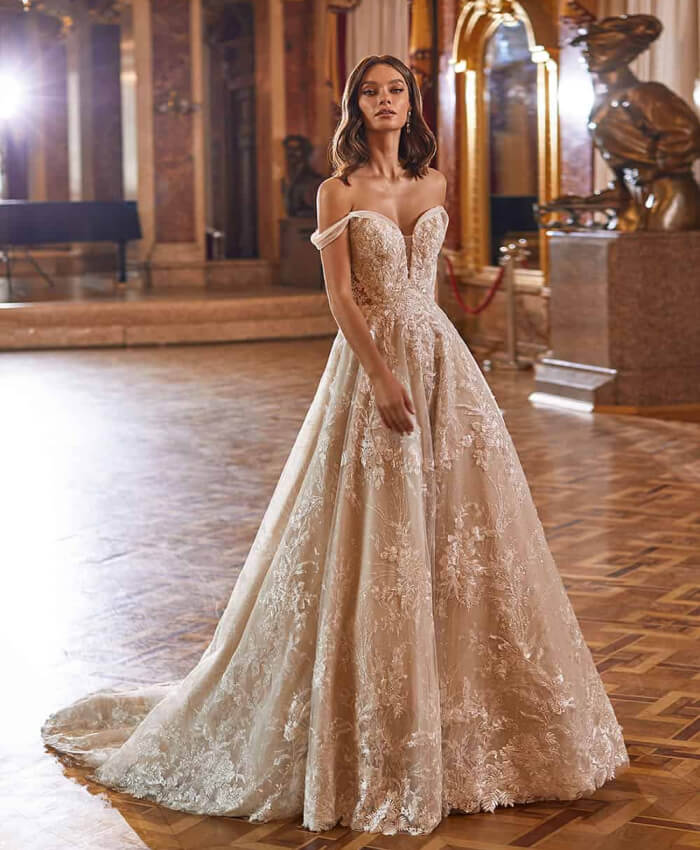 Image Source : ruffledblog
7. Floral Extravaganza
You don't necessarily need to wear white at your wedding. There are numerous ways you can enhance your wedding attire. And one of the ways is to have floral motifs on your wedding gown. Your wedding gown embellished with intricate floral embroidery will look exquisite.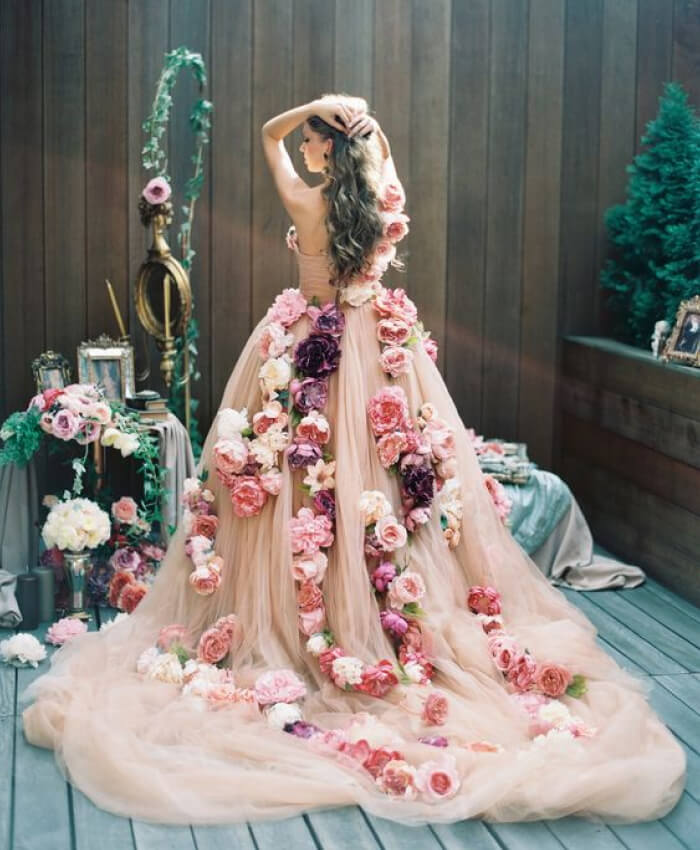 Image Source : bestenaar
This design enhances the natural beauty of your royal bridal outfit. If you are searching for a one-of-a-kind royal wedding dress adorned with nature-inspired designs, then consider this one!

8. Majestic Cape or Train
Did you know that there are detachable royal wedding dresses available?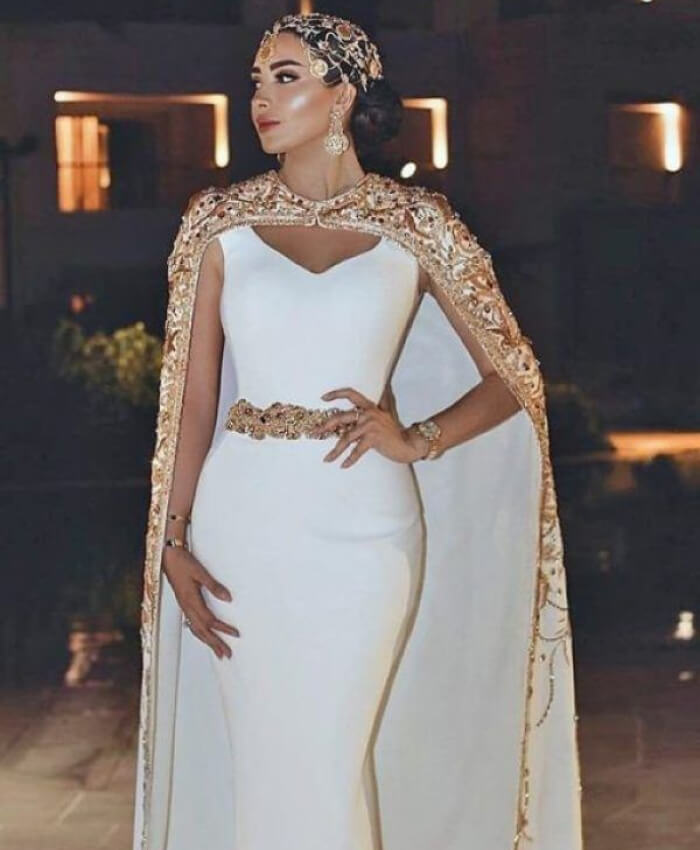 This royal wedding dress is truly unique as it offers the option to detach the cape or train from the back of the dress. This royal wedding outfit is adorned with intricate beadwork, delicate embroidery, and elegant lace. The addition of accessories to this dress enhances its elegance, making it the perfect choice for a sophisticated wedding. If you choose this royal bridal outfit, you will look like a queen.

9. High-Necked Regal Reverie
If you prefer a royal wedding dress that is not revealing, then this is the dress for you. You have the option to opt for a high-necked dress that is embellished with either beads or lace. The dress features a fitted silhouette and a sweeping train. You can even get this one tailored to your needs if you know a designer who can create a stunning piece for you.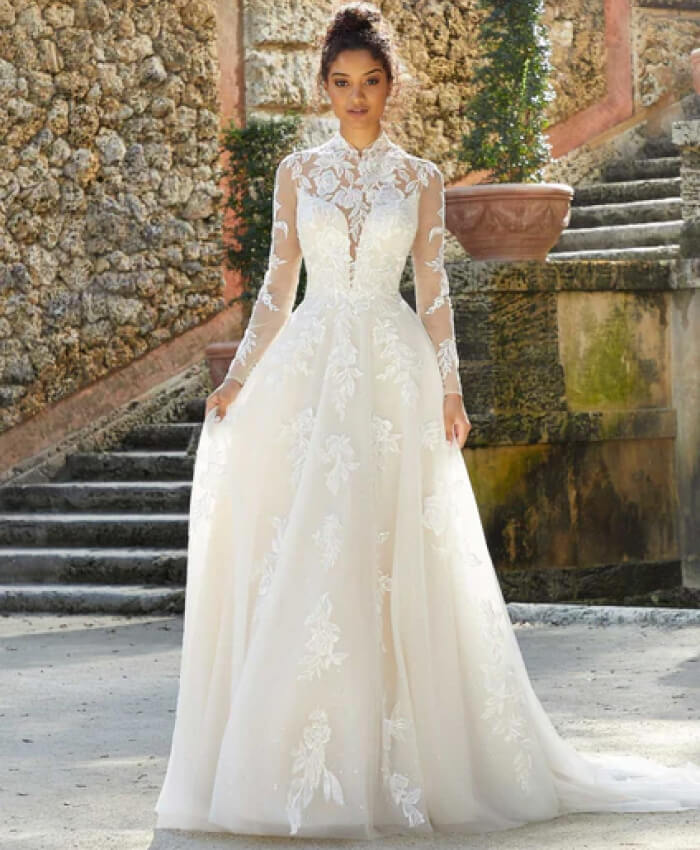 10. Custom Royal Couture
Get classy with custom royal couture! This exquisite bridal gown is another stunning addition to the collection of royal wedding dresses. You can get unique touches added to your gown to make it visually appealing. If you have ever dreamed of having a royal wedding, a designer can help turn that dream into a reality. Make sure to choose the right dress designer for your royal wedding.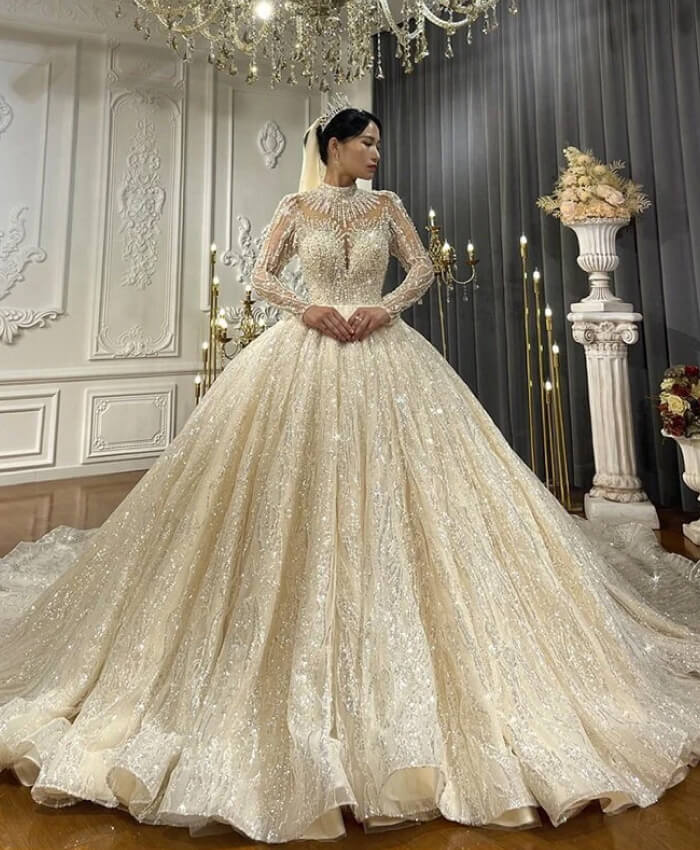 Image Source : Etsy
11. Princess Diana-Inspired Elegance
Did you know that there are dresses available that are inspired by Princess Diana's wedding gown? Yes, you can get exactly the same look at your wedding as well.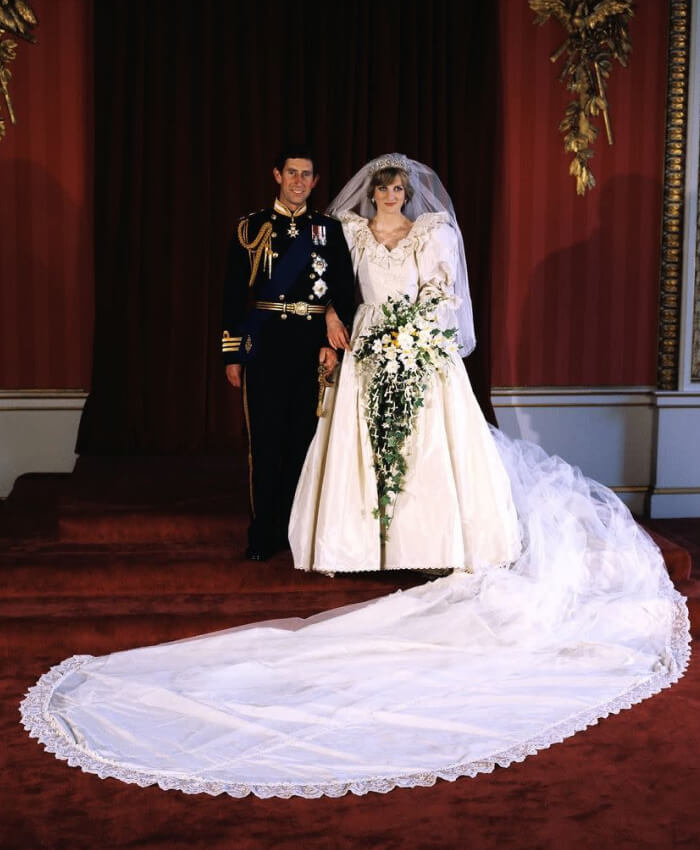 Image Source : yhoo
If you are a fan of Princess Diana's royal wedding dress, you can recreate the iconic look of this gown. The dress boasts beautiful details, including a dramatic train, puffed sleeves, and a fitted bodice. This unique style will give you an elegant appearance as a bride. You can't go wrong with this royal wedding gown.

12. Illusion Neckline and Back
This royal wedding dress features an illusion neckline and back. If you prefer adorning your neck with glittery designs rather than wearing a traditional necklace, this style is ideal for you. This royal wedding outfit features an elegant illusion neckline embellished with intricate lace and delicate beads.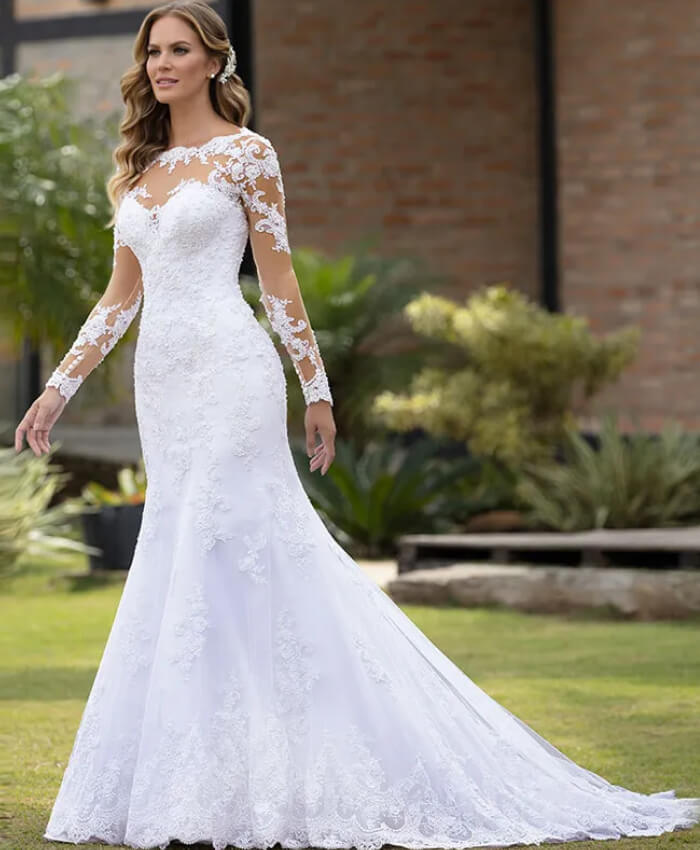 Image Source : eBay
The neckline of this royal wedding designer dress is stunning and attractive. The incorporation of various elements in the design of this dress adds a distinct and special touch to the royal wedding gown.

13. Empire Waist Gown with Flowing Chiffon Skirt
This royal wedding dress is absolutely perfect for a bride who aspires to have a princess-like look at her wedding. This style features a bodice that is attached below the bust and has a high-waisted design. This dress creates a flattering and elongated silhouette. The dress's flowing chiffon skirt is a popular choice among brides.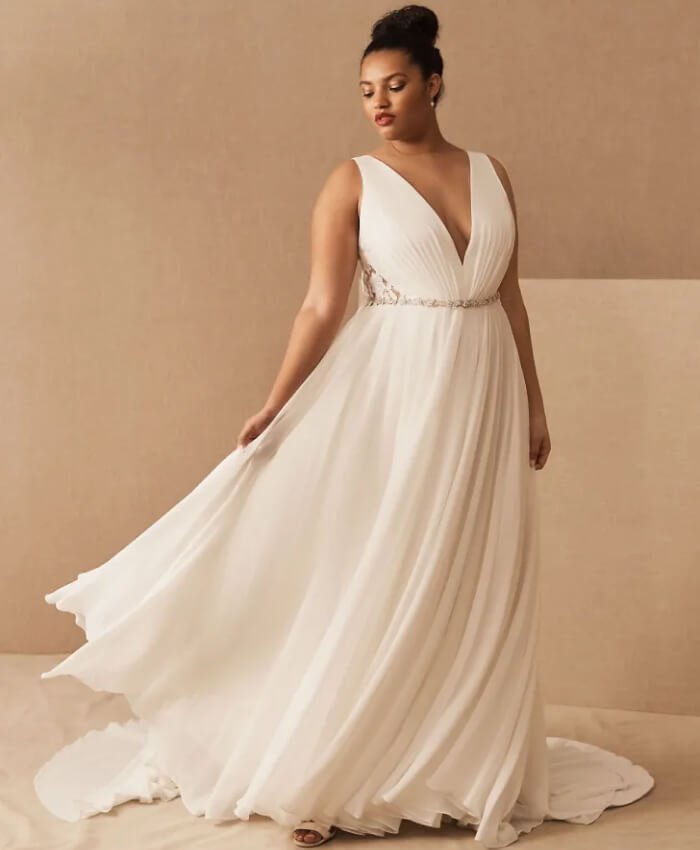 Image Source : greenweddingshoes
This design is ideal for the bride who seeks a stately bridal gown that is both romantic and visually striking.

14. Vintage-Inspired Gown with Art Deco Beading
If you want to have a vintage look at your wedding, then a vintage-inspired gown with art deco beading is perfect for you. It is yet another unique royal bridal outfit that exudes sophistication. A vintage-inspired gown adorned with Art Deco beading will make you look gorgeous at your wedding. This royal wedding dress is the perfect choice for a bride who desires a touch of luxury.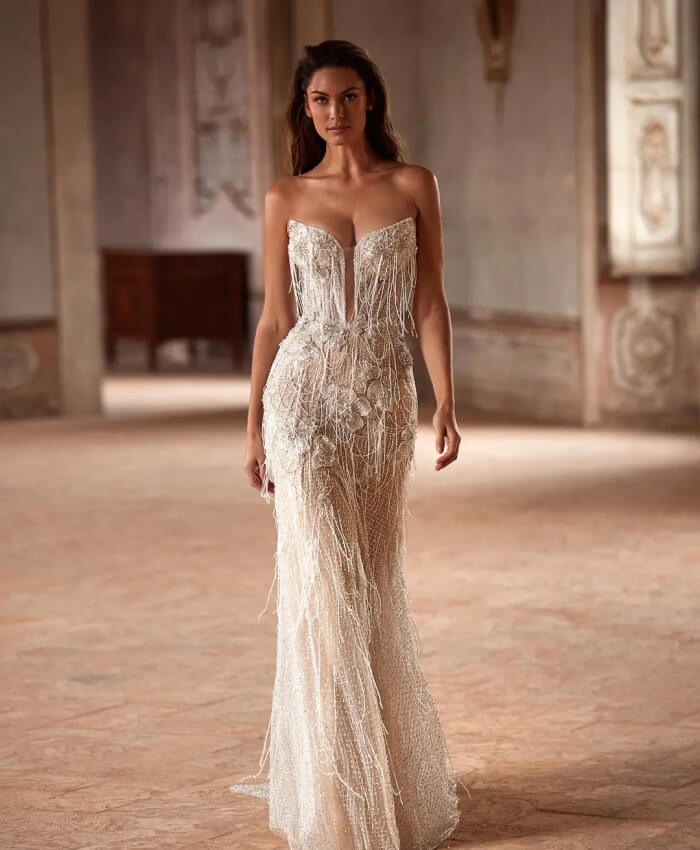 Image Source : weddingforward
This style is inspired by the Art Deco movement. The dress features distinctive geometric patterns, extravagant embellishments, and beads. If you desire a truly memorable bridal look for your special day, this style is absolutely perfect.

15. Romantic Ballerina-Length Gown with Tea-Length Skirt
If you don't want to go with full-length wedding gowns, then this is the dress that you can consider. This royal wedding dress for the bride is both charming and attractive. This style incorporates a blend of vintage elements. You will look absolutely stunning in this royal wedding gown.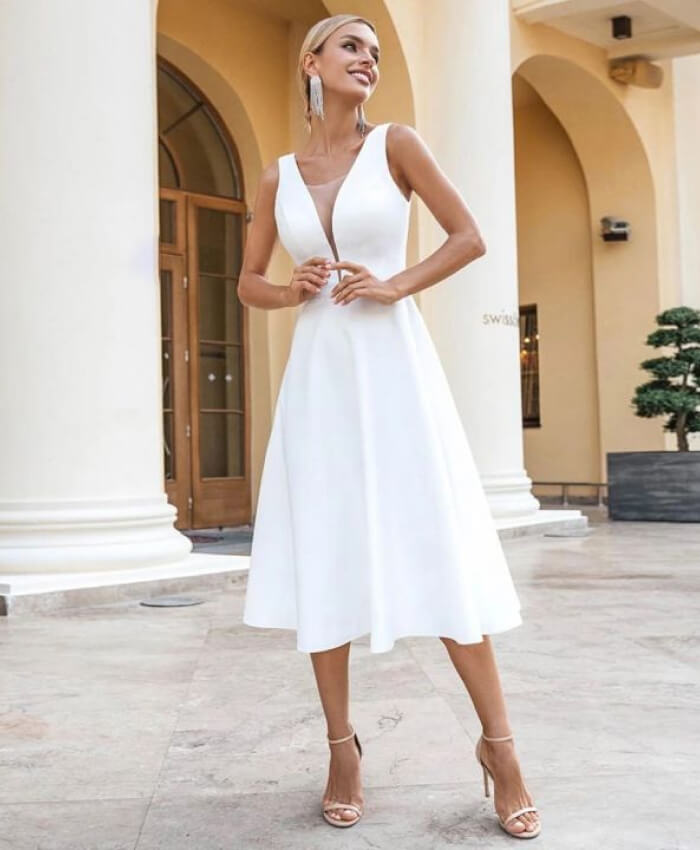 Image Source : aliexpress
The romantic ballerina-length gown features a tea-length skirt. In addition, it features a delightful combination of vintage charm and contemporary style. This is an excellent option if you want to appear elegant and classy on your special day.

16. Victorian-inspired Gown with High Neck and Bishop Sleeves
Who wouldn't love to have the elegant appearance that Queen Victoria demonstrated on her wedding day? For brides seeking a regal wedding dress, a timeless option is a Victorian-inspired gown with a high neck and bishop sleeves.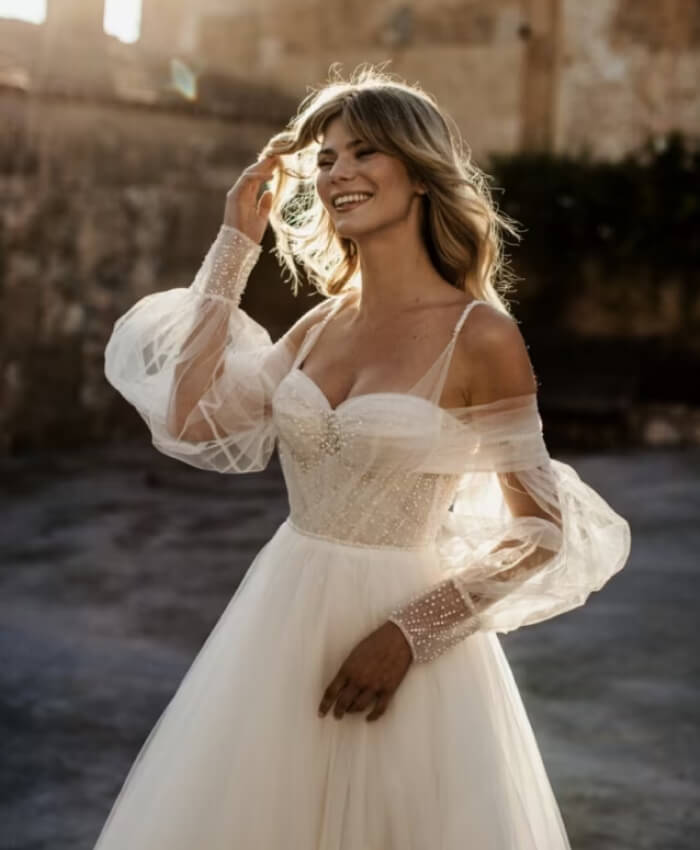 Image Source : weddingideasmag
This dress style originated from the fashion trends of the Victorian era and exudes both class and elegance. It is a perfect choice if you're looking for something simple, glamorous, and modest. This wedding attire features luxurious designs with intricate details that are sure to captivate your significant other. You can choose this elegant and tasteful royal bridal outfit, as it is both simple and refined.

17. Modern Two-Piece Ensemble with Embellished Bodice and Flowing Skirt
This modern two-piece ensemble features an embellished bodice and a flowing skirt. To achieve a sophisticated look on your special day, you may want to consider this particular style.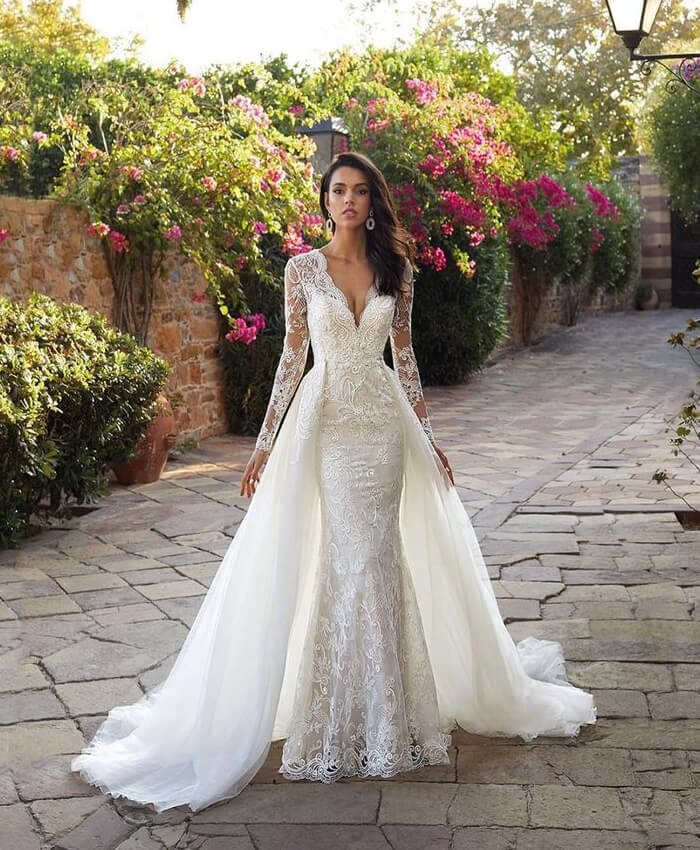 This gown is completely distinct from the typical traditional single-piece gowns. The bridal outfit offers customizable options for modern brides who want to have a contemporary look. This bridal style exudes elegance and modernity. If you're looking for a one-of-a-kind wedding attire, then give it a thought!

18. Regal Mermaid Silhouette with Intricate Beadwork
The regal mermaid silhouette wedding dress, adorned with exquisite beadwork, is a splendid option for a truly majestic wedding. The design features an elegant mermaid silhouette adorned with intricate beadwork. The dress showcases a one-of-a-kind style that beautifully blends a mermaid silhouette with exquisite beadwork. The royal wedding dress is an excellent option for brides who desire timeless wedding attire.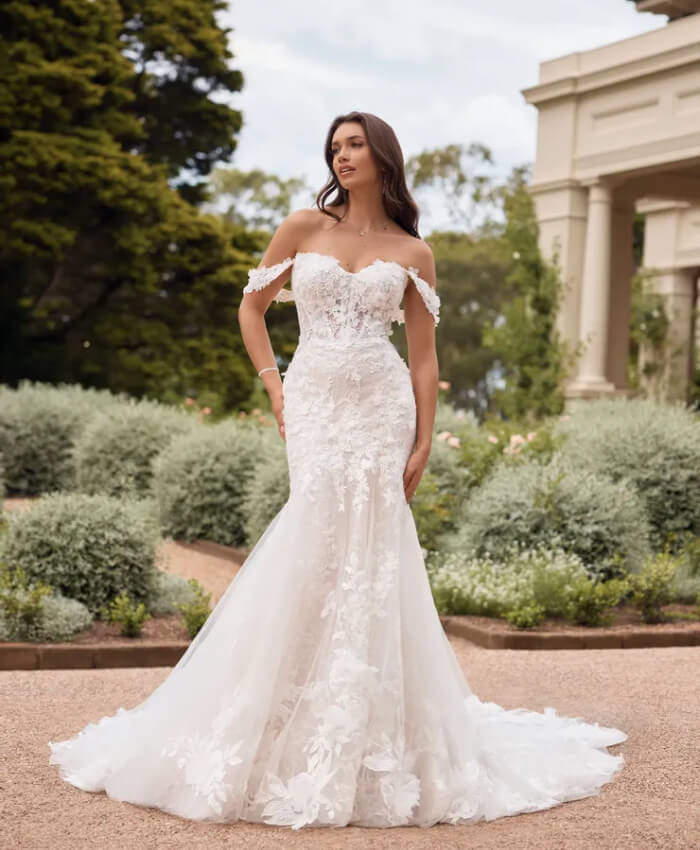 Image Source : sophiatolli
This outfit provides a stunning and opulent bridal look that will leave a lasting impression on your guests. You are sure to exude glamour, confidence, and elegance on your wedding day with this royal wedding attire!
The Bottom Lines…
So, there you have it: the 18 best royal wedding dresses for brides. We hope that this list will help you choose the perfect royal wedding outfit for your wedding. As a bride, it is important to be careful about your appearance on your wedding day.
Each style mentioned above is a magnificent masterpiece, meticulously crafted with exquisite embellishments. It is important to always remember that every bride is a queen. The royal wedding dresses listed here are exquisite examples of regal elegance designed to fulfill every bride's aspiration. You can browse through these designer dresses from the royal wedding and select your preferred choice from the collection.
On your special day, all eyes will be on you as the bride, so it is important that you exude sophistication. Take the time to select your royal wedding dress with great care, and watch as your dreams come true!
Thanks for reading!
Happy Wedding… 😊 😊