Every bride needs a wedding dress, whether it's a ball gown or a trumpet. Weddings are once-in-a-lifetime occasions in one's life, and looking unique and beautiful is every bride's priority, and no one wants to miss such an opportunity. 
Each year we get to see different wedding dresses trending, and the year 2023 is no different. Wedding dress trends fashions tend to evolve in tandem with the arrival of the wedding season. There are a lot of trending beautiful dresses for brides that will capture your attention. Some of these dresses are designed in different styles, some with sleeves while some are without. 
Here is our list of top 10 wedding dress trends for 2023. We are sure you wouldn't want to miss these beautiful collections.
Take a look…
Table Of Contents
First, it's important for you as a bride to consider some factors before choosing a wedding dress for your big day.
Let's talk a bit about some important factors you should consider while choosing a wedding dress and the best places you can check.

Factors To Consider When Choosing A Wedding Dress
If you want to look stunning in your wedding dress, it is essential to give serious consideration to the options you have. 
The magnificent experience of wearing a stunning wedding gown while making your way down the aisle is something that every bride dreams of having.
To accomplish this and to make sure your day is one that you will always remember, it is essential for you to take into consideration the following factors:
First, you need to begin your search for a wedding gown early so you can choose the dress of your dream. 

Work with a budget for your wedding dress, so you don't exceed it. Any dress you should get ought to be within the range of your set budget.

You need to have a picture of what kind of wedding dress you will like to wear on your big day, so you don't get confused. And the best way to do it is to create a Pinterest board. You can have all your ideas of your dream dresses in one place so that making a decision is quite easier.

Other important factors to consider while you buy your wedding dress are the venue and the season of your wedding. 

You should also consider your body size and shape before deciding on the style of the wedding dress. 

Last but not least, the type of fabric you would want should also be considered.
Also See: 23 Things to Know Before You Go Wedding Dress Shopping
Best Places To Buy Wedding Dresses Online

Are you looking for a stunning wedding dress for your big day, but you're not sure where to buy it? 
There are numerous offline and online bridal stores where you can buy your wedding gown from. However, the internet continues to dominate as the most popular choice. There are a great number of online wedding dress designers located all around the world who are reliable.
They feature a wide selection of silk bridal gowns, as well as casual and shorter dresses in a variety of styles. 
The following is a list of online retailers from where you can buy a wedding dress, should you so desire:
Etsy

Net-a-Porter

Moda Operandi

Matchesfashion 

BHLDN

Reformation

Fame & Partners

Nearly Newlywed

Still White

ShopBop

Shona Joy

ASOS

LoveShackFancy

Free People

The Outnet
Top Wedding Dress Trends for 2023

Even though there are so many different designs of wedding gowns, there are still some wedding dresses that are trending for 2023 that you can choose from. 
The following is a list of wedding dress trends for 2023, take a look…

1. Colorful Florals
You may rest assured that wedding gowns with flower motifs are available to you if this is a style you enjoy wearing. Colorful floral wedding gowns look trendy and timeless. These dresses feature lovely and vibrant flower designs all over, making them ideal wedding dresses for a beach or outdoor wedding.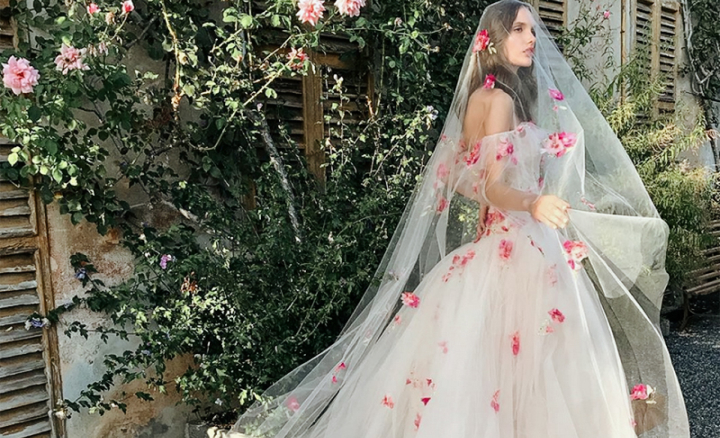 These bridal gowns are popular now, and they will remain so until at least 2023. Many brides are drawn to the design's novel concept. You can choose to let your gown do the talking on your special day by wearing this one.

Also See: Trendy Plus Size Cocktail Dresses for Wedding Guests
2. Straight Necklines
Dresses with a straight neckline are a popular choice among many women. You, too, can get this dress if you are one of those people and wear it on your wedding day. It has a contemporary look, and a lot of fashionable women really appreciate it due to the clean lines that make it look unique It's unique and beautiful, so you can go for this outfit for your big day.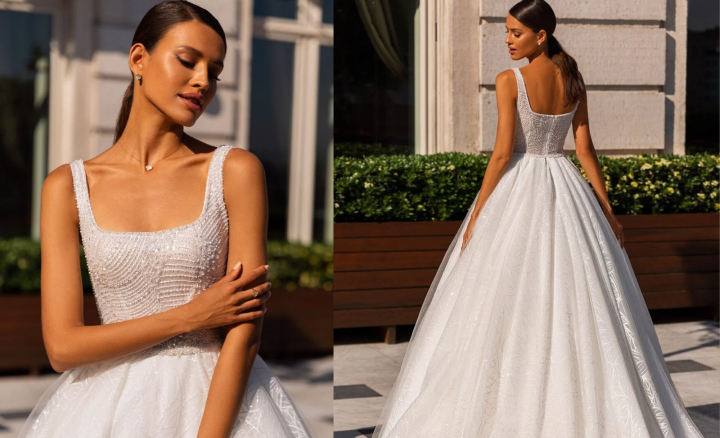 3. Chiffon Rosette Wedding Gown
Most 2023 brides love chiffon rosette wedding gowns. These gowns look beautiful and delicate. Chiffon rosette is a very light and easy-to-carry fabric, which makes for stunning wedding dresses. It is an ideal wedding dress for those looking for a simple yet elegant gown for their BIG DAY. This wedding dress is trending and will linger to 2023 so getting one is not a bad idea.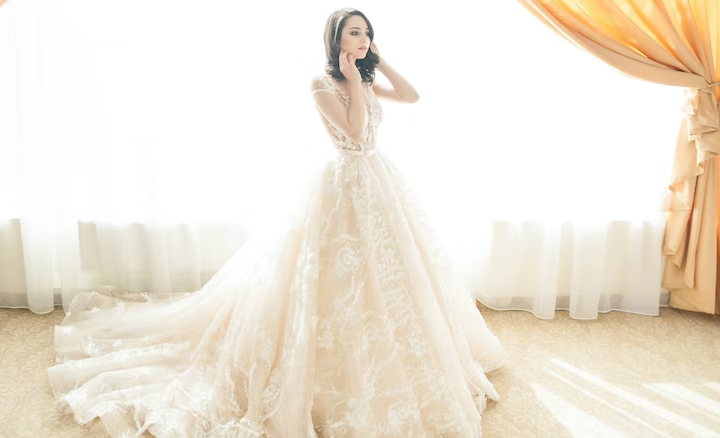 4. Ball Gowns
Ball gowns never go out of fashion, whether in 2023 or even further in the future. Most brides love to wear a ball gown for their wedding. Ball gowns make brides look like princess; that's the reason most brides prefer wearing these gowns on their special days. You can go for this as it will never go out of trend. If you want to look opulent, then consider giving this a try.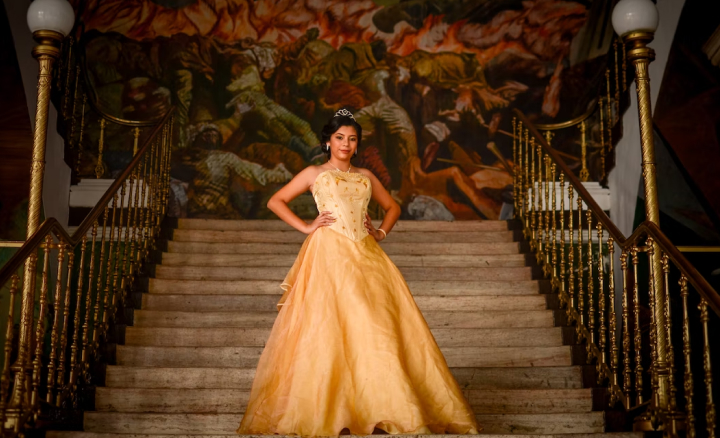 Also See: 21 Most Beautiful Traditional Wedding Dresses Around The World
5. Short Wedding Gowns
Sound unusual? But it's a trending wedding dress for 2023. If you're planning an opulent wedding in a secluded beach, then this is the dress for you. You might not like the large, big, flowing wedding gown. You might love to appear simple on your big; it's understandable. Getting a short wedding gown is simply unique and also the best. It's less stressful, and you can be free to do whatever you want on your big day.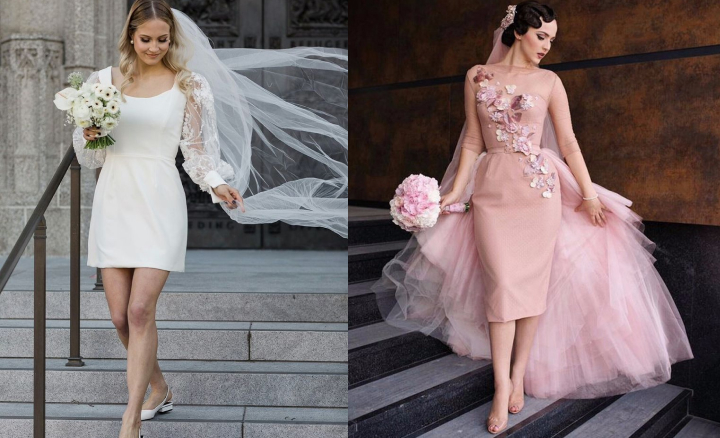 6. High Slits
Do you want to look hot in your wedding dress? A high-slit wedding dress is the one that you can opt for. High slits are one of the top wedding dress trends for 2023. It can be designed to be either short or long, depending on what you want.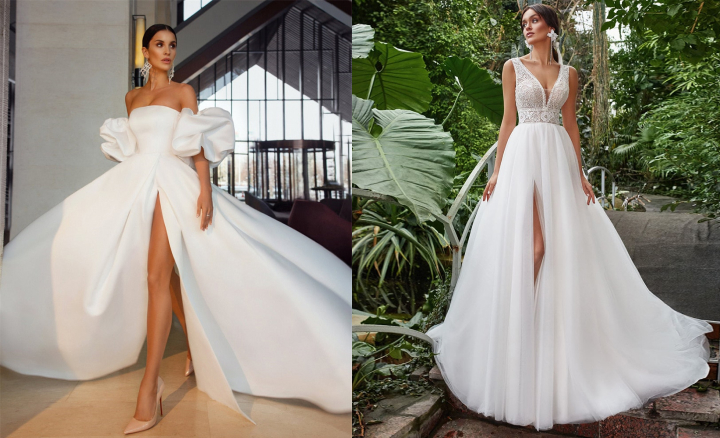 Related Post: 15 Elegant Mother Of The Groom Dresses
7. Mock Necks
If you are looking for a wedding dress design that is unique and different from the rest, then this is the one for you. A high neckline can look quite lovely while also creating the impression that the bride is more demure. It's a lovely dress you will appreciate if you go for it.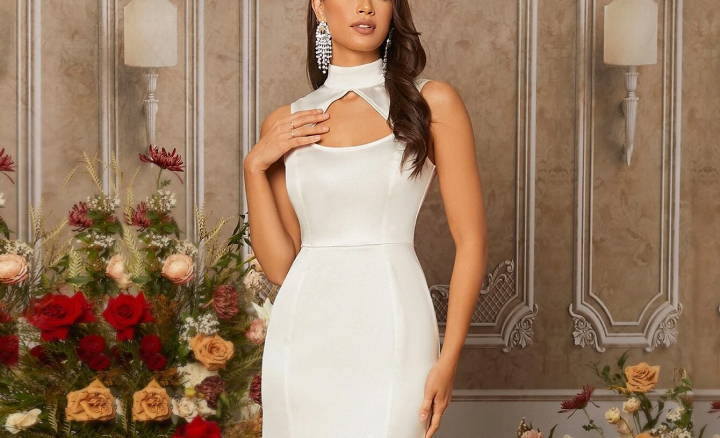 8. Asymmetrical Necklines
This is another stunning and elegant wedding dress that you can choose for your BIG DAY. It's one of the trending wedding dress styles for 2023. This was launched during bridal fashion week. Trust that this wedding dress will make you look even more beautiful.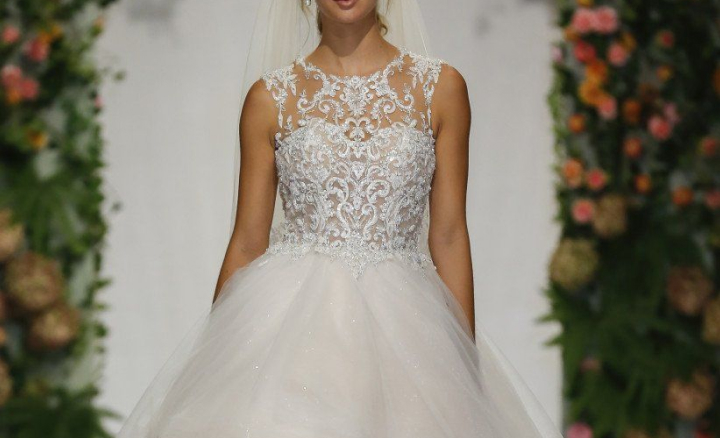 9. Open Backs
Open backs are very much in trend today. This is a great way to flaunt your sexy back and let the world know you fear nothing at all. Most modern brides choose dresses that make them look gorgeous on their wedding day. If you're not afraid of showing your skin, then this is the dress for you. It is an ideal dress for an intimate wedding celebration with just a few close members.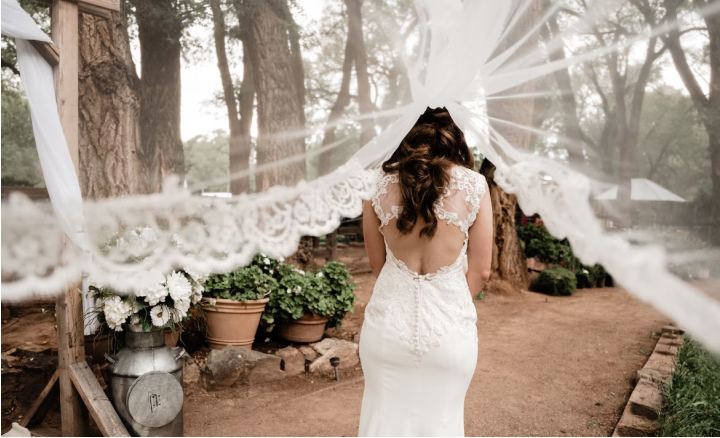 10. Bridal Suiting
Don't you want a gown? Not a problem! 
On this momentous occasion, you are free to adopt whatever level of ease best suits you. 
The fashion industry for bridal gowns has evolved beyond traditional ball gowns in recent years. You have the option of wearing a chic dress that is made to look like a jumpsuit or a pantsuit. It is becoming increasingly usual for brides to celebrate their wedding day without wearing a traditional bridal gown. You should give this a shot because it will make you look remarkable and distinctive.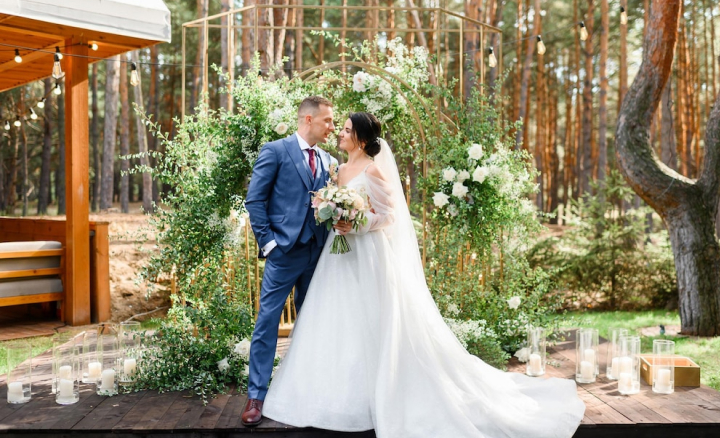 Cost Of Trending Wedding Dresses for 2023
I'm sure you've given a lot of thought to what you want your wedding dress to look like. 
Now that the big day is almost here, it is time for you to get one in preparation. 
The issue that needs to be answered is, how much will it cost you to get a wedding dress that is on trend for the year 2023?
Renting a wedding dress is a popular alternative to purchasing one for some future Mrs. It makes no difference whether you choose to buy or rent a dress for your wedding. On the day of the wedding, nothing is more important than how sophisticated you look as the bride.
Year 2023 is the year of a large number of high-end wedding gowns, each of which will make the bride seem absolutely lovely. 
We have no doubt that you also want to look absolutely lovely on the day of your wedding. Your budget plays a crucial role when it comes to buy a wedding gown. Yo
u have the option of purchasing a gown from a well-known designer or making your own. It is entirely dependent on the budget that you have set aside for your dress. For instance, the price range for a typical wedding dress is between $1,2400 and $2,900. Luxury wedding dresses typically cost between $2,000 and $4,000; however, this price range can go up to $4,000 if you choose to get your gown from a designer label. 
However, there are a few of the dresses that are significantly more expensive, at $10,000 to $14,000.
We suggest opting for the one that best fits your needs and is in your budget. You don't need to overspend in order to buy a wedding gown. You can always buy one in your budget and look your best on your BIG DAY!
Wrapping it up…
So, these are the top 10 wedding dress trends for 2023. You can consider buying any of these dresses. All you have to make sure is that your wedding gown is within your budget and looks beautiful on you. 
Frequently Asked Questions
When Is The Perfect Time To Get Your Wedding Dress?
After your engagement is finalized, you are free to start looking for a wedding dress. It is always good to start looking for a wedding dress at least 6 months prior to your wedding date. This is due to the fact that finishing touches, customization, and other processes on a dress take some time. 
Are Veils Common These Days?
Yes! Veils are still used by some brides, despite the fact that they are not required by the wedding dresses that are in style for 2023. 
However, this is also dependent on the type of dress that you decide to wear. For instance, if you choose to wear a jumpsuit instead of a gown for your special occasion, you might not need to wear a veil.
Can You Put On Any Other Colour Of Wedding Dress?
Yes! You can wear a pink or blue wedding dress apart from the usual white one.
Happy Wedding… ☺ ☺