While they don't have to completely match, the groom's attire has to complement the bride's gown in some way. It can be difficult to dress a groom but there are ways to achieve harmony while still showcasing each other's personalities.
Check out these genius tips for matching your groom's attire with your wedding dress and style:
Princess Ball Gown/Mermaid Dress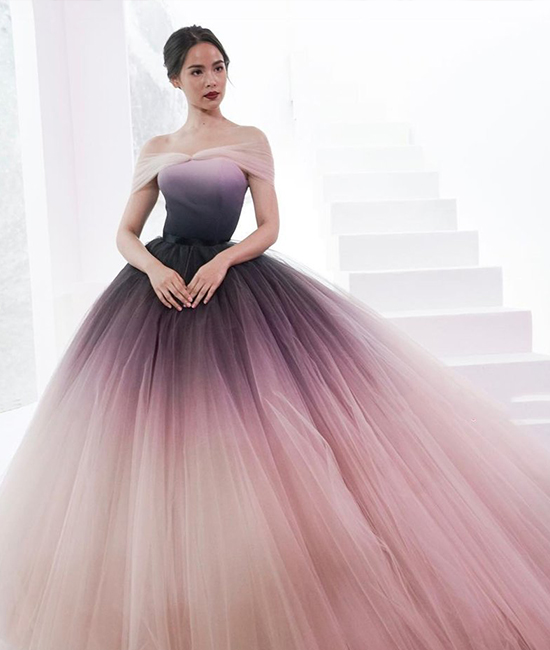 Ball gowns, commonly known as "princess" gowns, are known for their royal appearance. This gown has a fuller, voluminous body paired with a fitted bodice.
If you're wearing a princess ball gown or mermaid dress at your wedding, you want your groom to match the sophistication and drama of your dress.
⇒ Black Tuxedo for Groom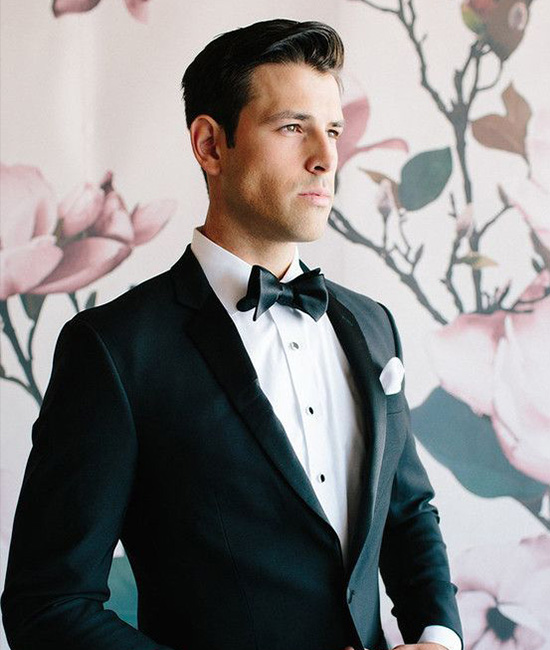 There's nothing more sophisticated and fit for a royal than a black tuxedo. At first glance, tuxedos and suits look pretty much the same. However, a tuxedo isn't just a black suit that's worn with a bow tie. The main difference between a tux and a suit is that the latter uses silk satin most prominently on the lapels.
When choosing a tux jacket, the details make all the difference. Dress it up or down by choosing a different style for the notch and peak lapels, and the shawl collar, or by choosing a double-breasted jacket instead of the traditional tux.
A-Line Dress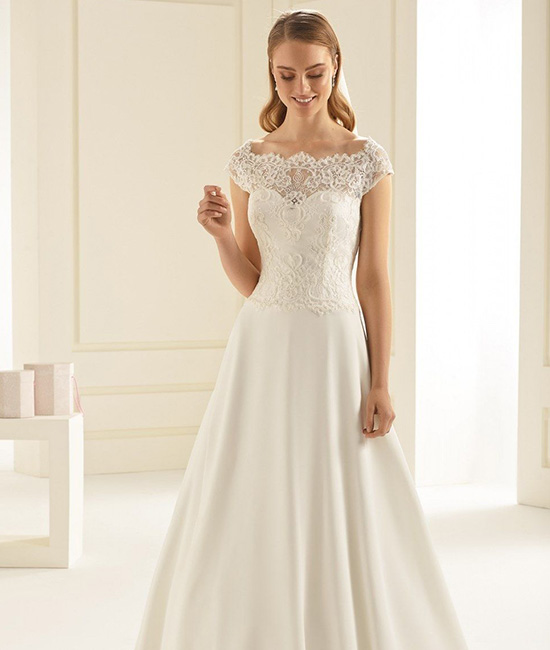 An A-line wedding gown is characterized by the silhouette of the skirt. It's typically fitted at the hips and flares out from the waistline, which creates an A-shaped shirt. This wedding gown can be made of varying fabrics, necklines, and styles.
The amount of embellishment on the dress dictates the level of formality. This means if you have a more elaborate gown, you want your groom's attire to match it.
⇒ Dark Tux or Suit for Groom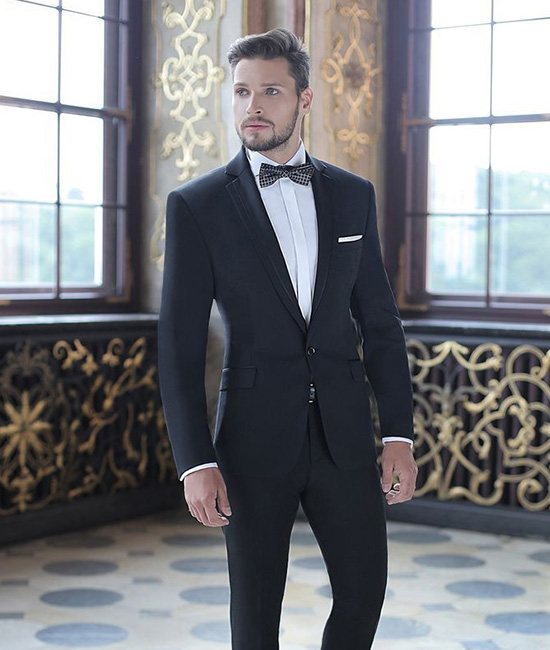 A wedding gown with lots of details will complement a more formal groom attire, such as a black or a midnight blue tux.
If wearing a simpler A-line dress, a suit is enough. Tan suits are relatively casual, so they're perfect for daytime weddings. Meanwhile, navy suits are great options for fall weddings that start in the evening. It's also quite easy to accessorize a navy suit for a low-key look.
Tea-Length Dress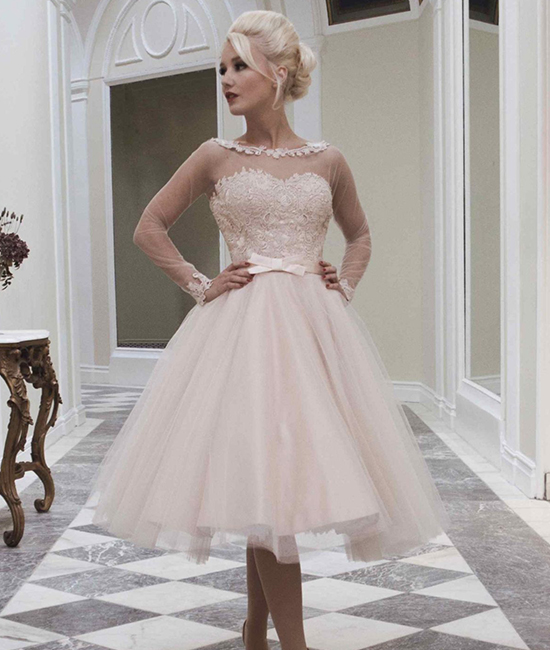 Tea-length wedding dresses are meant for the brides who love a vintage wedding look as well as those who want to be unique. A tea-length dress is a bit longer than the knees but it should always be above the ankles.
⇒ Colored Suit for Groom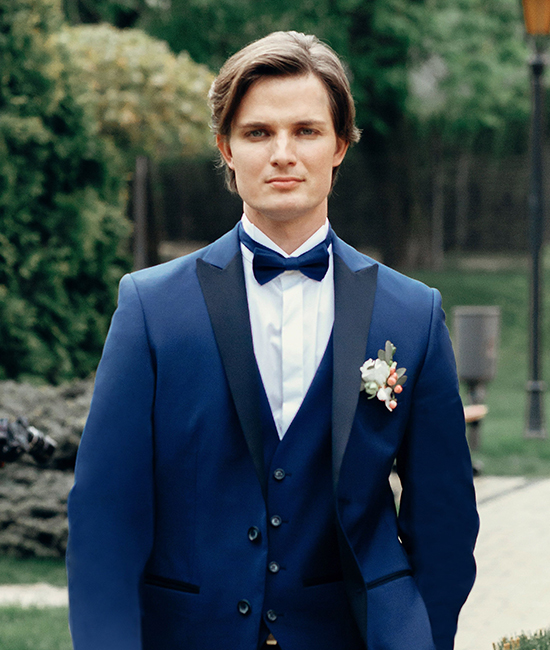 Since Tea-length dresses are for the non-traditional brides, grooms can also break the tradition by wearing colored suits.
Not all grooms like to wear classic wedding attire, and it goes double when it comes to popular colors like black, grey, and dark blue.
Popular picks include burgundy, emerald, rust, red, purple, and pastel colors. Depending on your wedding style, your groom can wear a black or neutral tie or a printed shirt and bow tie for a whimsy look.
Don't forget about the shoes. Whatever the style or color of the suit, men's dress shoes should be classy, stylish, and modern. Black, brown, or grey shoes are more likely to suit every outfit.
Slip Dress/Daytime Wedding Dress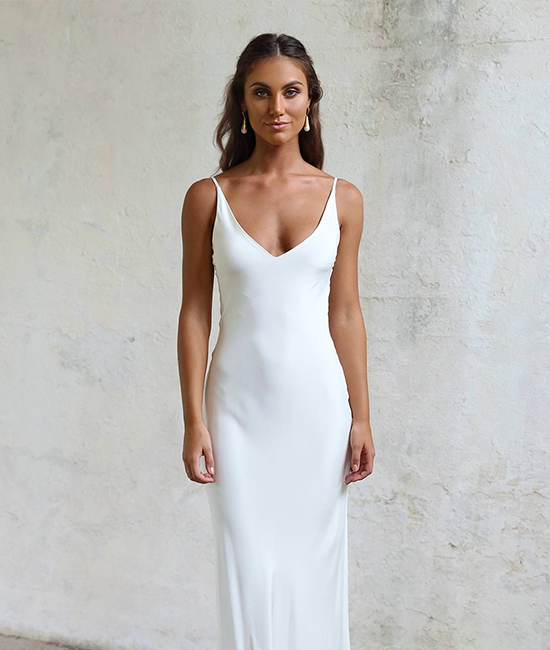 A slip dress is designed to resemble an underslip or undergarment. It's a popular dress style among minimalist brides. It also comes in a myriad of styles, from luxurious silk fabrics to body-skimming silhouettes.
⇒ Light-Colored Suit for Groom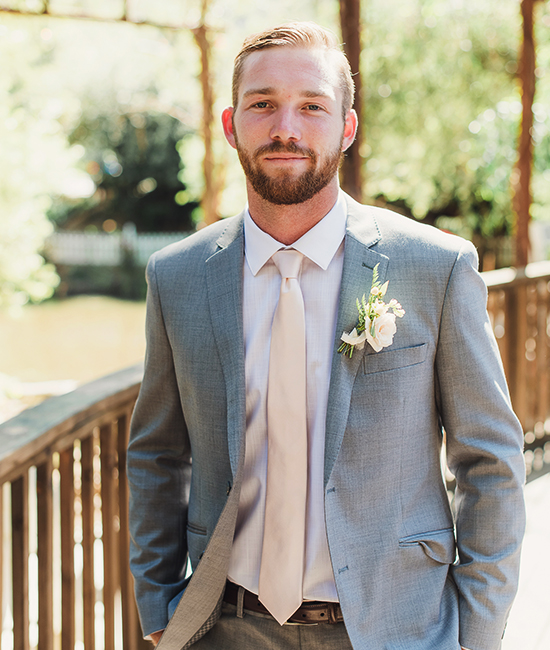 Light-colored suits are perfect for daytime weddings in the spring or summer. Light grey color, for instance, will absorb heat and keep you cooler.
The overall style of your venue is important as well. If you're going with a light-colored style, you can use neutral, beige carpets and rugs to decorate your venue and make it more complete with the wedding color scheme.
Colored Dress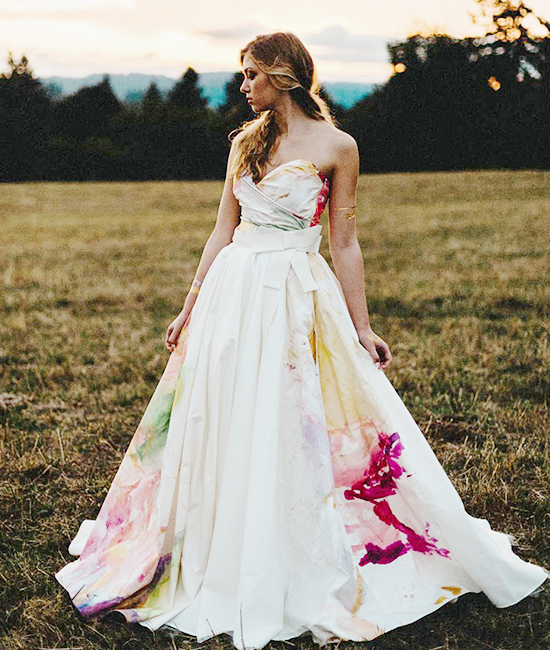 Modern brides are opting for unique wedding dress styles, such as colored dresses. Some of the most popular options are shades of nude, light blue, blush, pink, soft grey, lilac, and even black.
⇒ Neutral-Colored Suit or Tux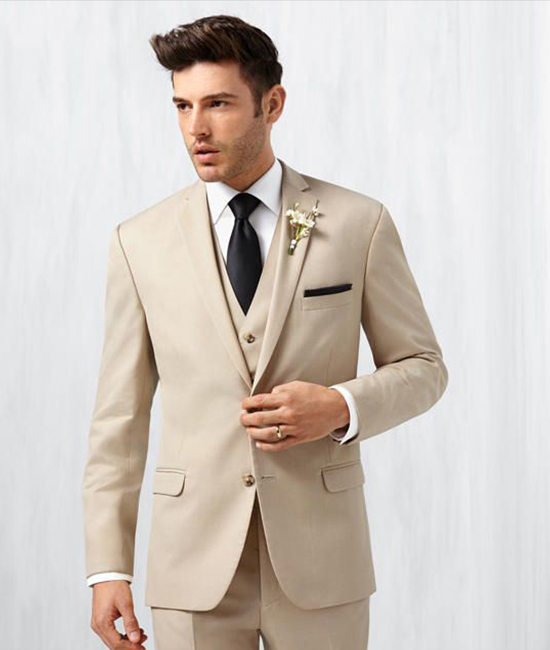 To avoid a clash of colors, the groom should wear a neutral color such as black or grey suits. These colors pair nicely with any dress color. For an even matchy-matchy look, wear a tie or pocket square in a complementary color.
Conclusion
Matching your groom's attire to your wedding dress shouldn't be that difficult. By keeping in mind these tips and ideas, you and your groom will surely shine through as you both walk down the aisle.