When it comes to deciding about 'destination wedding' location," people have almost all the national and international locations to name except once touted 'Heaven on earth'. Yes, hardly anybody will name Kashmir for their wedding, it is barely on our mind. And that's true that Kashmir was not safe sometimes back, but now is the time to live your dream and get hitched in this dreamy location. Undoubtedly, Kashmir makes for the perfect location for a unique experience and the most romantic and a gorgeous destination wedding.
Weddings are a once in a lifetime events, full of fun and frolic. It doesn't matter what type of wedding you are planning, your wedding will always be full of pompous. Weddings in India is a week long gala time for people. And for the past few years nor, destination weddings are catching up. For, destination weddings offer unique wedding celebrations along with spending the most relaxing time with near and dear ones. And when it is about your destination wedding, why would you not want to say 'I DO' far away from the chaos of your city, amidst the serene environs of Kashmir. Yes, we are talking very much about the most beautiful wedding destination not only in India, but also in the world – Kashmir.
The beauty of Kashmir is unmatched. And the best part is the situation in Kashmir is alright. Here in this article we will share with you the reasons, "Why you should not consider any other place but the heaven on earth as a destination for your wedding."
Here we go…
1. Kashmir – 'Heaven on Earth'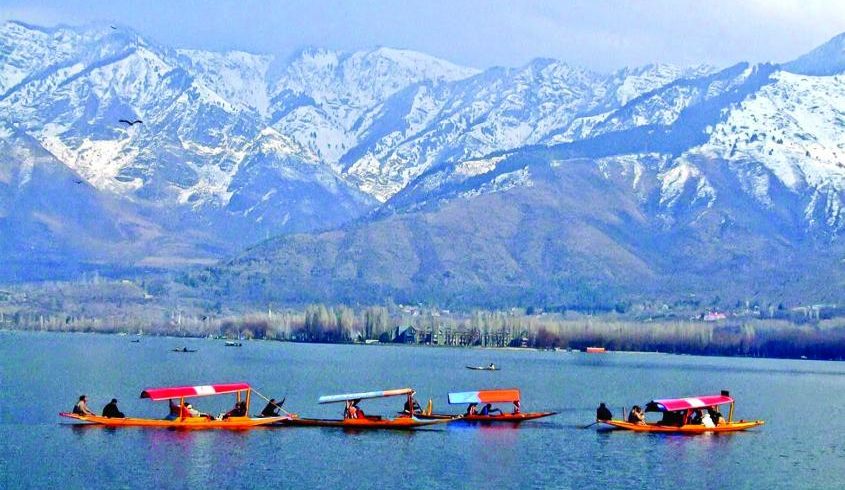 You must have heard this many a time, "Gar firdaus bar-rue zamin ast, hami asto, hamin asto, hamin ast," which means "If there is a heaven on earth, it's here, it's here, it's here." This was said by the Mughal Emperor Jehangir when he visited Kashmir in the 17th century. And the saying still holds true about the place. Kashmir is heaven on earth. Despite political conflicts and terrorism in the valley, it has managed to captivate people's attention from across the world.
Before political conflicts and other issues in Kashmir, it had always been a major tourist destination in India. The place is mesmerizing, its magical grandeur takes you to a different world altogether. Kashmir is a beautiful gift of nature to mankind. Being here simply means being close to your inner self, for, this place is most serene and most heavenly. Besides its charismatic natural surroundings, the place has a lot to offer to one and all. Just imagine your wedding in a houseboat. What all you are looking for making your wedding a perfect one, Kashmir has it all!!
2. A perfect vacation for your wedding guests
Your wedding in Kashmir will not only be a memorable one for you and your partner, in fact your wedding will be a perfect vacation for your wedding guests too. They will also not forget this trip all their life. Kashmir is the perfect location for making your guests more than happy. Your guests will have a lot of stuff to do in Kashmir from a romantic ride in shikara at Dal Lake to a quick trek to the mountains, a leisurely walk in the Mughal Gardens to a stroll to lush green meadows. They will love to experience the blooming flower beds, frothy rivers, beautiful valleys, Kashmir has it all to make your guests lost amidst the breathtaking beauty, which they will cherish all their lives. Also, the place has it all that can turn your wedding experience to the most memorable time of your life.
Related : Tips to Make Your Wedding Guests Happy
3. Enjoy the Most Ethnic Place
If you want to make your wedding an ethnic experience then Kashmir is the place. The 'paradise on earth' gives you myriads of options to turn your wedding to an ethnic ceremony and make your destination wedding unique. Ever since the situation has become normal in Kashmir, the place has emerged as one of the best wedding locations for a destination wedding. Hence, many wedding vendors and planners have emerged too. You can make your destination wedding distinct from the usual or normal affairs by wearing an ethnic Kashmiri attire at your wedding. These attires not only look stylish but elegant as well. The place has many designers who can help you get the best outfit for your wedding.
4. Enjoy the Most Authentic Cuisine of all Times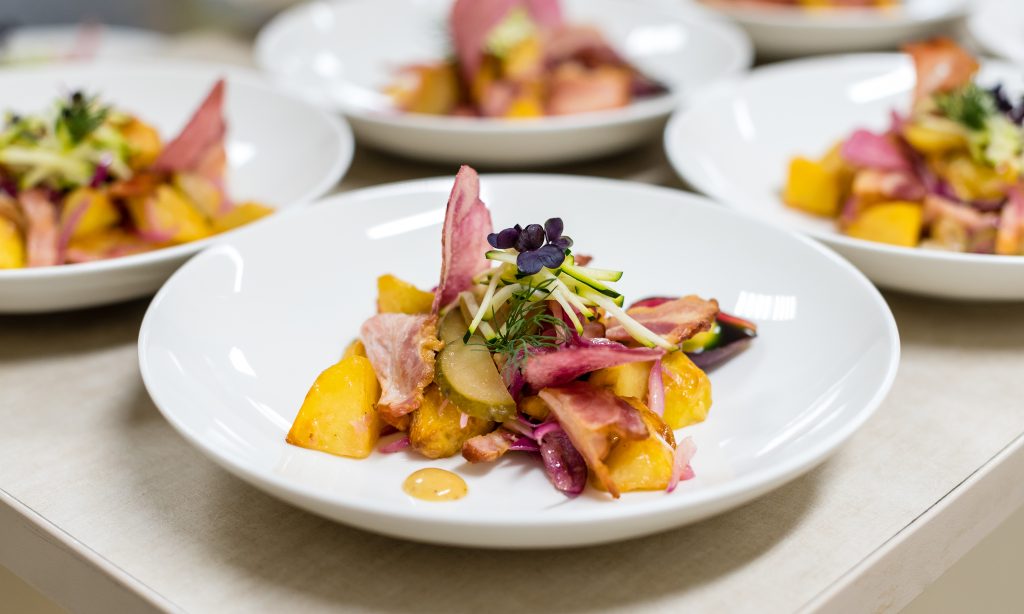 When in Kashmir, food is not a problem as the place offers you the most authentic cuisine of all times. I am sure you must have tried food from almost all the nations, such as Thai, Chinese, Italian, Mughlai and many more, but the taste which the very own Kashmiri Cuisine has is unique. Kashmiri cuisine is one of a kind, which you and your guests will remember for a lifetime. Kashmiri food is cooked with freshly plucked herbs, which is further served lavishly in authentic Kashmiri style. The aroma of both vegetarian and non-vegetarian delicacies will tickle the taste buds of even non foodie guests at your wedding. Popular Kashmiri delicacies are: Rogan Josh, Modur Pulav, Matschgand, Yakhni or Yoghurt Lamb Curry, Dum Olav, Kashmiri Muji Gaad, Aab Gosht, Lyodur Tschaman etc.
5.The Place if Full of Wedding Planners and Wedding Vendors
As the valley's situation is alright, because of which many wedding planners and wedding vendors have emerged. It is now easy to plan a destination wedding here in Kashmir. With the growing number of destination weddings world-wide have given rise to wedding vendors and wedding planners in the valley too. You don't have to worry while you plan your destination wedding in Kashmir as the place offers you myriads of professional wedding planners and wedding vendors who are perfect enough to take care of all your wedding needs. They understand that your wedding is a once in a lifetime event and they are also there to let you the best of the experience.
6. The Place has Most Friendly People & The Best Hospitality
Kashmir has always been known for its people, people in Kashmir are very friendly and good hearted. The level of service you will get here will not be anywhere else. For, the place is known for its friendliest people and best services. "There's nothing quite like Kashmir: you have to see it to believe it. Kashmir itself is mesmerizing as the lakes and mountains make for an unbelievable backdrop. Besides, when it comes to hospitality, no other city, state, or the country can beat Kashmiris. You and your guests will be taken care of properly. Kashmir will make your wedding and the experience the easiest task for one and all.
7. The Traditional Culture of Kashmir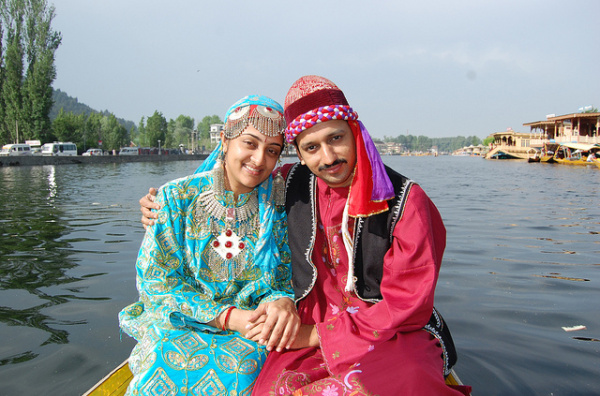 If you want to enjoy the traditional culture of Kashmir then destination wedding in Kashmir is the only way to live that culture to the core. Just imagine live music on your sangeet night will make your wedding a memorable one. Let yourself and your guests tap their feet on the tunes of local music of Kashmir. Or plan your sangeet night a little different this time and have some real time players playing Kashmiri music, along with sarod, jal tarang and tabla. Kashmiri wedding can give you the chance to turn your otherwise ordinary music night to an extraordinary sangeet night with all the mesmerizing live performances. Think out of the box when planning your wedding in Kashmir and amaze your guests with live performances of music bands and regional artists of Kashmir on your wedding. You and your guests will definitely enjoy the time.
8. Perfect place for relaxation
Kashmir, make for a perfect place for relaxation. After being tired of hectic wedding planning journey, Kashmir is the place to relax and spend some time with your loved ones in peace. You can always get something or the other to de stress yourself before the D day, when in Kashmir.
9. Best place for hosting your pre-wedding celebrations or rituals
Kashmir is so mesmerizing that you can even plan your wedding ceremonies here in the place. The place literally offers an array of options for one and all. You can start your pre-wedding bash in the most idyllic and scenic place. Kashmir is full of romantic venues for making your sangeet night extra special, cocktail night extra vibrant, and your bachelorette extra fun. And the best thing is you don't need much frill to make your event special, for, Kashmir – only the name is enough to give your event an extra pompous.
10. Best Place to Spend Quality Time with Your Loved ones
Your wedding is not only the reason to be happy, but also people who are close to you like your parents and your siblings will be nervous to realize the fact that you will leave them after your wedding. Weddings are full of fun, music, dance, and most importantly emotions and feelings. Kashmir is the best place to let you and your family have some time with each other and just live every moment. You will have enough time and space in Kashmir to share your heart out to your loved ones and tell how much they matter to you.
11. A perfect honeymoon destination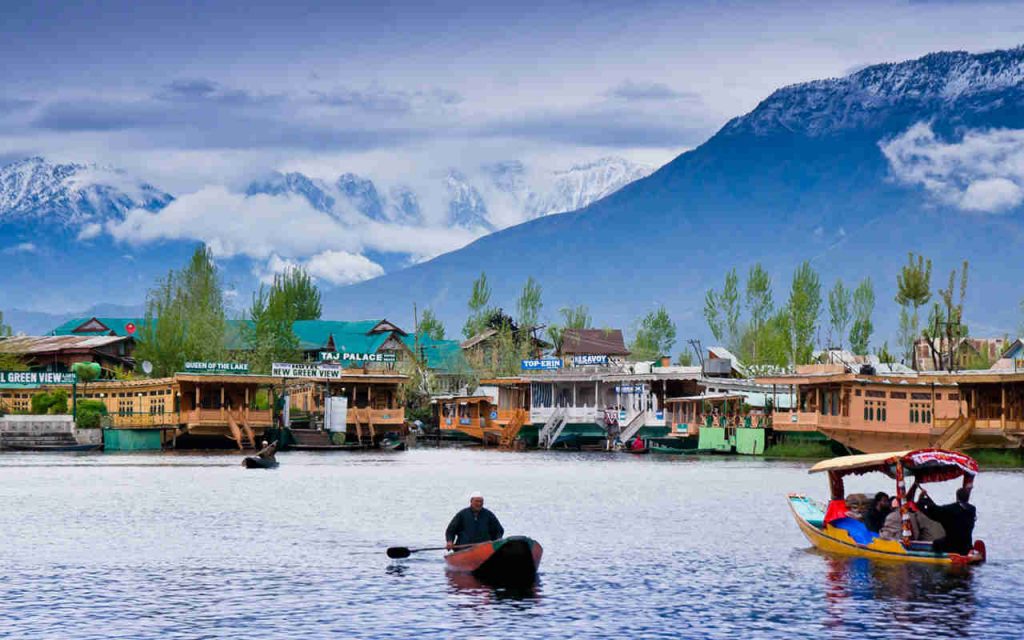 In the past, Kashmir used to be the first place newly-weds would decide for their honeymoon. Believe it or not but the valley had always been the most sought after honeymoon destinations for newly-weds. Getting hitched in Kashmir gives you a wonderful opportunity to honeymoon here and enjoy each other after your wedding. For that all you have to do is bid adieu to your wedding guests and simply extend your days here in the valley. Shift to some new location for your honeymoon. If you are planning your wedding in some five star property, or hotel, you always have the reason to honeymoon in Houseboat. Just imagine you two in a house boat enjoying each other. It will be the most romantic time of your life with your partner. Especially if you two are nature lovers, then no place can be better than Kashmir for your honeymoon. This is going to be a perfect honeymoon destination for you.
Also, honeymooning in the place will save you a lot of money and time which you will otherwise spend on travelling to different locations. Just enjoy each other in the beautiful Dal Lake, Shalimar Bagh, Chashma Shahi and Mughal Gardens or in the hill stations of Kashmir, which includes, Gulmarg, Pahalgam & Sonamarg; Kashmir has it all to make your honeymoon ravishing and romantic.
12. Cost of hosting wedding in Kashmir
Though destination weddings are already pricey affairs because you need to arrange for to and fro airfare along with the accommodation of your guests. But still that doesn't stop couples to get hitched in their dream location. And why should they not say 'I Do' in fairy tale style when all they wanted all their lives is this only. Cost of hosting a destination wedding in Kashmir will vary based on the type of your wedding, number of guests, number of days etc. However, a budget wedding in Kashmir with 100 guests will cost you around 10-12 lakhs, whereas a mid-range wedding will go up to 18 -20 lakhs, and for a lavish wedding sky's the limit…. (Pun intended), it can go up to as high as you want. Kashmir offers many luxury hotels, 4 star properties, house boats, resorts, etc. to hold wedding of your choice.
13. Best Time to Plan Your Destination Wedding in Kashmir
If you are looking for a traditional wazwan feast and a waza, to make all the arrangements you'll have to book them early. Because, wedding dates in Kashmir are totally dependent on the wazas' availability. However, for a normal Hindu or any other kind of wedding the best time is May-June and September-October. Because during these months the climate is comfortable and the weather's really perfect. Also, the best time for the bride to carry out the heavy lehengas, makeup and rich silks.
14. Your and Your Guests' Accommodation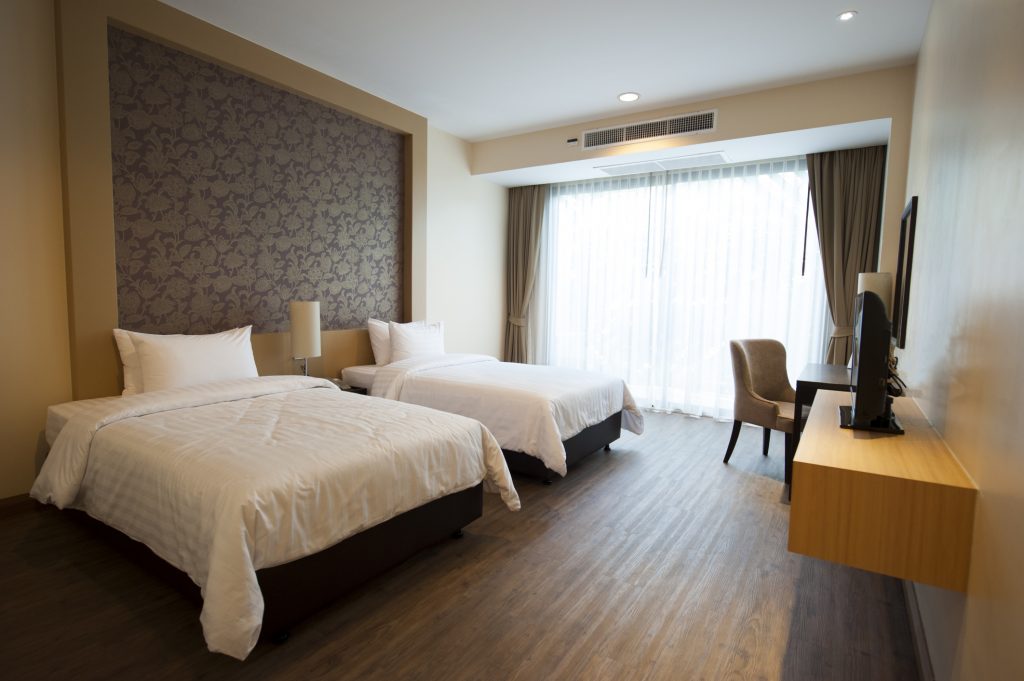 Kashmir offers myriads of accommodation options for you and your guests. However, to have the feel of being in Kashmir completely you can book houseboats (if you want) otherwise booking a houseboat for your wedding party will be a right choice. But living in the lake will be perfect when in Kashmir. Besides, there are many five star and four star hotels in Srinagar, Jammu, and other parts of Kashmir like Sonmarg & Gulmarg which are equally great places to host a wedding. Some of the best properties in Kashmir are: Le Roi Jammu, Radisson Blu, Ramada, Lemon Tree etc.
15. Try Something Different
If you're planning to host your wedding in the houseboats, than the bridal entry can be altered a bit and make it a little unique. Just enter via shikara! Or if you want the groom can come along his best man and groomsmen in Shikara, just to make his entry a bit unique and Kashmiri style.
16. Easy Connectivity
Kashmir is easily accessible via railways, airways and roadways. It is very easy to commute here, people or tourists have always been traveling to Kashmir to experience its spectacular beauty and tranquility. You can always catch a flight from your respective cities or locations to Srinagar airport. Srinagar Airport is approximately 14 km from the city. There are daily flights to Srinagar, operated by Indian Airlines and Jet Airways for your ease and comfort. Also, if you are coming via train, then Jammu Tawi is the railway station. Local commuting is easier, you can take a cab, or private taxi, or local bus to commute from one place to another.
17. Get Best Wedding Pictures Amidst Breathtakingly Beautiful Backdrops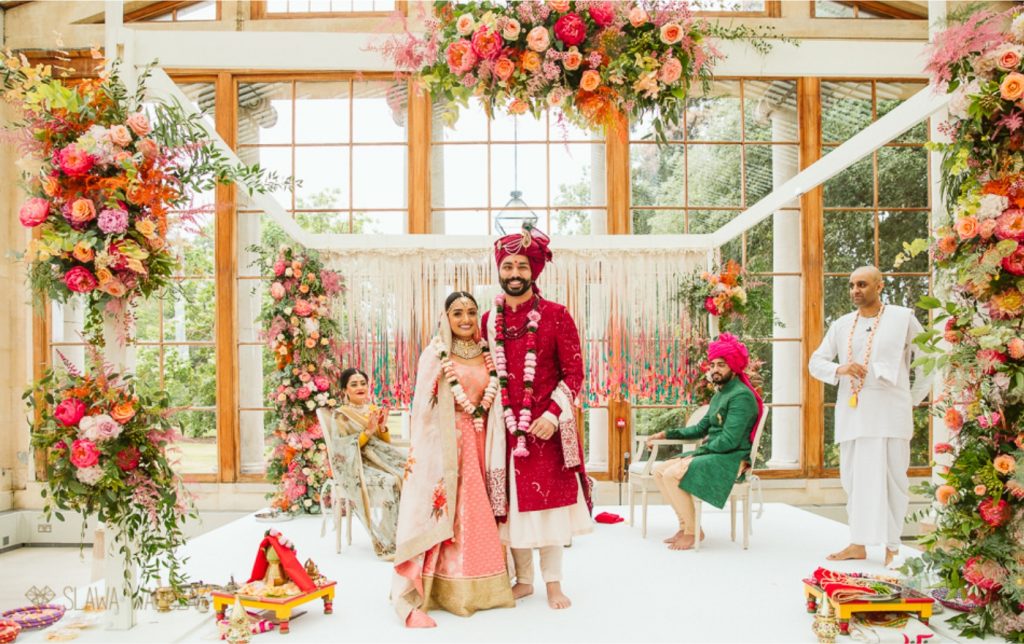 Kashmir is home to snow-capped mountains peaks, clear blue skies, Lakes, Gardens, etc. The picturesque Kashmir offer stunning scenic views, thereby making it truly a romantic destination for a wedding shoot as well. Kashmir is the perfect location for a unique experience and a gorgeous wedding shoot. Also, Kashmir is gaining popularity as one of the best locations for pre wedding shoots in India. For, the place offers the breathtakingly beautiful backdrops for making a perfect wedding album. You will not require any prop while you get your wedding shoot in Kashmir, place has it all!!
18. Security Arrangements
If you are concerned about your and your guests' security then let me tell you that there's really nothing to worry about. The wedding hotels and wedding venues managements are all really cooperative and go over and beyond to ensure that everything goes smoothly. However, if you've got guests coming in from some other country or the ones who are working in security/ government agencies, they will have to submit applications and get their clearances done in advance for making it to Kashmir. For more details you can always talk to your wedding planner or the travel agent who you book for your wedding. Also, get all the clearances and formalities done in advance, so as to avoid any last minute chaos. Rest everything is fine to get hitched here in Kashmir.
Final words,
I believe the above mentioned reasons are enough for you to decide Kashmir for your destination wedding this season. Still, if you're planning a destination wedding in Kashmir, just figure out the type of ceremony and who will be conducting the ceremony. Decide in advance whether it is going to be a religious ceremony or a civil or a court marriage with a wedding reception or party in Kashmir. Accordingly, you will need to arrange for other things. The best is to research for the wedding planner or someone locally who can help you with the wedding arrangements.
Also, make sure you carry your wedding outfit ready and professionally steam-ironed and packed for the trip. Because, the hotels may or may not be able to have it touched up for you. So, it is better to get your wedding outfit sealed properly beforehand.
If you really want to enjoy Kashmir best is to come a little before the wedding so that you can enjoy your time with your loved ones. And there is no harm in having some ME TIME before the wedding to get de-stressed completely. It will be a great way to relax and bond together and visit some unforgettable places.
Trust you are going to enjoy your wedding in Kashmir. So, get ready for the heavenly wedding in the Heaven on Earth!!
Happy Wedding…. ☺ ☺