Are you planning to get married in 2022? A perfect pastel wedding should be your choice. Pastel colors are a new trend so you should bring those subtle and soothing colors to your wedding theme.
Want to have a trendy wedding theme? Go for a beautiful Sage Green Wedding. It will look soothing to the eyes and will bring the element of nature to your wedding theme as well.
Best Part: It could also be a perfect way to have a Garden Wedding without a garden!
Find out some beautiful sage green wedding ideas in this blog.
Sage Green Wedding Theme
While everyone is obsessed with Sage Green, we will not limit ourselves to a single-tone wedding theme. Many other colors go well with Sage Green. We have got ideas for you that will help you in having a wedding theme with all the subtle colors with Sage Green being the showstopper.
There are many colors that go with sage green like ivory, blush pink, silver, grey, taupe, dusty blue, and brown. You can use any of these colors according to your wish.
► Sage Green Wedding Dress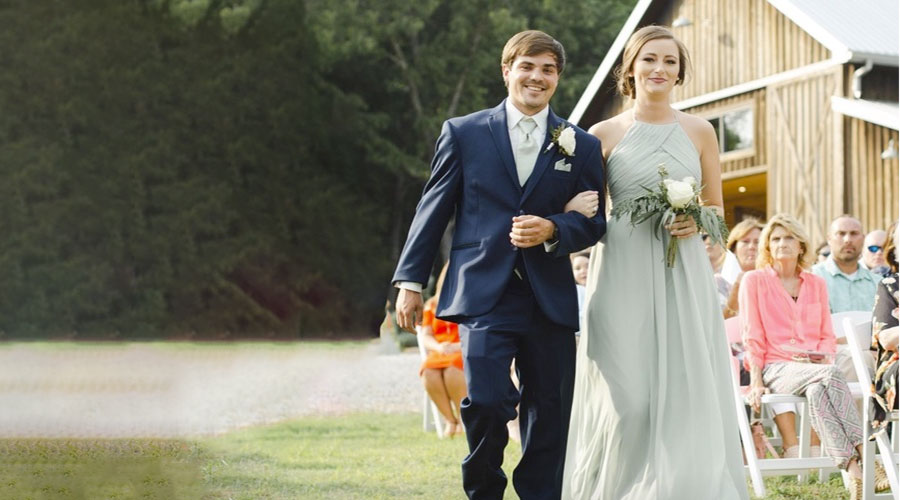 A wedding dress is unbelievably the single most important thing in a wedding. So let's start there. The Bride can wear a beautiful sage green bridal gown and the groom can wear a grey suit with a sage green tie. It will make you look like the best color-coordinated couple.
If the bride wants to stick with the evergreen white bridal gown, then even that is most welcomed. Thinking how will you then mix with the theme color? THE HEELS! Yes, you can wear sage green heels with diamonds and crystals studded in them. The Bridesmaid can wear silk sage green dresses.
► Sage Green Invitation Cards
Choose your invitation cards to be in combination of sage green and ivory. It will look very subtle yet rich at the same time. You can also make white invitation cards kept in sage green envelopes and vice-versa.
► Sage Green Ring Box
Keep your gorgeous wedding rings in a sage green ring box made of velvet. It will look very posh and exceptional.
► Sage Green Wedding Bouquet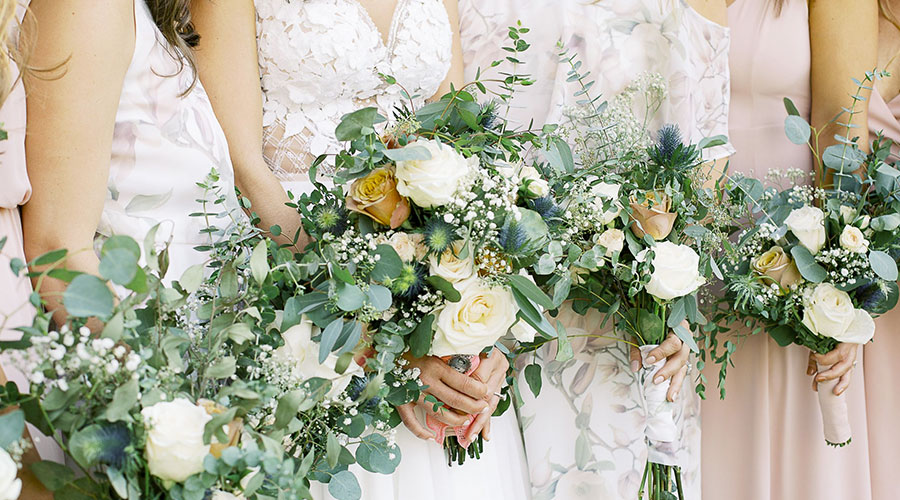 Curate a bouquet using sage green leaves and blush pink and white roses. This combination complements the theme of your wedding.
► Sage Green Wedding Cake
Crowning a white cake with sage green and golden cake topper will increase the charm of your wedding cake. Don't like cake toppers? You can have a white cake decorated with green and golden leaves. It will look like a well-thought idea to infuse the theme into the cake
► Sage Green Wedding Decor
The Wedding decor brings the whole theme together so it should always be well thought out. Below are some decorative items that can go green for the wedding!
Sage Green Table Decor
Cover the whole table with a white tablecloth to create a blank canvas. Then you can work on having your favorite pastel colors on the table. Use Sage Green Plates with ivory welcome cards for the guest. Keep sage green twig on each card and uplift the cuteness. Even the usual silverware will look marvelous with the other colors.

Sage Green Centerpieces
Keep the centerpieces made of foliage and pink flowers. It will tune in with the table decor and give an overall aesthetic look. You can also Place scented candles beside the centerpiece to elevate the decor.
Also See: Heighten Your Wedding Décor With These Wedding Centerpiece Ideas
Sage Green Signboards
Let the guests see the theme the moment they enter the venue. Keep welcome Signboards with sage green paint and white text.
Sage Green Wedding Chairs
Install wooden chairs on both sides of the aisle and decorate them with foliage. You can use the eucalyptus leaves to decorate the chair. Also, spread a blanket of leaves on the aisle for the beautiful bride to walk on.
Greenery Wedding Backdrop
► Sage Green Back Drop
Use an existing wall or create a wall to make it look like a backdrop. Keep the main background as white or cream. Hang lush green vines on the wall which will create a beautiful backdrop.
► Sage Green Wedding Arch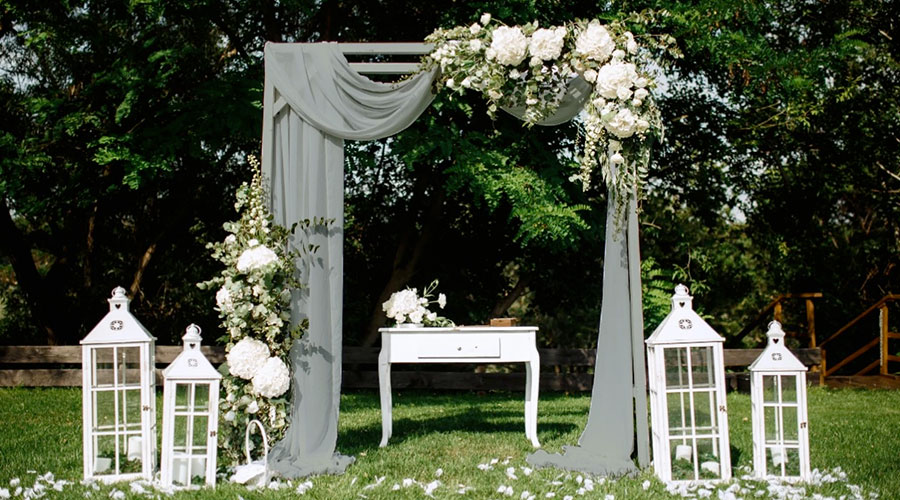 The wedding arch should be perfect as the couples take their vows standing there. The wedding arch also acts as the backdrop in the photographs. Use an asymmetrical wedding arch or a frame shape arch and decorate it with foliage, eucalyptus leaves, and white roses.
► Sage green wedding party and reception
Plan a sage green wedding party and reception with a rustic theme. You can keep the wooden decor like sitting area, tables, vases, etc. You can keep decorative barrels near the bar area and use candles in glass covers to decorate the whole venue. Set the dress codes for your dreamy wedding party and reception. Sage Green and Grey. The rustic sage green theme will look very vintage and extraordinarily beautiful.
Won't say goodbye without a Pro Tip: Plan a sage green wedding in the fall season. It is the best time of the year to suit the theme with nature's beauty.