You've decided to host an event, so what do you focus on? The season, location, and theme all play an important role in choosing the right decorations. It's also important to consider the ease of set-up.
And don't forget to light!
Using proper lighting will make the process of setting up the decorations a breeze! Read on to learn more about selecting the perfect wedding decor. Listed below are some tips to help you decide which decorations to use for your big day.
Your wedding theme
If you're planning a garden wedding, the fall foliage might be a great place to start. Colors like forest green, gold, and maroon are all lovely choices for autumn weddings.
Or, you could go for a more modern feel by incorporating flowers in a floral arbor or elaborate table arrangements. Either way, your wedding will be unique and fun. Your wedding theme will dictate the decoration that best reflects your personality.
If you're unsure what type of wedding theme to choose, ask yourself some questions about your personality. Think about the things that make you happy.
Do you enjoy traveling?
Does your favorite music genre influence your wardrobe?
If yes, take that cue and incorporate it into your wedding details. Similarly, if you like fashion and design, take cues from your personality and style. For instance, if you like bright, colorful outfits, you might choose a bohemian/wacky theme.
Creating a mood board is a great way to get a clearer picture of what you want. You can search Pinterest or Instagram for ideas or use Easy Weddings' inspiration boards.
If you prefer, you can print out a few images and glue them to a large piece of cardboard. Or you can make a digital mood board by choosing similar images on Pinterest. When looking at images together, you'll discover a common thread that makes them both reminiscent of the couple.
Wedding decor should be easy to set up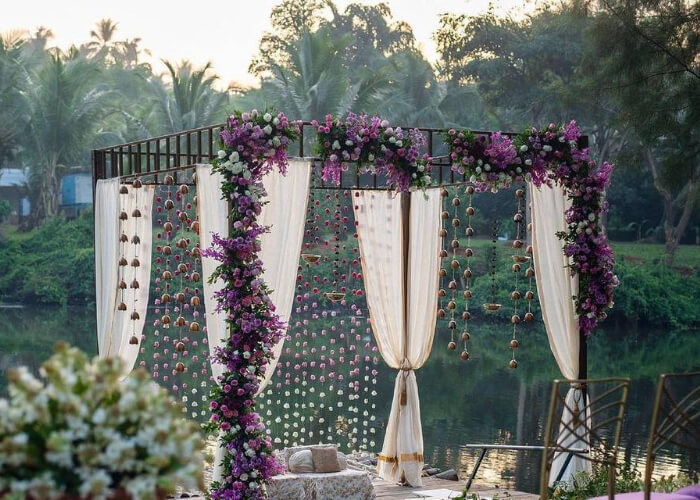 If you are not planning to hire a professional wedding decorator, you can do it yourself. All you need is a list of things that are not technically necessary, but showcase your theme or add character to your venue.
Wedding decor basics include aisle markers, altar backdrops, centerpieces, and tablecloths. Tablecloths and centerpieces are the focal points of your reception space, so choose ones that complement your wedding style.
A beautiful sign or label will add character to your wedding decor. I love to use Etsy for wedding signs, as you can create a custom one. You can even print your own.
There are so many options to choose from! For starters, you can buy inexpensive wooden slices from a craft store or online. Then, you can place them on each table in a landscape or portrait orientation. For the centerpieces, you can use a green and white bottle, topped with individual wedding flowers.
Floating flowers in vases are an excellent wedding decor idea. They look great and allow the flower heads to float on top of the vase. These decorations are also ideal for a vintage-themed wedding. You can fill them with flowers or other types of decorations.
If you want to decorate the venue yourself, consider using metal pails. Metal pails are easy to transport and set up. You can also use recycled glass bottles to create a custom-designed centerpiece for your wedding.
Consider the season and venue
Firstly, decide what you want to emphasize at the event. If you're holding a business event, your decorations should be focused on encouraging networking at the dinner table.
If you're holding a product launch, you should use decoration elements that promote your product and its takeaway message. Decide if you want the decorations to be subtle or dramatic, and how you plan to achieve your goal. Then, choose furniture accordingly.
Flowers are a must-have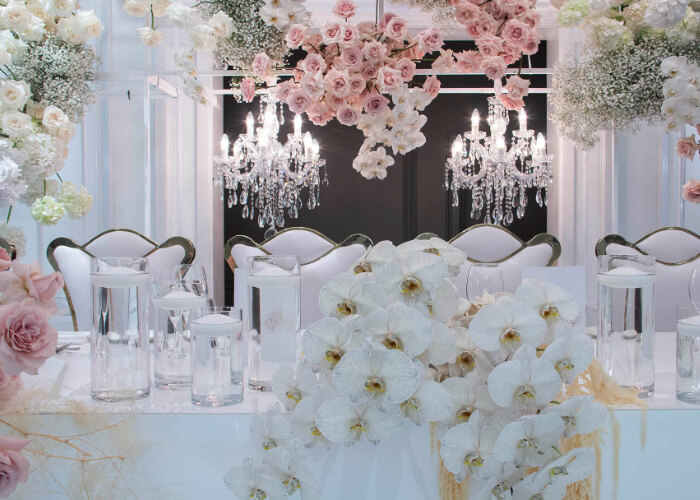 Flower arrangements can add a lot of color and interest to any room. If you want to add flowers to your room, you need to be creative. You can pick up bunches of flowers that you like and then bundle their stems together using rubber bands. Next, pop them into a cylinder vase or short cube. You can also make fancy arrangements or color-blocking arrangements, depending on your taste.
If you are planning a wedding, you may want to consider donating the flowers that you will not use. This way, you won't waste any of your flowers and can still give them to a worthy cause.
Flowers can add a lot of color to a room, but you have to consider their price. Consider the season, location, and other details before choosing a bouquet. Keep in mind that flowers can get expensive, so it's important to plan so that you can maximize your budget. Consider using flowering branches for a centerpiece to make a big impact on a space without breaking your budget.
The best way to incorporate flowers into your decoration is to choose the right flowers. Choose flowers that will enhance the theme of the room. Flowers should match the room's color scheme and style.
If the room has dark walls, you'll want to select light-colored flowers. If you're unsure about which flowers to purchase, talk to a florist about color combinations. This way, you can choose flowers that will complement your color scheme and give it a unique touch.
Also See : Wedding Tray Decoration Ideas 2023
Use wedding decorations in the hallway
The reception hall can look incomplete if it has a low ceiling. To liven up the hall, consider adding wedding decorations. You can choose a theme and select hanging items. However, don't overdo it.
Your wedding will be more beautiful if you have multiple focal points in the hall. Use hanging decorations for high ceilings instead of low ones. This way, you won't be forced to add extra items to the reception hall.
Your aisle will be decorated with aisle runners, which are used to mark the aisle. Typically, aisle runners are made of stretch fabric. They can be customized with a design or monogram.
Aside from aisle runners, you can also use different types of flooring, rugs, and fabrics. The aisle runners will also provide the most impact if they are draped across the mantel. Adding aisle runners will enhance the look of your reception hall.
You can use long-flowing fabric drapes if you're looking for more subtle and elegant wedding decor.
You can use silk, satin, or chiffon for this purpose. Make sure that the colors you choose complement the theme of your reception hall. Some popular colors include pink, ivory, red, and gold.
A few string lights or decorative hanging lanterns can add a warm glow, and you can add zari borders or sequins to add extra oomph to the decor.
Author Bio:
Robin Talley is a former teacher and has taught English and Creative Writing at the college level. He is a self-published author of both fiction and nonfiction books, a speaker, and a consultant for the essay writing service reddit. Robin also teaches college students about the relevance of the humanities for a sustainable future.