"Shoe love is true love."
Yes, your wedding attire is incomplete if you do not invest in the right shoes. Just like your other bridal accessories, bridal shoes are as important to add to your overall look.
"You cannot go wrong with the right shoes."
If you are all set to get wed-locked soon, and now pondering which type of shoe you should buy for your wedding, then you are on the right platform. Here I am sharing the best 12 types of wedding shoes for bride. Just take a look…..
Pro Tip: Before we move to the types of wedding shoes for bride, here are some tips for you:
Tip No. 1: Invest in a comfortable pair of shoes. Wedding shoes are an integral part of your bridal attire. You will indulge in myriads of things at your wedding, such as walking, sitting, standing, dancing, etc. All these will become sheer trouble if you are not wearing the right shoes.
Tip No. 2: Buy at least two pairs. You never know what exigency appears at the last moment.
Tip No. 3: Buy from a store so that you can check all the aspects of comfortable shoes, like size, fit, comfort, etc.
Tip No. 4: Pay heed to the comfort more than the design.
Tip No. 5: Set a budget beforehand so that you do not end up overspending on your shoes.
Tip No. 6. Lastly, don't get excited to see the large variety of shoes in the store. Stick to your budget religiously!
Enough of tips, now it's time to move to the types of wedding shoes for bride.
Here we go…..
This list has been created, keeping all the factors in mind. It has it all that you need to know about wedding footwear, from strappy sandals to Punjabi mojari, wedges to Kolhapuri juttis. Pick anything that you like the most, but make sure your footwear is comfortable.
1. SANDALS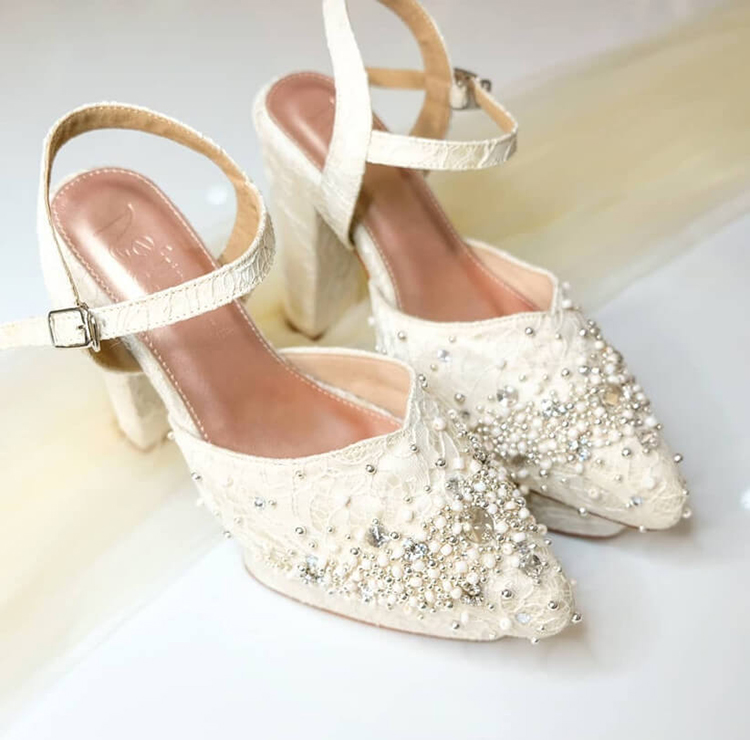 At number one, we have wedding Sandals. Wedding sandals come in a variety of colors and designs and are very popular among brides. You can buy a sandal with or without heels. These are considered very comfortable and easy to carry footwear. You can purchase wedding sandals from anywhere. A nice pair of bridal sandals will cost you from INR 1500 – INR 2500.
2. ANKLE STRAP SANDALS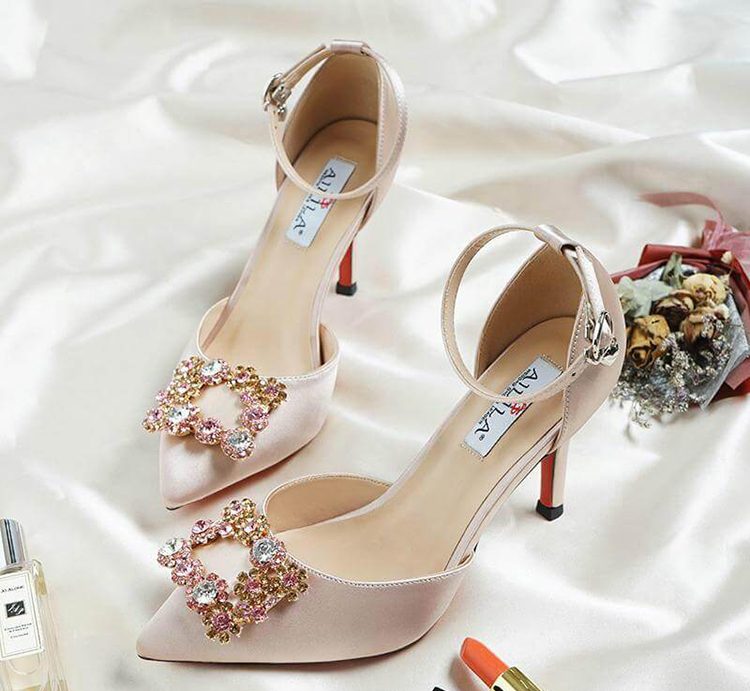 At number two, we have Ankle Strap Sandals. These are the perfect go-to picks for brides who want to have heels. The strap attached to the sandals keep the sandals firm and act as great support. Strap sandals are good if there is a huge heel, specifically pencil heel. Walking, dancing, and everything else becomes easier with strap sandals. A good and comfortable pair of Ankle Strap Sandals would cost you anywhere between INR 3000 – INR 5000.
Pro Tip: if you are buying heels, especially pencil heels, for the first time, then it is recommended to practice walking and dancing with heels beforehand. Doing it on the day of the wedding can be dangerous.
3. BALLERINAS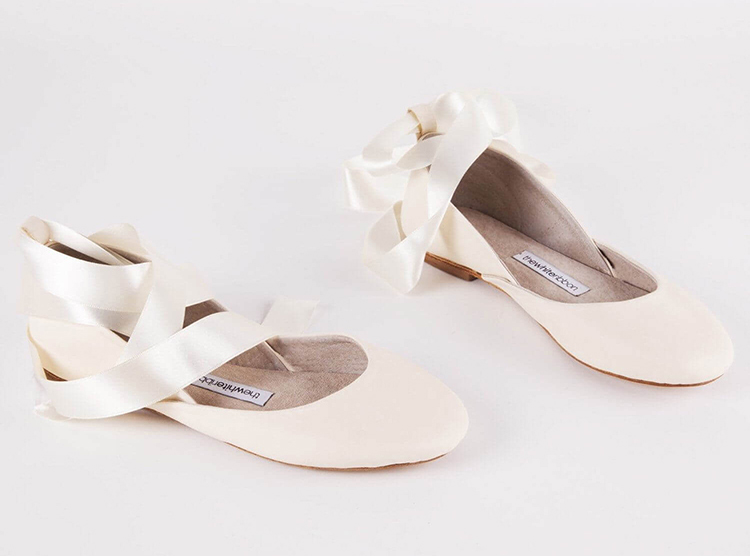 "Oh! For heaven's sake, somebody, please stop me from going in the past!" Yeah, each time I see Ballerinas, it reminds me of the Cinderella story from my childhood. I just loved that story! I start to feel nostalgic ☺☺. Well, forget how I feel; let's talk about how Ballerinas look. If you get the right fit and comfort, then trust me, nothing could be as heavenly as Ballerinas. This beautiful Cinderella footwear will cost you somewhere around INR 3500 – INR 4500.
4. SLIP ONS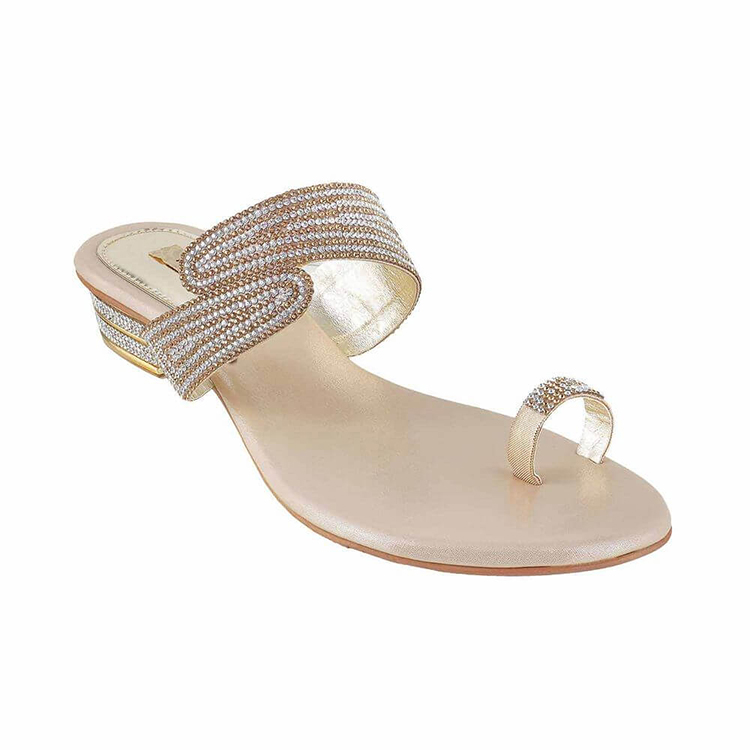 At number third, we have slip ons. These easy to carry footwear give you all that you need to feel 100% comfortable. As the name suggests, you do not need to do anything; just slip your feet on and be ready for the big day. You will not need to tie and untie your strap again and again. You can be absolutely carefree with them. Good for carefree brides!
Slip ons come in both heels and without heels. Pick according to your need and comfort. A perfect pair of slip ons will cost you somewhere around INR 2000 – INR 3500.
5. PUMPS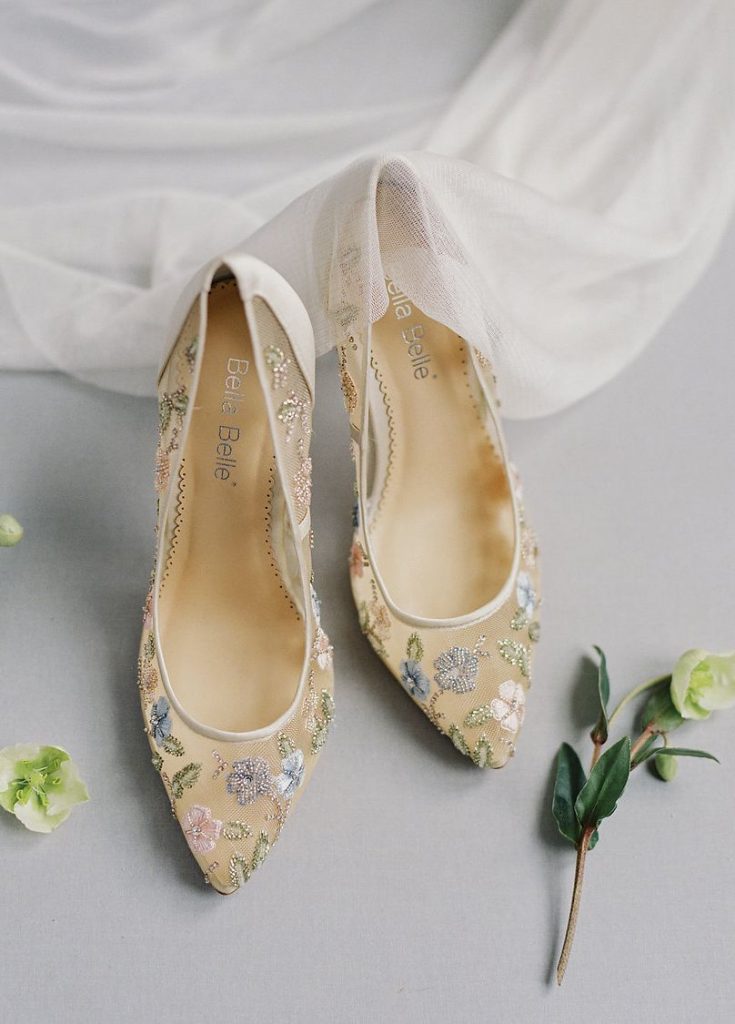 Pumps are for super stylish brides. This kind of footwear looks stunning and just makes you look very tall. More often than not, pumps look good with heels. Perfect for short-heighted brides, especially if their significant other is taller, just like Jaya & Amitabh Bachchan. Pumps come in myriads of designs and choices to pick from. You can get the one that suits your bridal outfit the best. A nice pair of Pumps will cost you around INR 4500- INR 6000.
However, if you pick a simple one, it can cost you less as well.
Pro Tip: Make sure you buy the right heels.
6. MULES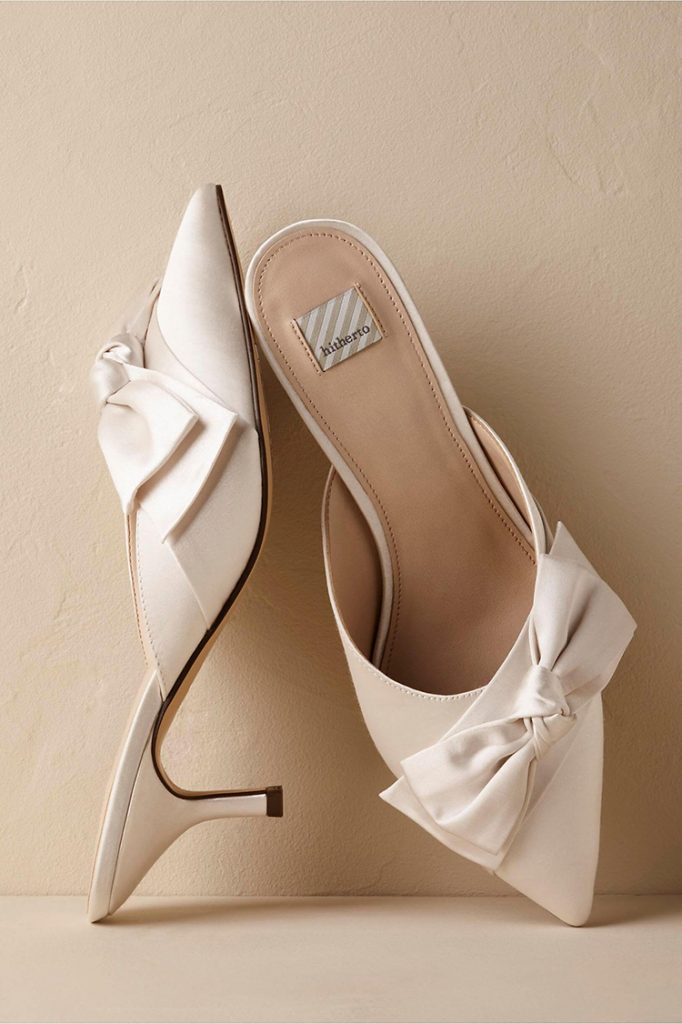 After wedding sandals, mules are quite often purchased as bridal footwear. Mules come in a variety of designs and heels. They are very easy to put on and carry at the wedding. You can easily put off this footwear during your phera ceremony or on any other occasion. We got to speak to many brides who preferred mules over other bridal footwear, and upon asking, all of them said the same thing that mules are one of the most comfortable shoes to wear at the wedding. They say you can be completely YOU even at your wedding. A nice pair of mules will cost you around INR 2000 – INR 3500.
Related Post: Wedding Tips for Brides
7. WEDGES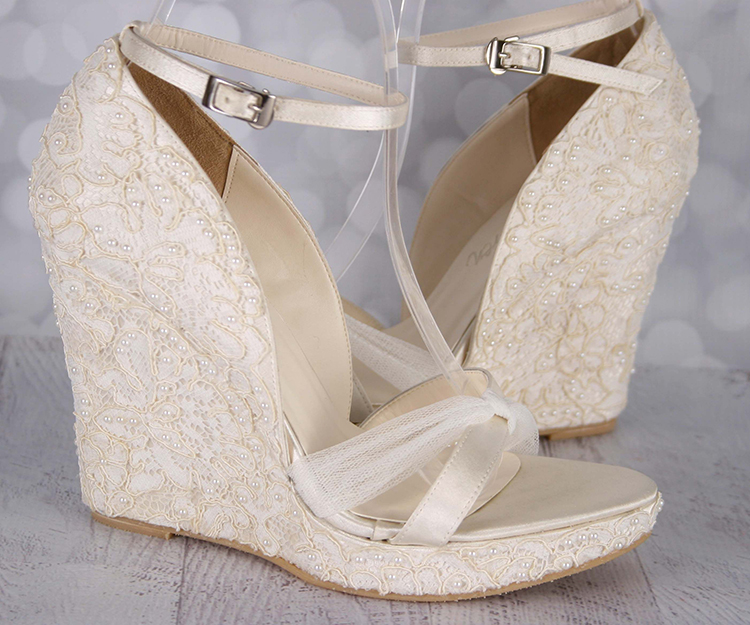 At number seven, we have listed Wedges, 'the princess pride.' Easy, comfortable, and gorgeous-looking footwear for the brides who want to be a little careful with their heels. Wedges are actually comfortable heels for the brides who do not want to go with pointed or pencil heels. Wedges have platform heels that make it easy for brides to do anything, from walking to dancing easily and comfortably. When it comes to wedges, the market is swamped with a wide variety of footwear, from plain wedges to embroidered Kolhapuri Wedges, to designer wedges to simple-looking wedges. The options are unlimited to pick from. You can get a beautiful pair of wedges in INR 2500 – INR 4500.
8. HEELS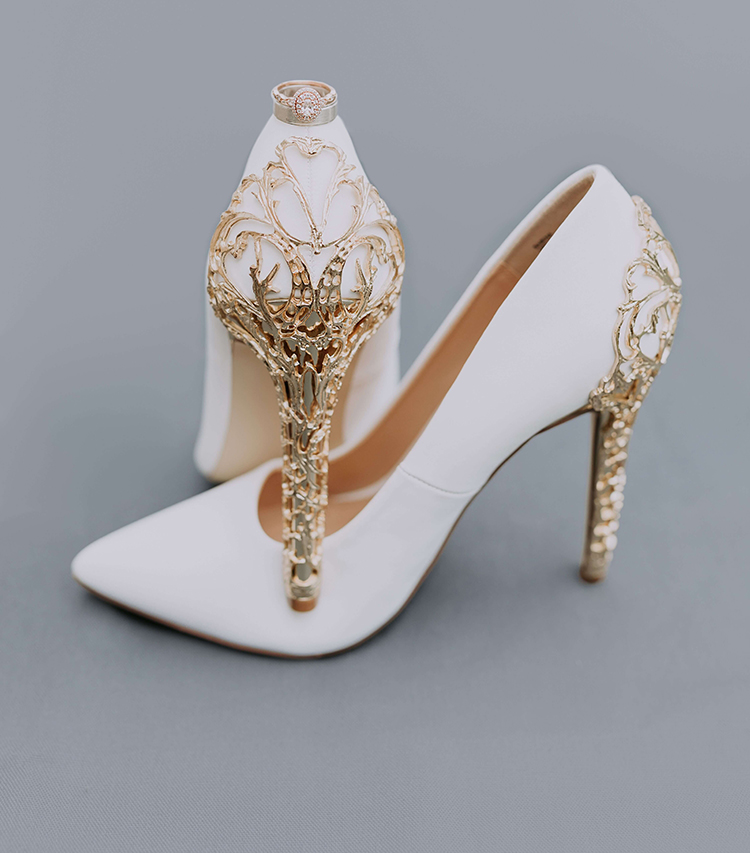 Heels look gorgeous and have no doubt about it! However, heels are not everybody's cup of tea, at least not mine. I am very much a flat person, but I always feel sad about the fact that I cannot carry heels ☹☹. I have seen girls' confidence boost up just like that the moment they wear heels, and mine immediately plummets down. Well, let's talk about the brides now.
Heels look mesmerizing, no matter what. If you want to walk down the aisle with that confidence, then heels are for you. Just buy one for your wedding, if you are accustomed to them. A beautiful pair of heels with nice work on them will cost you around INR 3500 – INR 5000.
9. FLATS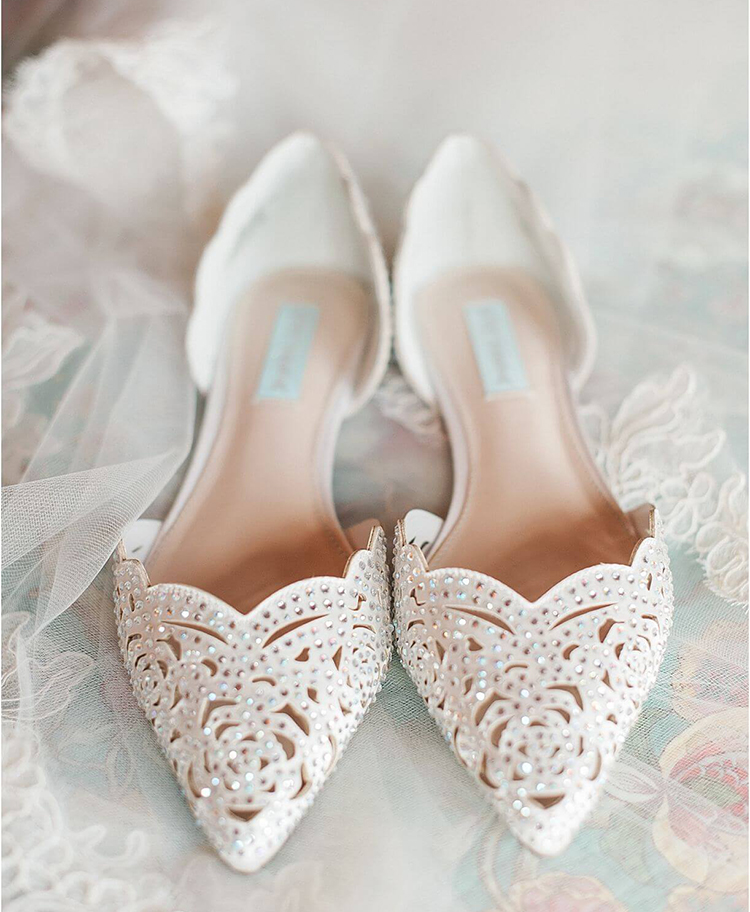 Needless to say that flats are perfect for the brides who come gifted with naturally good height. The ones who do not need to add additional support to show themselves taller. Lucky are those brides. There are varieties of beautiful flats options available in the market. You can buy flats with Pom-Pom or with ghungroos, or bandhani style flats, etc. There is no dearth of designs, patterns, and style when it comes to flats.
In India, you can easily get Kolhapuri, Rajasthani, Punjabi flats, and trust me, they look simply gorgeous. You can buy flats from a local store or an emporium. A beautiful pair of flats will cost you around INR 1700 – INR 2500.
10. KOLHAPURIS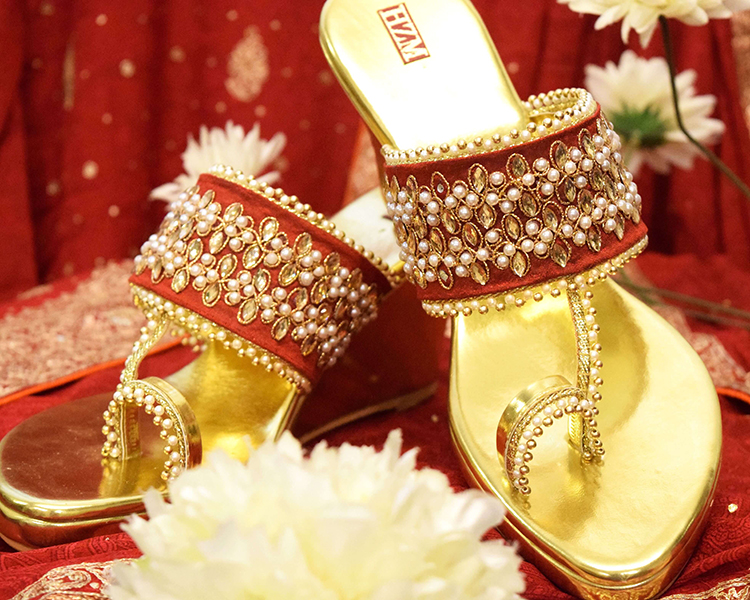 At number ten, we have Kolhapuris. Kolhapuris is one of the best choices when it comes to complete your royal look at your royal wedding. There are sundry options when it comes to Kolhapuri bridal sandals. You can buy anything from beautiful Kolhapuri wedges to amazing-looking Kolhapuri flats. Let me tell you in advance that Kolhapuri sandals are colorful and come with embroidery, sequence work, etc. If you want to add beautiful and colorful shoes to your wedding attire, then Kolhapuris can be one of the best footwear options. A fabulous pair of Kolhapuri will cost you around INR 2000 – INR 3000.
11. BRIDAL SNEAKERS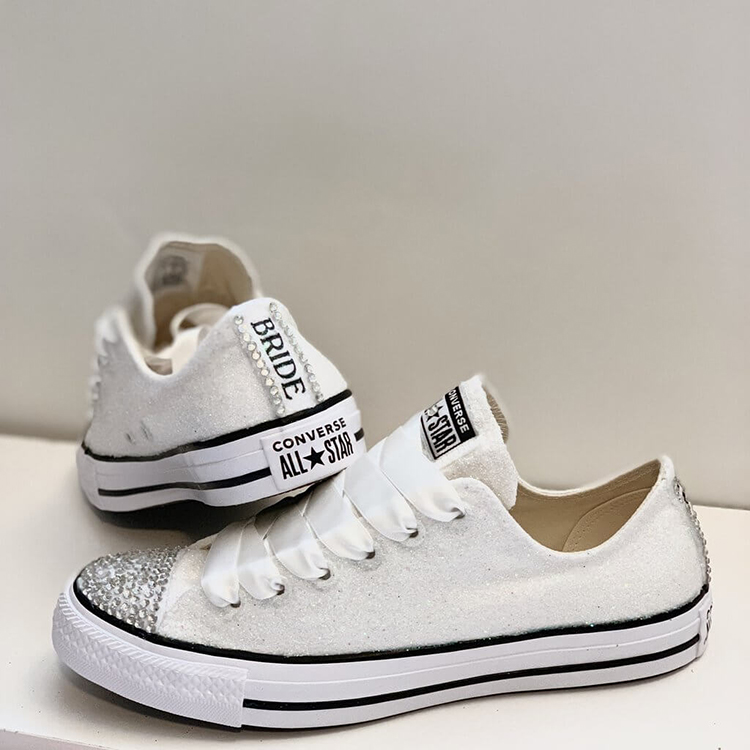 For that quirky look, we have bridal sneakers at number eleven. If you are not comfortable wearing heels or sandals, then bridal sneakers are for you. These are for the brides who do not hesitate to flaunt their quirkiness to the world, even at their wedding. If you are enticed by the idea, then get a pair for yourself as well. A beautiful pair of bridal sneakers will cost you around INR 1500 – INR 2500.
12. PUNJABI JUTTIS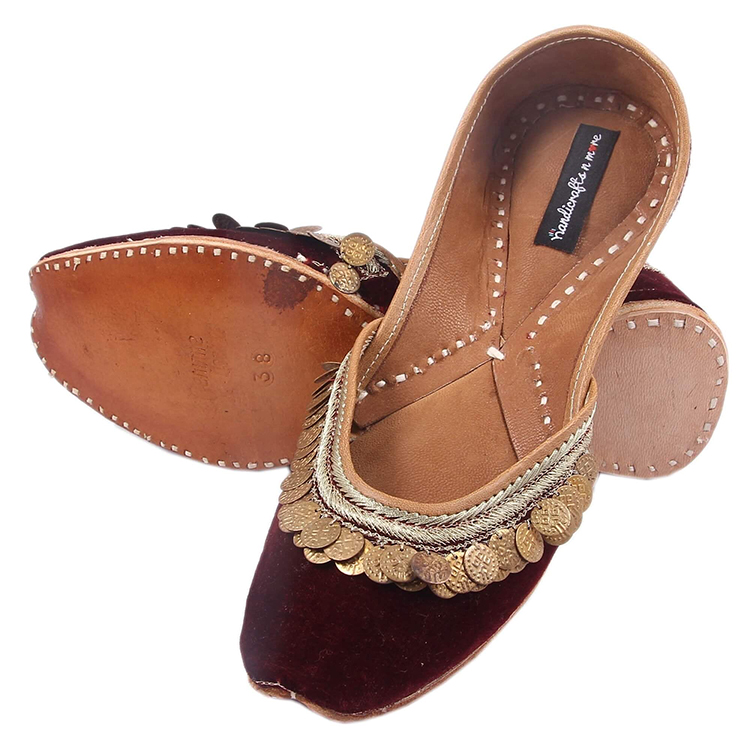 Finally, at number twelve, we have Punjabi Juttis, 'for that mesmerizing Punjabi look.' Punjabi juttis look awesome, no matter what. And the best thing is you can pair them up with any outfit even after your wedding. They are a MUST HAVES in your rack. Punjabi juttis are not only comfortable and easy to wear but also very elegant and mesmerizing.
There are numerous designs to choose from, you can buy a Brocade Open Juttis or Fully Covered Embroidered Juttis, or you can consider buying Mirrored Slip ons or juttis with stonework, or velvet juttis, or zari embroidered juttis. There is no dearth of beautiful Punjabi Juttis; you can buy anything that suits your attire. Or if you do not want to buy them for the main day, consider buying them for after the wedding dinners and lunches. You may surely need a pair for those events. A beautiful pair of Punjabi Juttis will cost you around INR 2500 – INR 3500.
FINAL THOUGHT
Besides these 12 types of wedding shoes for bride, there are Rajasthani Juttis, Leather Footwear, etc. You can consider buying it for your wedding. The bridal footwear prices will vary based on the design, pattern, material, and style of the shoes. However, it is good to go prepared with the shoe budget in advance. Having a shoe budget will help you to stick to your budget.
Know that shoes are an integral part of your wedding. Hence, you must stick to the tips as mentioned earlier while buying your wedding shoes. These tips will help you buy the right pair of shoes for your wedding; as a result, you will be able to enjoy your wedding to the fullest.
Moreover, you can buy these shoes from your local market or the emporium. Or there are many other dedicated stores specifically meant for bridal shopping; you can purchase your bridal shoes from there as well.
Happy Wedding…. & Happy Shopping…. ☺ ☺