The look you have always aspired for on your big day is complete, but does it still look incomplete? Why not add a stunning hair accessory to your hairstyle for the day?
Hair accessories are known for acting as your last-minute saviors. These tiny appurtenances provide a significant improvement to any existing hairdo. It's safe to say that a good hairstyle is what you require first, but choosing a stunning hair accessory is a MUST to make everything look the best.
No wedding look is complete without donning glamorous wedding hair accessories. It's easy to feel overwhelmed when faced with the task of choosing a style when there are so many options available. Don't Worry! We have got you covered in the article.
Yes, you read it right! In this post, we are going to talk about different hair accessories available to your rescue. You will find all of the most popular types of bridal hair accessories, such as bridal headbands, wedding hair clips, wedding hair combs, and tiaras, categorized here in this post.
So, let's get started…
30 Bridal Hair Accessories List
Below are the 30 best hair accessories you can choose from to complete your look on your D Day.
1. Liberty in Love Renata Head Piece
Not only is the headband from Liberty in Love elegant, but it's also quite simple to put on and take off. A ring of crystals and stones that have been expertly cut sits atop an ivory satin ribbon, which means that it will shine no matter which way you tilt your head. This headband is so elegant that it would look stunning even if you wore your hair down or even in an updo for your big day.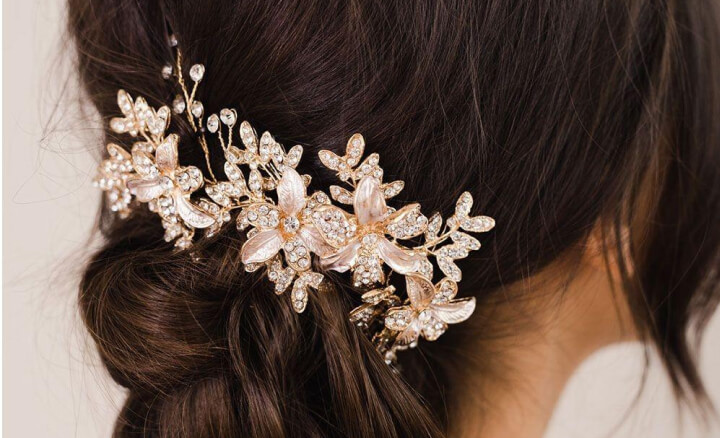 2. Dot With Pearl Pins
These pins, which have a pearly sheen, are ideal for creating an updo that is understated yet glamorous. Try sprinkling dainty pearl bobby pins all throughout your hair as a lovely way to finish off your hairstyle. Trust that you're going to rock your look this season for sure!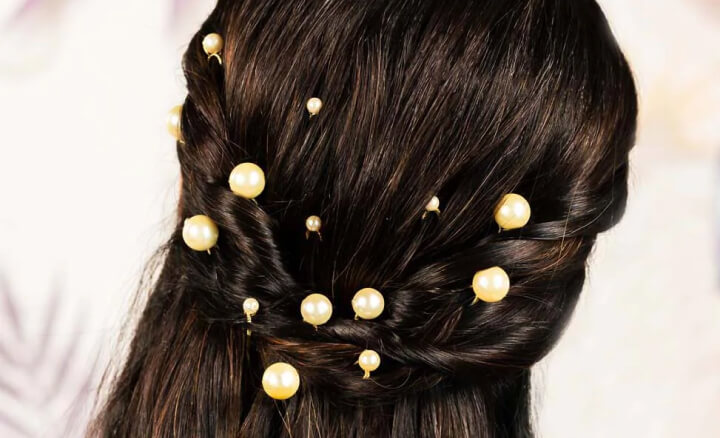 3. Silk Headband
If you are a fashion-forward bride or want to have a unique style for your wedding, then opt for a silk headband. Silk headbands are both trendy and fascinating. Modern twists on traditional bridal styles can be seen in the headbands for the brides, such as the silk Dasha. You shouldn't leave without looking at their array of veils, either.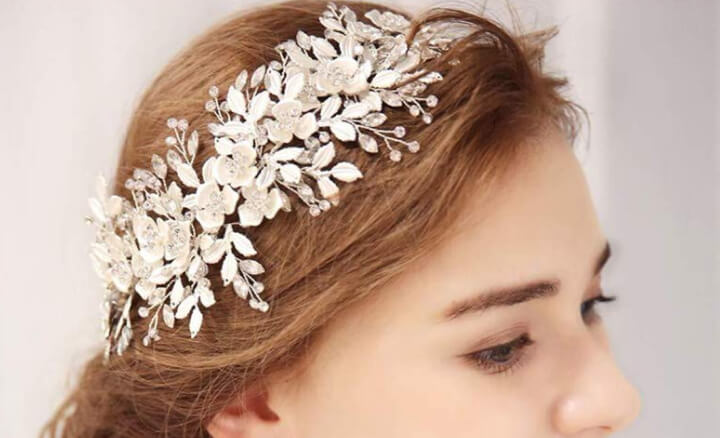 4. Gold-Tone Swarovski Pearl Headband
Another very popular head accessory includes Gold-Tone Swarovski Pearl Headband. These headbands are pretty popular among minimalist brides. Yes, if you don't want to overdo your look, then this headband is more than enough to add to your style.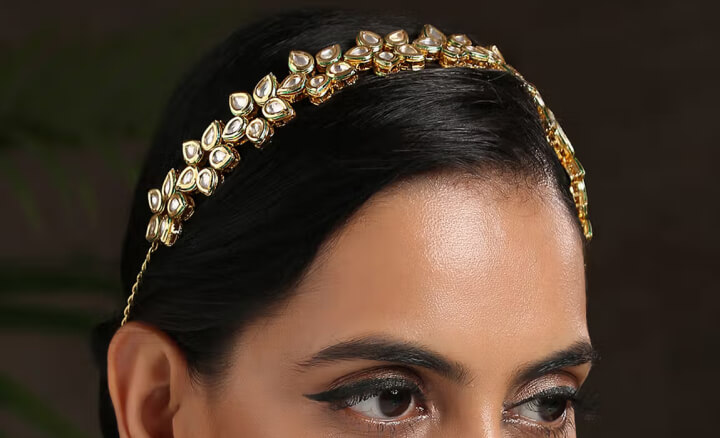 The gold-toned design is outlined with glistening Swarovski pearls that are held in place by tone-matching wire. This beautiful headband and many such are designed by Jennifer Behr, an expert in crafting beautiful accessories. On the day of your wedding, it will work wonderfully for gliding into your unkempt hair.
5. Double Wire Headband
You don't always need to spend a fortune on your wedding day to look your best. If you want to keep the appearance simple or want to avoid over-accessorizing your look, then this is the band for you. It will look graceful against a chiffon wedding dress that is soft and flowy.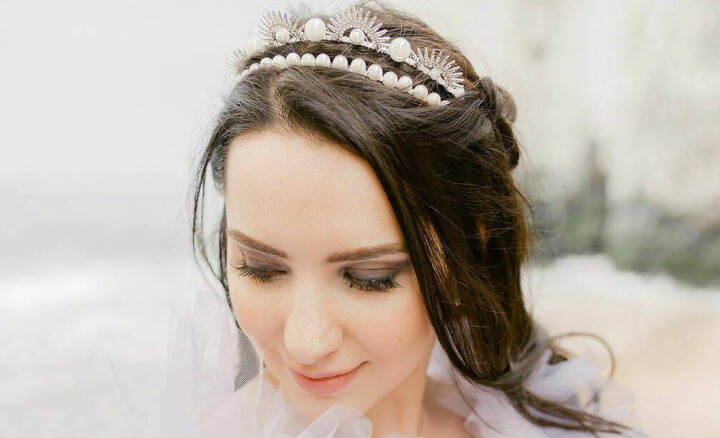 6. Madeline Hair Comb
The Madeline hair comb from Ivory & Co. is a classic hair accessory that will just add to any look. This hair comb seems like something out of a fairy tale, with its sparkling crystal flowers and delicate vines, which are complemented by its freshwater pearl details. If you want to get a look that is both romantic and vintage-inspired, this is the right accessory for you.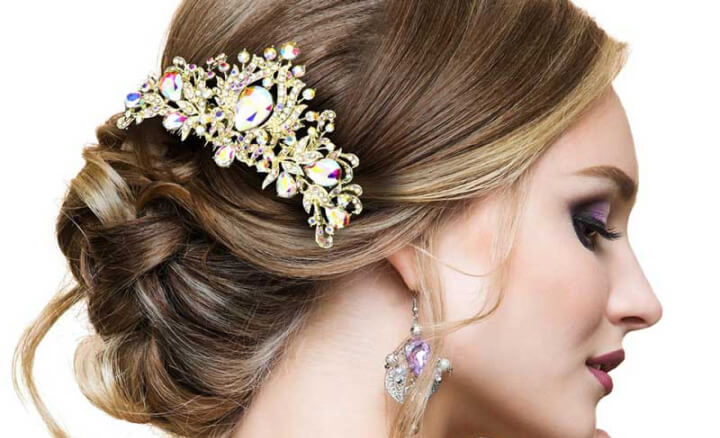 7. Crystal-Embellished Headband
The brides-to-be should always look for fresh and trendy ways to personalize the bridal get-up. A headband that is studded with a crystal is just the thing you need for rocking your hairdo.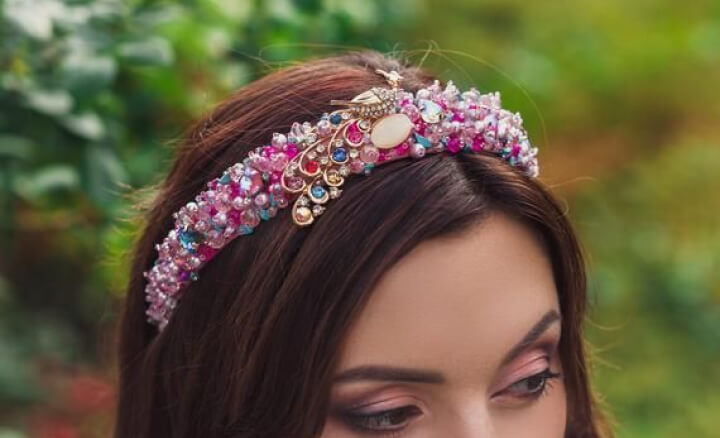 It is a beautiful bridal hair accessory, subtle yet simple. It saves its attention-grabbing quality for the shimmering diamond letter that graces one side. It is wrapped in luxurious plush.
8. Stars Crystal Hair
The galaxy like hair comb will lend a bit of glitz and sophistication to your bridal hairstyle. It is a lovely and feminine way, and it conjures up images of nighttime starscapes. Each star has dozens of crystals that have been skillfully fitted by hand so that you will shine as you walk down the aisle.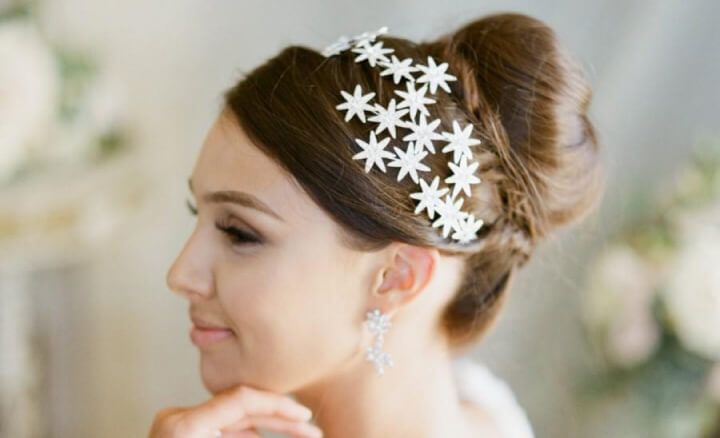 9. Etsy Petite Opal and Crystal Comb
This intricate hair comb will add a wow factor to your outfit without overwhelming your look. The opal crystals are an elegant touch and can be customized to match your wedding's color scheme.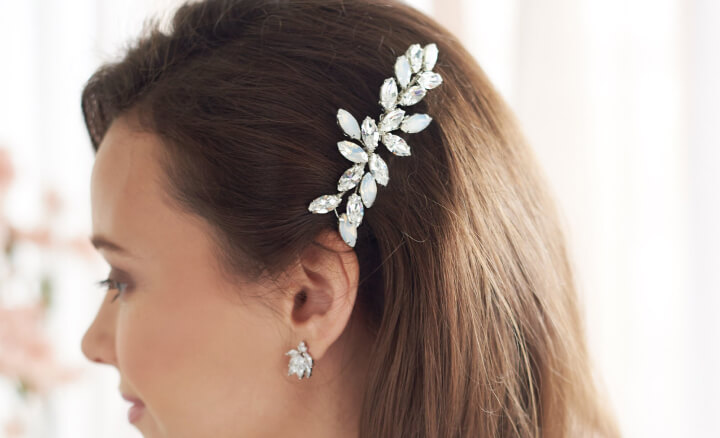 10. Personalized Starry Lace & Silver Bridal Hair Comb
Personalized starry lace & silver bridal hair comb will just lend a gorgeous touch to any bridal hairstyle. It will work great with a veil if that's what you opt to wear on your big day.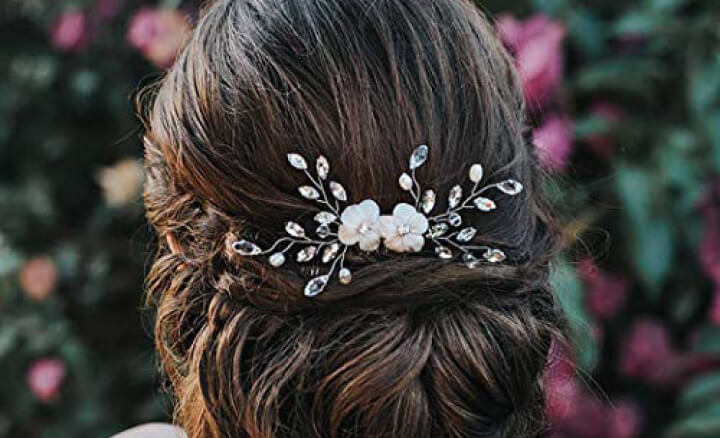 11. Bohemian Hair Pins
If everything about your wedding is Bohemian-themed, then why not have Bohemian hair pins? The best thing about these pins is that you don't need to spend a fortune to do your best on your wedding day.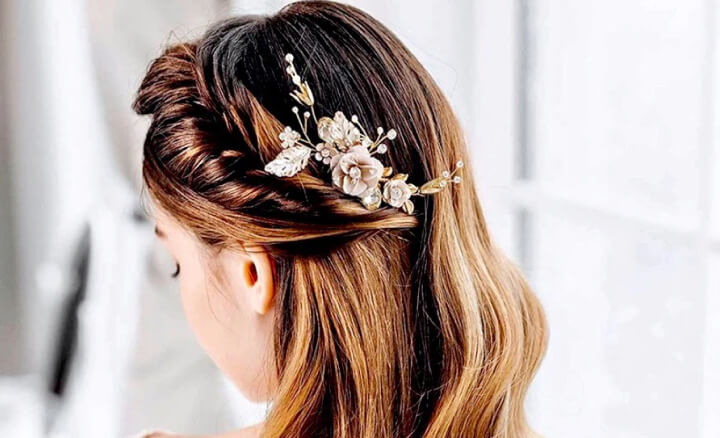 It would be absolutely ideal for a boho bride to wear her hair in an updo and accessorize it with stunning bohemian bridal hair accessories. Style your hair in a loose plait and add your twigs of gypsophila to the strands of your hair. 
12. Gold Jacinta Tiara
An exquisite tiara for the bride is definitely captivating. The wonderful bohemian-luxurious tiara from Ivory & Co gives such a chic vibe. If gold isn't your preferred metal, you're not at a loss. It even offers the Lucretia pattern in silver for those who prefer the look of silver.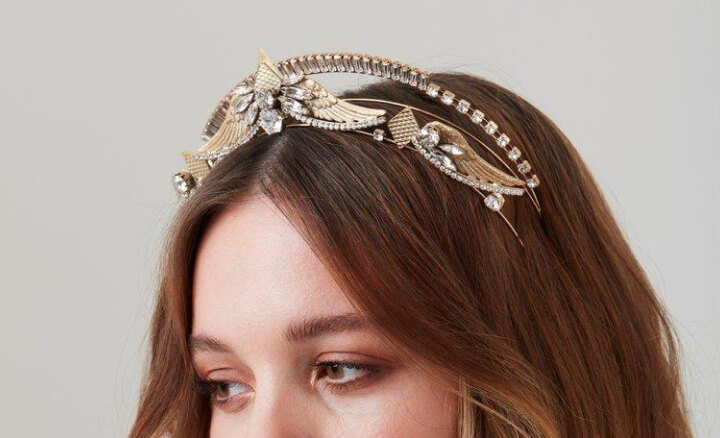 13. Circle Gold Hair Clip
You always have the option to look stylish while wearing hair accessories that are lower in price. The circular gold hair clip from Lovely Littles and Co. is both elegant and trendy. It would best suit you halfway up and down bridal hairstyle. It will remain in place for the whole day, even if you dance through it.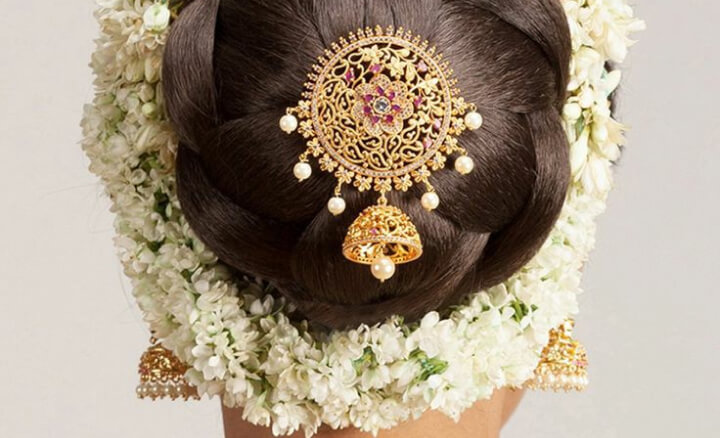 14. Leaf & Flower Crown
Crown may sound a little traditional here. But trust that it will just take your look to another level, especially when yours is a vintage wedding theme. Yes, a leaf & flower crown is a great way to rock your look. You can even give it a delightful bohemian twist. Leaf & Flower Crown features an elaborate leaf and blossom design that will make any bride look gorgeous.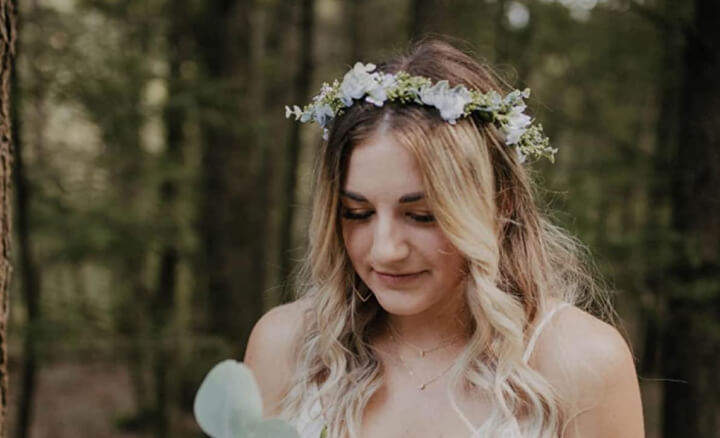 15. Selene Hair Clip
The Selene hair clip, which has been crafted by Tilly Thomas Lux, is among the most fashionable items that you could pick to wear for your bridal look. It also happens to be one of the most affordable options. It has a plating of light 18-carat gold and is embellished with slim navettes made of Swarovski gems.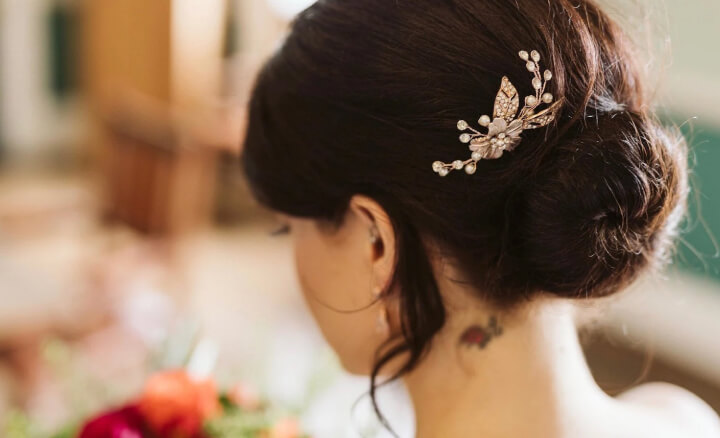 16. What Katy Did Next Betula Tiara
The headpiece, which takes its inspiration from twigs rather than flowers, makes for a gorgeous hair accessory. This beautiful tiara in the shape of a twig is the ideal accessory for a stylish winter wedding.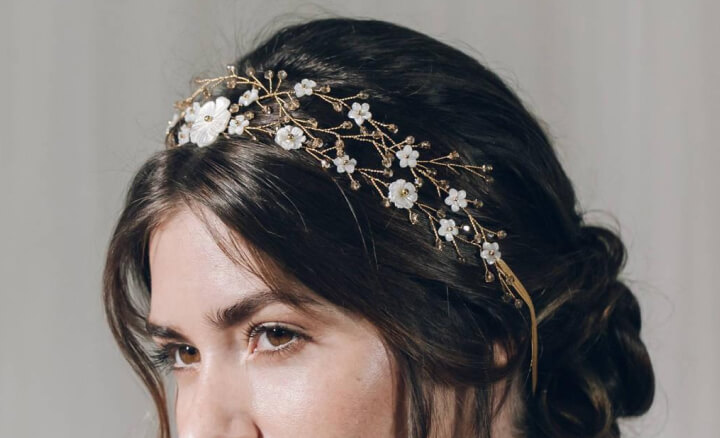 If you want to incorporate some natural elements into your bridal look, then this is the one for you. The delicate Betula crown is created by silver twig charms of varying sizes that are individually wired onto a metal hairband. Gold can also be used for elaborate design if desired.
17. Triple Star Hair Clip
Consider purchasing these hairclips from Collections by Hayley if you are looking for a bridal hair accessory that you will be able to wear on multiple occasions after the wedding.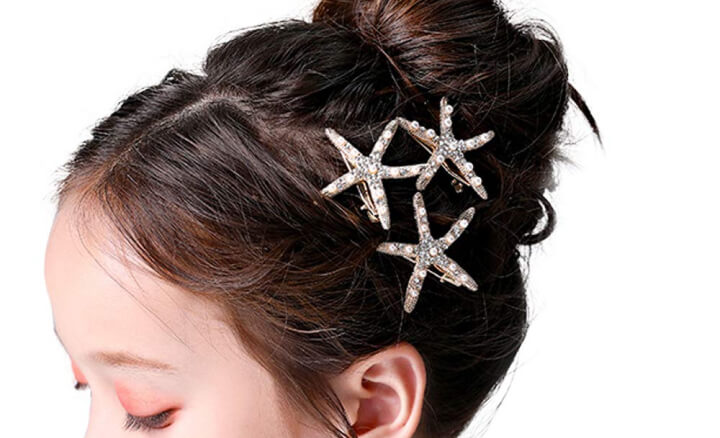 There are three different color combinations available, and each hair clip has three glimmering stars attached to it. You'll be amazed by how beautiful these clips are. 
18. Star Swarovski Crystal Wedding Headband and Hairpins
The star-shaped crystal headband designed for weddings by Debbie Carlisle looks absolutely breathtaking. It would be ideal for any bride who wished to incorporate a celestial motif into her bridal accessories in order to complete the look she was going for.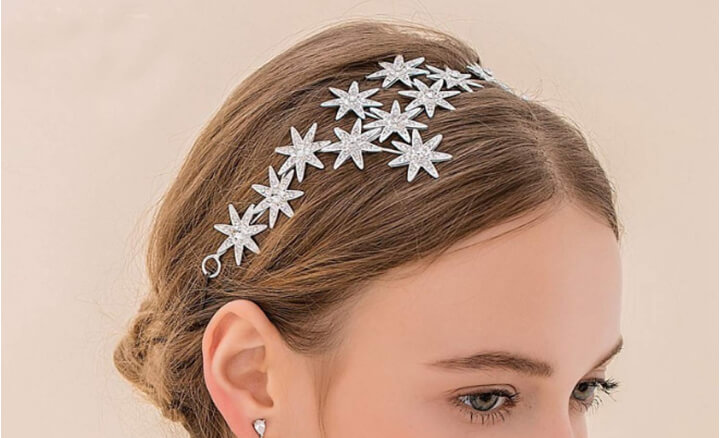 The hand-made star vine can be worn as either a headband or a forehead band. It is fashioned from wire that has been coated in either silver or gold and features nine individual star crystals distributed along its length. In addition to that, it features complimentary hairpins, allowing you to fashion your very own unique bridal appearance.
19. Frame the Bun
Are you planning to have your hair pulled back into a low bun? Or do you want to take the appearance to an even higher level? Whatever the case be, putting a crescent barrette around the bun will give it a glimmer of sophistication. Add a touch of sophistication by pinning a veil beneath the bun.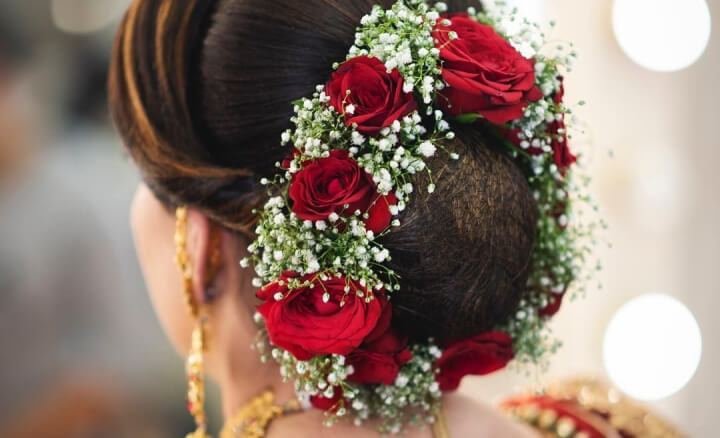 20. Floral-Inspired Pins
Pins with a flowery motif are your best pick if you want to maintain a low-key appearance with your accessories. You won't believe it, but you can wear flowery pins at any time of the year! For your wedding, wear your hair in a curly updo and accessorize it with two floral barrettes. Your wedding guests will certainly like your look, and you never know who you might motivate with the way you appear.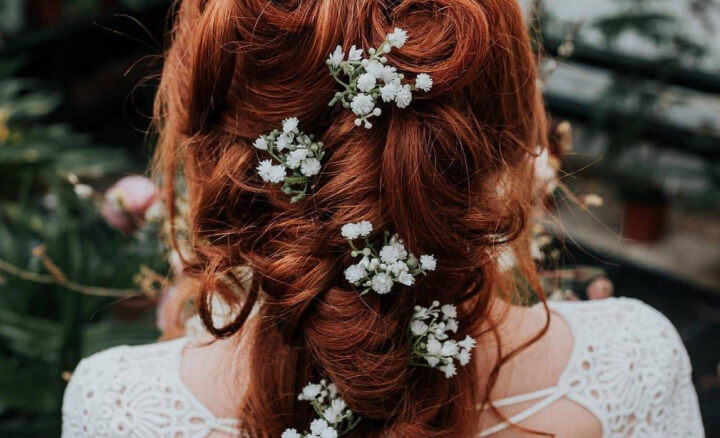 Also See: Essential Hair Care Tips For Bride To Be
21. Sharni Silver Headband
Sharni, in a shimmering silver finish, is the ideal choice for a laid-back yet sophisticated appearance that can easily be transitioned from day to night. A cute hand-wired wedding hair accessory that consists of a narrow headband with a structured design and dispersed metal leaves. Such hairpieces are magnificent, comparatively bigger than usual. The majority of these wonderful pieces are inspired by classic Hollywood movies.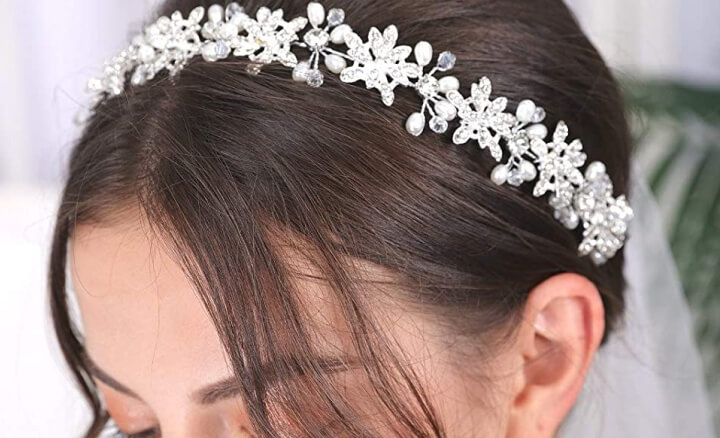 22. Ribbon
A simple ribbon can add so much to the overall design of a bridal gown. A dash of black gives the outfit an air of sophistication that is very Parisian.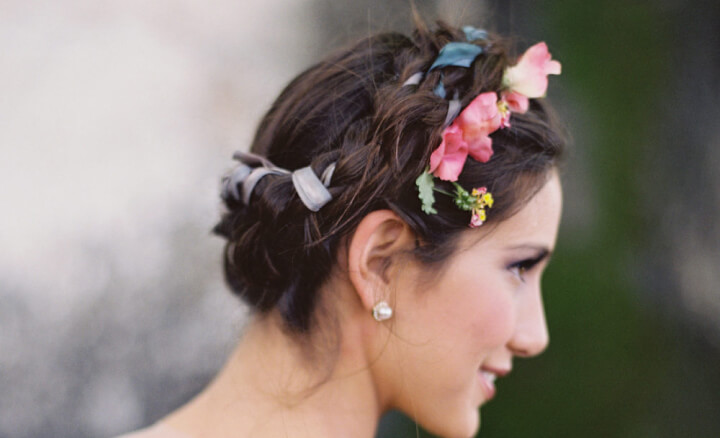 23. Greenery Flower Headband
If you are planning an eco-friendly wedding celebration, then a greenery flower headband is just what you need to complete your look. This green flower headband will look appropriate. You will fall in love with this look for sure.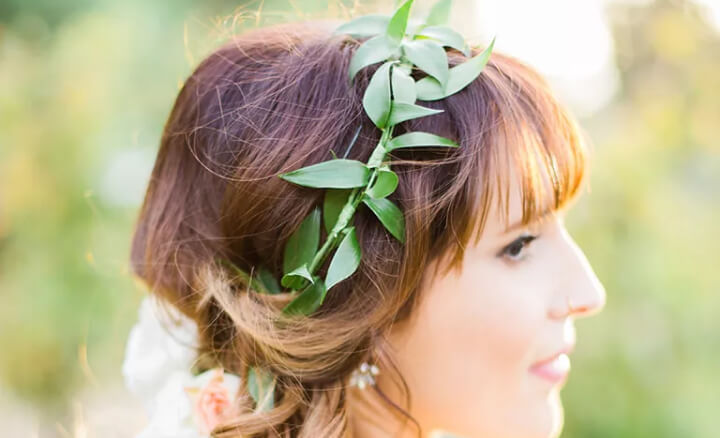 24. Floral & Crystal Headband
The glamourous crystal adorned floral headband is just what you require to complete your subtle look. A Floral & Crystal headband is sure to compliment your bridal attire if it has floral patterns.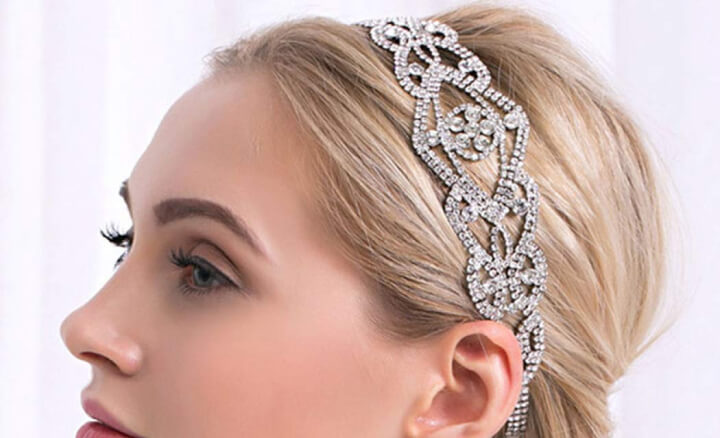 25. Medici headband
The extravagant design of the Medici Headband is a homage to the art of the Renaissance as well as the royalty of the middle ages. This headband, which is studded with crystals, may alternatively be dubbed a crown due to the fact that not a single square inch of its surface is devoid of the glittering effect. The Medici exudes elegance and romance, two qualities that are signatures of the Jennifer Behr collection.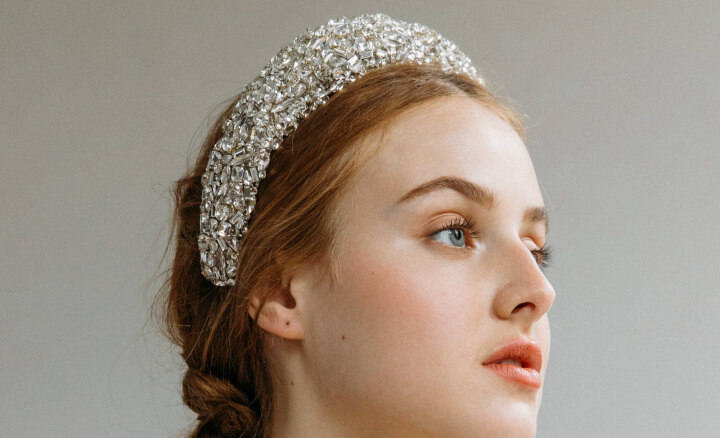 26. Crystal elastic wedding headband
Do you want to keep the hair accessories you wear for your wedding simple?
This crystal headband from Queen Mee is uncomplicated and flexible, making it the ideal accessory for subtly enhancing the shine of your hairdo. It is certain to steal the night.
27. Athena Crown
This bridal tiara designed by Tilly Thomas Lux takes the form of a headband similar to that worn by warriors. The Athena Crown is comfortable and simple to wear due to its low weight. The winged design fits in well with the graphic shapes and the crystals that sparkle the most, all of which are plated in pale 18-carat gold.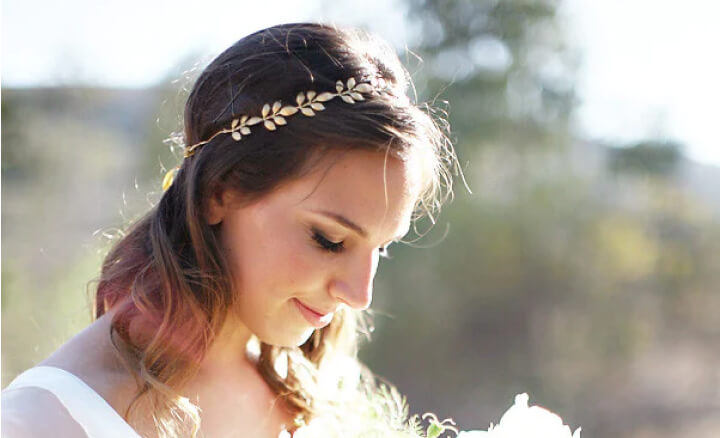 It is an homage to the Greek goddess Athena, who is known for her wisdom. These crowns complement the different forms and the most sparkling Swarovski crystals in an effortless manner. Everyone at your wedding party will be blown away by it. 
28. Nefertiti Crown
If you're looking for an outside-the-box bridal look, then Nefertiti Crown is for you. Nefertiti's crown, also called cap crown, is crafted from sturdy Eva Foam, although it weighs almost nothing overall. It is embellished with paint, glitter, metallic gold trims, jewels, and other baubles. The best thing is that they can be embellished with any paint, from light blue to turquoise. The inside of the headpiece has felt lining, and there is elastic that can be adjusted on the back.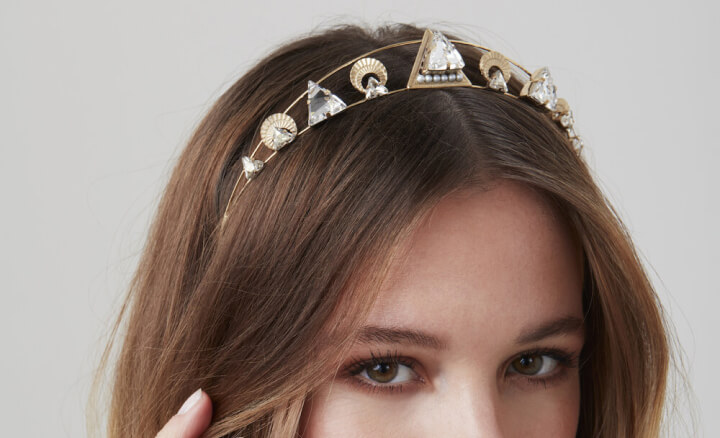 The combination of the 18-carat gold-plated pearls and the Swarovski triangle stones makes this headpiece both contemporary and sophisticated.
29. Crown Style Hair Vine
The bridal hair vine can be pinned to the side or back of the hair. Other options include wearing it as a bridal headband. It is composed of finely carved flowers made of mother of pearl, powdered with stunning crystals, and, in the silver version, small freshwater pearls. It is the ideal wedding hair accessory to wear if you are wearing a boho bridal gown.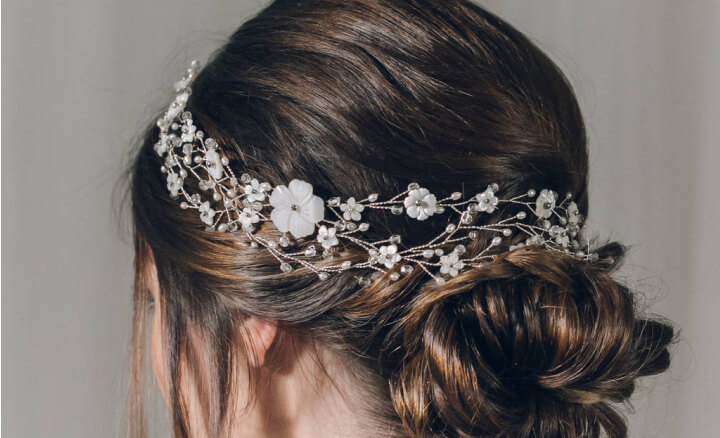 30. Rose Gold Crystal Embellished Tiara
Wearing the Princess Aria tiara from Liberty in Love on your wedding day will make you look absolutely imperial. It is crafted with exquisite rose gold, and it is studded with scores of Austrian crystals that have been carved in facets to gleam like actual diamonds.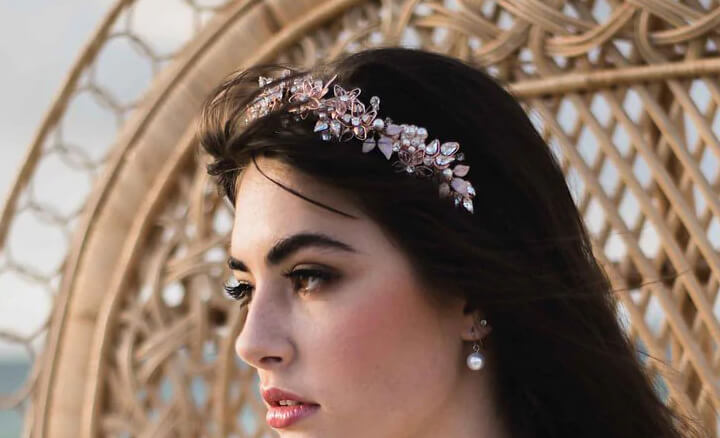 Related: The Complete Guide to Wedding Hair and Makeup Costs
Wrapping up…
So, there you have it: the 30 stunning wedding hair accessories. Hopefully, this article will help you find the perfect hair embellishment to fit your bridal style. Choose the best hairpiece from the 30 stunning options above and add that little extra touch by donning the best hair accessory. Aside from these, you can also opt for barrettes or bun wraps to complete your look for the day. Whatever you choose, make sure it helps you look your best on your D day.
Know that the overall appearance of your hairdo can be improved with the use of hair accessories. Consequently, it is essential that you opt for the one that complements your entire appearance the most. You won't believe how quickly and easily your appearance can be improved by just adding this one little detail. Additionally, in order to avoid having second thoughts on the wedding day, it is essential to decide on your bridal hairstyle in advance.
Happy Wedding… ☺ ☺