Rehearsal dinner is one of the most important events. You need to send separate invites for inviting your guests for rehearsal dinners. Of course, you can keep the occasion formal or casual, however, you like it. But the thing is, you need to use the right rehearsal dinner invite wording while writing invites.
If you're wondering how shall you create your rehearsal dinner invite and what wording you should use, then read this post.
In this post, we shall discuss with you everything about the rehearsal dinner, including rehearsal dinner invitation wording.
Here we go…
Table of Contents
Everybody who you invite to the rehearsal also needs to be invited to the meal before it. Rehearsal dinners are a great way to have your special friends and your out-of-town guests together to celebrate one of your life's most momentous occasions. Your rehearsal dinner invitation MUST reflect the love and excitement of this moment in your life.

IMPORTANT ASPECTS OF REHEARSAL DINNERS
1. Time to Send Rehearsal Dinner Invitations
Rehearsal dinner invites must be created at least eight weeks before the big day. And when it comes to sending the dinner invites, make sure they reach your guests at least four to six weeks before the event. Send invitations in plenty of time, but not so far in advance that people forget about them.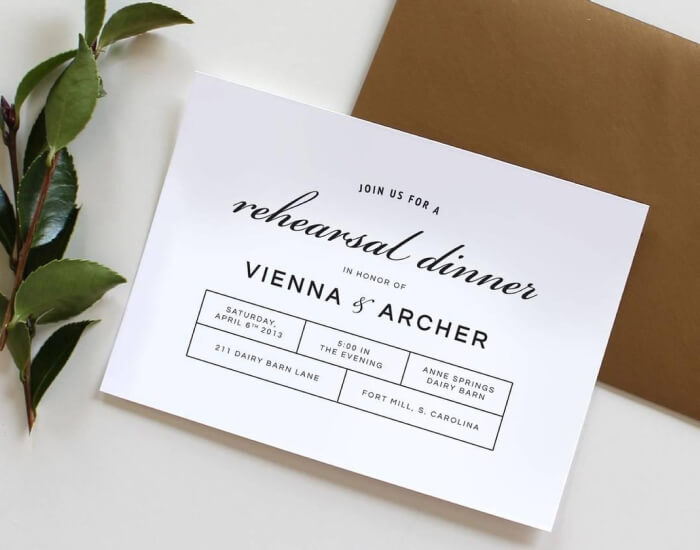 If you send out invitations within that window, guests will have plenty of time to respond and make arrangements. Also, know that many of the people attending the wedding won't be invited to the rehearsal dinner.
2. Number of People to be Invited to the Rehearsal Dinner
The number of people invited to a rehearsal dinner is often substantially lower than that at a wedding. It is one of those events that include close family members, close friends, your out-of-town guests, and the ones who are directly involved in the wedding (such as groomsmen and bridesmaids).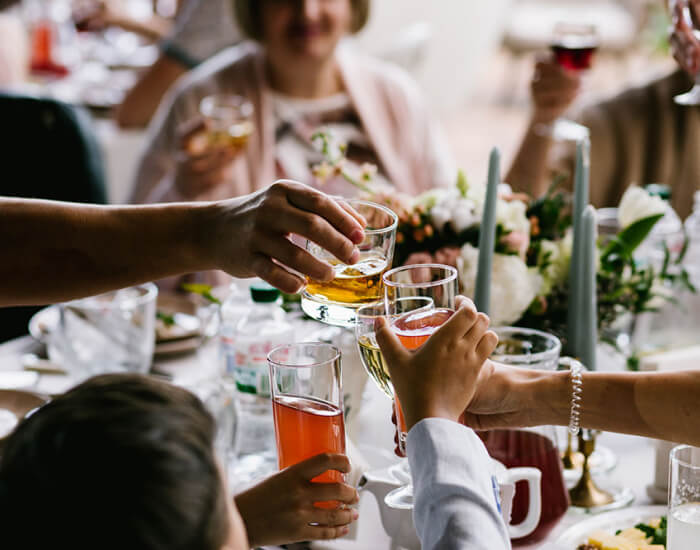 There is no fixed rule to invite people. Your rehearsal dinner is often the last big event before you say "I do," hence, it is up to you who you want to invite. You can choose to invite any number of people to your party.
3. Cost
When it comes to the arranging of a rehearsal dinner, determining who will foot the bill is one of the most important aspects. It is customary for the families of the groom and groomsmen to organize and pay for the rehearsal dinner. Nevertheless, the decision of who will pay for the meal must ultimately be left up to the couple.
It is imperative that you make this decision well in advance, regardless of who will be footing the payment. Knowing it in advance will allow you to keep your spending within your budget.
4. Venue of the Dinner Rehearsal
The venue of the rehearsal dinner matters a lot. You can choose to have your rehearsal dinner at the wedding venue's restaurant or another dining area. Some couples prefer to book separate venues, such as a pub, for their dinner rehearsal, while others prefer their own wedding venue only. No matter what you choose, the rehearsal dinner should reflect who you are as a couple and be a time of celebration, not stress.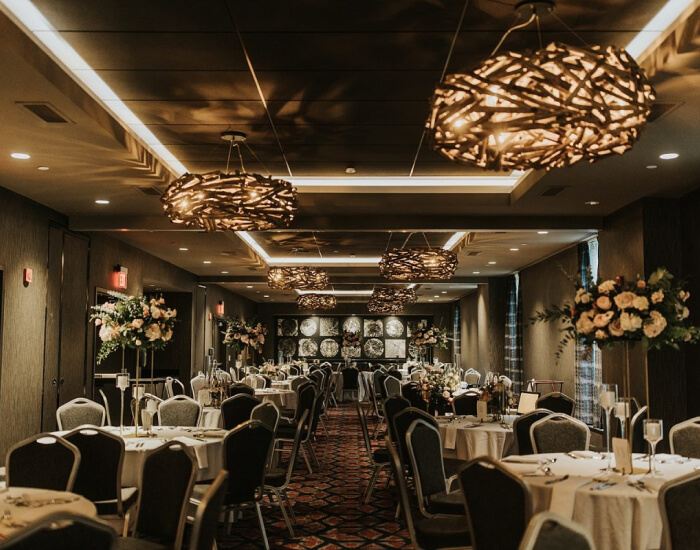 Pro Tip: Consider your wedding venue, guest list, available funds, and level of formality when deciding where to hold the rehearsal dinner.
5. Party Attire
What you're going to wear will solely depend on the type of party you're throwing. Specifying a dress code for the dinner is always a good idea. If you have a clever motif or colour scheme in mind, make sure to share it with your guests while writing rehearsal dinner invitation wording.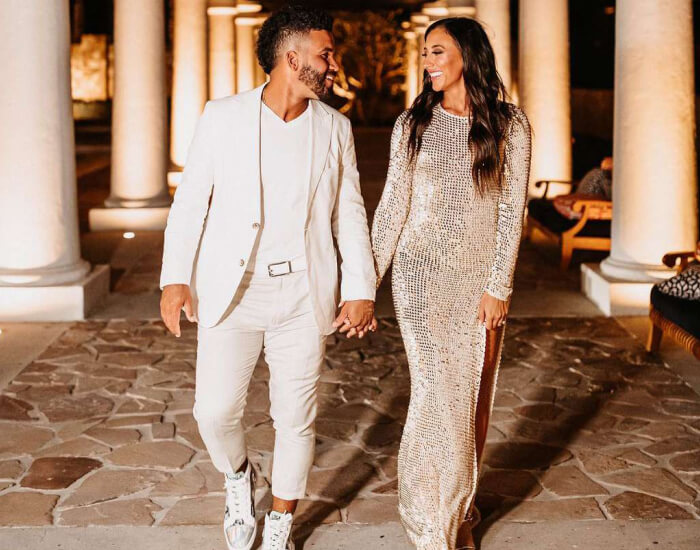 Traditionally, rehearsal dinners tend to be somewhat formal affairs, while modern couples prefer less formal dinners. Black tie weddings require guests to dress formally or in cocktail clothes. Invitees to a more laid-back nuptial celebration might feel free to wear whatever makes them feel at ease at the cozy rehearsal dinner.
Your job is to make your guests clear about the party attire in advance via rehearsal dinner invitations.

REHEARSAL DINNER INVITE WORDING
Your invite MUST reflect the tone, style, and theme of the rehearsal dinner. The rehearsal dinner invites should include all of the information that your guests need to know, including the time, location, type of meal, dress code, and so on. Aside from that, you must also mention or specify the people who are hosting the event and the deadline for responses.
Here is what all your rehearsal dinner invites should contain:
1. Time and Date
No matter whether you're writing a wedding invite or a rehearsal dinner invite, date and time are a MUST. Don't miss to include the date and time of the rehearsal dinner. Only when your guests will have the date and time of the event they would be able to make plans to attend. The rehearsal dinner is usually held on the same day as the wedding rehearsal. However, it can also be held on another date close to the wedding, such as on Friday if your wedding is scheduled for Saturday or Sunday.
2. Rehearsal Dinner Venue
After you have mentioned the dinner date and time, you must now mention the venue of the event. Make sure to mention a complete address, including street and ZIP code, especially when you're expecting out-of-town guests. You don't need to host your rehearsal dinner at a very expensive location. You can choose to host it at your wedding venue or somewhere else where you can enjoy it a bit more.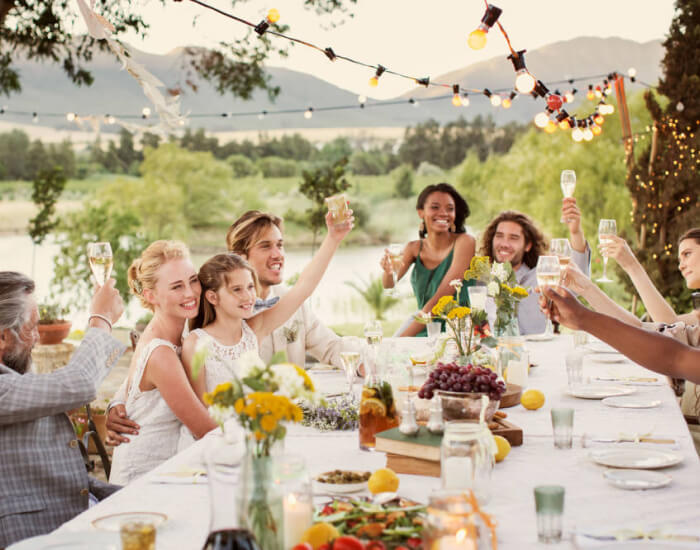 3. Host Names
You must include the host name on the invitation to the rehearsal dinner. It will help people know who they should contact for further information about the event. Specify that it will be hosted by the groom's parents in the rehearsal dinner invitation wording.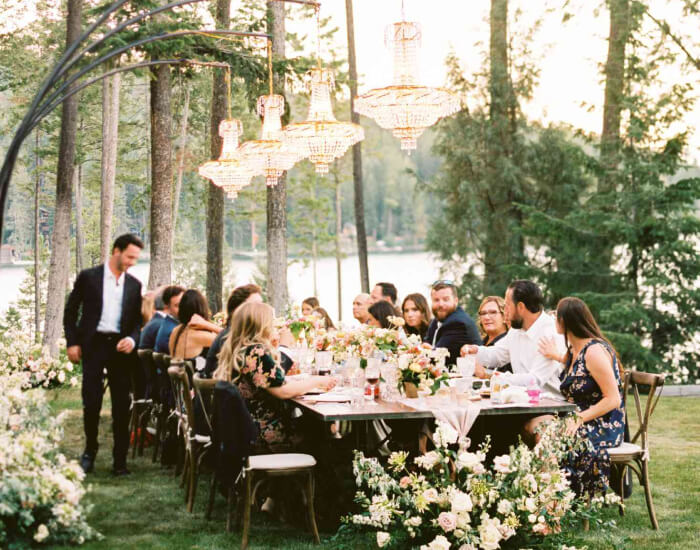 If the couple is footing the bill, it's a nice way to show your appreciation to the host(s). Traditionally, the groom's parents paid for and hosted the rehearsal dinner; however, these days, even the couple or bride's family can pay for it.
In addition, also specify the kind of rehearsal dinner you're hosting, more formal or semi-formal.
4. Honoured Guests
Include the couple's names in the invitation wording for the rehearsal dinner. It is up to you to decide how to format this section. If it's a formal invitation, you may consider including your complete names; otherwise, first names or affectionate nicknames are just fine.
5. Dress Code
Your rehearsal dinner invite must also have dress code details in it. Sharing this information in the invite will help your guests to prepare things in advance. If you're hosting a formal event, you can specify a cocktail dress or formal party dress. Whereas, for a non-formal event, you can ask your guests to wear whatever they feel comfortable in.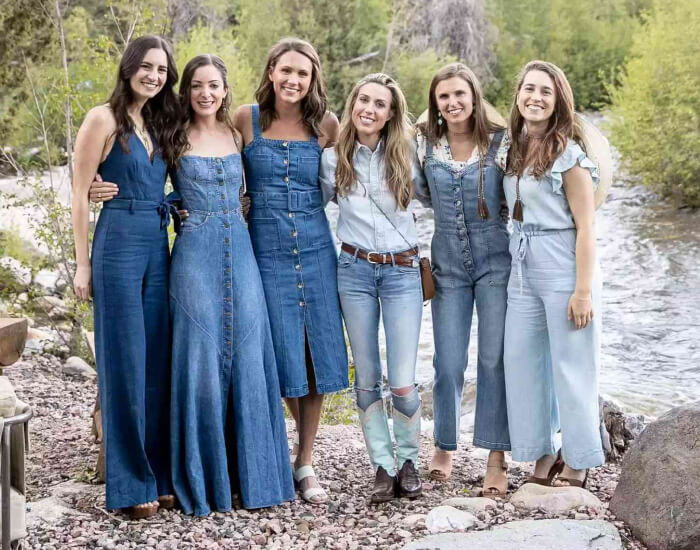 6. RSVP Procedure
You'll need to know who all are going to attend the event. For that matter, it is crucial to mention the deadline for the responses. Include an RSVP method and date at the conclusion of your invitation for the rehearsal dinner.
You can even include an RSVP card with your formal invitation. Your guests may fill out the RSVP card and return it by mail or email. Don't miss to specify an RSVP line, email address, or wedding website on your rehearsal dinner invite.
7. Transportation Details
If you plan to host your rehearsal dinner in a remote location, then arranging for your guests' transportation becomes crucial. Make sure to include transportation details or alternatives to your invite. Knowing things in detail will help your guests reach the venue on time and without any discomfort.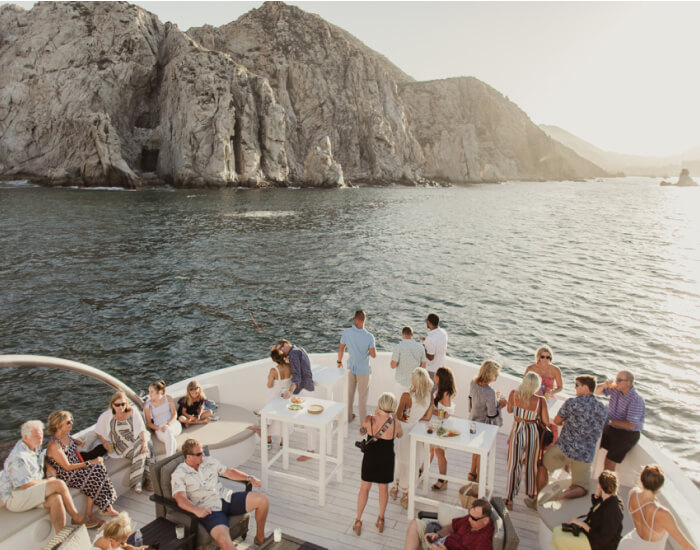 8. Keep it To The Point
Your rehearsal dinner invitation wording may include the necessary information that isn't included in other invitations. Keep your invite short and to the point. Avoid making your invitation overly lengthy. Keep the design simple and elegant. Keeping it simple does not at all mean skipping any important information. You can even include menu choices in your rehearsal dinner.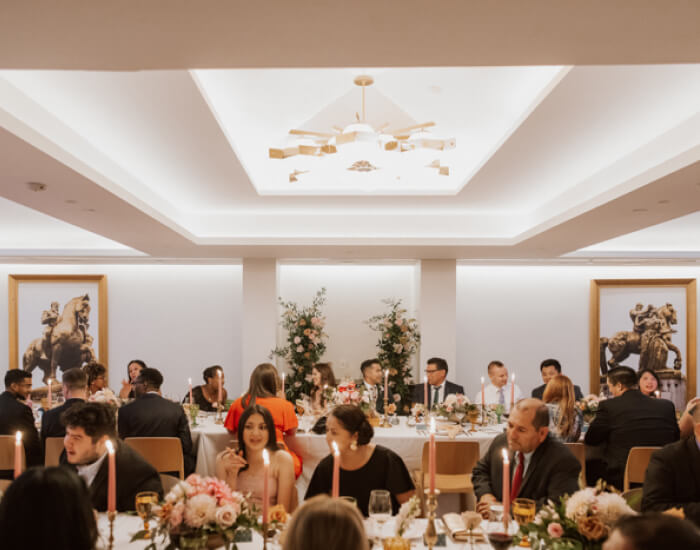 Inspirational Wording for Rehearsal Dinner Invites
Even if you know exactly what information you need to convey, putting it into words might be difficult. Here are some examples of rehearsal dinner invitations to help you create your own invite without much effort. You can use these as templates for your own rehearsal dinner invitations or text. Take a look…
Wording for Invitations to the Rehearsal Dinner
Example 1: The rehearsal dinner invite wording example for Jack and Liza:
Jack and Liza invite you to join them
for cocktails and dinner
following the wedding rehearsal
Friday, June 16th, at 6:30 P.M.
La Luna, Rochester
NY, United States
Please respond by May 31st, 2023
Example 2: The rehearsal dinner invite wording example for Roma and Steve:
We are thrilled to extend this rehearsal dinner invite
Please join us for a Rehearsal Dinner
in honor of
Roma and Steve
At La Luna, Rochester, NY, United States
on Friday, June 16th
6:30 P.M.
RSVP by May 31st
We would love to have you at the event!
Example 3: The rehearsal dinner invite wording example for Samantha Malcolm and John Taylor:
Join us for an
Rehearsal Dinner Honouring
Samantha Malcolm and John Taylor
Friday, June 16th, 2023
Starting at 6:30 P.M.
La Luna, Rochester, NY, United States
Hosted by Richard and Rachael Taylor
RSVP by May 31st, 2023

Conclusion
So, it's time to conclude our article titled "wedding rehearsal dinner invitation wording." We hope that this article and the rehearsal dinner invite wording example will help you create a fantastic rehearsal dinner invitation for your event.
Enjoy creating rehearsal dinner invites using these rehearsal dinner invite wording examples!
Happy Wedding… 😊 😊