Before the D day, friends of the bride will most likely plan a bridal shower. The bridal shower is a farewell party as she bids farewell to her singlehood. It is a traditional celebration to honor a bride-to-be. Planning for this can be a lot of fun and exciting, and if done correctly, it can make an unforgettable gift for her.
Here in this post, we shall discuss some of the stunning Bridal Shower decoration ideas.
Are you ready to explore?
Let's get started…
Table of Contents:
What exactly is a "Bridal Shower?"
Aside from the fact that it is a send-off party for a bride-to-be, a bridal shower is an opportunity for everyone close to her to gather. It's her last party before she marries.
A bridal shower is usually held a few days before the wedding. However, it is entirely up to the hostess of the shower to decide when, where, what time, and what type of bridal shower to throw. Showers can range from an intimate home gathering to a wild night out.
A bridal shower is usually organized by a friend. This person will most likely also host the party. It really depends on the host, whether to plan and host the party alone or to take help from other bridal party members.
The shower is frequently hosted by the maid of honor, with assistance from the bridesmaids. It's always advised to organize a bridal shower with others' help. There are several ways you can make the event memorable. It's entirely up to you how you want to make the event memorable for the bride-to-be and her guests.
We have rounded up a list of top Bridal Shower Decoration Ideas for you. Take a look

Top 12 Bridal Shower Decoration Ideas
Decoration plays an imperative role when it comes to hosting a party. At what scale you're throwing a party doesn't matter much – decoration is a MUST!
Moreover, it's not necessary to go extravagant to create the right ambiance. Even in your budget, you can create a lavish environment. So, let's see what the different options to do so are…

1. Fire and Ice Theme Decor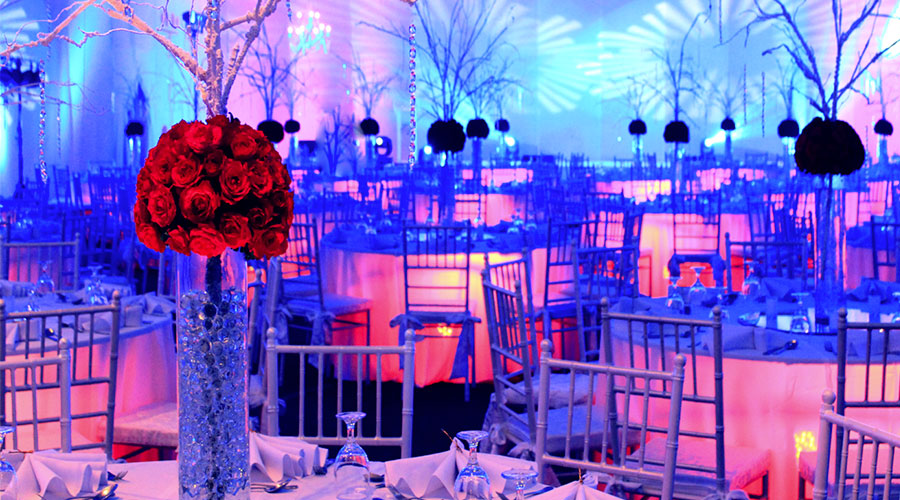 A Fire and Ice theme is one of the best bridal shower decoration ideas you can incorporate. Create a budget and begin thinking about the types of decorations you want to use.
You don't need to spend on ice sculptures – you can make your own ice sculptures, candle holders, and votive candles out of ice. You'll need freezer space, or if you live in a cold climate, you can prepare them ahead of time and store them outside.
Colors can range from white on white to ice blue with red accents or black and white with silver accents. For stunning visual impact, you can consider using dry ice, theatre smoke, or a fog machine to create the illusion that the room is icy. Use a lot of twinkling white lights to create a cool and warm bright effect.

2. Balloon Backdrop
The easiest way to add a festive touch to any décor is balloons! The bridal shower is an excellent opportunity to get creative with these animatronic party must-haves.
You can create a stunning backdrop with white and purple balloons of various sizes, greenery, white and pink roses, and white hydrangeas. Use duct tape to arrange everything, and your beautiful and lavish backdrop is ready!
For a more opulent look, you can consider using burgundy, white, and blush latex balloons filled with gold confetti. This is up to you how you want to get creative with balloons.
Related: Top 10 Creative Balloon Decor Ideas for Wedding Reception
3. A Budget-Friendly Setting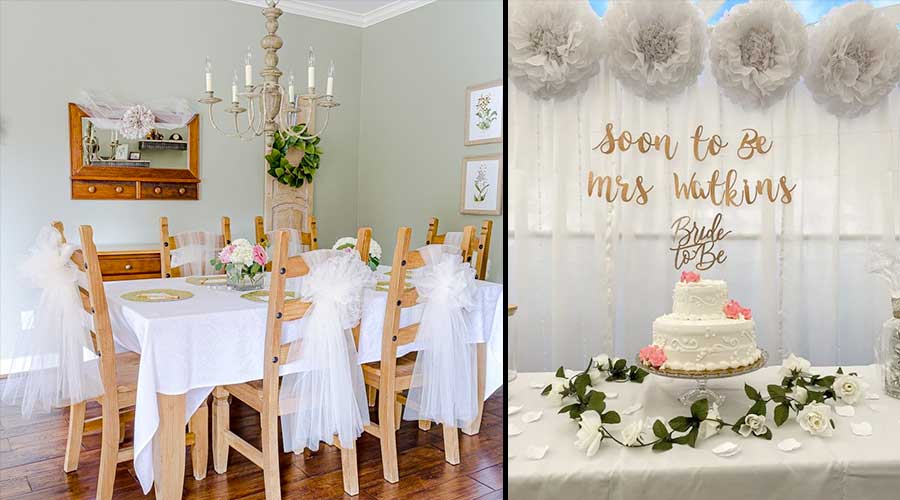 You don't need to spend a fortune on bridal shower decor. A little bit of imagination and creativity is just enough to create the right ambiance for the bride-to-be and her guests.
Make tall dramatic decorations out of yard branches. Paint the yard branches in white and cover them with iridescent glitter. Now, take some crystal vases and fill them with yard branches. Your guests will love seeing them sparkling from the candles on the table.
This is just one way; there are myriads of ways you can use yard branches to DIY bridal shower decor. All you have to do is to plan ahead of time because DIY takes time!

4. Create a Balloon Arch
Another most effective way to create beautiful decor in your pocket is a balloon arch. Take white and blue or burgundy and pink or multi-color balloons of different sizes, and create an arch using a glue gun.
If you don't have a glue gun, go for a fishing wire to create an arch. It's always good to take help. Because you will need people to inflate balloons, and if there is no one to help, get a helium tank or a pump to do the job.

5. Make the Best Use of Tulle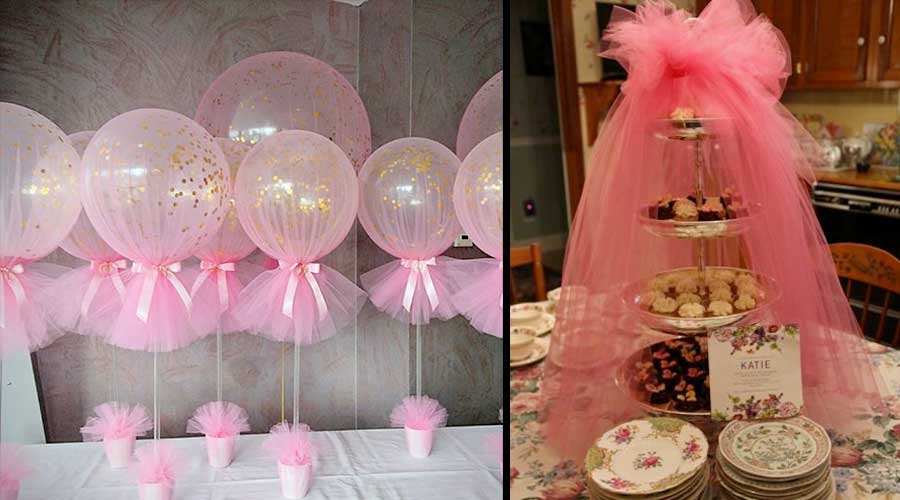 Tulle decor is one of the best bridal shower decoration ideas. For a perfect bridal shower – spruce up your décor with a purely wedding element, tulle. There are sundry ways you can use tulle to create an amazing ambiance for the bride-to-be and her guests.
If you want to keep things simple, just take latex balloons and drape them in white organza, and you're done! You can create an arch with it or just use them to create a backdrop. You can make an elegant curtain out of scraps of white tulle for the photo backdrop.
If you have a dessert or cocktail bar, you can dress it up with a tulle. Use violet hydrangea blooms, white balloons, and a white satin ribbon to spruce it up further.

6. Create a Dessert Bar
A bridal shower menu is one of the essential elements of your party – and Dessert is an integral part of the menu. Of course, you would want to celebrate the event with something sweet.
Thankfully, there are endless options available when it comes to bridal shower desserts. You can create a stylish dessert bar for your guests. You can include a variety of small bites done in a common color palette or theme in the dessert bar.
Some of the best options for a dessert bar are petit fours, macarons, frosted sugar cookies, mini cheesecakes, mini cupcakes, and so on. Consider having at least four different dessert types for a group of 25 to 30 people. For larger groups, you can have around 5 to 6 different dessert options.

7. Create Rustic Place Card Holders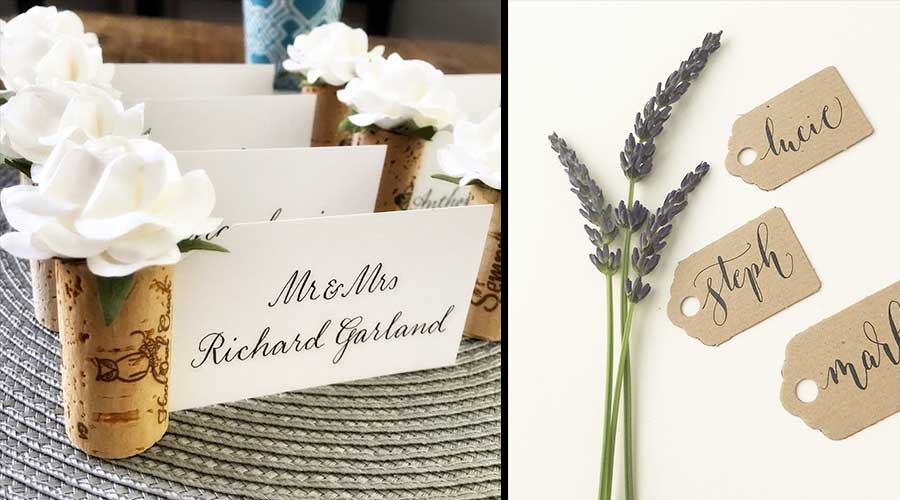 Take the bridal shower decoration to the next level with beautiful place cards.
To be on a budget doesn't mean to ditch special elements from the decor. You can always DIY beautiful place cards for the bridal shower and make the whole thing look stunning.
If you live in the countryside, you most likely have a plethora of twigs right outside your door. Use those twigs to create adorable rustic place card holders. Take a rope (jute rope), tie two twigs together to create a rustic place card holder. Now place an elegantly written card inside the holder and put it on the table. That's all!!

Also Read: Creative Rustic Bridal Shower Ideas To Celebrate In Style
8. Stack Up The Alcohol Stylishly
You don't need to follow the norms when it comes to decorating a bridal shower venue. You can customize a bar area for the bridal shower by placing your drinks stylishly.
You can use a vintage desk or a banquette table to customize your bar table. Decorate it with your favorite elements and set out a variety of bubbly or liquor, along with mixers and garnishes.

9. Let Donuts Do Some Magic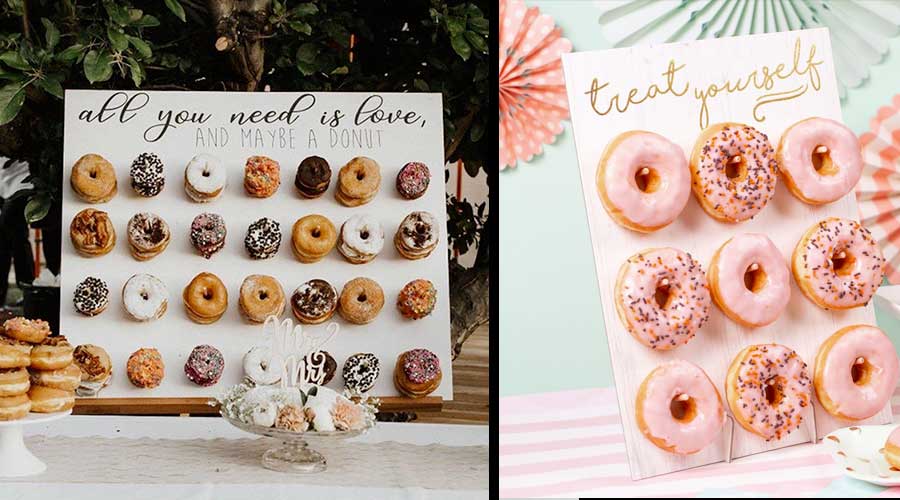 How about creating a gorgeous donut bar or wall for your guests. These cute little bites are easy to make. You can even consider making them at home or buying them from a nearby bakery or coffee shop.
A donut bar just adds class to any party. You can even create a donut wall. A bridal shower with a donut theme is a great idea for someone who enjoys sprinkles and glaze. Donuts could be pretty bridal shower decor because a donut wall makes a lovely backdrop for bridal shower photos.
You can consider creating a donut bar. All you have to do is to arrange for assorted flavor donuts for the party. Your guests would love to savor on a platter of donuts.

10. Set a Vintage-style Table
If you want to relive the bygone era – go for vintage-style tableware. Set the table with vintage-style plates, bowls, teacups, and silverware to create a delightful atmosphere. If you don't have these dishes, ask friends and family for them, or look for them at a thrift store or on Etsy. You can also choose to rent them for the bridal shower decoration.
Floral printed tableware is a good way to relive the old English culture. Serve savory dishes on silver and floral-decorated platters and large plates. Arrange cookies and other delectable treats on elegant tiered stands for a truly sweet presentation at the dessert buffet. DIY napkins with lace or ribbon for a more adorable look.

11. Tea/Coffee Bar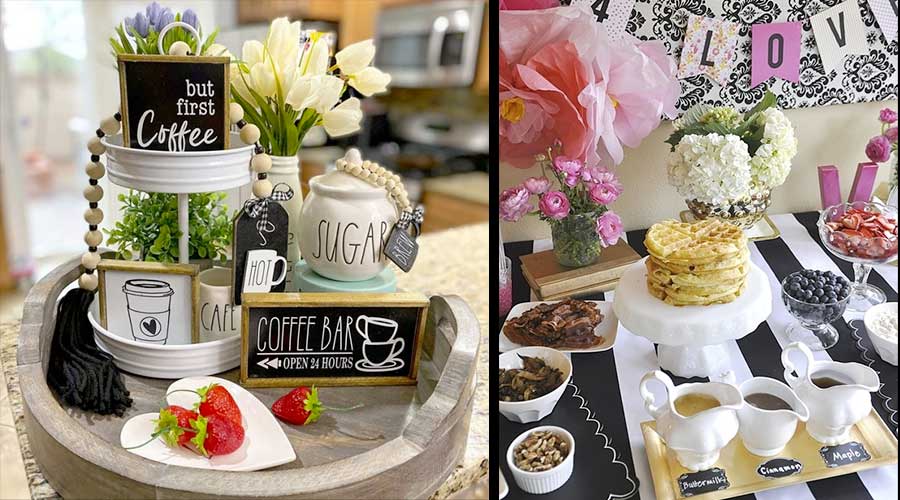 If you're hosting a tea party bridal shower, create a stylish tea/coffee bar for your guests. Offer tea the old way – in a teapot with hot water, tea, milk, and sugar so that guests can make their own cup of tea.
The menu for your bridal shower tea party will differ depending on whether it is afternoon tea or high tea. You can choose to make a Fire and Ice theme menu. Add some hot and spicy dishes with some cold side dishes. Your guests will surely adore the idea!
See More: Top 15 Refreshing Wedding Welcome Drinks
12. Spruce up the Place with Candles
There's nothing more enticing than the soft glow of candlelight. Candles are the cheapest and the best way to create an adorable ambiance at the bridal shower.
Purchase some inexpensive votive and tea light candles from your local dollar store and scatter them around your tables. You can even use mason jars to create perfect decor.
So, these are the 12 best bridal shower decoration ideas for you. Hopefully, these ideas will help you get started and create an amazing ambiance for the bride-to-be and her guests. There are numerous other ways you can spruce up the venue and let the bride-to-be feel special, in addition to these 12 bridal shower decoration ideas!
Now, it's time for Bridal Shower FAQs.
Take a look
FAQs
1. Who should host a bridal shower?
Showers are frequently hosted by the maid of honor or bridesmaid, or family members. This is a sort of farewell party for the bride-to-be. Several of the bride's friends or relatives may host the shower together, splitting the costs and organizing the event. Well, when deciding who should be the host, consider the individual circumstances.

2. When does a shower take place?
The ideal time is two months to two weeks before the wedding after the couple has finalized their wedding plans.

3. Who should we invite for the shower?
Ideally, people who are invited to the wedding should only be invited to the bridal shower. It will be impolite to invite someone who hasn't been invited to the wedding.

4. How many showers are acceptable?
Well, multiple showers are acceptable, but you don't need to invite the same people in all the showers. For example, if office colleagues are hosting a bridal shower for the bride-to-be, they can only have office colleagues at the party.
If a maid of honor hosts a bridal shower, they can invite close family members and the wedding party to the shower. Usually, close family members and bridal party members are invited to more than one shower.

5. Where to host the Bridal Shower?
Well, the place/location varies depending on the type of bridal shower you're planning to host. Often, especially if the party is small and casual, it can be held at the home of one of the bride's bridesmaids or some close friend. For large groups, it is better to select a more appropriate venue, such as a restaurant.

6. Who pays for the bridal shower?
Of course, it's not the bride who will pay for the shower. A shower is a kind of farewell party that the bride's family or friends host for her. Usually, the maid of honor pays for the shower party. However, other people like bridal party members and close family members should also contribute to the overall cost of the shower. If the bridal shower takes place in a restaurant, each person is responsible for their own food and drink.

7. What exactly happens at a Bridal Shower?
Well, a bridal shower is all about having a good time with close friends and family members. A normal bridal shower includes food, drinks, games, chit-chats, etc. More often than not, bridal showers take place during lunch or in the afternoon.
This is up to the organizer how she wants to make the party memorable and enticing. You can have champagne punch, a tea bar, a dessert table, and a shower cake, dream-like decoration, etc., to make it lavish and memorable!
Happy Wedding… ☺ ☺