Welcome to the Men Engagement Dress guide, where we'll help you find the perfect outfit that captures your unique personality and style while celebrating one of life's most momentous occasions. We understand how important it is to look and feel fabulous on such a special day – after all, the engagement dress will be remembered long into your future together!
Whether you prefer something classic or contemporary, formal wear or funky casuals – our selection includes only top-of-the-line fashion from renowned labels around the globe, so rest assured that whatever choice you make will underline elegance and class. Let us assist in creating an unforgettable experience full of sophistication! In this blog, we review the best engagement dress for men in 2023.
Tips to Select the Best Engagement Dress
Finding the best engagement outfit for a man can be daunting. With so many options in today's market, knowing what look will convey your style and personality is essential when saying "yes." Here are five tips from an experienced marketing expert that you should take into consideration while selecting your engagement attire
Consider the formality of the occasion – Choose something appropriate for both how formal or casual is required;
Select pieces that suit your body type – Choosing clothes based on fit rather than size ensures maximum comfort throughout the day;
Incorporate colors – Whether classic neutrals or bold hues, adding color injects life and energy into any ensemble;
Accessorize appropriately – From cufflinks to ties, accessories ensure men stand out without overdoing it! ; and
Have confidence in yourself – Above all else, wear whatever you feel good about!
10 Best Engagement Outfits for Men
1. Jodhpuri Bandhgala Suits
Jodhpuri Bandhgala suits are one of the most popular options for a classic engagement dress for the groom. These timeless garments exude sophistication and style, making them perfect for a modern groom-to-be's special day. Crafted with exquisite detail from luxury fabrics, these sophisticated bandhgalas lend an air of elegance to any formal occasion.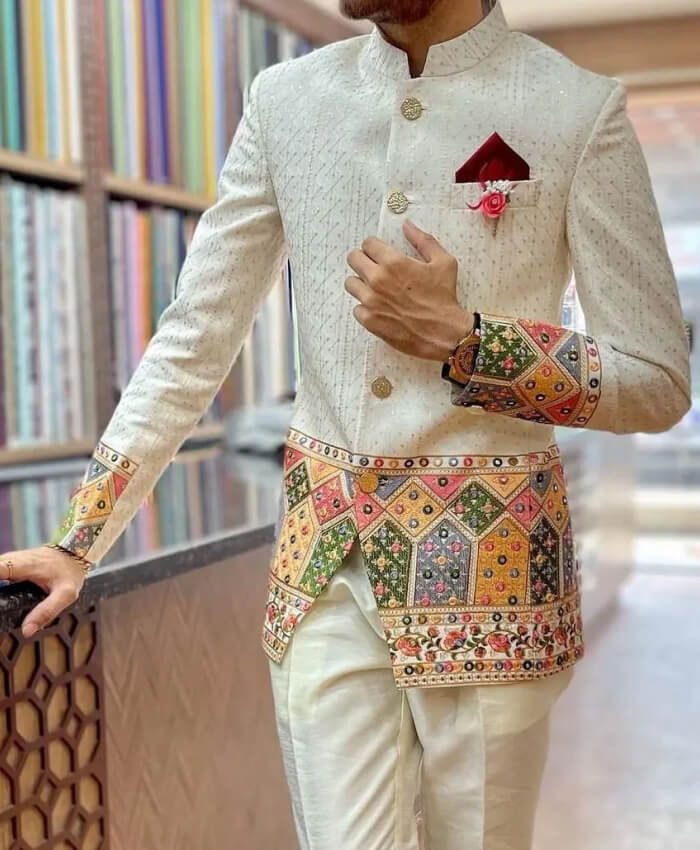 Cut in traditional slim fits and featuring high collars topped with Nehru jackets, this look adds understated class to make you stand out! Whether paired with trousers or ethnic footwear like jutis, Jodhpuri Bandhgala will surely be your sartorial choice when looking best on that all-important event – your Engagement Day!
Also See: Latest Style Guide To Cocktail Wedding Attire for Men
2. Sherwani
Sherwani is the perfect traditional engagement dress for groom, offering men a unique look to set them apart. From muted colors to vibrant textures and intricate embroidery designs, sherwanis are stylish and comfortable options for any special occasion.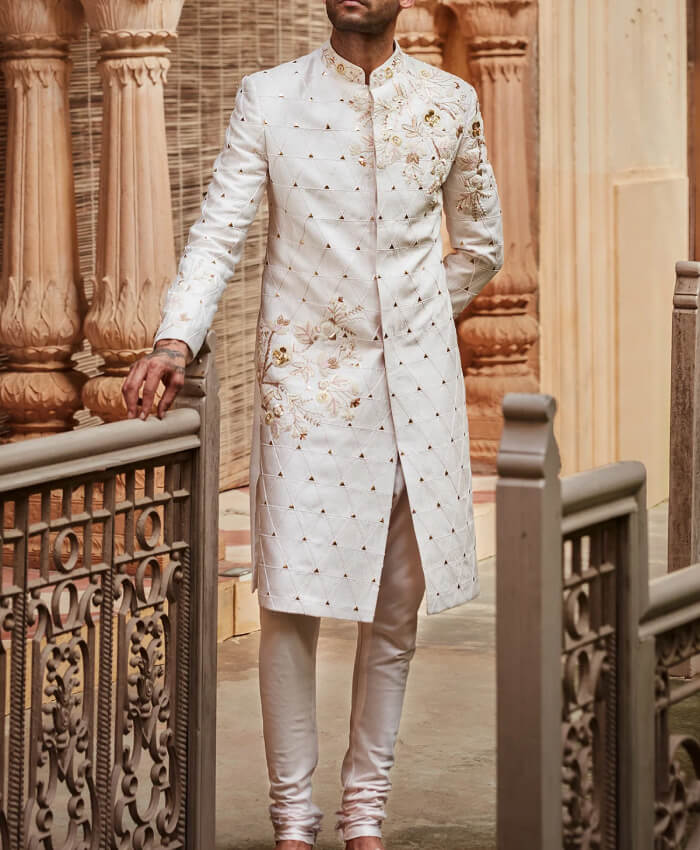 Handcrafted using only the finest fabrics like raw silk and velvet, these smart outfits combine tradition with modern style while providing unbeatable quality at an affordable price. They're ideal for anyone looking to make a bold statement without breaking their budget – making it easy to find one that perfectly reflects your taste!
Also See: Wedding Day Accessories for the Groom
3. Tuxedo Suits
When it comes to finding the perfect engagement dress for a groom, there is nothing quite like a tuxedo suit. The classic style of this timeless piece will surely make any man look sharp and sophisticated while radiating confidence on his special day. Tuxedos are usually crafted from high-quality fabrics such as wool or cotton with satin lapels that come in black or navy blue colors, which adds an impressive touch to your overall appearance.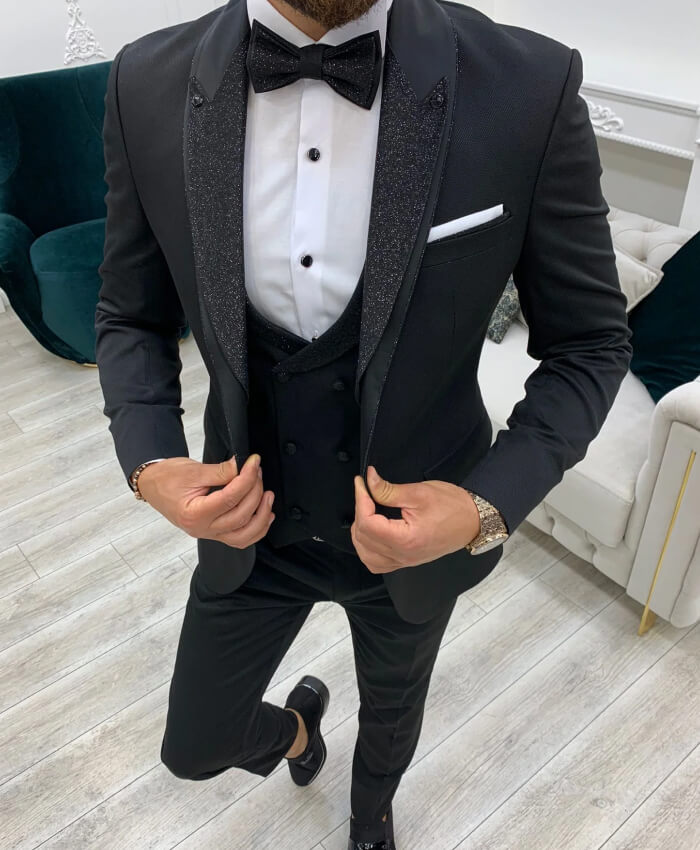 Moreover, its slim fit gives you a sleek silhouette that exudes effortless elegance suitable for all formal occasions – including engagements! So if you want to make sure you're looking the best on one of life's most important days, go ahead and invest in a tailored tuxedo suit; it would be worth every penny spent.
4. Kurta Pajama
Kurta Pajama is the traditional engagement outfit for men in many parts of Indian culture. It has become popular as a great engagement look because it adds subtle sophistication and comfort to any occasion. With its wide array of colors, designs, fabrics, and cuts, kurta pajamas are easily customizable according to different style preferences.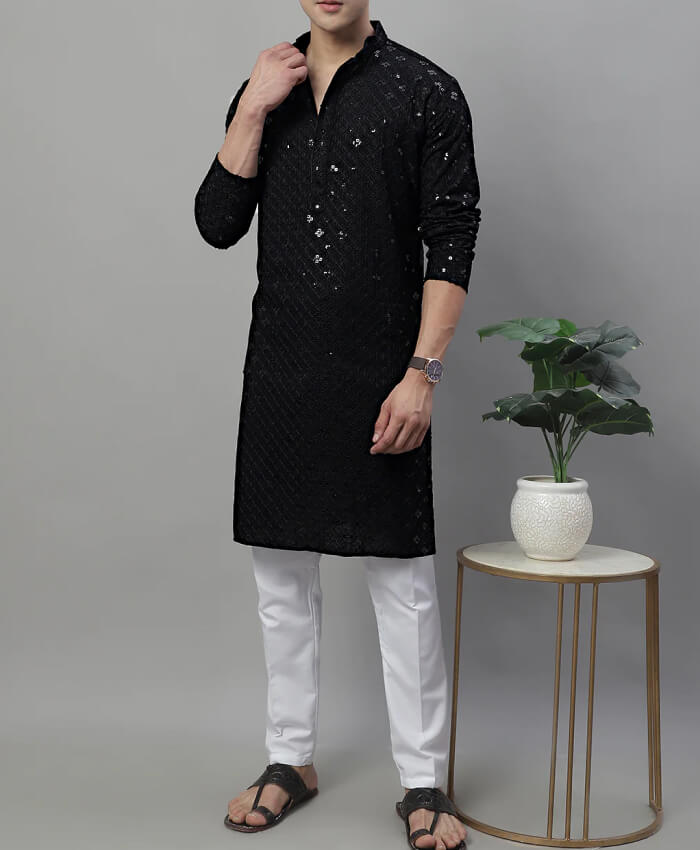 Plus, they are accessible on your wallet and effortless since no accessories or layers are required! Moreover, these outfits represent modern yet timeless fashion looks that will make an impeccable impression at formal events such as engagements ceremonies without sacrificing comfortability throughout the day-long festivities ahead! Ultimately Kurta Pajama sets represent classic elegance with contemporary sensibilities, making them the perfect choice for grooms everywhere who crave something unique while staying true to their roots.
5. Designer Blazers
Designer blazers are one of the best engagement outfit for men to make a statement and add a touch of sophistication. Made from high-quality materials such as wool or cotton, designer blazers come in different styles with modern cuts that hug the body and give you an impeccable fit. Their fine details, like peak lapels, double vents, contrast piping, and bold buttons, set your outfit apart, making it stand out.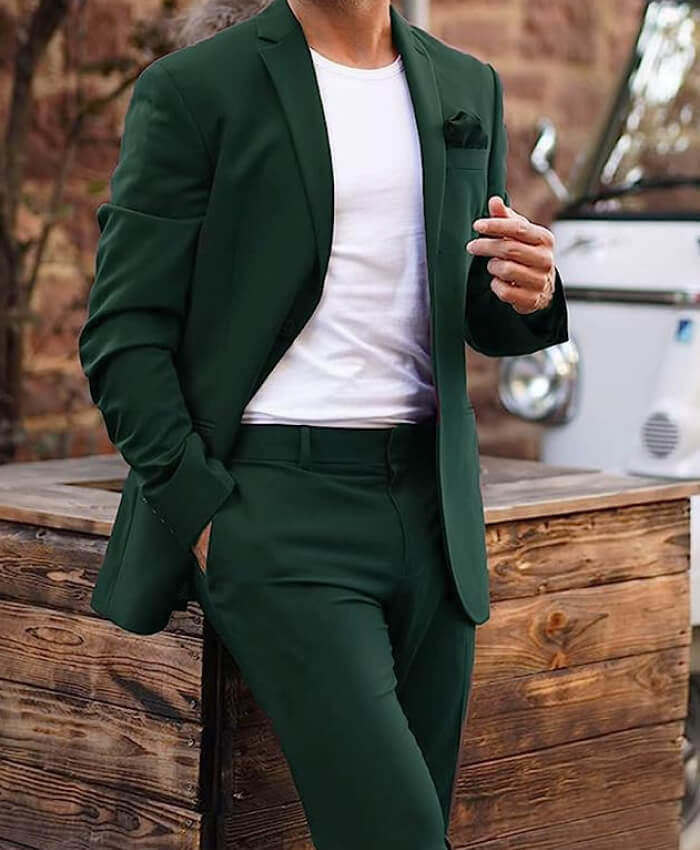 Additionally, these fashionable pieces offer year-round comfort, all while still maintaining cutting-edge style thanks to its classic color palette, which includes navy blues, blacks, and grays, amongst other colors – ensuring men look professional without compromising their fashion sense. All in all, designer blazers allow any man wanting to rock up looking sharp at his next engagement party!
6. Dressy Casual
Are you looking for an engagement outfit that's dressy but not too formal to make a statement? For men, the perfect middle ground between dressed up and casual is 'Dressy Casual.' This style provides an effortlessly refined look. With Dressy Casual attire, you can enjoy comfortable clothing with subtle hints of luxury. A tailored-fit shirt in light colors such as grey or blue paired with trousers looks dapper and classic when accessorized correctly.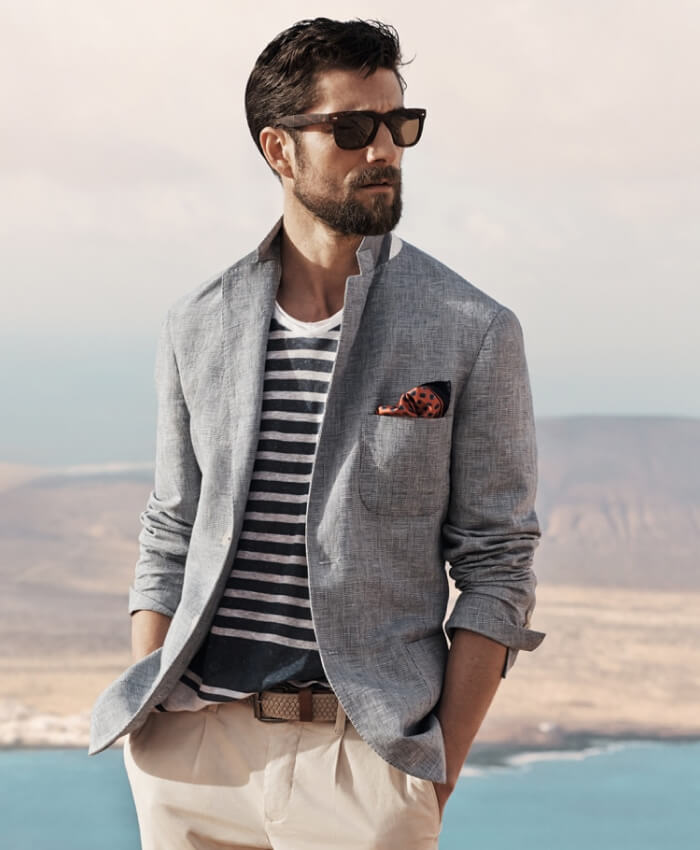 To add extra panache to your ensemble, choose quality leather shoes like loafers or oxfords matched with belts that complement each other nicely while maintaining the stylish vibe of Dressy Casual wear. Whether it's dinner parties or small engagements, this fashion always impresses!
7. Nehru Jacket with Kurta Suit
Looking for a stylish men's engagement outfit? Why not opt for the Nehru Jacket with Kurta Suit – an age-old classic that is timelessly fashionable? This combination of traditional Indian craftsmanship and modern formalwear will give you the right look to make your special day memorable!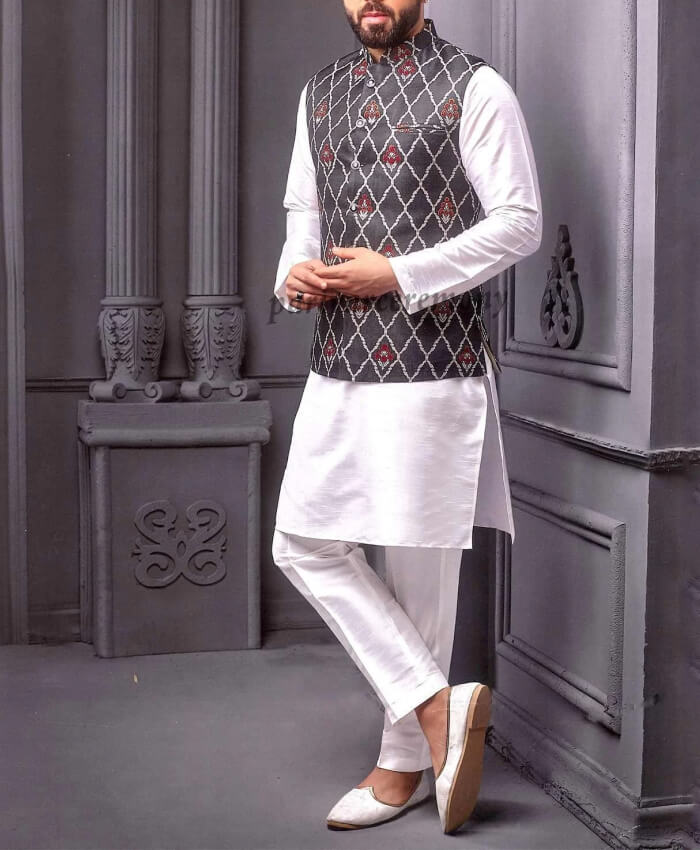 Its classy cut, comfortable fabric, and versatile color palette are excellent wedding or engagement wear options and regular business attire. Plus, with added features like pocket detail & lapel width personalization, this ensemble can take any man's wedding wardrobe from dull to dazzling! Get ready to be noticed wearing this perfect fusion of rich heritage and contemporary styling on your big day!
8. Blazer and Dress Pants
The elusive pursuit of choosing the absolute best engagement look for a man can be daunting. But one classic combination that always works is teaming up a blazer and dress pants. This timeless style exudes professionalism while creating an elegant impression: perfect for making any big day memorable. With its slim fit cut, tailored lines, and structured shoulders – nothing beats this fashion combo in achieving sharpness with your ensemble!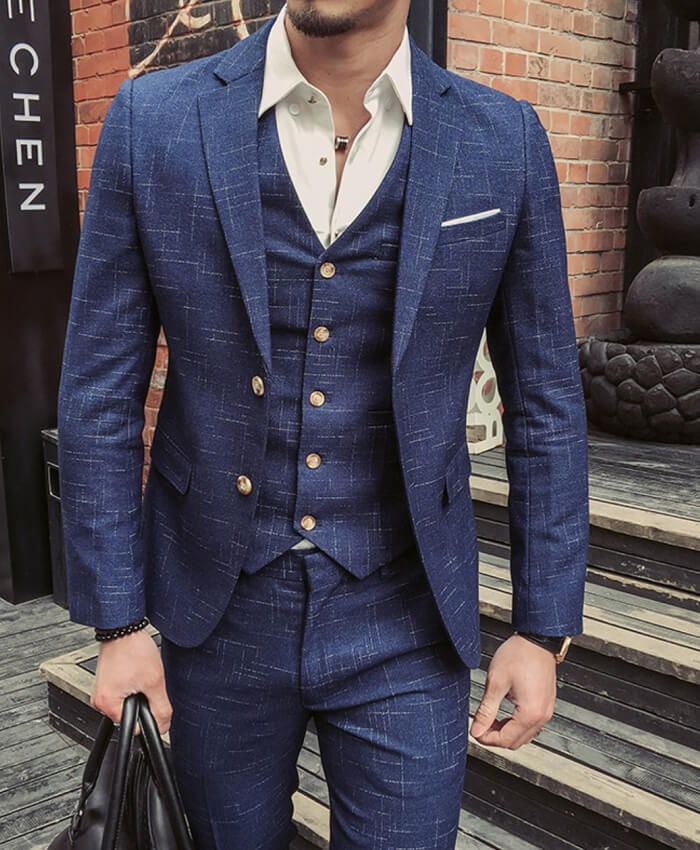 Furthermore, subtle details such as pocket squares or waistcoats are great additions to add further sophistication to round off the complete smart-casual look, which will surely set you apart from everyone else on your special occasion.
9. Stylist Waistcoasts
Waistcoats are essential for men's engagement outfits for that well-dressed, elegant look. With various designs and fabrics, the waistcoat is ideal for engagements or wedding ceremonies. For those looking for something stylish yet professional, there's no better option than wearing a waistcoat with their top shirt and trousers combination—a great way to make sure you stand out on your big day.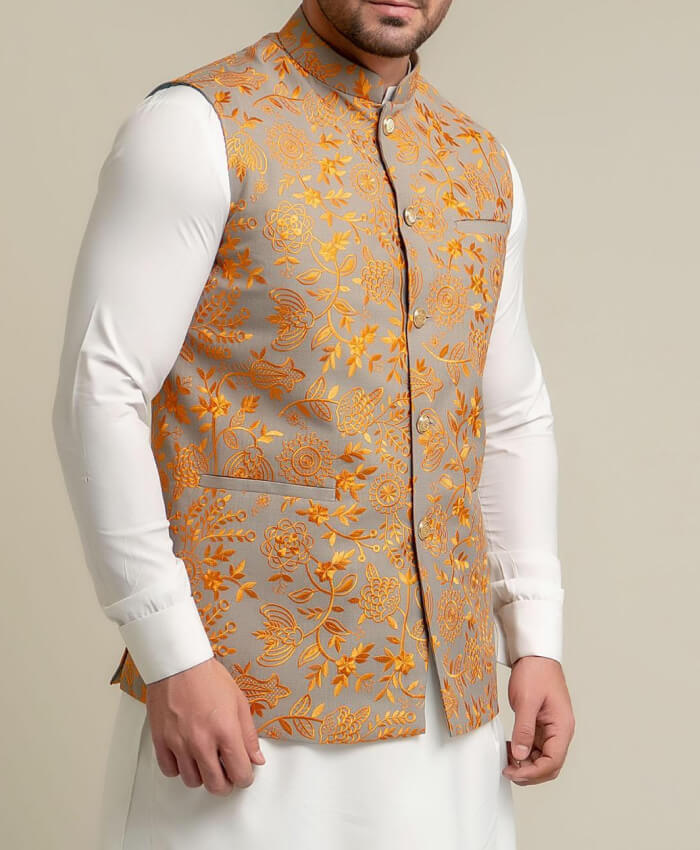 Whether in bold colors or classic black & white varieties, modern fit styles, or vintage cuts – whatever suits your style best fits into this timeless fashion statement! Investing in one such stunning waistcoat ensures sophistication combined with charisma when dressing up smartly!
10. Double Breasted Suits
The double-breasted suit is often regarded as a must-have item when it comes to dressing for special occasions, such as engagements or weddings. Unlike this classic garment, no other apparel choice can offer a timeless look that conveys professionalism and sophistication. The unique shape of the suit complements virtually any body type without compromising comfort to achieve an impressive style statement.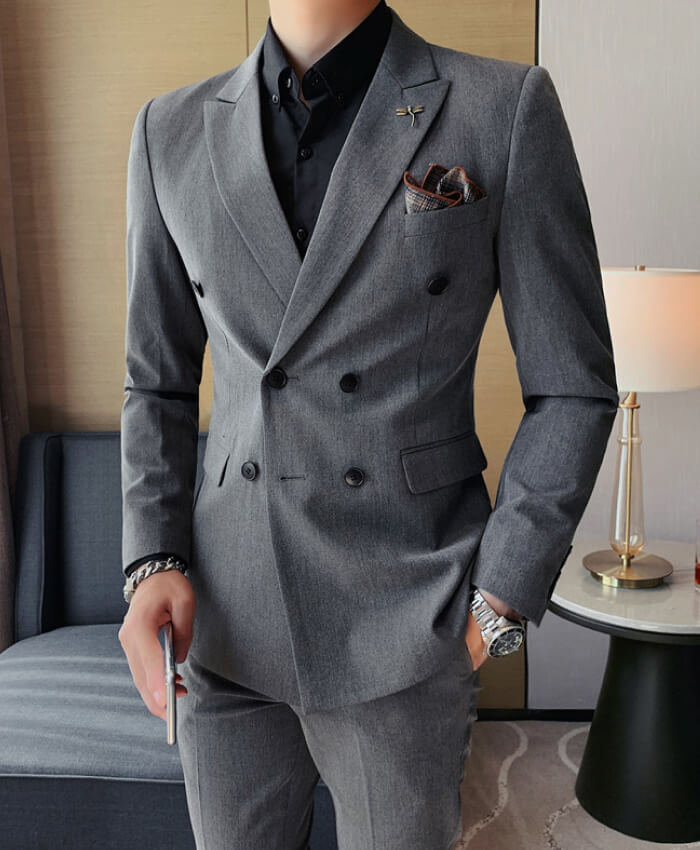 A sleekly tailored double-breasted jacket teamed with trousers will impress even those most discerning when choosing their dress code at every event! Be confident knowing that your selection will have everyone enthralled on what could very well become one of life's most important days.
11. Ethnic Prince Coats
Ethnic Prince Coats are the ideal way to stand out during your engagement. These traditional yet modern coats help you exude style while making an impression on your special someone. Available in various colors and fabrics, these elegant items have been specifically designed with men's engagements in mind.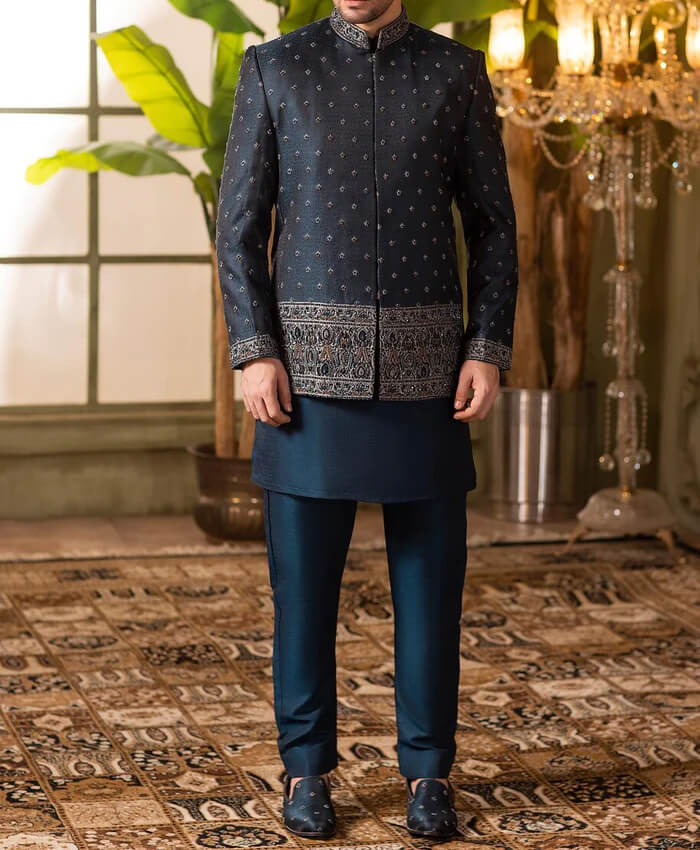 Expertly crafted from top-notch materials like wool or heavy silk blends, they provide maximum comfort and do not crease easily—a huge plus for any long day spent celebrating two people coming together as one! With their timeless cut and contemporary design details, such as removable fur cuffs or contrast linings, Ethnic Prince Coats will take any groom's attire up a notch.
Conclusion
An adequately tailored outfit is essential to a successful and stylish look for any man looking to make an impression at their engagement. Whether you choose formal or casual attire, bringing that extra attention to detail can elevate your ensemble from ordinary to extraordinary!
By selecting great quality materials such as cotton twill, wool blends, silk linens, and luxurious velvet fabrics in addition to well-fitted lines & silhouettes, accessorizing with luxury watches or pocket squares adds the perfect finishing touch on setting yourself apart from all other attendees at this very important event. We hope this blog on the best engagement dress 2023 is useful to the readers.