Mountains are one of the most serene places you can visit in the world. The feeling you get while on a mountain is as though you are on top of the world. There you find everything that you need to make your wedding memorable. 
Mountains are filled with different natural elements, such as trees, serenity, peaceful surroundings, and lovely animals. Aside from that, there are numerous reasons why you will want to hold an outdoor wedding on a mountain. 
You will find the 25 best destinations for mountain weddings in the USA as you read. 
So, let's get started…
People who are fond of nature and breathtaking surroundings must consider hosting a mountain wedding. And what could be better than the mountains in the USA? Holding your wedding on a mountain will give your pictures lovely backdrops. There are many other reasons why you will love to choose a mountain as your venue; you will find out as you read on.
Let's talk a bit about a mountain wedding and some benefits of holding a mountain wedding.
Mountain Wedding In The USA
If you are based in the USA, then you must love the beauty of Colorado. It has one of the best views of the mountain with the beauty of nature around it. A mountain wedding is meant for individuals who love outdoor weddings in a marvelous natural setting. More often than not, mountains are surrounded by beautiful trees, gorgeous fields of flowers, and snow capping. 
It is often advised that you choose your wedding date on time and get your venue booked in advance. Doing so will help you have the best destination for your wedding where you can say "I DO." 
Ways To Host a Mountain Wedding
Apart from the breathtaking views of a mountain, you can create wonderful memories there. The mountain is a very serene place where you can seek solace while enjoying the beauty of nature. Just imagine the happiness of saying "I DO" amidst the beautiful setting that you will cherish all your lives. There are different ways in which you can host a mountain wedding. It includes the following:
First, decide your wedding date.

Then, find an ideal location for your mountain wedding in the USA.

Visit the venue in person (if possible), or ask for a 360-degree view of the venue before finalizing it.

Let your guests know of your wedding dates well in advance so that they can make arrangements on time.

Choose the theme and color of the day.

Buy your wedding attires.

Book your vendors in advance.

Make sure the direction to any mountain you have chosen is well described for your guest in your wedding invitation. It will help your guests locate the venue. Make sure to include directions and a landmark in your wedding invite. 

Reach your venue at least a few days before the wedding.

Get your wedding venue decorated in advance. 

Have someone coordinating with your wedding vendors if you haven't hired professional wedding planners.

Look your best at your wedding and enjoy your day to the fullest! 
Benefits Of A Mountain Wedding In US.
Whatever decision you wish to make in life, regardless of how bizarre it can sound, there will always be some benefit. Although, you can have a special reason why you wish to take your wedding vows on a mountain. 
There are still benefits that you might not know about. These benefits include the following:
You will get breathtaking views of the mountain.

The pictures you take while exchanging vows on a mountain are always amazing. The reason is because of the natural light and beauty of nature that will be on the backdrops.

It is always a perfect place for every bride or groom who loves nature. So if you don't mind having dirt stuck to your gown, this place is perfect for you.

It is budget friendly as you won't have to spend so much on throwing a large party. You won't have to spend money on the decoration of the venue because of the nature that surrounds the mountain.

You will also enjoy the atmosphere due to the unique experience on a mountain.  
Things To Consider While Planning a Mountain Wedding
While you are making plans for your mountain wedding, there are a few things you should put into consideration. These factors are important because you are not the only one visiting the venue. The factors you should consider are as follows: 
The season of your wedding: when you want your wedding to take place should be considered while planning. As weddings on the mountain during the rainy season can be a troublesome affair. There is no point holding a wedding in the rainy season on a mountain. 

Ease: Make sure you choose an easy trail for hosting your wedding. Of course, some of your guests, especially oldies, will find it difficult to walk to the venue. Also, make sure to keep your direction simple and easy.

Hire Professionals: Hire the services of an event planner to make things easy for you.
Best US Destinations For Mountain Weddings
Generally, there are lots of mountains in the USA where you can hold your wedding and make it memorable. However, we have listed some of the best US destinations for mountain weddings for you. Take a look… 
1. Lake Tahoe, California, and Nevada
This mountain is located at the borders of California-Nevada. Lake Tahoe Mountain has the best mountain scenery that you can ever imagine. It also has glittering water around it. Try this venue out, and there won't be any regrets; trust that! This is the place to host your dream wedding!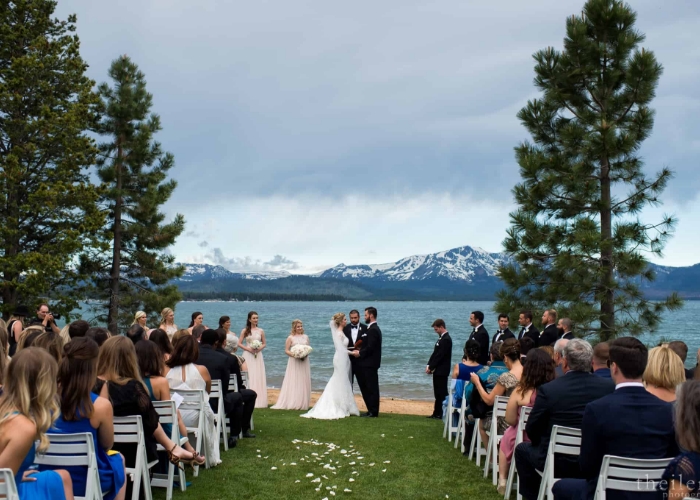 2. Glacier National Park, Montana 
Located in the USA, this place has one of the best mountains where you can hold your wedding ceremony. This venue is very peaceful, making it perfect for exchanging wedding vows. This place has everything that you need to host a memorable wedding on a mountain. You can find both peace and tranquility here in Montana.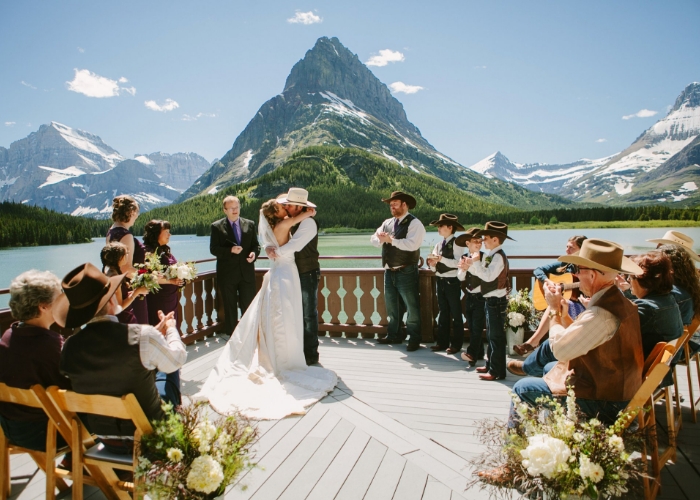 3. Sedona, Arizona
This is yet another gorgeous wedding venue for hosting a wonderful mountain wedding that you and your guests will cherish all their lives. This quaint place offers incredible mountain views with lovely backdrops of red within the area. All your guests will surely love this venue.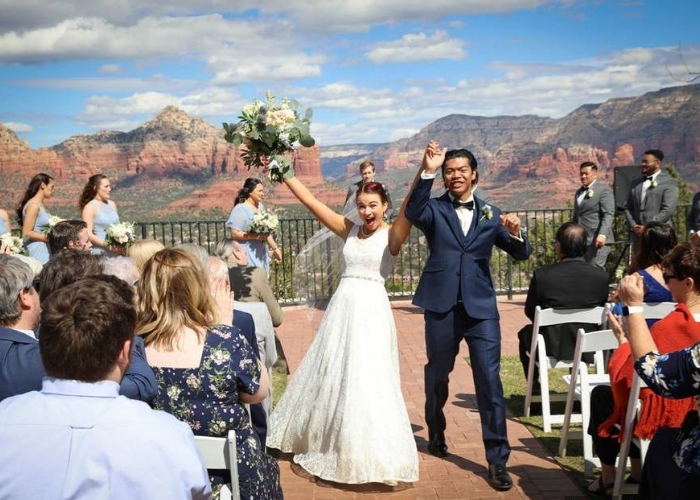 4. White Mountains, New Hampshire
This mountain venue has the most colorful views around. It's a perfect place for your mountain wedding ceremony. The best thing about this place is that you'll get the best pictures of your wedding here.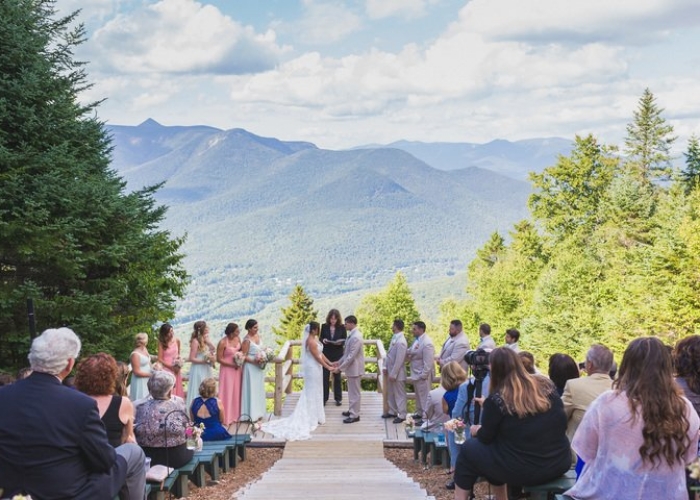 5. Denver, Colorado
The Denver area in Colorado features one of the best rocky mountains where you can host a great wedding. The mountain is very famous and easy to locate in the USA. This venue has spectacular views that will serve as backdrops for your wedding pictures.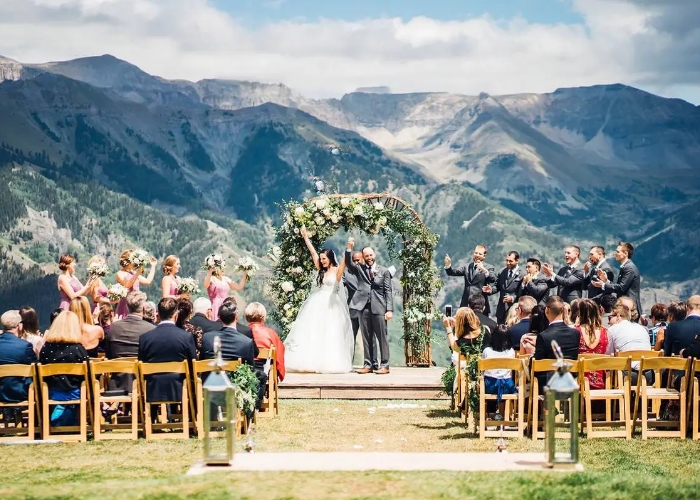 6. Catskill Mountains, New York
This mountain is located in New York City, USA. If you're looking for one of the most serene mountain venues for your wedding, then Catskill mountain is the best bet! Your guests would love to relax and enjoy the scenic beauty as it's more like a summer camp setting.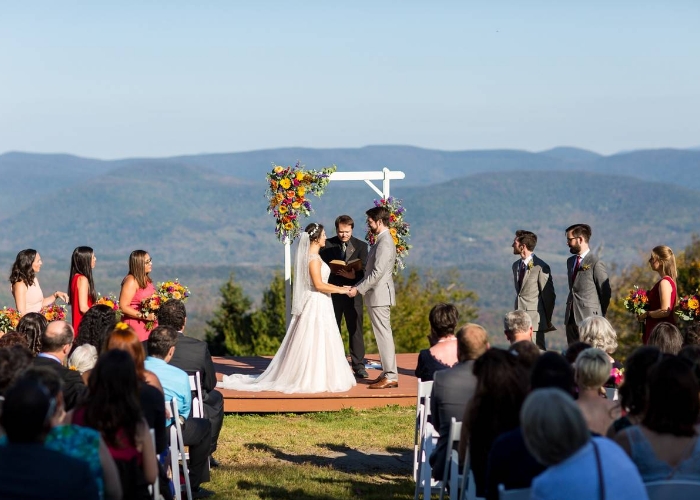 7. Green Mountains, Vermont
Green mountains, as it's usually called, is located in Vermont, USA. It has a unique backdrop for your wedding celebration. If you are on the lookout for a beautiful venue with a ski resort, then you can be assured that Green Mountain has it all in Vermont.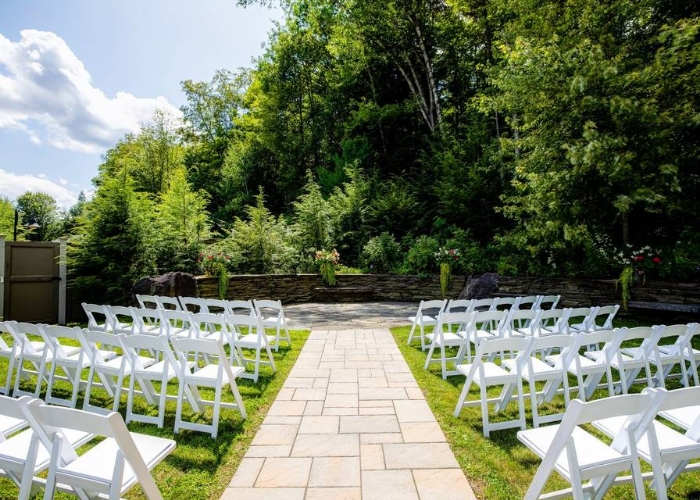 8. Cascades, Washington State
The Cascade Range Mountain is one of the well-known mountains in Washington State, USA. It has beautiful backdrops which are irresistible, and the distance from Seattle is not much. So, if you're planning to host a wedding in Washington State, this is the place for you.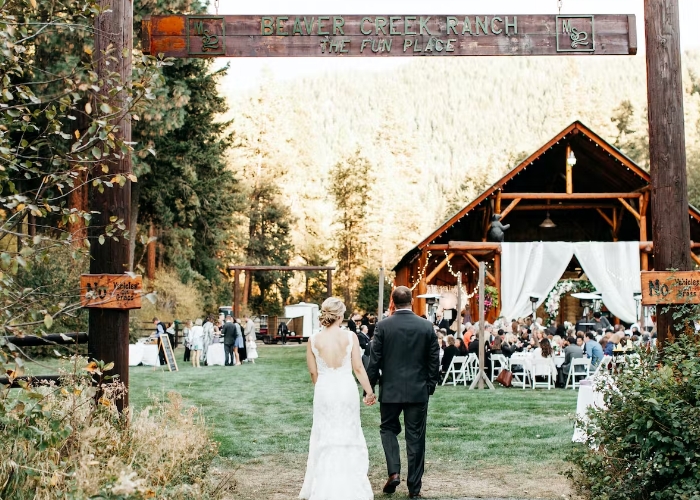 9. Yosemite National Park, California
As earlier mentioned, that Lake has breathtaking views, and so does Yosemite Mountain. It is surrounded by beautiful trees and has stunning backdrops. You'll get the best pictures of your wedding in this location.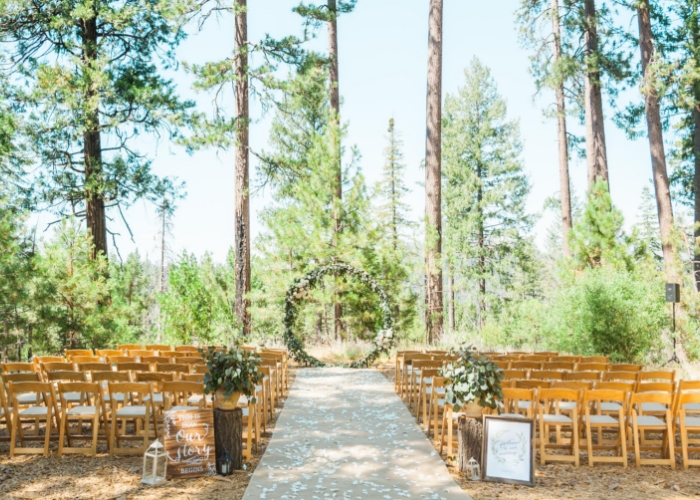 10. Chugach Mountain,Alaska
The Chugach Mountain is located in Alaska, USA. There are numerous beautiful resorts in Chugach Mountain. So, if you're planning to host an indoor wedding in a mountainous region in the USA, this is the place. This location is adventurous, and you will surely enjoy your wedding in this fantastic setting.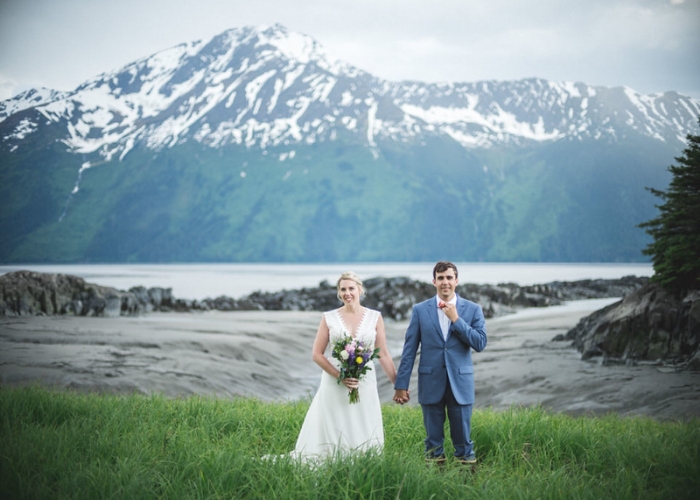 11. Asheville, North Carolina
Asheville is located in North Carolina, USA. There are lots of beautiful wedding venues in North Carolina and different resorts, woodsy lodges, vineyards, etc. It's a perfect place for hosting both indoor and outdoor weddings.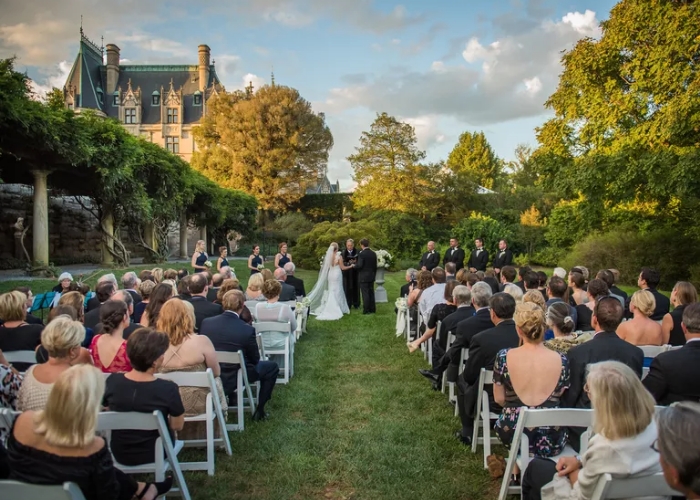 12. Wasatch Mountains,Salt Lake City, Utah
Wasatch Range is one of the best US destinations for mountain weddings. The place has numerous gorgeous resorts to host an indoor wedding ceremonies. It is one of the most beautiful mountain ranges in Utah, USA.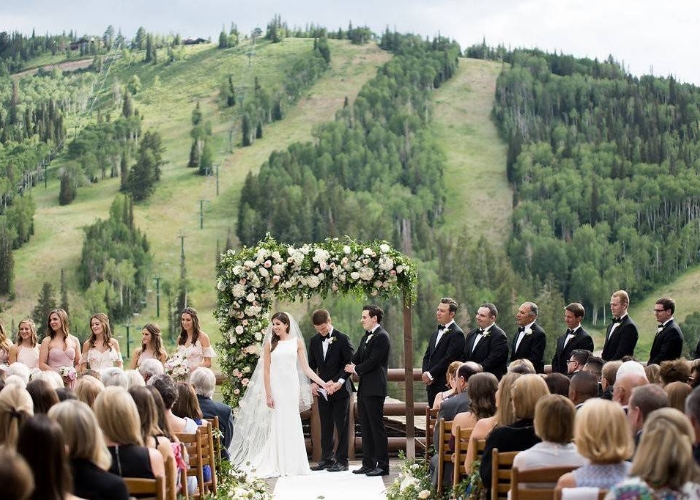 13. Della Terra Mountain Chateau in Estes Park, Colorado
This mountain is part of a sizable property that also includes a run-of-the-mill château. As a result of its architectural features, this is an ideal location for a wedding. You may rest easy knowing that everything you do today will be successful. Pictures taken atop the mountain against the backdrop of the pine trees will be incredibly stunning.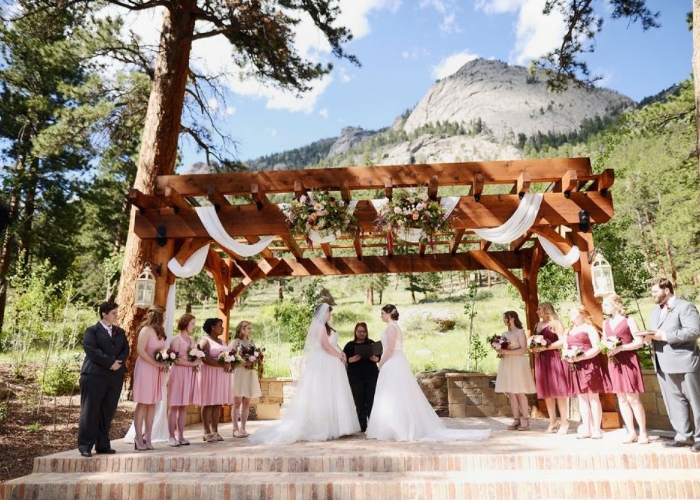 14. Omni Mount Washington Resort in Bretton Woods, New Hampshire
Located in New Hampshire, USA, this location dates back to the early 1900s when it was built. It is surrounded by beautiful mountains, which lends even more beauty to the location. You can be sure of hosting an unforgettable wedding ceremony in this location that you'll cherish all your life.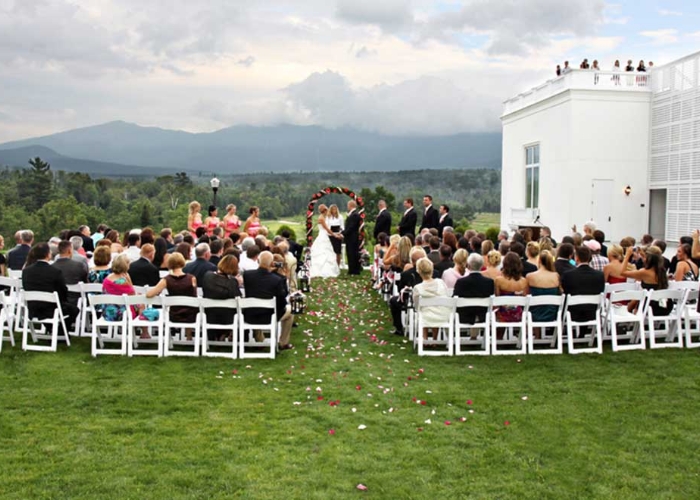 15. Mackay Bar Ranch in Riggins, Idaho
This mountain venue, which can be found in the state of Idaho in the United States, can only be reached by raft or jet boat due to its remote location. You can even book accommodation for your guests if they're traveling from a great distance to attend your wedding. The best thing about this location is that it offers a variety of adventure sports, such as hiking, fishing, and so on. Your guests would love to enjoy these sports while having fun at the wedding. You will also have access to the beach, which, after exchanging your vows, will help to make your wedding day full of joy and excitement. You can even plan to host your wedding reception at the beach for a more memorable experience.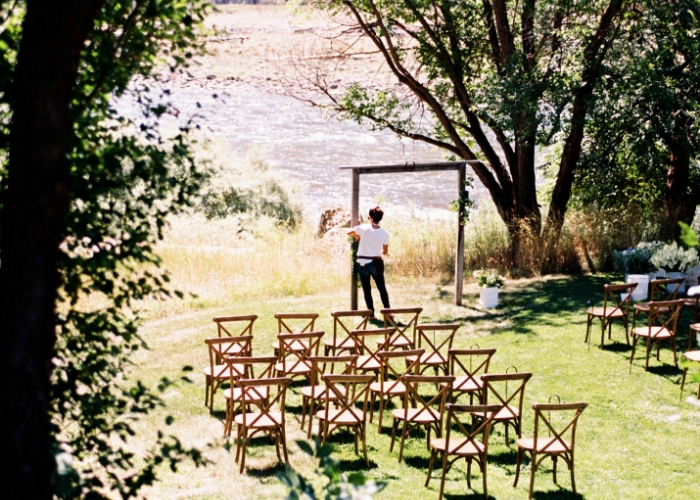 16. North Cascades National Park
Located in Washington State, USA, this site is amazingly beautiful. The location is attractive in and of itself, plus it is only three hours away from Seattle. You can be certain that a mountain location will provide you with whatever it is that you seek or are anticipating for hosting a gorgeous wedding. The splendor of this location will provide you with an experience that you will never forget.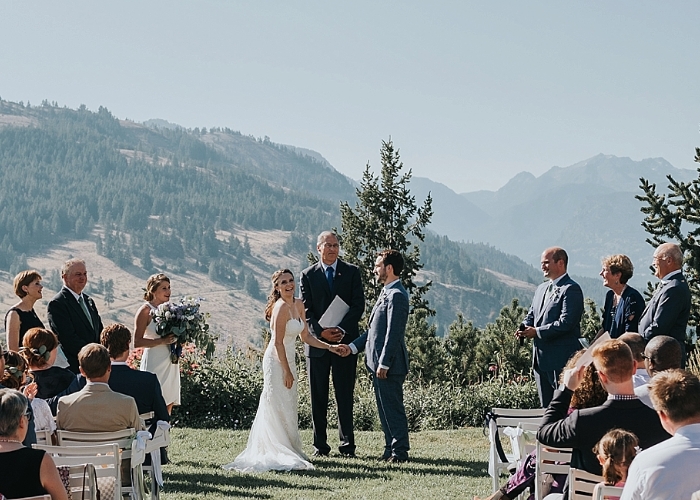 17. Whitefish Mountain Resort, Whitefish, Montana
Whitefish Mountain Resort is a popular resort venue in the USA. If you have been dreaming of holding a mountain wedding, then this venue is absolutely the best for you. It provides breathtaking panoramas of Glacier National Park. You'll love to exchange your wedding vows in this calm and tranquil setting.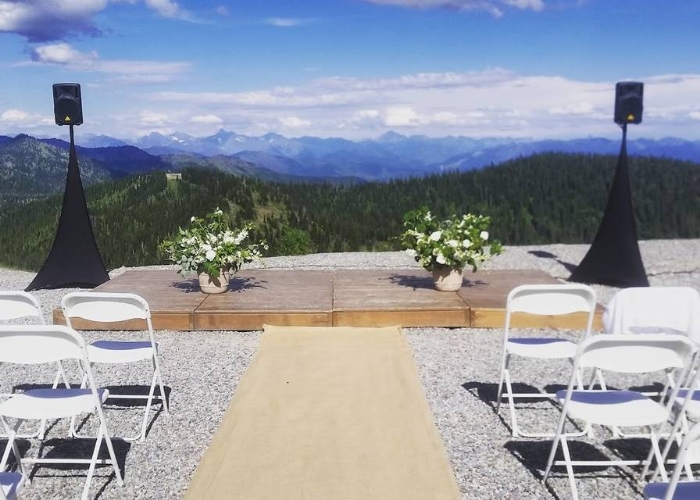 18. The Great Smoky Mountains National Park, Tennessee
The Great Smoky Mountains are unique in their way and are located across Tennessee. Within this venue, you'll find a variety of event spaces suitable for any occasion. It is one of the best locations for hosting a wedding in the summer.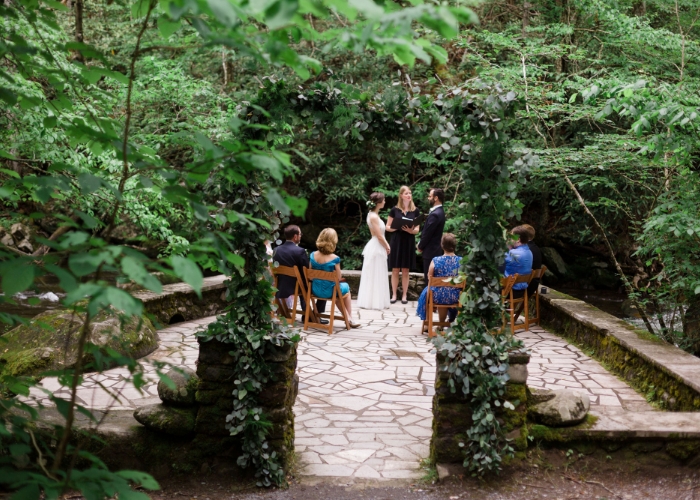 19. The Little Nell, Aspen, Colorado
This venue is very popular, and it is located in Aspen, Colorado, USA. You may discover it in the valley between the rugged mountains, and once you get there, you will also get a stunning view of Elk Mountain. Due to the venue's vast capacity, you can accommodate around 500 guests. If you choose to hold your ceremony in this location, it is almost certain to be a memorable and successful event.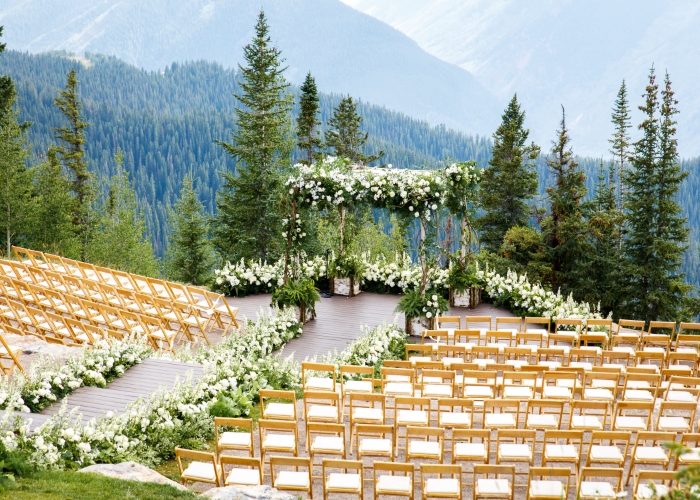 20. Della Terra Mountain Chateau, Colorado
This mountain is located in Estes Park, Colorado, in the United States, and the region around the Della Terra Mountain Chateau has some amazing settings, both outside and indoors, for wedding ceremonies and receptions. You are going to have an incredible amount of fun at this alpine destination, particularly during the wintertime. The landscape almost always looks stunning when there is a light layer of powdery snow on some of the trees. It makes it look more like a winter wonderland.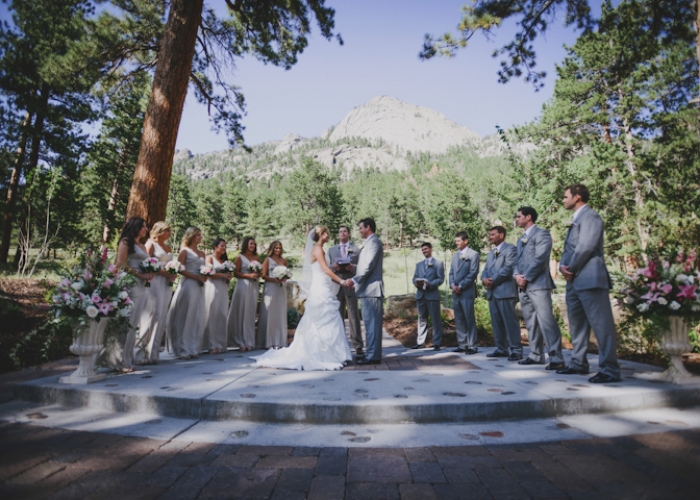 21. Brundage Mountain Resort, Idaho
The beautiful Brundage Mountain Resort is located near McCall, Idaho, in the United States of America. In order to reach the peak of the mountain without exerting too much effort, you will need to take a ski lift. You are going to have a wonderful time celebrating your big day here.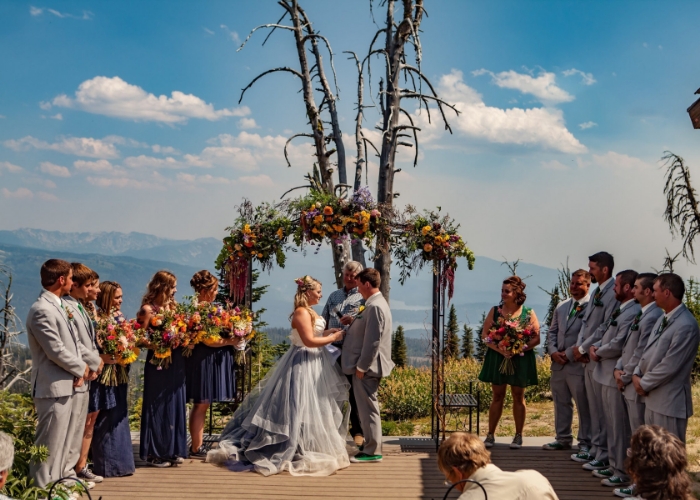 22. Girdwood, Alaska
Girdwood located in Alaska, USA, is a well-known little town recognized for its abundance of snowy mountain peaks and frosty glaciers. This is one of the best US destinations for mountain weddings. If you're planning to host a one-of-a-kind wedding in a quaint setting, then this is the one to consider. You will have so much privacy on this mountain, and you will enjoy the beauty of nature around.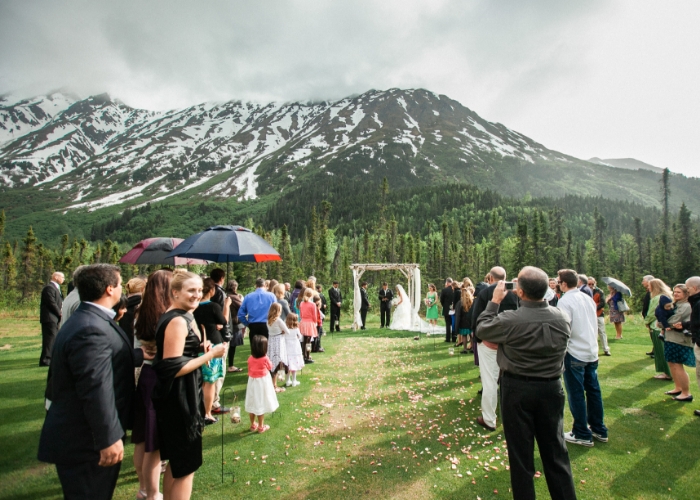 23. Malibu Rocky Oaks Estate, Malibu, California
Malibu Rocky Oaks Estate is yet another well-known venue located in California, USA. It is close to wineries which makes it perfect for hosting a memorable wedding. It's quite far from the city of California, but it is worth it!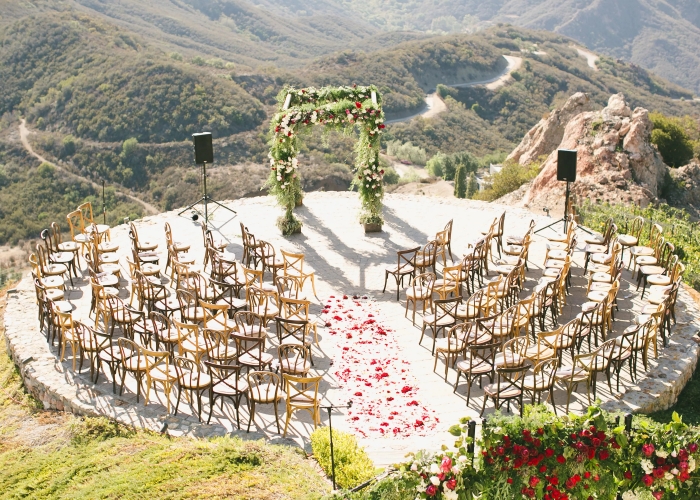 24. The Mountain Top Inn & Resort, Vermont
Are you considering renting a location that includes both a resort and a mountain in its amenities? If this is the case, the Mountain Top Inn and Resort is, without a doubt, an ideal place for you to say "I DO." The place is located in the state of Vermont, making it ideal for a gorgeous wedding. It is calm in addition to being incredibly peaceful.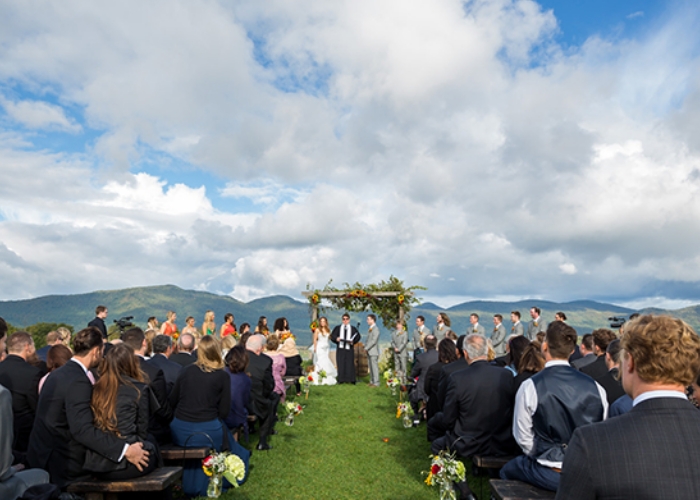 25. Jackson, Wyoming
Last but not least, Jackson, Wyomind – One of the best US destinations for mountain weddings. This location is peaceful and boasts one of the most beautiful vistas available. In this general area, places like Grand Targhee Resort, Teton Pines, and Targhee Jackson Lake all offer picturesque views of the surrounding mountains.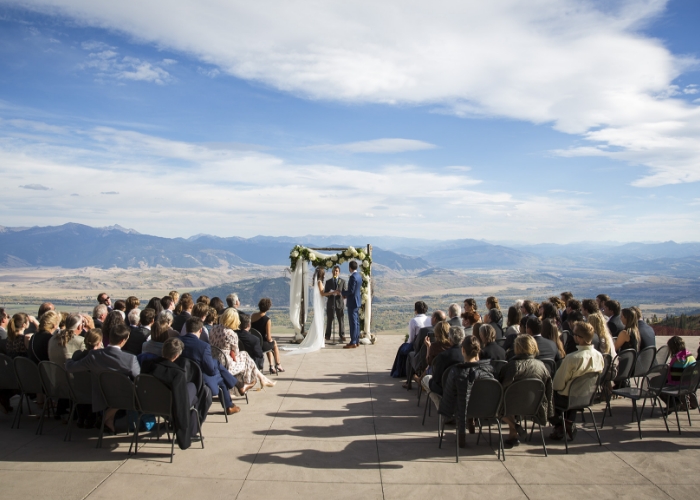 Cost of Hosting a Mountain Wedding In the USA
In the city of Arizona, USA, the price to hire a mountain venue for a wedding ranges from $5000 – $17,000. This price varies depending on the location that you select. Keep in mind that the price of the venue will increase in direct proportion to its attractiveness. The cost to rent out other locations in the United States for a single day is as much as $3,000. 
If you plan to host a big fat mountain wedding, you should anticipate spending more money. However, mountain locations in southwest Virginia in the United States of America charge between $1,000 and $1,500. 
Which place to rent out for your wedding will depend on your wedding budget. Hence, it is crucial to create your wedding budget well in advance and stick to it religiously. 
Putting it all together…
So, these are the best US destinations for Mountain Weddings. Always remember to adhere to a budget when arranging a mountain wedding in order to avoid spending an excessive amount. 
However, if you are expecting a large number of guests, make sure they have a place to unwind, especially if they are traveling from a distance.
A mountain wedding is unique and saves a great deal of money for anyone who chooses this setting. The natural beauty of the location is unmatched and exceptional. Mountains are perfect for hosting weddings in a tranquil setting that you can cherish all your lives. 
And then there's all the other stuff you can do on a mountain, like hiking, rock climbing, sky diving, etc. You can spend quality time with your new spouse and recover from the rigors of wedding planning by scheduling your honeymoon in a mountain retreat. 
Frequently Asked Questions
Which Of The Destinations Is Best For a Mountain Wedding?
All the destinations listed above are great for hosting a mountain wedding in the USA. We have picked these destinations keeping all your requirements in mind. Most of these destinations have beautiful resorts where you can host a memorable wedding and can even accommodate your wedding guests as well. 
Can You Camp On These Mountain Venues? 
Yes! You can camp in the resort of some venues before you start your big day. There are a number of locations that provide exceptional camping facilities that you and your guests would enjoy experiencing. 
Can You Book The Venue Before Time?
Yes! You can book any of the venues listed above in advance. Always be sure to book your venue in advance so that you can secure your first choice when it comes to the location of your wedding. Keep in mind that the most desirable locations for weddings are booked months in advance. 
Therefore, you need to make sure that you book your venue for your mountain wedding in the United States well in advance.
Happy Wedding… ☺ ☺