Each wedding ceremony is special in its own way. No matter what kind of wedding you want for yourself, you can make it memorable. Do you want to get married in a court of law? All you need to know about getting married in a civil ceremony is right here.
Many individuals dismiss civil unions as uninteresting and unromantic. A civil marriage ceremony can be just as spectacular and memorable as any other. A civil wedding ceremony can be structured in any way the couple wants. Marriage in a court can be just as elegant as a religious ceremony. It's just that civil weddings are hosted by a judge, and that's what sets it apart from other Weddings.
Court marriages are the easiest way to legally tie the knot with your significant other. The setting might be a park or a formal courtroom. You should proceed if this is what you're after.
So, if you're planning to tie the knot in the United States legally, continue reading this post.
In this post, we have covered everything that you need to get wed-locked in a civil ceremony.
Let's get started…
Table of Contents
What Exactly Is a Civil Marriage?
Without first defining what we mean by "civil marriage," it will be impossible for us to proceed further in this discussion. Having an understanding of what a civil marriage entails can make it easier for you to begin planning your own.
A civil marriage, as opposed to the traditional wedding that takes place in the church, provides many advantages for the couple getting married.
A civil marriage is a non-religious act that joins two partners together legally in accordance with the law. This type of marriage is also known as a civil union.
A legal official will typically be present throughout the wedding ceremony. Just like any other kind of marriage, civil wedding also marks the beginning of your married life with your partner. A civil marriage has no bearing on religious ceremonies such as those performed by a priest, rabbi, or pastor.
The moment you sign in your marriage documents in front of the judge, you become husband and wife as per the law. The law immediately acknowledges you and your partner as married legally.
You always have a choice to make your wedding as memorable as you want. After you and your partner have been legally married, you have the option of throwing a big party. In fact, hosting a wedding reception is a great way to celebrate the BIG DAY. It is up to you how do you want your wedding reception to be. You can host a big fat wedding reception or keep the event intimate by inviting only close relatives.
In today's society, what really matters is the certificate that you will receive after your union is completed.
The majority of couples who marry across religious lines want to have their weddings performed in a civil ceremony. The best thing about this kind of marriage is that they are less costly than other kinds of ceremonies.
You save a lot of money in civil marriages. The coolest thing is that you can invest this money on your honeymoon or organize your home after the wedding.
Now, the question arises what you shall wear to your civil wedding? Read ahead to know…

What shall I wear to my Civil wedding?
When it comes to what you should wear to a civil wedding ceremony, the focus should be on the bride and her attendants. Of course, if you're a bride, you would want to look your absolute best! If it is so, then worry not! We've got you covered.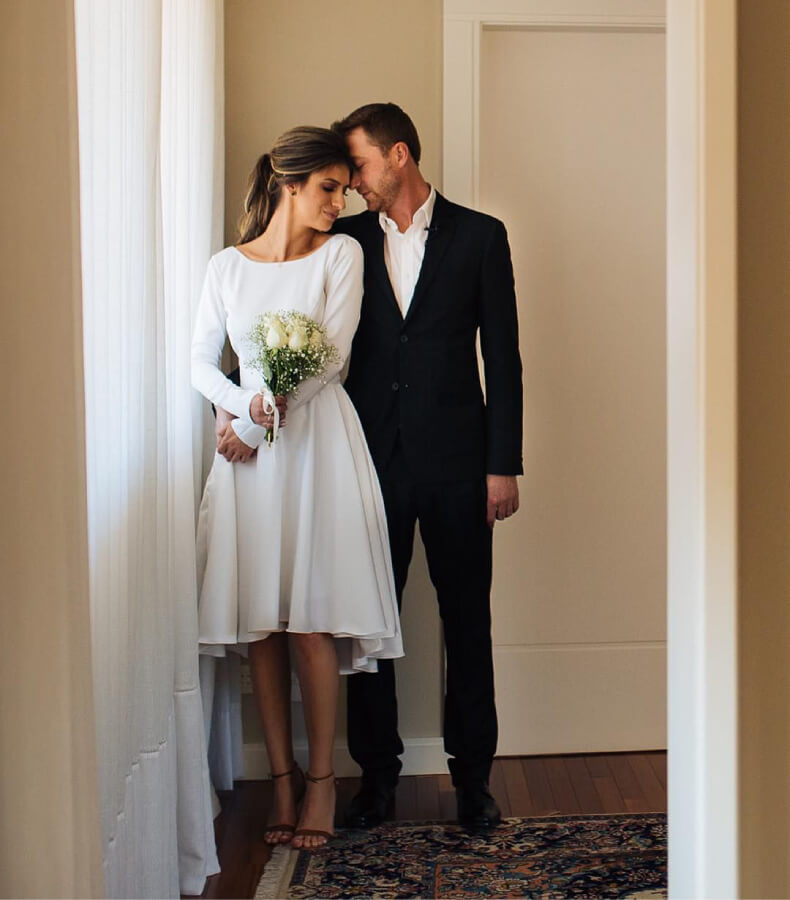 It doesn't matter what kind of wedding ceremony you plan to host. The idea is to choose an outfit that makes you look stunning on your D Day.
You are free to choose whatever dress you like to put on for your civil wedding. There are a variety of dresses available to choose from in order to wear to your civil wedding ceremony. There are no restrictions on what you can wear.
Bridal suits, short dresses, long gowns, slip dresses, and jumpsuits are appropriate for a courtroom nuptial.

Reasons You Need To Consider Having a Civil Marriage
If you're still thinking about why you should opt for a civil wedding, then here are some of the best reasons. Take a look…
1. Non-Religious couples
You and your partner might want to think about getting married in a civil ceremony instead of a religious one if neither of you is particularly religious. Of course, religious weddings are full of traditional rituals. Civil weddings are a wonderful option for couples who do not feel at ease following traditional rituals. So, if you're a non-religious couple altogether, civil marriage is your best bet!
2. Innovative couples
You are free to proceed with the civil marriage if you are the type of person that enjoys having activities taking place throughout their wedding. A civil marriage ceremony allows for the expression of creative ideas, which can make the occasion more enjoyable for the couple getting married.
3. Couples with different faith
When you and your partner hold different religious beliefs, it is another reason you might think about having a civil marriage rather than a religious one. Having a civil ceremony for your wedding will prevent issues that could arise from having beliefs that are incompatible with one another.
4. Outdoorsy couples
A civil wedding is an excellent option for those who want are interested in having their wedding vows exchanged in a setting that is not a place of worship.

How to Plan a Civil Wedding Ceremony?
Just like any other wedding, you'll need to prepare for your civil wedding in advance. It is crucial to have a smooth and enjoyable wedding ceremony in the end.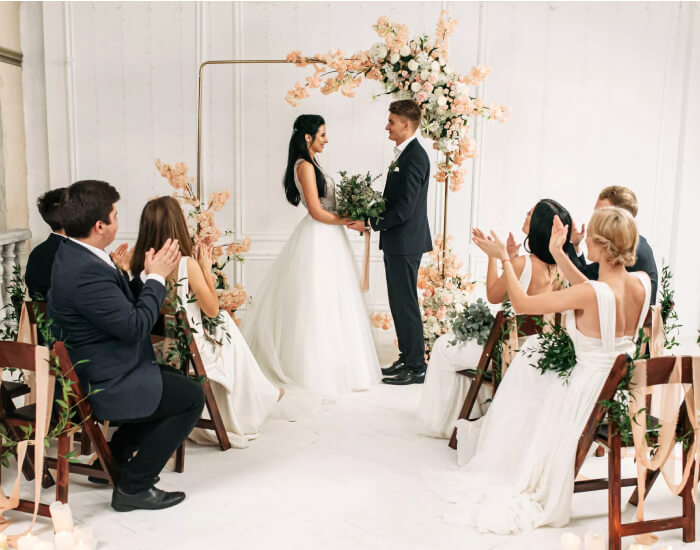 When we talk about civil weddings, most couples think it can only be held in a courtroom. Well, it is not like this at all. It is up to you to determine where you would rather have it held if you do not want it held in a courthouse. You can even host a civil wedding ceremony in a park or any other place of your choice.
So, here are some of the most important considerations, you would want to make in advance:
Find out if the court sees couples on the first day they arrive or if they require you to make an appointment first. More often than not, couples reserve the courtroom where their civil marriage will take place in advance.
You should be certain of your date before moving forward with the planning of the wedding. Make sure you get your appointment date booked as soon as possible.
When you are arranging a civil marriage, one of the steps you need to take is to determine whether or not you are allowed to use your own vows. Because they anchor numerous events on the same day, the vast majority of judicial marriages do not allow for something like this.
You can examine the vow requirements at different courthouses if you absolutely want to utilize your own vows. There is a possibility that one can be found within the borders of your state.
It is very crucial that you find out the maximum number of guests that are allowed to attend your wedding in a courtroom.
In the majority of courtrooms, there is a cap placed on the number of people who are permitted to enter the venue.
More often than not, courts only permit two witnesses from each couple for the civil wedding. These individuals are considered to be the most important guests.
You can always plan to host a wedding reception for other guests. This way, you would be able to have the best of both worlds.
Lastly, take some time to deliberate over this, and think about who you would like to have over as a guest on that particular day.
Prerequisites for a Civil Marriage
Papers matter for a civil wedding. If you intend to marry in the United States, you should start arranging to get the necessary papers as soon as possible.
When you go to the courthouse to get married in a civil ceremony, you will need to provide certain documents. Aside from that, you will also need to fulfill some fundamental conditions.
Know that getting married calls for a great deal of planning, particularly in the case of a civil marriage. The papers that you need to present in order to proceed with your civil marriage are of the utmost significance.
Yet, the prerequisites for a legally binding civil marriage vary from state to state. Despite this, there are still some common standards that you need to fulfil. The papers that you would require for your civil marriage are as follows:
Your age: To get married in a court, you need to produce your age certificate. You should be at least 18 years old in several states in order to get married in court.
Family ties: You are not permitted to wed somebody who is connected to you by blood. It is considered to be a family obligation. It is imperative that you confirm that the person you intend to wed is not a member of your immediate or extended family. The court will not approve you if you have a biological connection to another party.
Mental health: both you and your prospective spouse need to be in a healthy mental condition. You should not get married unless you are 100 percent prepared for it.
Marital Status: Before you may even consider a civil marriage, your marital history must meet one of three requirements. you must either have never been married before, be divorced, or be a widow or widower. If you are already married, you will not be allowed to enter into a new marriage with another person since the law prohibits it.
Documents Needed to Get Married in the Court
After ensuring that you have fulfilled all of the prerequisites, the following are the step you should take to apply for a marriage license.
This license is what grants you the legal authorization to wed your significant other. The method for getting married also differs slightly depending on the state in which you live.
Nevertheless, we strongly suggest that you receive complete information from the official in your province who hand out marriage certificates.
The following are the items you need to produce before the court to acquire a marriage license:
Certificate of Live Birth
Parental consent
Your ID. Any form of official identification, such as a driver's license or a passport that has been issued to you by the government, will do.
Death Certificate: A certificate attesting to the fact that your former partner has passed away if you were formerly married.
Fee. The expense of obtaining a marriage license is often between $30 and $100. The cost is still determined by the province you live in.
Unique Ideas to Make Your Civil Marriage Special
There are a variety of creative ways to make your legal marriage stand out. You can incorporate a wide variety of things to make your civil wedding more enjoyable. Here are some of the best ways you can make your wedding in the court unique and extraordinary:
1. Compose your own personal wedding vows
Do you know that you can write your own vows for your wedding?
Nonetheless, if you want to get married in a civil ceremony, there are a few phrases that must be included in your wedding vows. You can ask the official whether or not you will be permitted to use your own wedding vows, and they will let you know.
Also See: How to Write a Perfect Wedding Vows
2. Use the motif of your wedding to adorn the inside of the courtroom
Even though it will be a civil marriage, the courtroom where the vows will be exchanged can still be decorated in whatever way you like.
It is important to have a mental image of how you want the space to look on the day of the event.
The designer might use the color that you have chosen for your wedding theme to give the room an elegant look. It is also necessary to adorn the tables and chairs that your invited visitors will use to sit at during the event.
3. Create an elegant atmosphere for your civil wedding ceremony with music
By including live music, you can create an environment. Just like the wedding food, you also need to incorporate nice music at your civil wedding. Musical performances liven up every event.
You can have your favorite musician or band play live at your event, or you can play your own music. Music, as you well know, adds to any kind of event. Make the most of your civil marriage ceremony, and let it be fun.
4. Arrange in a park
You don't need to host your wedding in a courtroom. You always have the option to host a civil wedding in an outdoor setting, such as a park. This way, you'll be able to invite some of your close friends and family members. There will be no restriction on whom to invite and whom to leave. However, ask your local court in advance if their judges do allow for such civil weddings.
5. Involve your pet
More often than not, people consider their pets as their family members. If you also have a pet (s), then consider including them at the event. You should make sure to include them in the planning for your civil marriage. Yet, there are some locations that do not allow clients to bring their pets. You should inquire with them to determine whether you can bring your pets to the celebration of your civil marriage.
6. Think outside the box
It doesn't matter if you and your partner both want to wear rings to prove that you're married to one another. You can even consider exchanging anything else, other than wedding rings.
By utilizing anything out of the ordinary and uncommon, you can make it more memorable and romantic for the two of you. Your partner will absolutely adore it! You have the option of wearing a watch or some other piece of jewelry instead. It is also one of the ways you can make your big day extra memorable.
You can even use a flower as a symbol of your marriage to make it official. What really matters is that you and your partner love and are aware of what you intend to do!
7. Wedding cake
If you'd like, you can even have a wedding cake created for your civil ceremony, although doing so is not essential. However, having a wedding cake would just add to your wedding. So, you can think of having a beautiful wedding cake made especially for your civil wedding. Since only a few people will be attending your ceremony at the court, you can even make wedding cake all by yourself.
8. Create a unique entryway
Civil marriage ceremonies are not typically conducted in the same manner as a regular or traditional wedding. Usually, in traditional weddings, a couple must walk down the aisle. However, you and your companion have the option to create a passageway that leads directly into the courtroom so that you can enter together.
You and your partner can add a touch of romance and intimacy to a civil ceremony by walking down the aisle hand in hand during the ceremony. Ask your decorator to create any entryway in the courtroom that exudes an air of elegant sophistication.
You ought to also have a walk constructed for you, just like how it is in the setting of the church where each side lines up the chairs. An archway over the pathway can be created by using Bohemian Flowers as the filler. You can always discuss multiple options with your decorator in order to create a one-of-a-kind civil wedding ceremony.

Putting it altogether…
So, this is all about hosting a civil marriage. Know that a civil marriage typically does not cause as much anxiety as a traditional wedding does. It is because there are fewer financial obligations involved. The coolest thing about civil weddings is that they do not intend to break banks. This means you won't have to spend a fortune on glitz and glamour on your big day.
A wedding in the court may appear a little boring, but that's not how it is. There is no limit to the amount of fun that may be incorporated into a civil marriage.
All you have to make sure of is to get your paperwork and witnesses arranged in advance. The completion of the necessary paperwork and the presence of at least two witnesses are essential components of a civil marriage, and they should not be overlooked.
You are permitted to bring along only a select few pals in addition to your witnesses. As soon as you have obtained your certificate of marriage from the court, you are free to continue the celebration at your chosen location. You are even permitted to utilize the courthouse itself if permission is granted.
That's all for now!
Hope this article has been informative for you and will help you organize a seamless civil wedding ceremony.
Happy wedding… 😊 😊