Each bride's wedding gown is the most significant aspect of her wedding. And the wedding veil has the capacity to tie your entire ensemble together.
We are currently living in an era where brides have an abundance of veils to choose from for their weddings. There are numerous veils that will provide you with an attractive appearance and a wonderful entrance.
When choosing a wedding veil to go with a wedding gown, there are several factors to consider.
The most important factors to consider are:
The bride's personal preference.
The style of her wedding gown.
The theme or style of the event.
When it comes to marriage preparation, there are a lot of ideas floating about. When a bride wears a wedding ceremony veil, she is transformed into a diva.
As a result, you must select the most appropriate wedding veil for your special day. In addition, the suitable length of the wedding ceremony veil is critical.
The length of a veil determines how it is divided into distinct kinds. The length of a veil is determined by the point on the veil where the comb is fastened.
So, if you're looking for different wedding veil styles, this is the post for you. We have rounded up a list of some of the best bridal veils for you to consider.
This list includes every kind of wedding veil from short to medium and long-length for you to pick from.
Ready? Let's get started…
17 Best Wedding Veil Styles From The Latest Fashion
1. Pearl Veil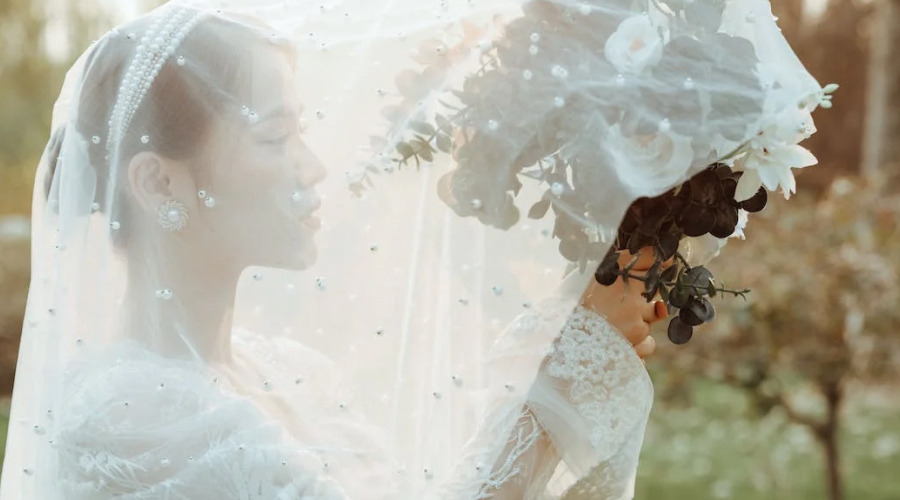 A pearl veil is a timeless bridal accessory that adds an exquisite touch of elegance and sophistication to any wedding ensemble. Combining the natural allure of pearls with the delicate grace of bridal veils, these ethereal creations have a way of capturing both tradition and modernity in a single, delicate sweep.
2. Birdcage Wedding Veil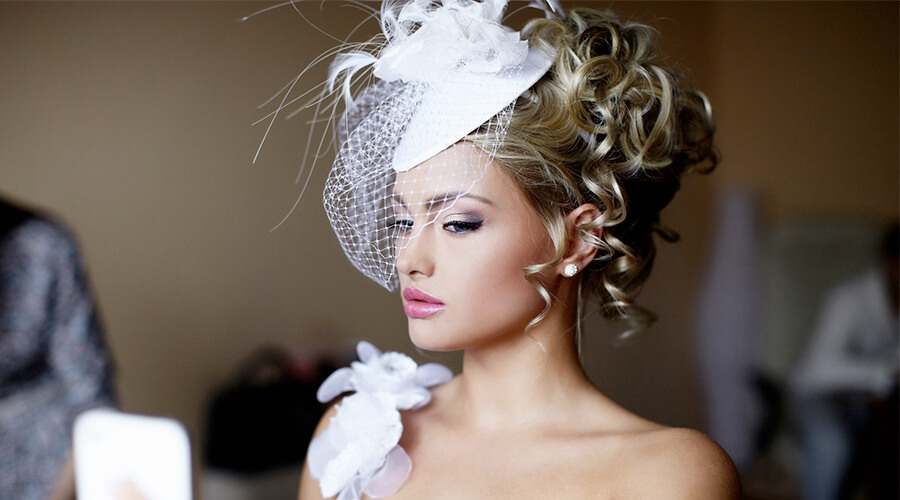 At number one, we have a birdcage wedding veil. This veil does not go beyond a bride's chin. It covers just the forehead and top half of the bride's face.
Birdcage wedding veils are generally fabricated from stiff netting or mesh to create structure. They're commonly fixed to pillbox hats, headbands, or hair combs.
A birdcage wedding ceremony veil is perfect for establishing a vintage bridal look. It looks lovely if you're wearing a lace gown or a modern mini dress. This type of net has large holes on it, and it's also very short.
3. Blush Wedding Veil
It's a quick, thin veil, generally made from English netting. A blusher veil is mounted to the crown of your head and covers your entire face. It stops at the mouth or chin of the bride.
This wedding ceremony veil style establishes an effortlessly romantic bridal appearance. If you need to have your first kiss before the ceremony, you do not need to hide. A blusher veil is the best solution.
It is made of a single-layer tulle which can easily be taken back when you approach the altar for your vows.
4. Shoulder Length Wedding Veil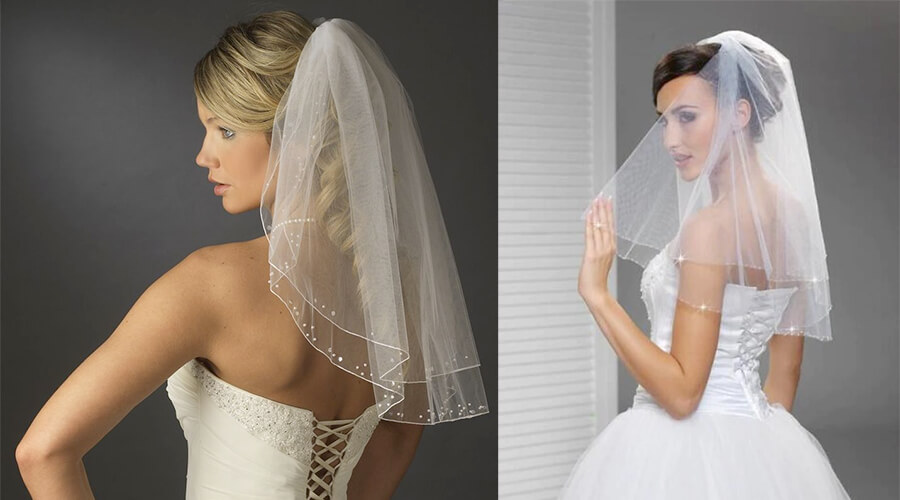 It measures between 12 and 24 inches in length and falls comfortably below the shoulder. This is one of the most often worn veils, and the wedding gown features gorgeous embellishments.
You do not need to drape thick veils over those gorgeous ornaments beneath.
A Flyaway veil is an 18-inch shoulder-length veil with numerous layers. A quick, flyaway wedding veil that is 20 inches in length and falls just over the bride's shoulders is also referred to as a Madonna length bridal veil.
This style of veil is semi-formal and is suitable for a modern bride.
5. Elbow Length Wedding Veil
If you're looking for a bit more coverage, consider an elbow-length veil that drapes gently down your shoulders.
It's a lovely duration that doesn't detract from your gown but remains classy. It reaches the bride's elbows and measures approximately 32 inches in length.
This veil is recommended for brides who like to have an outdoor wedding.
It's ideal for a beach wedding or if your wedding takes place during the summer season.
It's not cumbersome and also helps to keep you cool when you're putting it on.
6. Chapel Length Wedding Veil
This veil cascades down the length of your gown. It's something to consider if you're having a more formal wedding at a church.
This veil measures approximately 90 inches in length, somewhat longer than the full length that flows on the ground.
It is also referred to as a full veil or sweeping veil due to the length of the veil.
7. Cathedral Length Wedding Veil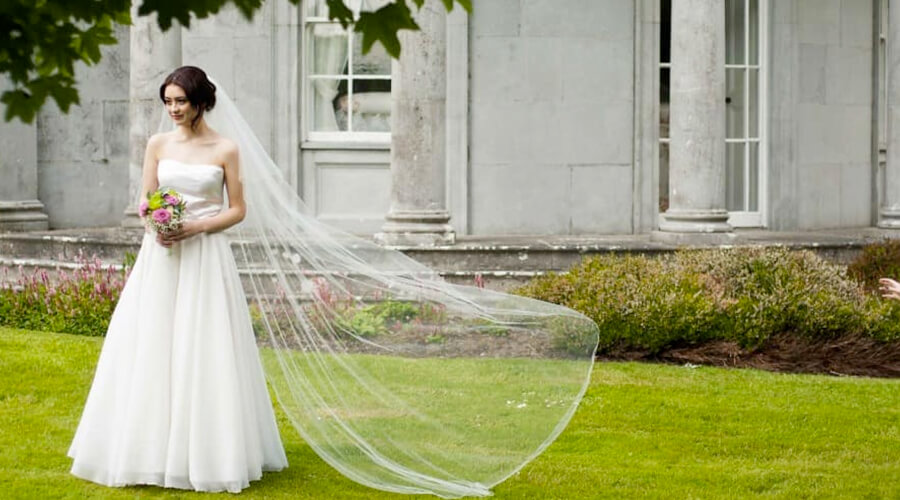 The length of this veil is longer than the length of a chapel veil.
The bride wears it approximately 108 inches in length and falls about a foot behind her.
Because of the length of this type of veil, it is frequently utilized in royal wedding ceremonies.
Cathedral Length Wedding Veil is ideal for a ball gown wedding gown or an A-Line wedding gown.
8. Royal Wedding Veil
Royal wedding veil – it gives the bride a royal look, thus the name. It takes about 153 yards of the English net material.
It extends far beyond the bride's wedding gown. It's a perfect option to complement ball gowns and is suitable for a cathedral or ballroom.
9. Mantilla Wedding Veil
This is a veil with an ornate border made of lace, ribbon, or beads. There are numerous ways to wear a Mantilla veil.
It can be worn over the face as a blusher veil or folded in half and clipped with a veil clip on the neck.
This is done to allow it to drape over the head and shoulders in two layers or draped over the head and shoulders.
This looks stunning on brides with short hairstyles or hair that has been worn down.
This bridal veil style is also popular with brides who choose a simpler look or who need to cover their shoulders for non-secular functions.
10. Waltz Length Wedding Veil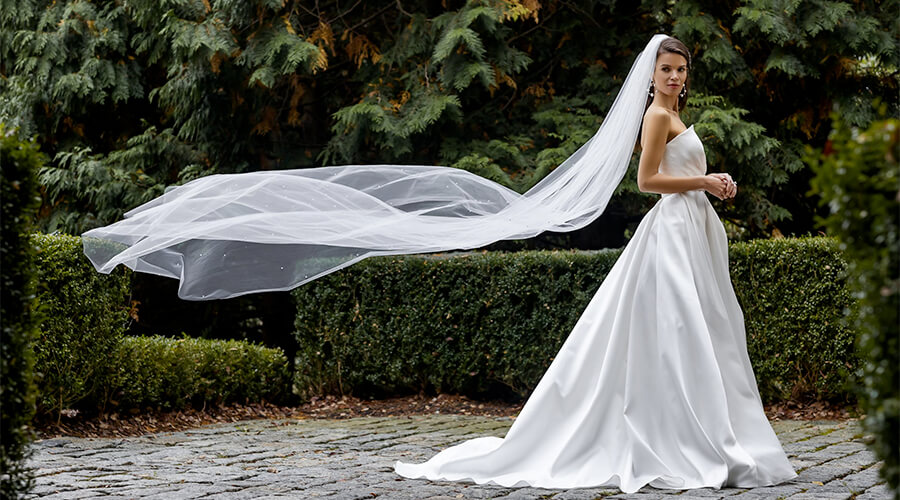 Waltz Length Wedding Veil, also known as Ballet veil. The front length of this veil and walking length are different.
The front length ranges between 40-60, while the back length is between 60-70 inches long.
It lends the bride an air of delicacy and femininity, especially when accented with lace.
This veil falls above the ankles; it is an excellent choice for new brides or anybody looking for a minimal alternative to a floor-length veil.
11. Dupatta
It is a traditional long veil that Indian ladies frequently wear during their marriages. It is worn around their heads and shoulders.
Typically, a bridal dupatta is embellished with beaded embroidery on brightly colored fabrics. It is included in saris and lehengas.
The bride looks stunning after being adorned with a dupatta, jewellery, and hair accessories.
12. Fingertip Length Wedding Veil
As the name says, this veil is up to the fingertips. It's not very long in length. It ends just below the waist; the length makes it suitable for both casual and formal weddings.
It pairs well with a variety of bridal hairstyles, including half-up styles. When you consider that you can easily clip the veil to the underside of a chignon, it's ideal.
13. Juliet Cap Veil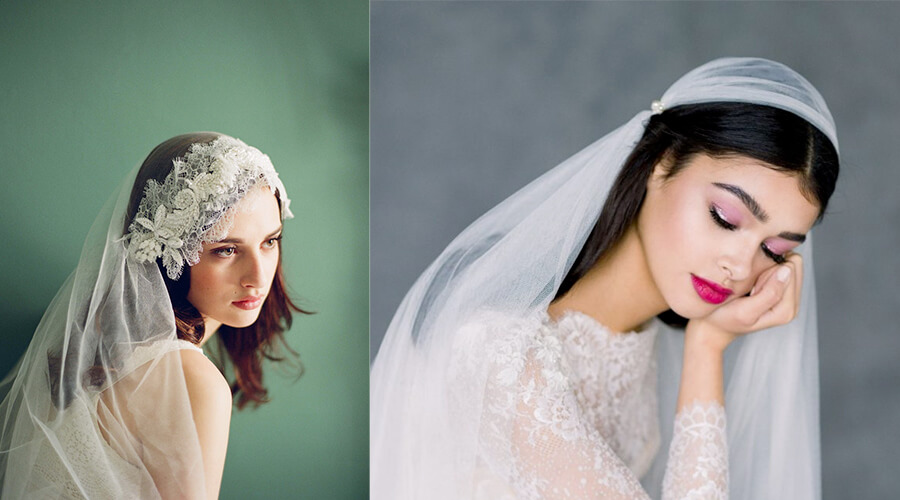 Juliet Cap Veil is yet another fantastic wedding veil option for brides looking for a minimal alternative. This veil is wrapped around the crown of your head or forehead, creating the appearance of a cap.
This veil type is ideal for brides seeking a dramatic accent to their wedding attire. Due to the simplicity of the Juliet cap, it can be worn with a variety of different accessories.
This type of veil is a lot of fun to experiment with, such as adding plant life or additional lace.
At the end of the day, the appearance may be rather romantic and mature. Wearing a Juliet cap will ensure that your Romeo (groom) will be stunned to see you as you march down the aisle.
14. Lace Veil
It is one of those veils that will never go out of style. Lace may be both trendy and classy, as well as funny.
As the bride, it is entirely up to you whether you want the entire veil to be covered in lace or just a few pieces.
If your gown already has lace designs embroidered on it, you might incorporate the same motif onto your veil.
The allure of a lace veil is that it has the ability to transform an ordinary wedding gown into a cutting-edge, sophisticated bridal style.
15. Halo Wedding Veil
This veil is guaranteed to transform every bride into a goddess. It features a crown-like headpiece that helps hold the draping veil in place over your entire body.
This veil enhances the bride's beauty.
Consider strolling along a hallway with a massive material enclosing you and flashing in the wind. This design works really well with an undeniable, loose-fitting gown since it conceals your entire contour.
16. Extravagant Appliques Veil
This sort of veil is ideal for brides wishing to make a fashion statement on their wedding day. A wedding is a once-in-a-lifetime event that every bride wants to make extraordinary special.
An Extravagant Appliqué with several floral designs that will adorn your veil as you walk down the aisles.
You can include blossoms from your wedding ceremony bouquet into your veil or keep it simple with some white floral patterns.
This veil is extremely long and works well if your wedding gown is basic, as it does not draw attention away from the rest of your wedding ceremony look.
17. Bubble Blusher Wedding Veil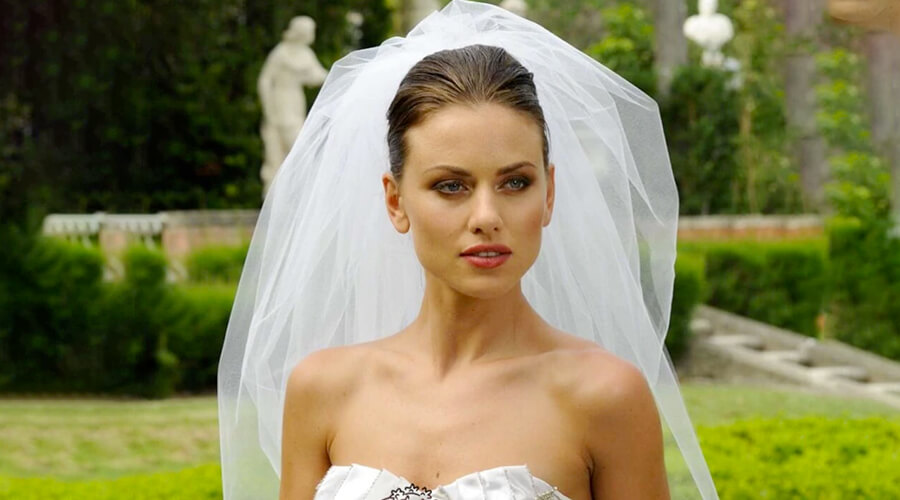 With the Bubble Blusher Wedding Veil, you'll have a lot of fun. Intriguing brides enjoy this veil because it adds the perfect amount of flair to an otherwise sophisticated wedding.
If you add a touch of purple lipstick to your make-up, you may make these veils stand out even more. Just as it should be, this bubbling veil is sure to draw attention to you.
Wrapping it up…
So these are the different wedding veil styles that are quite popular among brides. Believe it or not, a correctly chosen veil simply adds to the overall look of the bride.
So, it becomes imperative to consider your overall look, wedding gown style, and other details before you put in your money on a veil.
Your wedding veil should match perfectly to your wedding gown so that you can create that perfect bridal look.
It's true that the bridal dress has an aesthetic appeal. To be honest, your wedding is a once-in-a-lifetime event, and you definitely would want everything to be flawless.
Everything, from your wedding veil to your shoes, should be spotless. So pick your outfit carefully.
It's only natural that others look up to you as the bride. They will start talking if there is anything sloppy or untidy around.
Consider every last detail and begin planning ahead of time to make the best purchase for your wedding day look.
Happy Wedding… ☺ ☺