Undoubtedly, a wedding is a union of two people in love; however, the celebration is incomplete without the people who matter to you the most. And, that's why we don't hesitate to spend any amount of money to make the event worth it. All we wish is to make the ceremony as unique and meaningful as possible. And your wedding venue plays a vital role in the entire celebration. So choosing the right wedding venue is of utmost importance. Generally, a wedding venue takes up a large proportion of your wedding budget. Here in this post, we are sharing with you the wedding venue prices in India and the factors that determine the venue pricing.
Here we go……
Wedding Venue Cost
After deciding the wedding date, the very next step is always choosing the venue in your wedding planning process. And to find the best wedding venue to host your dream wedding, you need to set aside your venue budget from your entire wedding budget. The type of venue and its location by far depends on the wedding venue budget. Here is how to decide on your wedding venue.
The cost of wedding venues largely depends on the number of guests invited, menu, and other requirements, like décor, etc. A wedding venue can cost you anywhere between INR, 2,00,000 to 25,00,000, and more depending on your needs. However, based on your preference and specific needs, the venue cost may change. On average, 40 – 50% of your wedding budget goes to a wedding venue. There are myriads of venue types to choose from. You can choose a wedding venue according to your requirements and preferences. Here are some of the most preferred venue types:
I. Hotel
When it's about indoor types of wedding venues, a hotel has it all. Hotels provide you with all the facilities that you may want for your wedding. The best part is – you don't have to worry about the arrangements for your ceremonies as everything will be taken care of by the hotel management. Besides, you can always get great deals or discounted rates on your wedding venue. Hotels can be an expensive option as there are hidden costs involved that may come in light later. On average, hiring a hotel for your wedding may cost you around 2,00,000 to 30,00,000. This cost includes the venue charges with basic decor like tables, chairs, and food. Live food counters and additional décor will cost you extra.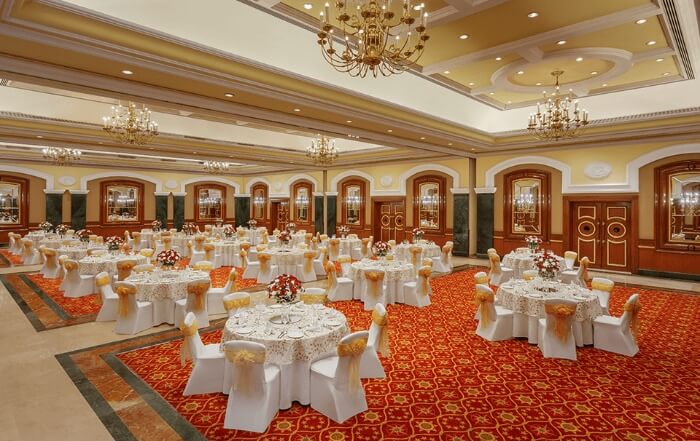 II. Banquet Halls
Banquet halls are commonly used wedding venues in India; even many big hotels also provide these services. You can choose any banquet hall depending on your requirements, guest count, and budget. Banquet halls are actually closed halls with bigger space. Most banquet halls provide you with accommodations also. This means if you require accommodation services for your guests, you can easily book rooms along with the banquet hall.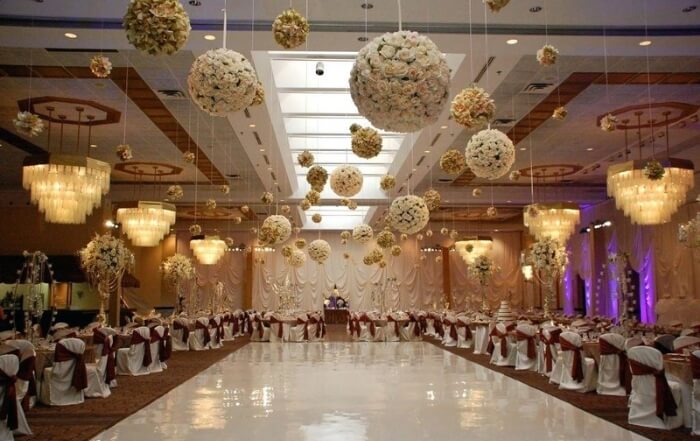 Also, you can get a separate dressing room for the bride to get ready. Apart from this, they also provide you with additional services like wedding décor, catering, DJ, etc. You can consider a banquet hall for a budget wedding. On average, for 200 guests, a banquet hall will cost you around INR 2,00,000 lakhs. However, the banquet hall venue price will vary depending on your guest count and menu preferences.
Related Post: Dos and Don'ts of How to Pick a Wedding Venue
III. Marriage Halls
A Marriage Hall is essentially a massive hall where a lot of guests can be seated. If you are planning to invite a lot of guests for your wedding, then a marriage hall can be an ideal option for your wedding. Marriage halls provide you with a big space to host a wedding at a larger scale. The best thing is your guests will get enough space to park their vehicles also. Besides, you can also accommodate your guests as they do have rooms on the premise.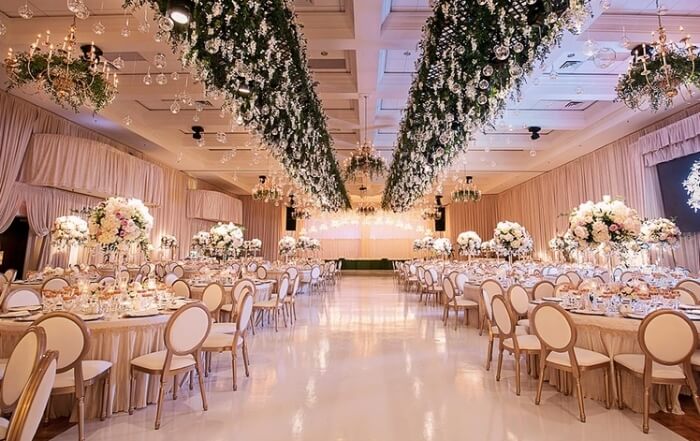 Usually, you get basic facilities, like a stage, mandap, etc. for your wedding. You can get a marriage hall decorated by professionals. On average, a marriage hall may cost you around 1,00,000 to 5,00,000 or more. However, this cost doesn't include catering, electricity, etc. Marriage halls are a good option for a budget wedding for a more massive crowd.
Related Post: Top 10 Rustic Barn Wedding Venues in the US
IV. Restaurant Party Halls
Restaurant Party Halls are an excellent option for an intimate wedding celebration. Yes, if you have a limited number of guests, then a restaurant party hall is the best choice. Restaurant party halls are gaining popularity these days. The best thing about renting a restaurant party hall is that you do not have to worry about the arrangements, as everything is taken care of. Whether it is about wedding food or wedding hall décor, everything is included in the package.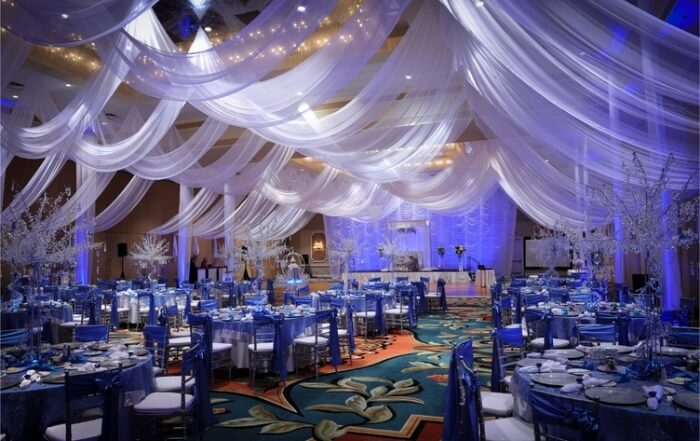 Many big restaurants are providing all-inclusive packages to their clients, which include themed décor. However, if you want, you can get the venue decorated in your style. On an average, a restaurant party hall will cost you around INR 100,000 to 1,50,000 for about 100 guests. This cost can vary based on the choice of your restaurant, wedding menu, and additional services that you ask for.
Also See: 101 Wedding Venue Questions To Ask
Additional Costs
There are some additional costs involved when you finally select your wedding venue. These costs are those which you might not calculate in the first place, but they will ultimately affect your wedding budget. These costs include:
1. Taxes
Each venue charges tax; you may, however, not know it while searching for the wedding venue. So don't miss to ask about the taxes, whether the site is inclusive of taxes or not. If the venue is exclusive all taxes, then you will have to pay additional money, and your wedding budget will go up automatically. In such a case, you can choose to select a venue with inclusive of taxes.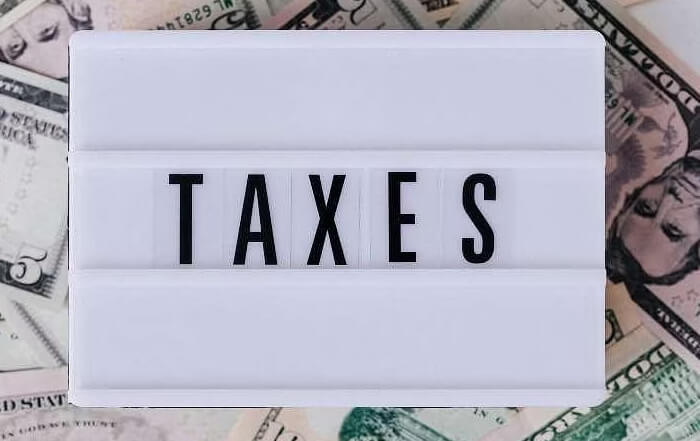 2. Parking
If parking is not free, then you will have to pay for parking as well. So, it's better to ask if there is free or discounted parking or valet service available.
3. Rentals
Some venues do not provide you with basics, like tables, chairs, linens, silverware, servers, serving ware, basic audio, etc. In such a case you will have to pay additional money for rentals.
4. Wedding Vendors
If you plan to hire outside vendors, instead of going with the ones provided by the venue. Hiring outside vendors will automatically affect your wedding budget; it will add to your wedding cost.
5. Cleaning
Many wedding venues do not take charge of cleaning; in such a situation, you will have to arrange for the cleaning staff, and that will add to your venue cost.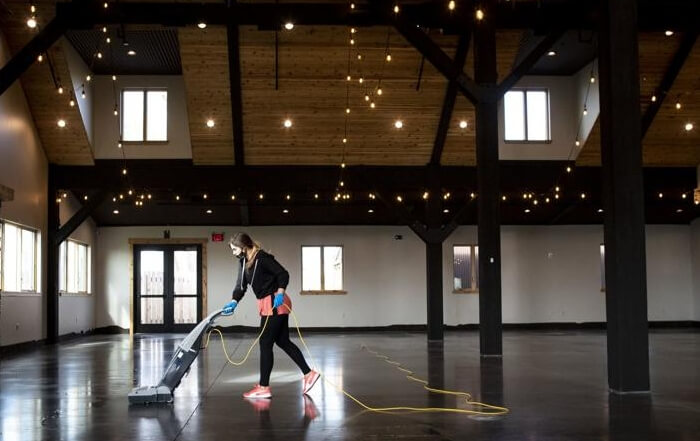 6. Tips
Last but not least, tips to staff. Yes, it is essential to tip all the workers once the wedding is over. Tipping workers for their job is a nice gesture and a great way to say thanks for their efforts. The tip can be decided accordingly.
Factor Affecting Wedding Venue Price In India
The following are the factors that directly or indirectly affect the price of wedding venues in India. Here are the factors:
Wedding Date
If you are planning to host your wedding in the peak season, then you are going to pay more for a wedding venue. Generally, during the wedding season, the demand for wedding venues goes up, due to which the cost also rises. However, if you will hire the same wedding venue during the offseason, then the chances are that you may end up paying lesser or get good deals.
Location
The location of the venue will also affect the cost. Elite locations, like venues located in the center of the city or are sea-facing, are more expensive than the moderate ones.
Services
The cost of your wedding venue will also go up if you opt for additional services, like accommodation, decoration, wedding planning, etc.
Venue Booking Tips
Follow these tips to book the best wedding venue
1. The earlier, the better.
If you do not want to compromise on your dream venue, then it is advised to book your venue early. Usually, it is better to book your venue 12-18 months before the D day. It is always good to book your venue as soon as you get your preferred venue and wedding date.
2. Be Flexible.
Be flexible when you step out to book your wedding venue. Flexibility is the key to booking a perfect venue. You don't necessarily have to opt for a very popular wedding venue, instead, you can choose to book a less popular venue for your wedding. If you are open to it, you are highly likely to save a lot of money on your venue. For instance, if you are planning to host a beach wedding, then you can opt for outside the central city location. These locations are less costly than the ones in the central city.
3. Off-season wedding.
Well, it is not always essential to get hitched during the peak season. If budget is a constraint, then the best is to opt for an off-season wedding. Off-season charges are usually less than the ones in peak season. Also, you must reserve your venue as much in advance as possible.
4. Get everything in writing.
Make sure you get all arrangements, plans, and statements in writing. Do not make any agreement over the phone; instead, send an email and make sure everything is documented in writing, and the receipt is acknowledged. Also, do not sign on the dotted lines without reading the contract. It is advised that you read over your contract carefully and keep referring to it throughout your planning process.
5. Enquire for packages
Many hotels and banquet halls provide you with all-inclusive packages to reduce the overall payment. Don't miss to enquire about these. Selecting an all-inclusive package can help you save a lot of money. If you have any queries, ask questions until you are confident that you have understood everything.
6. Decorated venue
Opt for the already decorated venue, doing so will help you save a lot of money. Choosing a blank canvas or an empty shell will not only be hectic, but also will add to your cost. You will have to take care of everything from venue décor to hiring appropriate staff for decoration, which will add to your wedding budget.
Summing it up…..
We hope this wedding venue cost – the complete guide help you make the right decision and choose your dream wedding venue. Make sure you do your homework before you finalize your wedding venue and make your first payment. Doing so will help you make the right choice and have no regrets later.
Happy Wedding…. ☺ ☺
Related:
1) How Can Wedding Expenses be Tax Deductible
2) Cruise weddings: Everything you need to know about Wedding on a Cruise